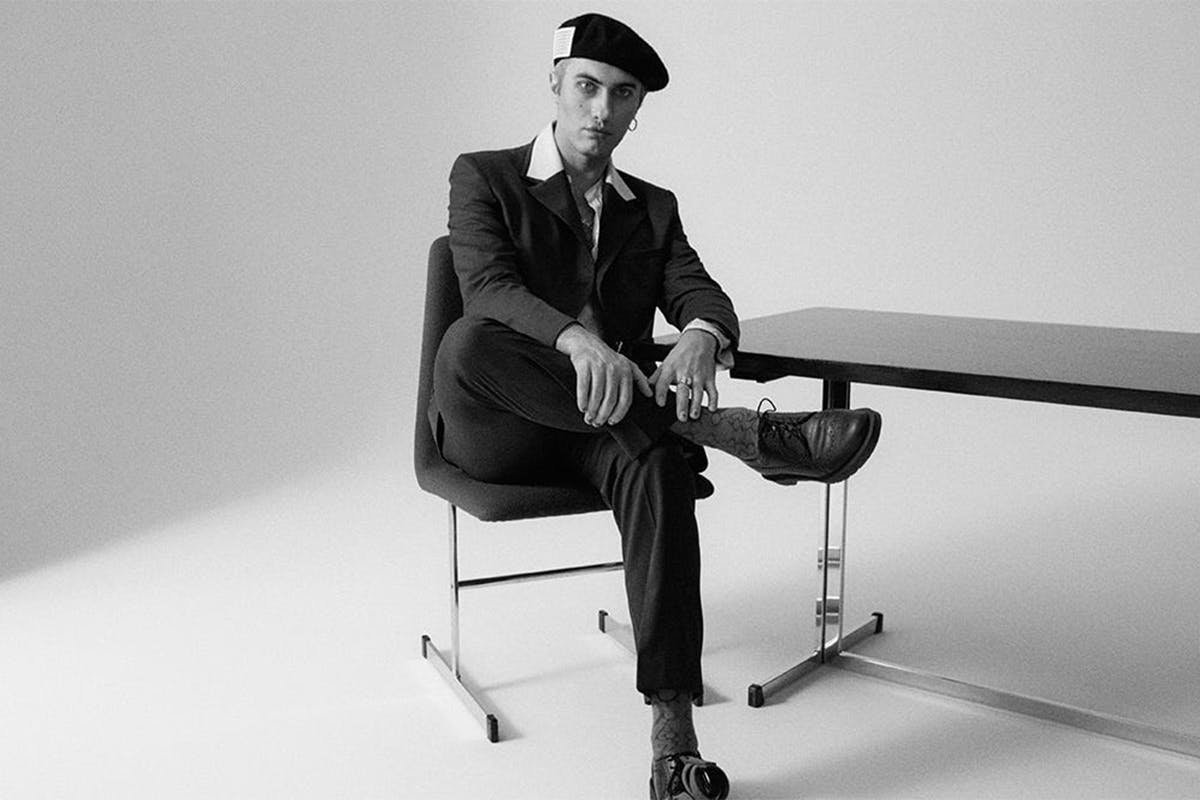 The Trend Checklist Hub, presented by MATCHESFASHION, is your one-stop-shop for all of the latest labels and trends. From accessories to full collections, stay updated on everything we're stanning this season.
MATCHESFASHION Innovators returns every year to champion the next generation of design talent. Each young Innovator is paired with an established designer for a series of exclusive conversations as they consider what it means to work in fashion today, exploring each other's work and style along the way.
Charles Jeffrey Loverboy is one of the more exciting aspects of British fashion right now, and that's saying something. With names like Ahluwahlia, Bianca Saunders, Steven Daley, and more, British fashion design has rarely looked stronger. Graduating Central Saint Martins in 2015, he's made a sizeable impact on the scene in a very short time, but there's no questioning why.
Combining aspects of disparate subcultures gives Charles Jeffrey Loverboy's work a unique, bold finish which is unmistakably British at times. From unfinished knits to hypnotic fractals, classic pieces like crewneck sweats, overcoats, and tracksuit pants are given punchy character with colorful patterns. To celebrate one of the liveliest collections of the season, we've rounded up some of our favorite pieces below.
Shop our top picks from Charles Jeffrey Loverboy FW21 below.
Drawing-Print Shirt
This boxy Cuban-collar shirt features super-relaxed tailoring and an eye-catching painted pattern to bring bold color to the classic white poplin backdrop.
Logo Sweater
More doodles detail this jacquard knit which boasts the coveted Loverboy name right across it, beginning on one arm and ending on the other.
Guddle Sweater
Knitwear is a definite forté of Charles Jeffrey Loverboy's collections and if you needed any evidence, the Guddle Sweater is it. It's wild, with hanging threads and multiple colors and patterns — you can't take your eyes off it.
Double-breasted Overcoat
One of the standout pieces from the FW21 offering is this super-long overcoat cut from mid-weight printed felt.
Hex Track Pants
We're debating whether the Hex pattern is our favorite of the season. Until we work that out, we're just loving the way that this pair of track pants hangs thanks to the pure merino wool construction.
Striped Cargo Trousers
Cargos exploded in popularity last year and the hype's still there. With pairs like this gradient design around, we can see why.
Striped Trousers
It's not all about boldness, though. Loverboy is versatile and proves that with this beautifully tailored pair of formal pants.
Distressed Jeans
Ripped, patched up, ripped again, sewn back. These distressed jeans have been through the wars but they look damn good because of it.
Logo Bucket Hat
Loose threads give this cotton bucket hat unique character. Orange and red canvas sets the foundation while a logo patch is the finishing note.
Tartan Tote Bag
Well, it wouldn't be a Loverboy collection without some punk-leaning tartan, would it?
Want to keep browsing? Head to the Highsnobiety Shop for more products that we love. Highsnobiety has affiliate marketing partnerships, which means we may receive a commission from your purchase.