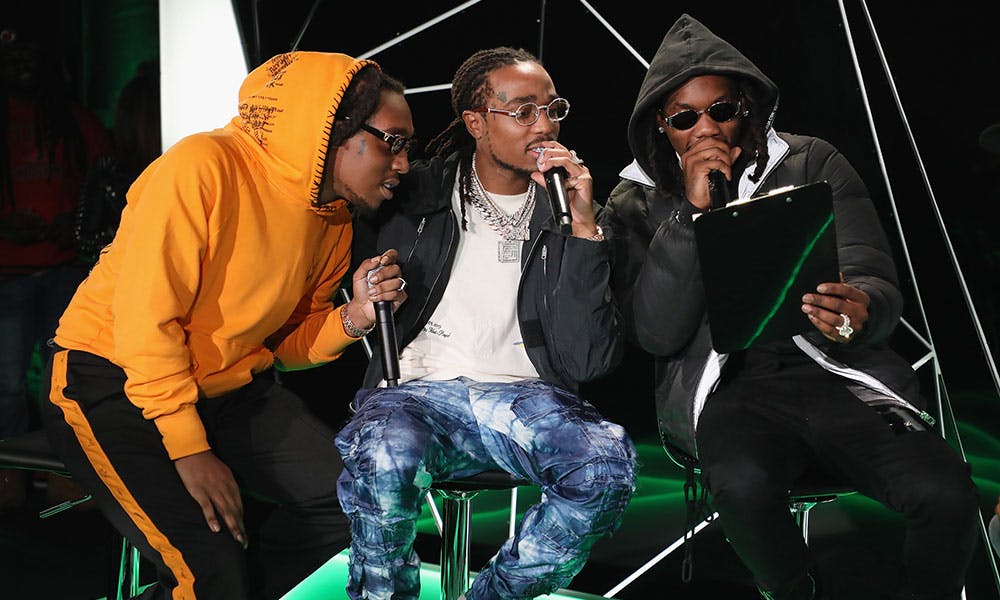 Unfortunately, Migos fans won't get the third installment of Culture III in 2019 as expected. Since 2017, the Atlanta trio has dropped their Culture and Culture II albums in late January. However, this year, likely due to the release of Takeoff, Quavo, and Offset's solo albums, the project has been delayed until 2020.
That said, we'll most likely hear a decent amount of Migos before they drop Culture III. Quavo hinted at a collaborative album with Drake, which would make sense since the foursome toured together extensively, in addition to an appearance on Kanye West's next album YANDHI. Back in February, Migos dropped "Position to Win," getting us all hyped for their next installment of Culture.
In preparation for the drop, we have gathered all the information we can find about Migos' Culture III, from the release date to potential collaborations and album artwork. So keep scrolling for everything you need to know about Migos' new album.
Migos' Culture III release date
Although we all expected Migos' Culture III to drop January 2019, it didn't happen. This was likely due to the release of Offset's solo album Father of 4, which arrived in February 2019. In an impromptu "ask me anything" session on Twitter held on March 15, Offset revealed Culture III will be released "Next year anniversary," which would be January 26 or 28 2020 based on the release dates of the first two Culture records.  Since most major music releases take place on a Friday, it's likely that Culture III will drop Friday, January 24, 2020.
Migos' Culture III tracklist
No tracklist for Migos' Culture III has been revealed as of yet. If Culture and Culture II are anything to go by, we can expect the project to be somewhere between 13 and 24 tracks.
Migos' Culture III cover art
With the project set to drop nearly a year from now, it seems unlikely the official album artwork has been locked in. Both Culture and Culture II's artwork was designed by Stole Stojmenov who also worked with Migos on single artwork for "Bad and Boujee" and "MotorSport," in addition to Quavo's "Lamb Talk," "Bubble Gum," "Workin Me' from his 2018 solo album QUAVO HUNCHO. All this being said, it seems likely that Stojmenov could be hired to design Migos' Culture III artwork, but who knows? The trio might want to try something new the third time around.
Migos' Culture III guest appearances
During Offset's Q&A session on March 15, fans asked about potential future Migos collaborators. The rapper confirmed he'd love to work with Eminem and Kendrick Lamar, alluding to already having something in the works with the former for Culture III, which may have been scrapped due to deadlines. He also said there's another collab with Lil Uzi Vert on the way, a follow-up to their 2016 smash hit "Bad and Boujee."
At the moment, all potential album guest appearances are pure speculation, but if previous collabs are anything to go by, we could see inclusions from Cardi B, Drake, Travis Scott, Gucci Mane, Post Malone, Nicki Minaj, 2 Chainz, 21 Savage, Big Sean, and Ty Dolla $ign.