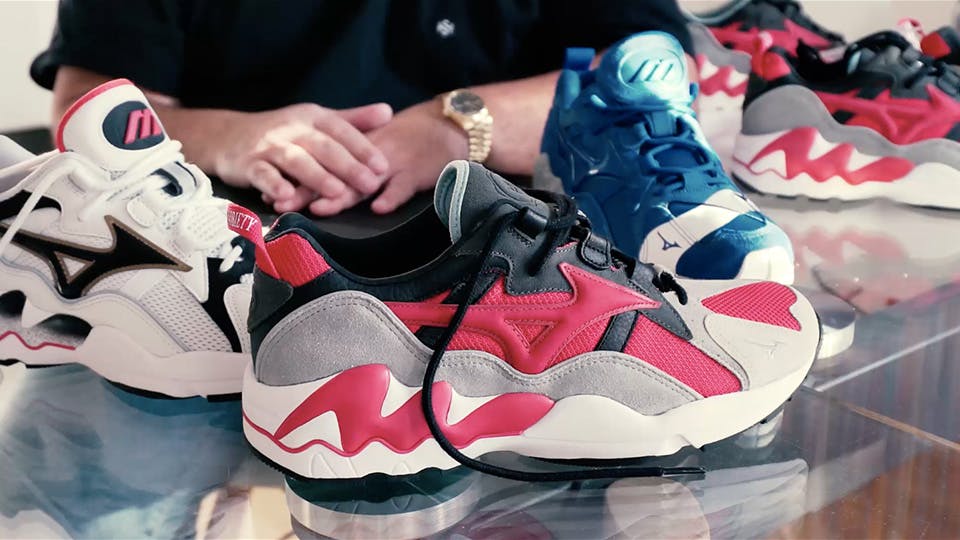 In places, Mizuno's history reads more like a scientific journal than the story of a sportswear brand. For decades, the Japanese brand has dedicated itself to scientific research focused on developing industry-leading sporting products, and its efforts have paid off. As a result, particularly in Japan, Mizuno is inextricably linked to sports and athletic performance.
"Everyone knows Mizuno and we see the logos all the time when sports matches are held," explains Shigeyuki Kunii, Creative Director at Japanese sneaker retailer mita sneakers. Wesley Tyerman, a freelance creative director for Mizuno, expresses a similar sentiment: "For me, it's always meant sport, quality, and history. A lot of my favorite [soccer] players wore Mizuno and growing up I noticed that people who took sports seriously wore Mizuno."
Until now, Mizuno's presence within the sneaker and lifestyle scenes has been minimal, yet both markets are screaming out for the authenticity and value-oriented products Mizuno brings to the table. Fortunately, Mizuno is evolving and, after more than 110 years, the time has come for the brand to explore new possibilities and take things to the next level. It's doing so with its two forthcoming projects: Sportstyle and Kazoku.
Sportstyle is Mizuno's latest footwear category that introduces decades of scientific, evidence-based knowledge to fresh and reworked Mizuno designs that are nevertheless still rooted in modern style. Inspired by the sheer thrill of discovery and the opportunity to implement the brand's innovative technology in new ways, Sportstyle is Mizuno's own unique take on contemporary sneakers.
Meanwhile, Kazoku—taken from the Japanese word for family—is a community initiative of like-minded, sneaker-obsessed brands and retailers assembled from across Europe and Japan by Mizuno. Its members will receive new and exclusive Mizuno releases and work with the brand on one-off collaborations. However, its broader aim is to revitalize sneaker design and develop a united vision for the future of global sneaker culture.
From Baseball to Industry-Leading Performance Tech
Inspired by his love of baseball following a trip to the U.S., founder Rihachi Mizuno established Mizuno in 1906 hoping to increase interest in the quintessential American sport inside Japan. While it started out selling mostly baseball gear, over the next 70 years Mizuno would expand its offering greatly, creating equipment and clothing for tennis, golf, skiing, track and field, boxing, soccer, and less widely played sports like handball.
The ultimate goal was to optimize athletic performance and, while Mizuno had already been in the game for sixty-plus years, it was during the 1970s' international running boom that it truly dedicated itself to meticulous scientific footwear research. During the '80s, Mizuno made five major developments that would contribute to making the brand what it is today. This would eventually lead to the creation of Mizuno's most well-known technology: the Mizuno Wave.
It started in 1985 with the Magical Cloth Midsole, which increased stability and counteracted overpronation and oversupination—forms of excessive inward and outward foot rolling that occurs when the foot contacts the ground, and can cause injuries. As Mizuno's Chief Engineer Takaya Kimura describes it, the technology's impact far exceeded its function: "It was the middle of the first function war, where everyone was competing by using new materials to increase the cushioning," he explains. "With this product, Mizuno also leaped into the material competition among shoemakers."
The following year Mizuno built upon the original Magical Cloth Midsole design to develop Sorbothane—a highly absorbent material that protected the heel from impact— and three years later this was upgraded once again to create Transpower. Transpower combined Sorbothane and H2 (a material originally used in golf balls) to convert impact to the heel into explosive running power. When Mizuno extended this technology to the midfoot, Transtab was born. Finally, with the advent of Dynamic Foot Contour in 1993, Mizuno achieved a well-balanced, single plate sole that covered the forefoot, midfoot, and heel and which integrated cushioning, stability, and impact absorption.
Changing the Game With the Mizuno Wave and the Wave Rider
On paper, Mizuno achieved a great deal in the eight years between 1985 and 1993 but, in reality, their products had grown larger, weightier, and more costly with each innovation. It needed a solution, so Kimura returned to the U.S.—where Rihachi Mizuno was first inspired to launch the brand in 1906—to consolidate the brand's tech into a more compact system.
The result was 1997's Mizuno Wave technology contained within its all-new Wave Rider sneaker, and which released the following year in '98. "It took us forever to figure it out. We looked at consumer products, electronic products, everything. We took everything apart. We tried everything we could," explains Tuan Le, lead product designer for the original Wave Rider. "But once we figured it out, it was like, 'Oh, the answer is so simple.'" As Mizuno's shoes had grown increasingly more complex, the Wave Rider represented a return to simplicity.
"This Wave technology was the opposite of what Nike Air was," continues Le. "Nike Air was a big air bag that cushioned the impact of running but the Wave Plate stretches out upon impact and propels the runner forward as it returns to its regular waved shape."
Le also says that Japan was a vital point of inspiration for the Wave Rider project. "I was always careful to reflect the uniqueness of Japanese culture and the brand in the designs," he explains. "For example, a design that is both beautiful yet moderate, drawing out the strength of the functionality, or a design carrying a sharp yet simple sense of beauty." The impression left by his first trip to Kyoto, he claims, still influences his life and work even today.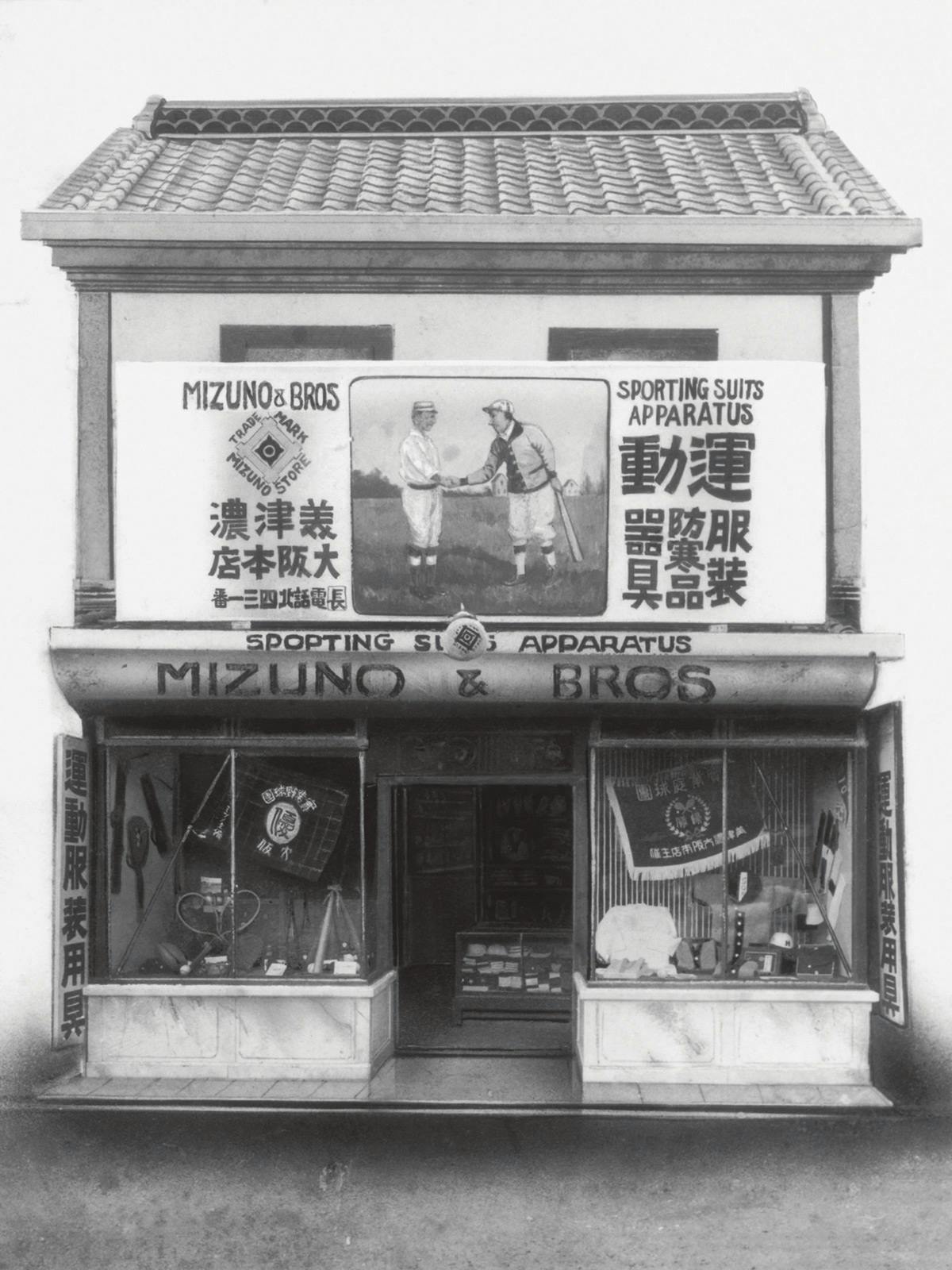 Mizuno Is More Relevant in 2018 Than Ever Before
Increasingly, people are looking for authenticity in brands, they're tired of labels existing merely as part of the hype-cycle and they want brands to take responsibility for the impact their products have on individuals and communities. "This is a generation that has higher expectations on what a company should be able to deliver," wrote Business of Fashion in a recent trend forecast, before listing a brand's value orientation for the future as key to satisfying young consumers today.
With that in mind, Mizuno might be more internationally relevant to this generation than any that's come before because it lives its values. It's dedicated itself to research, experimentation, and innovation, all while being grounded in its Japanese heritage. It's supported sports and athletes for over 100 years and relentlessly pursued high-quality performance products. It promotes eco-conscious behavior and environmentally-friendly product development through the Mizuno Environment Label. And two of its longest-serving designers were even awarded the title of Master Craftsman by Japan's Ministry of Labor. Together, these acts and accolades suggest that the brand is truly committed to foot- and sportswear, rather than looking to make a quick buck on their behalf.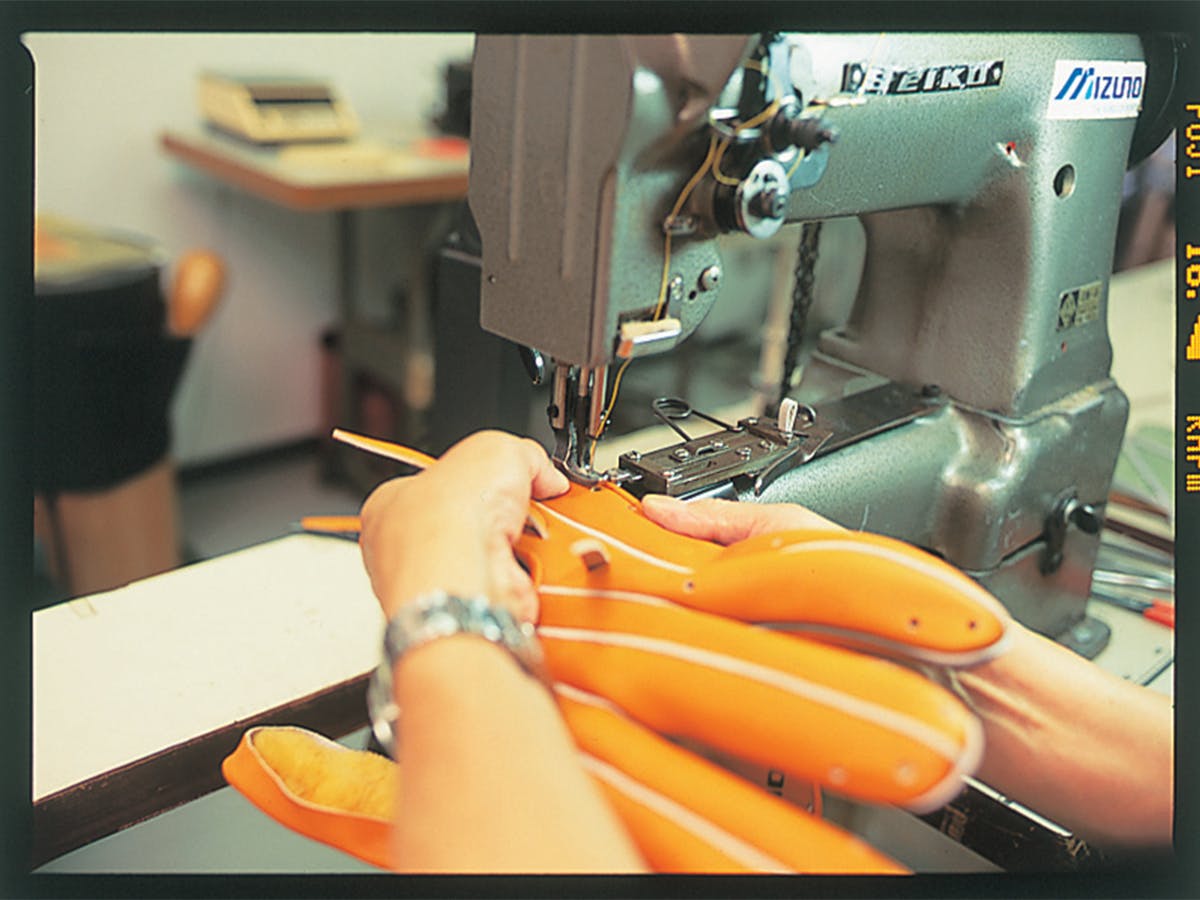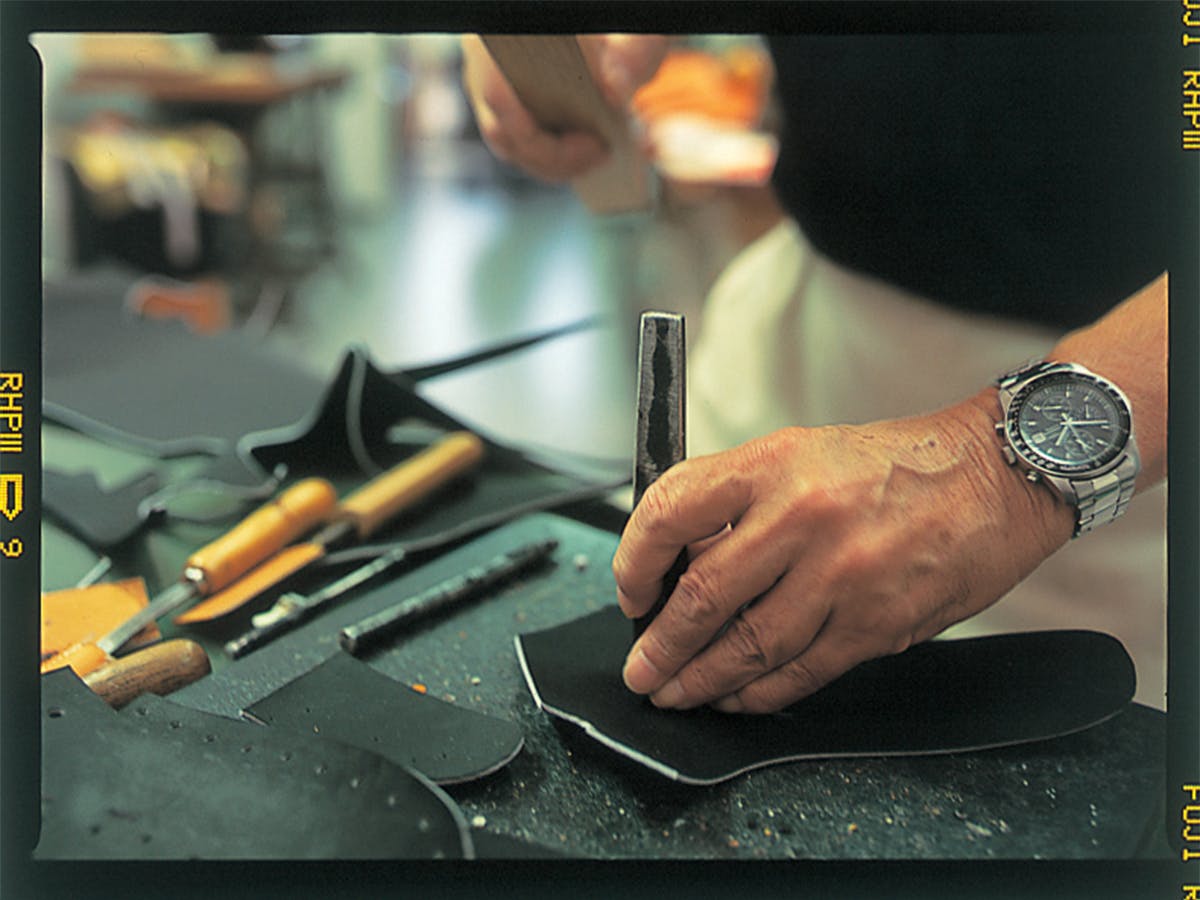 With the launch of Sportstyle, Mizuno brings its performance technology to more style-focused sneakers for the first time and hopes to communicate its values in a new way. "Mizuno is for me a unique player in this scene because it's not really in this scene right now. In the performance market they are one of the best and hopefully, in the lifestyle market they will be too," explains sneaker designer and Solebox founder Hikmet Sugoer. "They have a totally different approach. They're using their DNA for the lifestyle market by combining sport with lifestyle, hence, Sportstyle and it's true to their heritage."
As Shigeyuki Kunii points out, Mizuno isn't the first brand to move from performance to lifestyle sneakers, however they might have more experience than anyone else making the shift: "In the world of sports, trust in Mizuno is overwhelming." While in Sugoer's eyes, the distinction doesn't actually exist, "I never separate these two. For me, sneakers are for sport and everyday life. The main aspect of a performance shoe is the function, but I still think that a performance shoe can be good looking," he explains. "I think performance shoes can be fashionable on the streets too. They're comfortable shoes, they have technology in them, and if somebody is deciding not to use them for sports, but instead on the streets or running or dancing in a club, why not?"
Sportstyle will see classic designs reissued and new ones launched and, to help, Mizuno has called upon its closest friends and family to join a collective called Kazoku. "Kazoku, in Japanese, means family and with this initiative, we've got together a small network of people who've been in the game from the start," says Wesley Tyerman. "Everyone has worked together before, spoken and met over the years, therefore, it really is like bringing a family together." Members include heavyweights Patta, solebox, Slam Jam Socialism, Sneakersnstuff, mita sneakers, Beams, Wood Wood, Afew, Titolo, Hanon, Footpatrol, One Block Down, and 24 Kilates. Each brand or retailer will receive new and exclusive Mizuno releases and work with Mizuno on unique collaborations.
While it's easy to feel that the market is saturated with underwhelming collaborations, Kunii explains that they still have a major role to play: "The role of collaborations in the sneaker industry has changed over the years. There was almost no collaboration when I started my career in this industry." He continues, "We collaborated in the late '90s in order to differentiate the brands or shops from others. Artists can use their identity to design something unique which expands the possibility of sneaker design. Localization is what's most important." At a time when sneaker and streetwear culture is going through a major transition period, authentic relationships like this are refreshing. "Nowadays things are moving pretty fast but Kazoku stands for loyalty, in good times and bad times we hold together as a family," explains an impassioned Sugoer.
Over the coming weeks and months, we'll be revealing the first releases from Sportstyle and the Kazoku (including a collaboration of our own). Find out more about the projects from some of those involved by watching the videos above and look through some of the archival imagery spread across to better understand Mizuno's history.