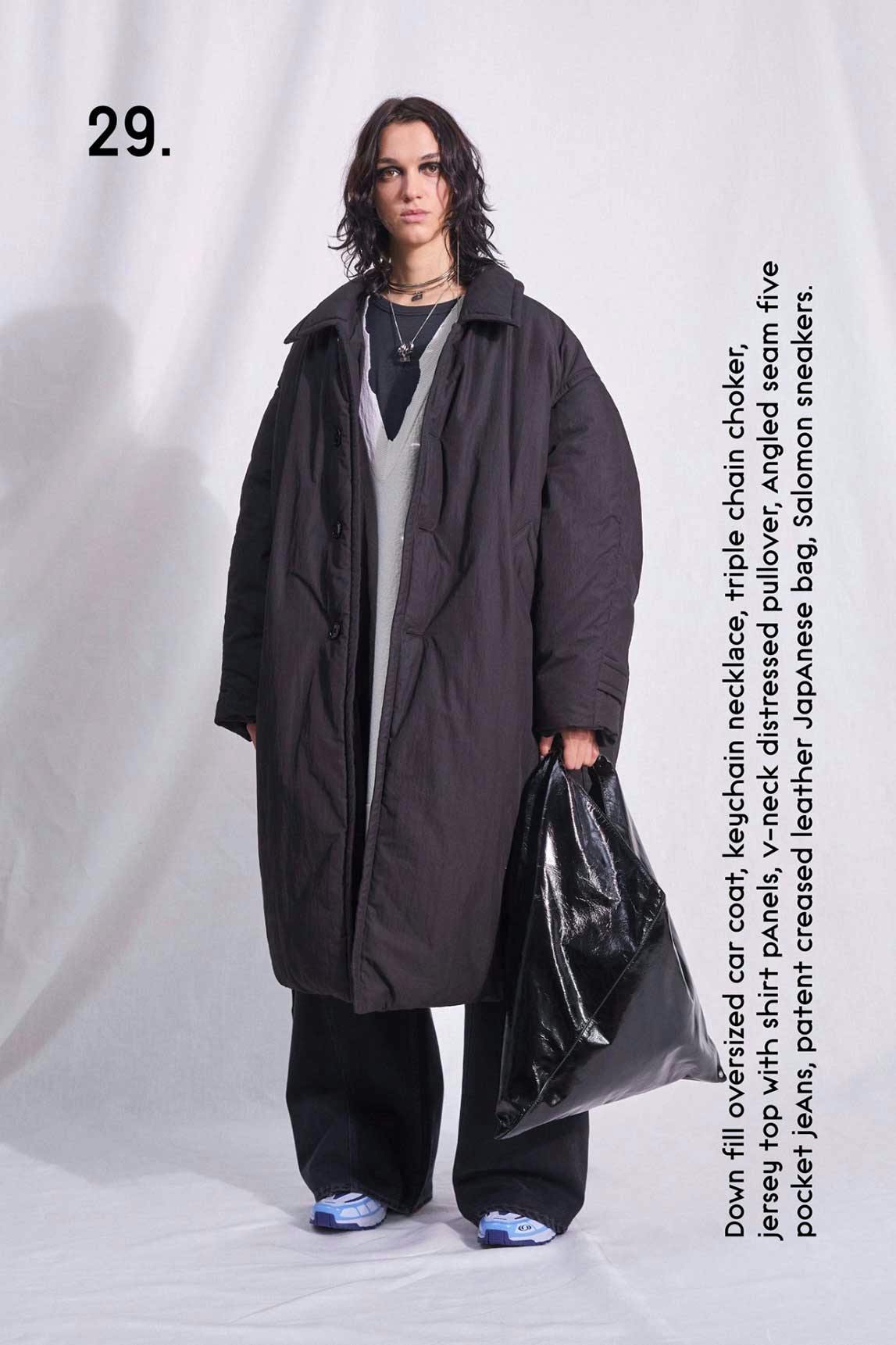 MM6 Maison Margiela, the youthful and fabulously collaborative Maison Margiela sub-label, is on a winning streak. It's collections are newly co-ed and stuffed with excellent clothing both wearable and adventurous.
And then there are the Salomon collaborations, a new hallmark of MM6 Maison Margiela that've nevertheless already become the brand's most frequent team-up. We've seen three MM6 tease two Salomon collaborations thus far, including one that released in November and one that's in the works for for Spring/Summer 2023.
And now there's a third team-up with Salomon, revealed as part of MM6 Maison Margiela's Pre-Fall 2023 collection.
Well, "revealed" in the sense that the collaborative Salomon sneakers are hidden under giant pants and the special backpacks are only seen from an angle.
But they're there and that's all that matters.
On hand for Pre-Fall 2023 are MM6 Maison Margiela's takes on the Salomon ACS and Cross High sneaker silhouettes, barely visible on-feet throughout the seasonal lookbook.
They're blue, black, and white, rendered flashy by patent leather and subtle by tonal paneling.
Unlike the shroud-wrapped sneakers that MM6 and Salomon released in November 2022 and the laceless thigh-highs prepared for Summer 2022, the Pre-Fall 2022 pairs appear to be fairly conventional takes on the French sportswear company's signature running shoes.
Likewise, the new Salomon backpacks look like the collaborative Adv Skin 5 running vest that MM6 teased for Summer 2022 but a bit beefier.
Versatile indeed, just like the rest of MM6 Maison Margiela's Pre-Fall 2023 collection. The intent was to apparently tweak conventional shapes with Margiela whimsy, yielding a selection of clothing that's normal but not quite.
And, as the lookbook demonstrates, the seasonal tailoring, sweaters, down jackets, leathers, and overcoats are all perfect matches to the latest round of special Salomon stuff.
Shop our favorite products