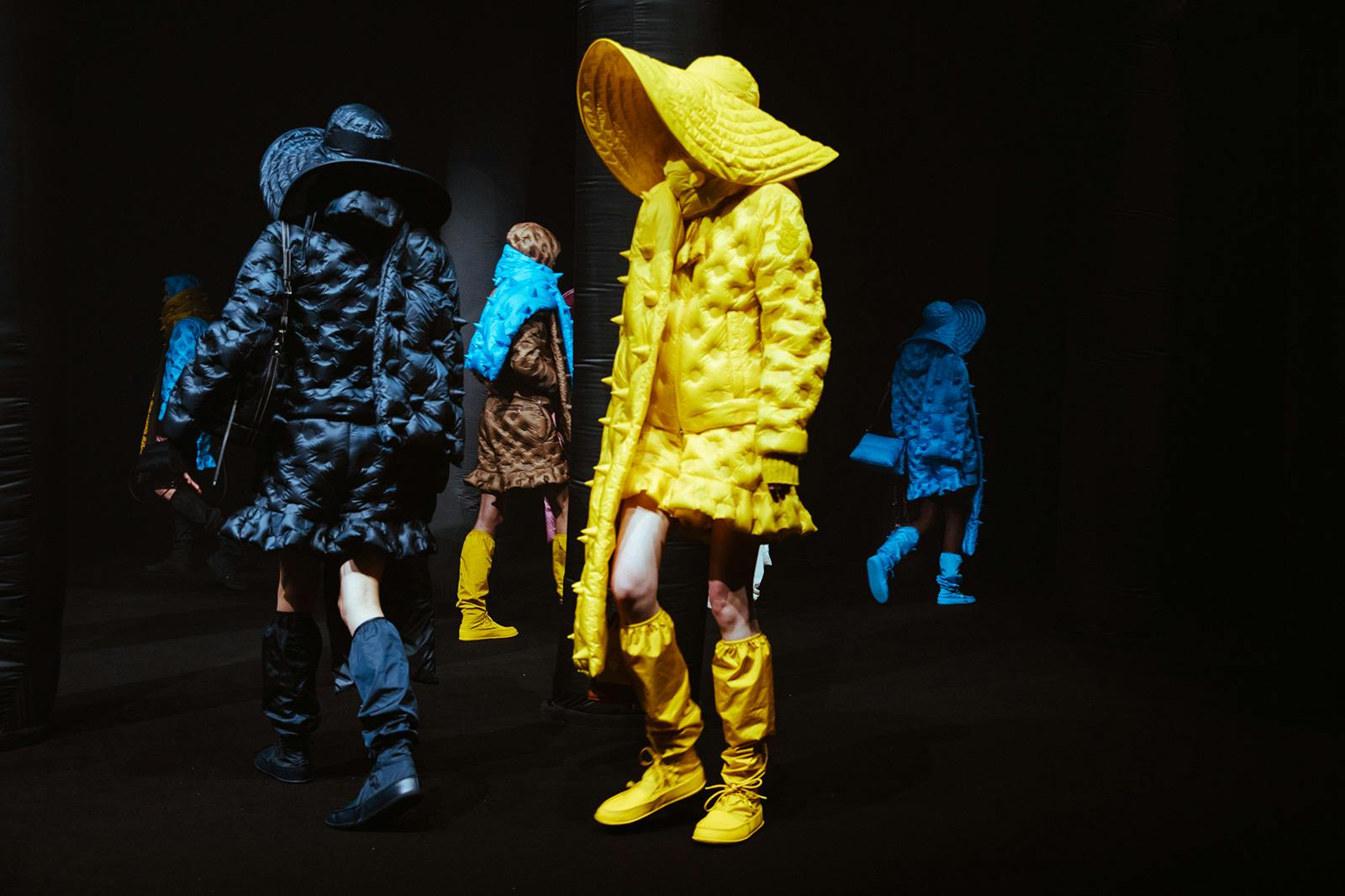 Highsnobiety / Julien Tell
Who doesn't love Moncler Genius? For the past two years, the critically-acclaimed fashion project—with its motto "One House, Different Voices"—has collaborated with different designers to release individual capsule collections throughout the calendar year on a semi-monthly basis. Now in its third year, Moncler Genius brings back some of its legacy designers such as Craig Green, Simone Rocha, and Hiroshi Fujiwara; while welcoming exciting newcomers including JW Anderson, RIMOWA, and MATE.BIKE.
The festivities began in Milan on Feb 19, where Moncler Genius revealed each of their collections at their presentation for Womens Fashion Week at the warehouse spaces at Viale Molise 70 in what can only be described as a total work of art: fashion, lights, colors, music. Last year, we said the 2019 Moncler Genius fashion show was the "biggest and best yet," but the 2020 show is even bigger and better.
Each of the eleven Moncler Genius collections had their own pavilions within the expansive warehouse space. The space was teeming with fashionable guests who you might not have recognized, but could just tell were important. And then there were the people you did recognize: Will Smith, Shailene Woodsley, Shaun White; as well as each of the designers themselves, weaving in and out of each presentation.
Highsnobiety caught up with some of the designers, and asked them about their work. Read on for their thoughts, as well as our shots from the Moncler Genius event below.
To attend the Moncler Genius 2020 public opening on Feb 23 in Milan, register online here for your chance to attend.
1 Moncler JW Anderson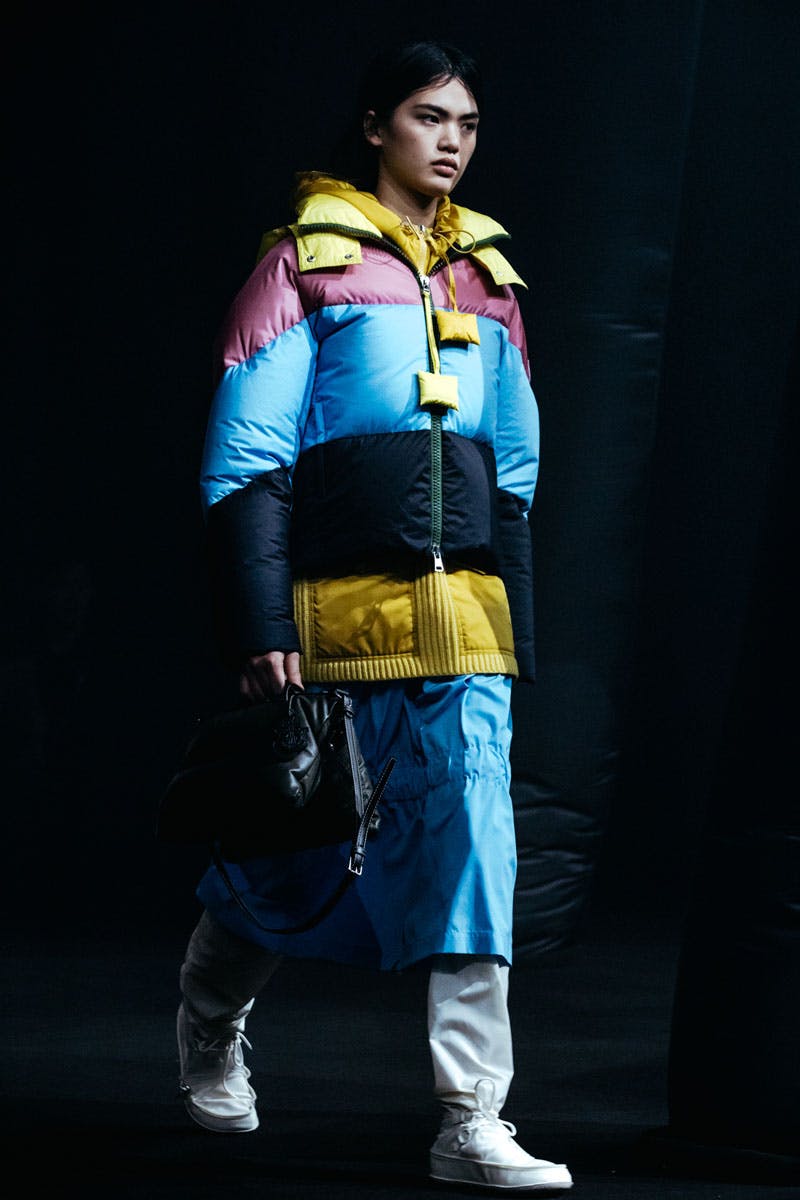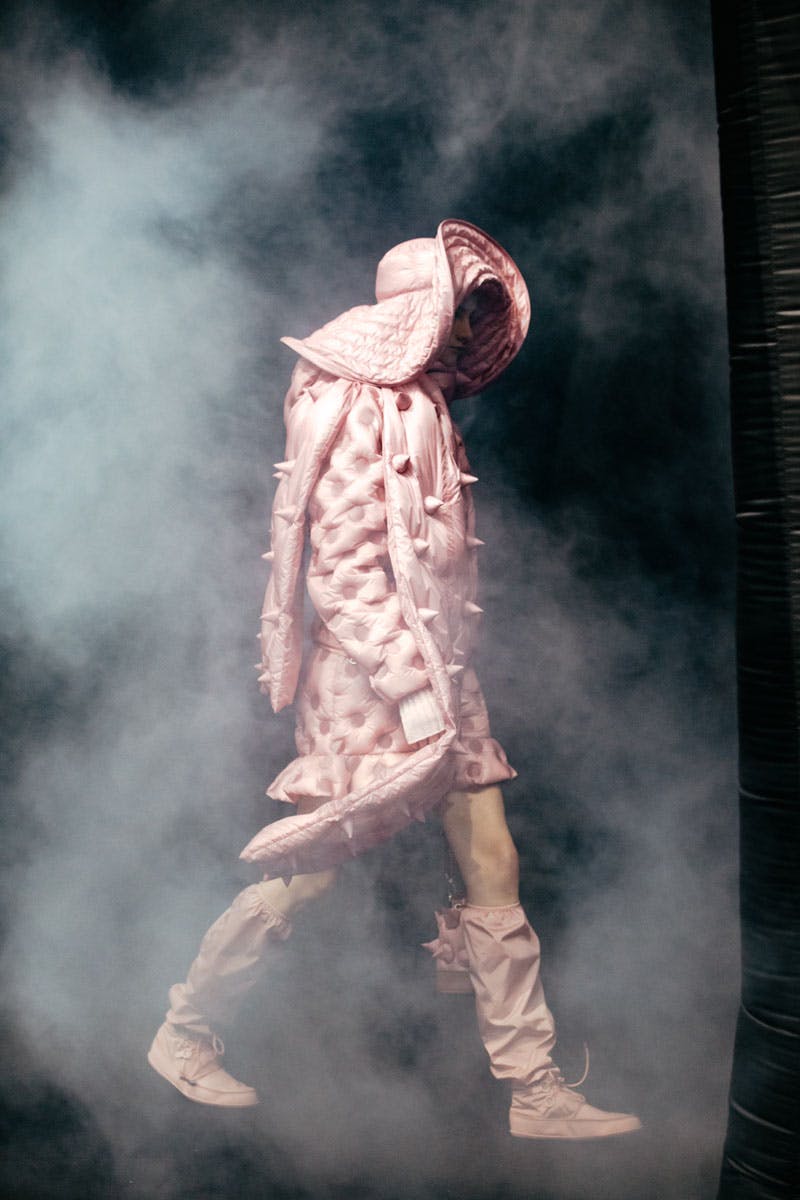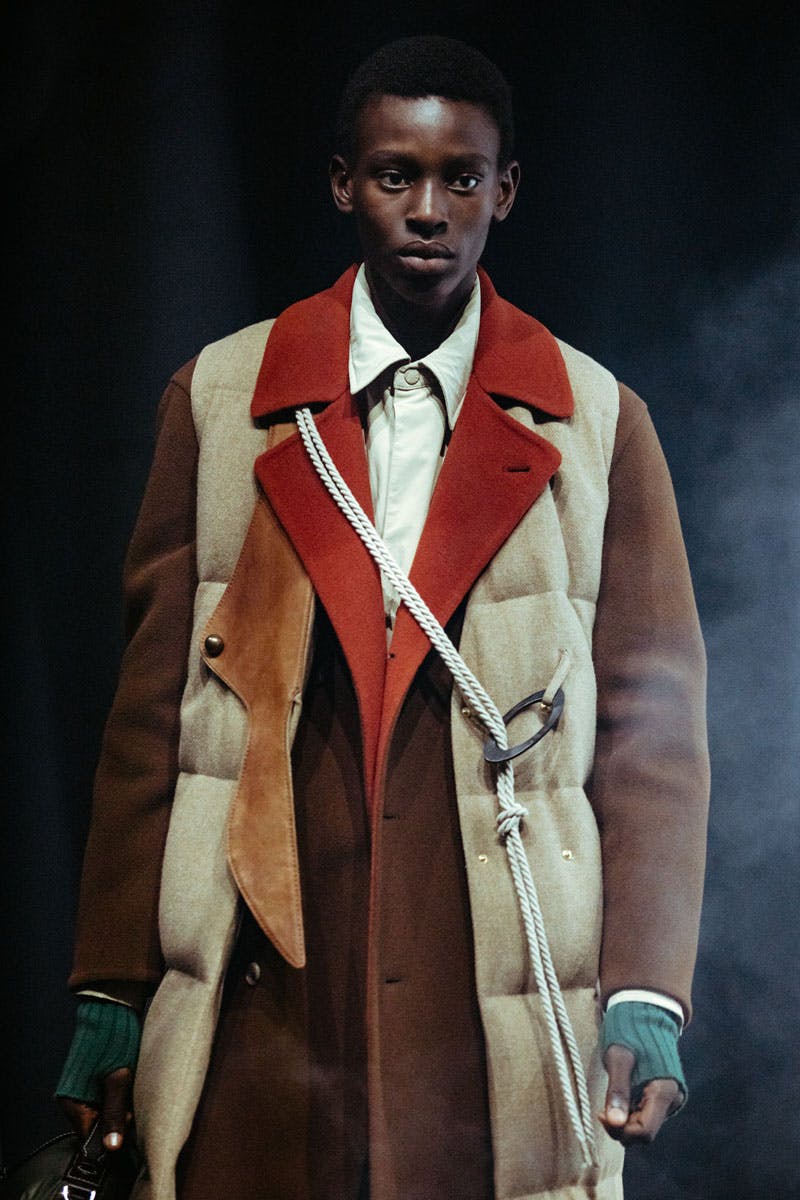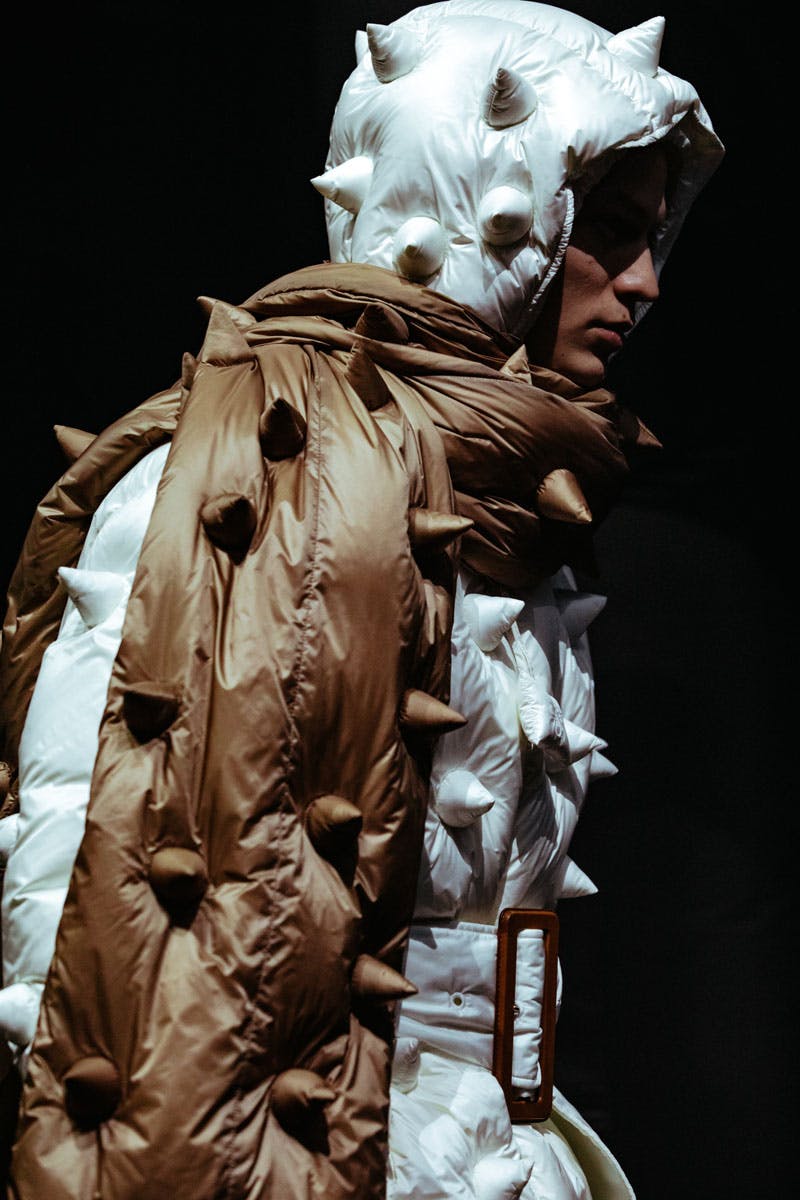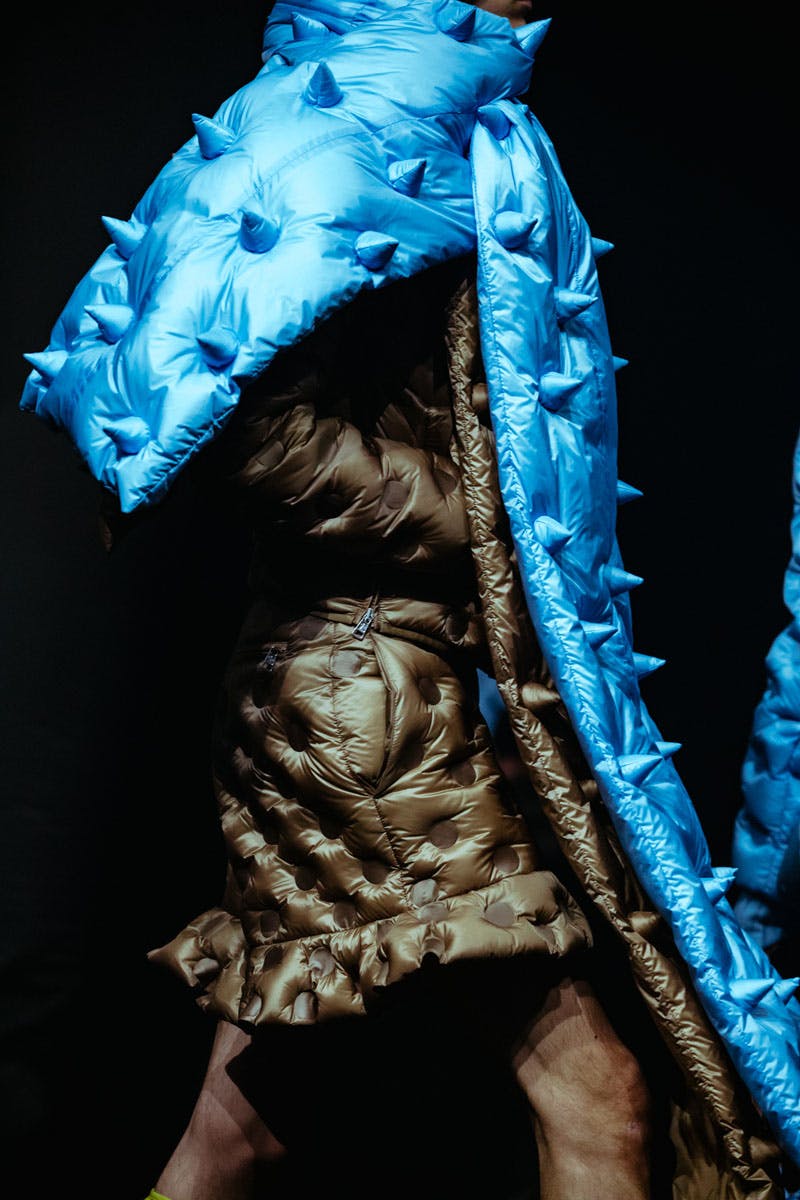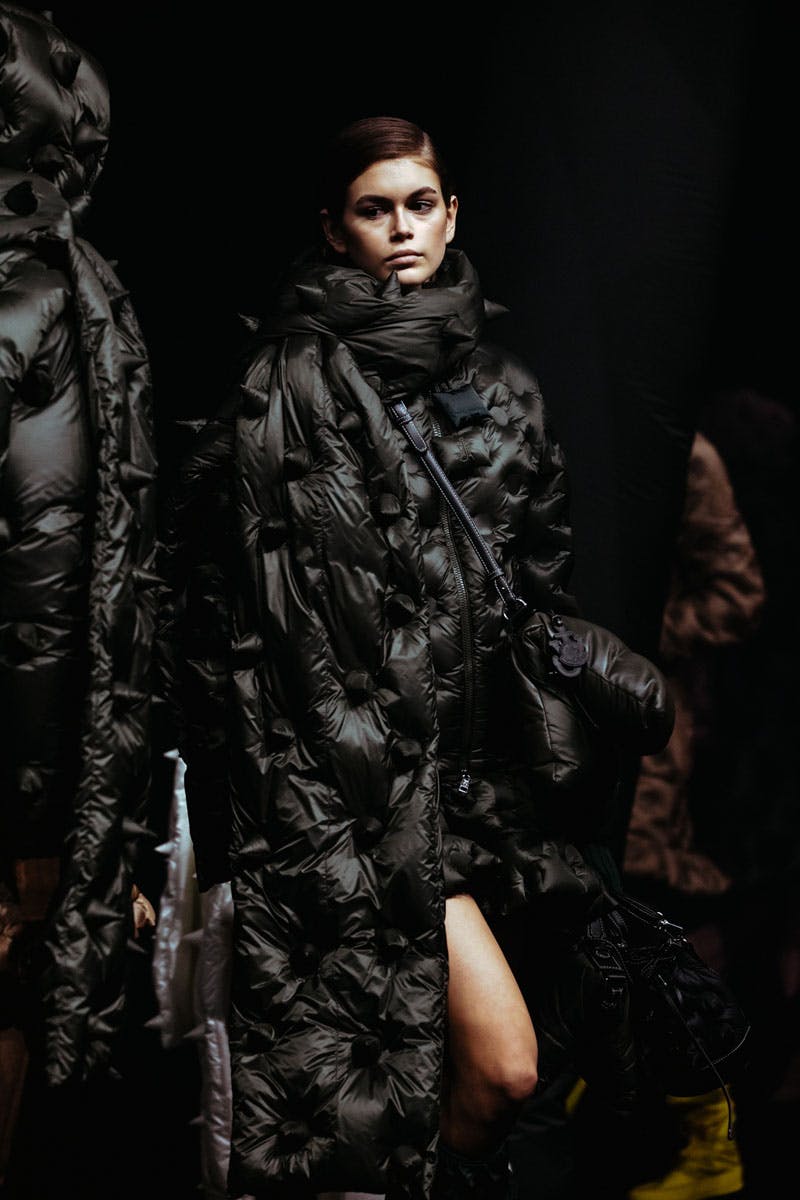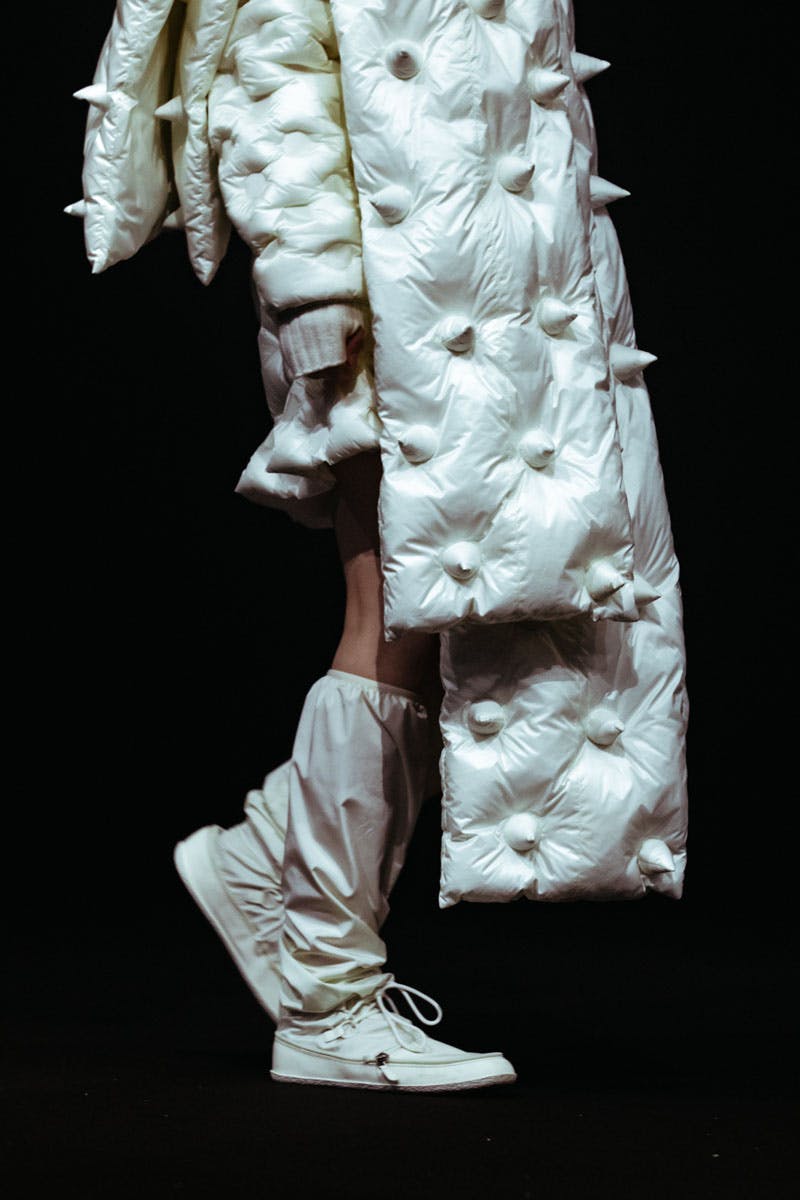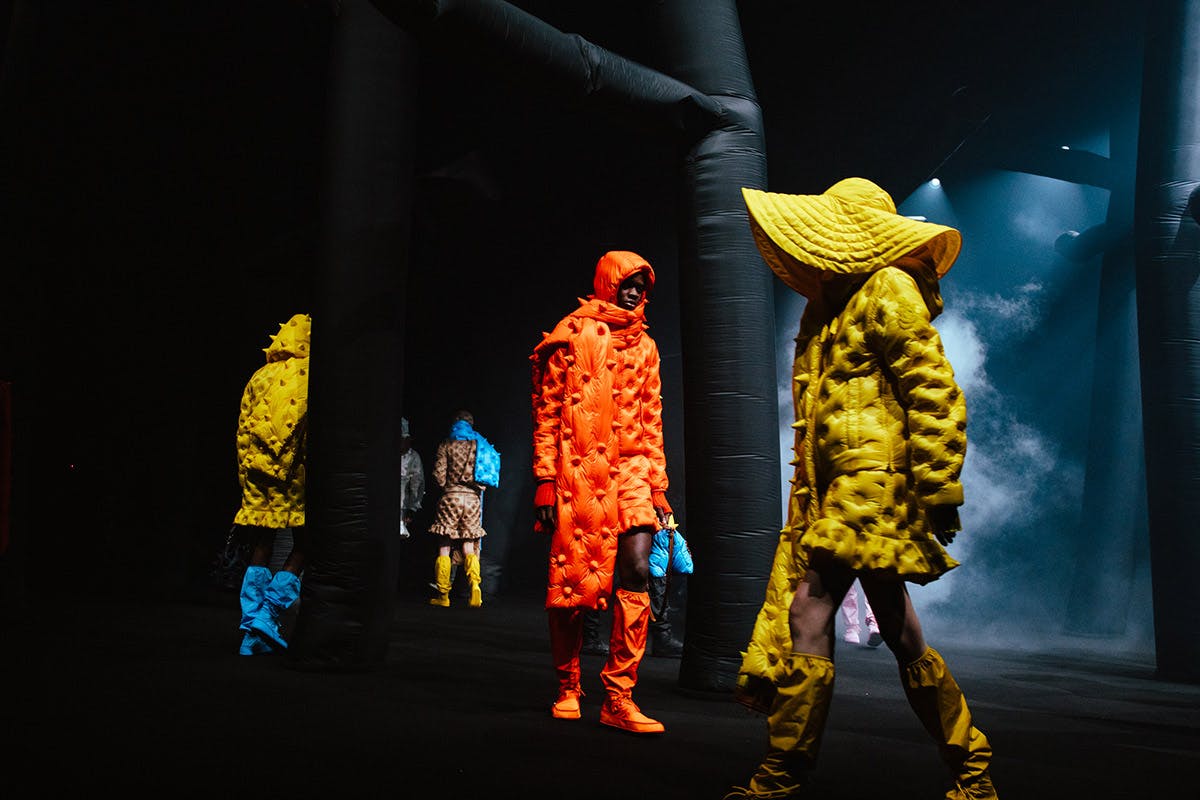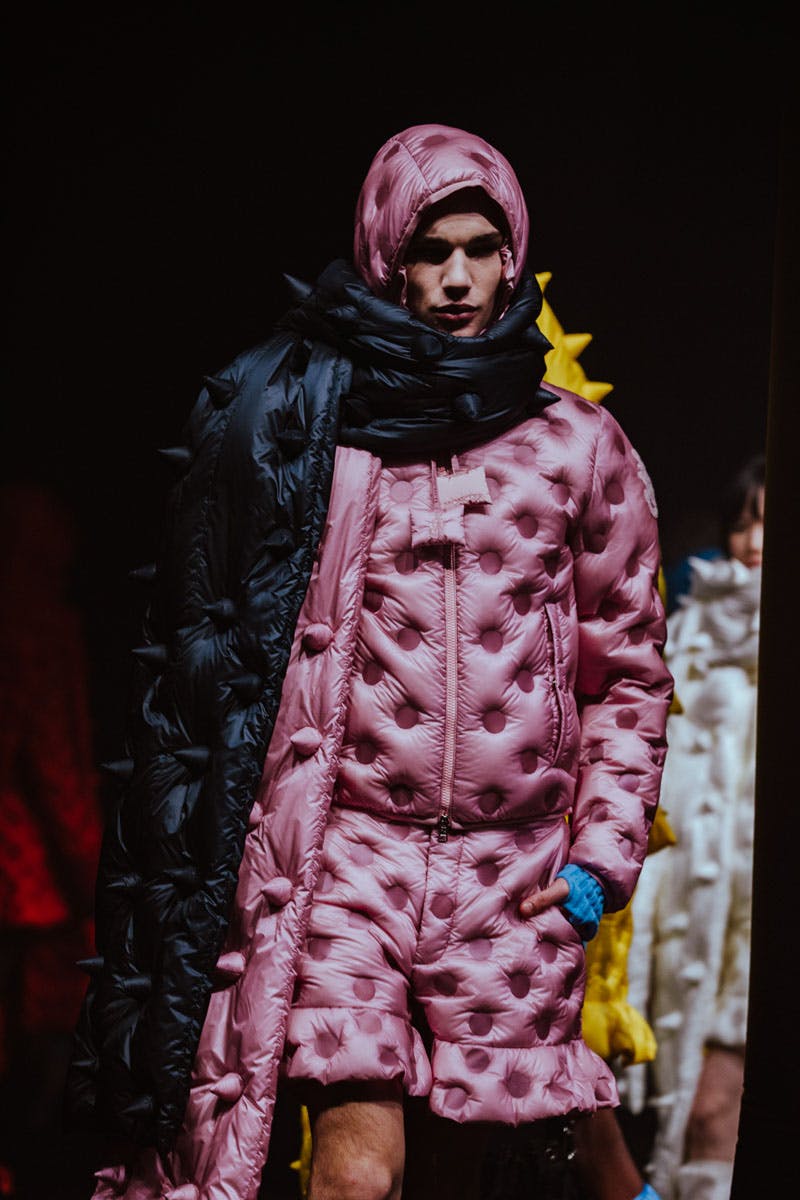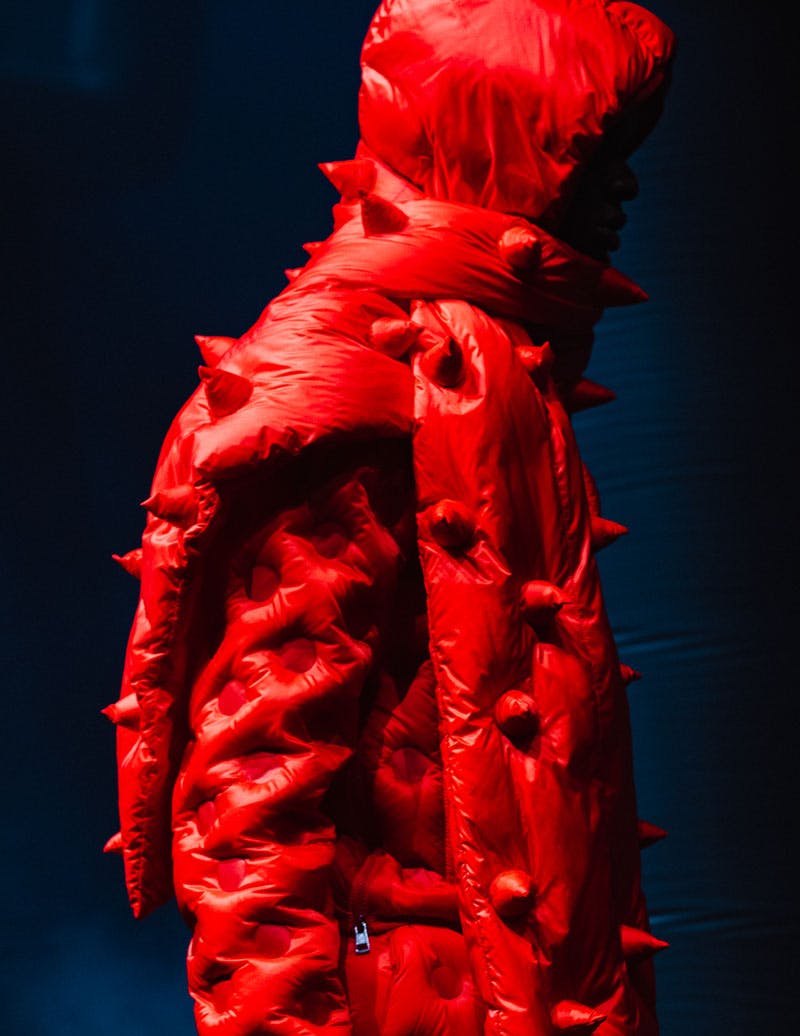 The clarion of Debussy's "Claire de Lune" greeted guests as they entered the JW Anderson pavilion. Anderson, the founder of JW Anderson and creative director of Loewe, applied his research-based practice and genre-defying silhouettes to his mens- and womenswear collection for 1 Moncler JW Anderson. It wasn't exactly "nonbinary," so much as a collage from recognizably feminine and masculine forms cross-referenced in surprising and flattering ways.
It was an intensely likeable show. The set was decorated with a forest of dreamy black blow-up trees, as some of the industry's top models walked through: Kaia Gerber, Leon Dame, Paul Hameline, Kohei Takabatake. (Google them, you won't regret it.) The first half of the collection saw unisex down jackets with scarves and hoods, each studded with puffer spikes that looked half punk, half Bowser from Mario Kart. The show's second half showed a true merging of the Moncler and JW Anderson DNAs—printed jackets, three-quarter length down coats, and knit dresses from the JW Anderson archive, reinterpreted and inflated in Moncler fashion.
Q: What are the three most important things one should know about this collection? JW Anderson: The collection is an inflated archive of iconic JW Anderson archive pieces. We designed the collection to be a bit playful. I think it's chic and fun at the same time. Working with Moncler was a dream and I am incredibly excited to see the collection come out.
Q: What distinguishes this collection from Moncler's archive and other past collaborations? JW Anderson: I think it was the collision of the JW Anderson archive and the staples of Moncler that produced a collection that feels like a wardrobe. You can dress yourself in it.
2 Moncler 1952 (Man)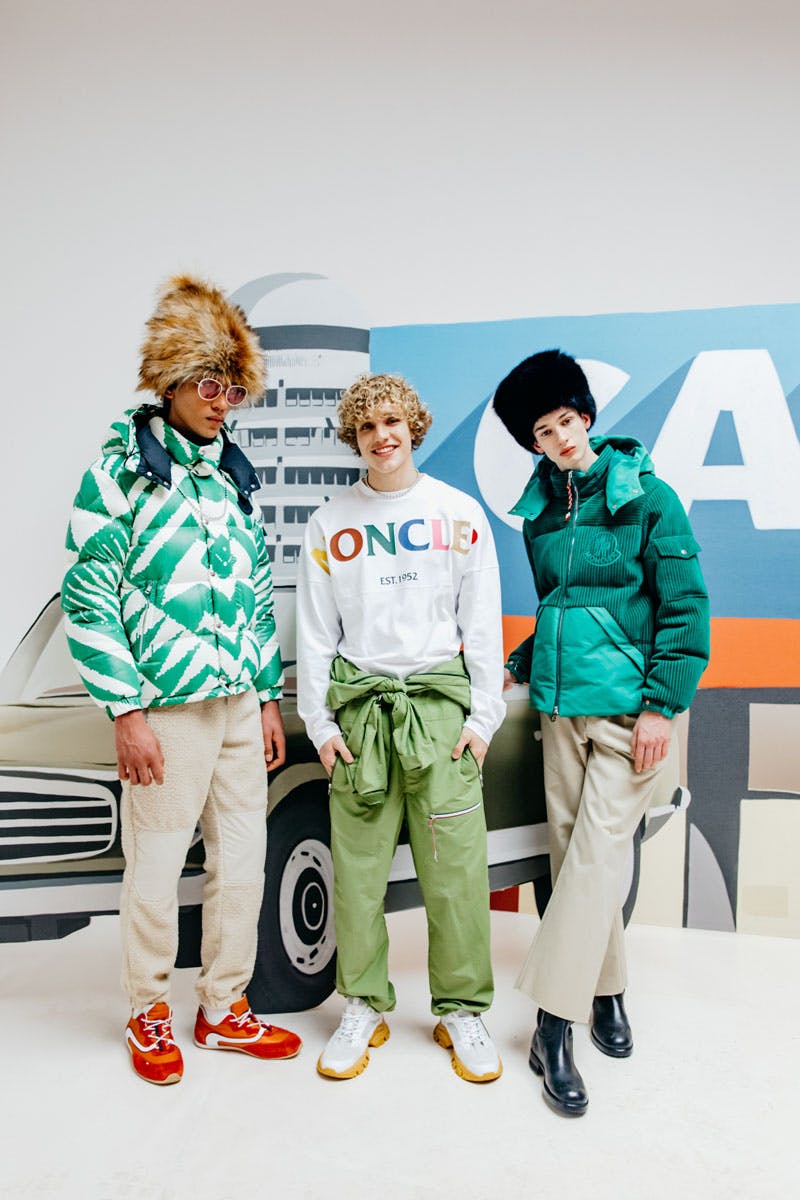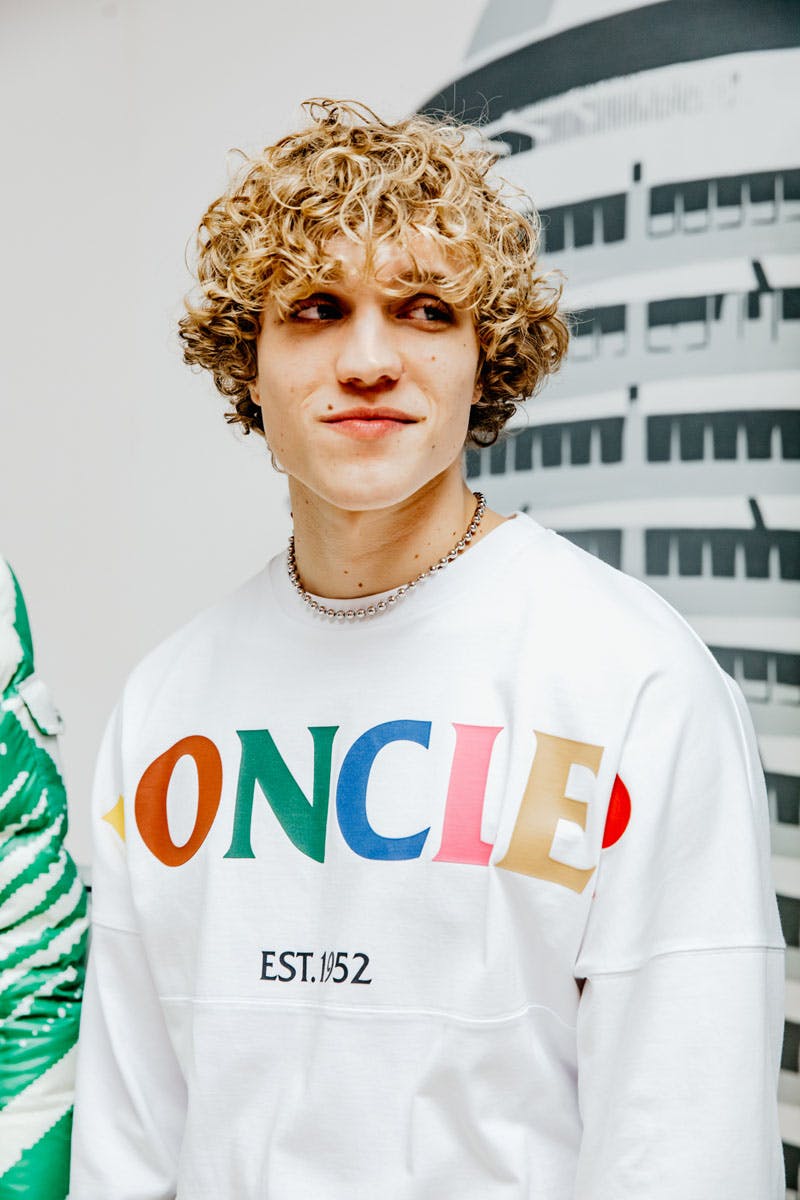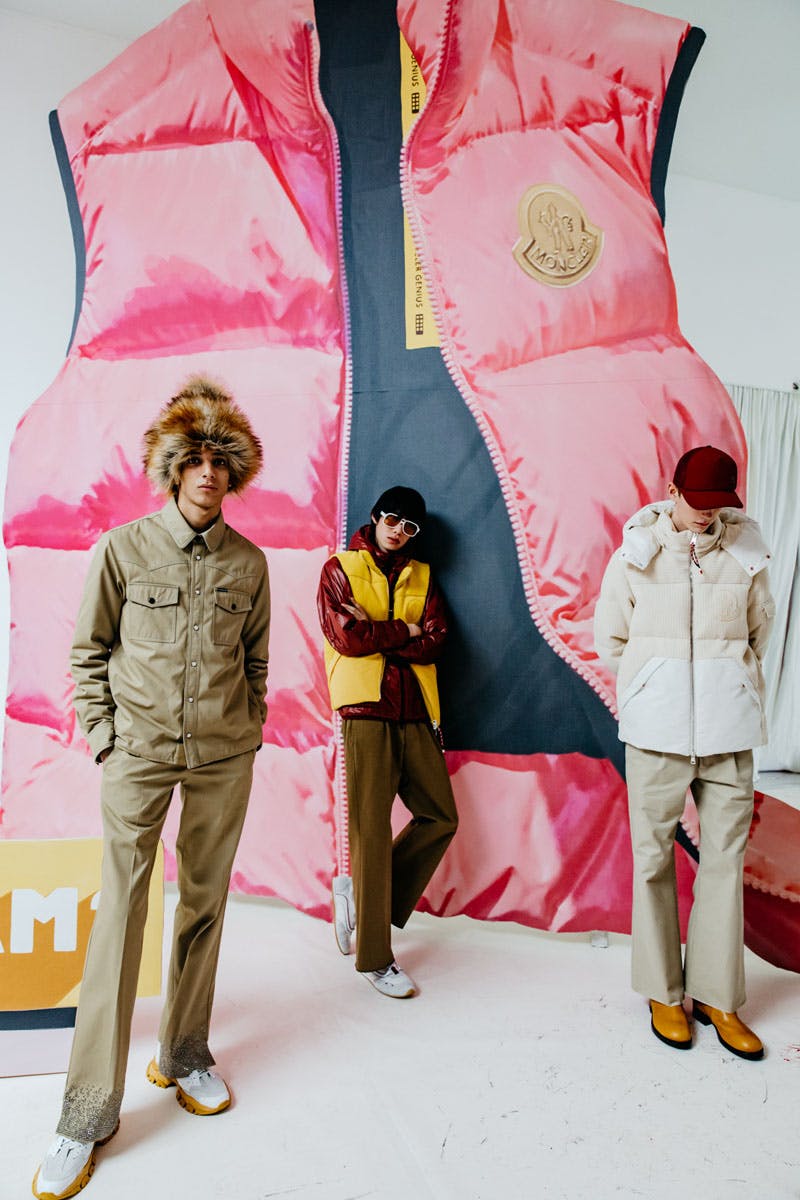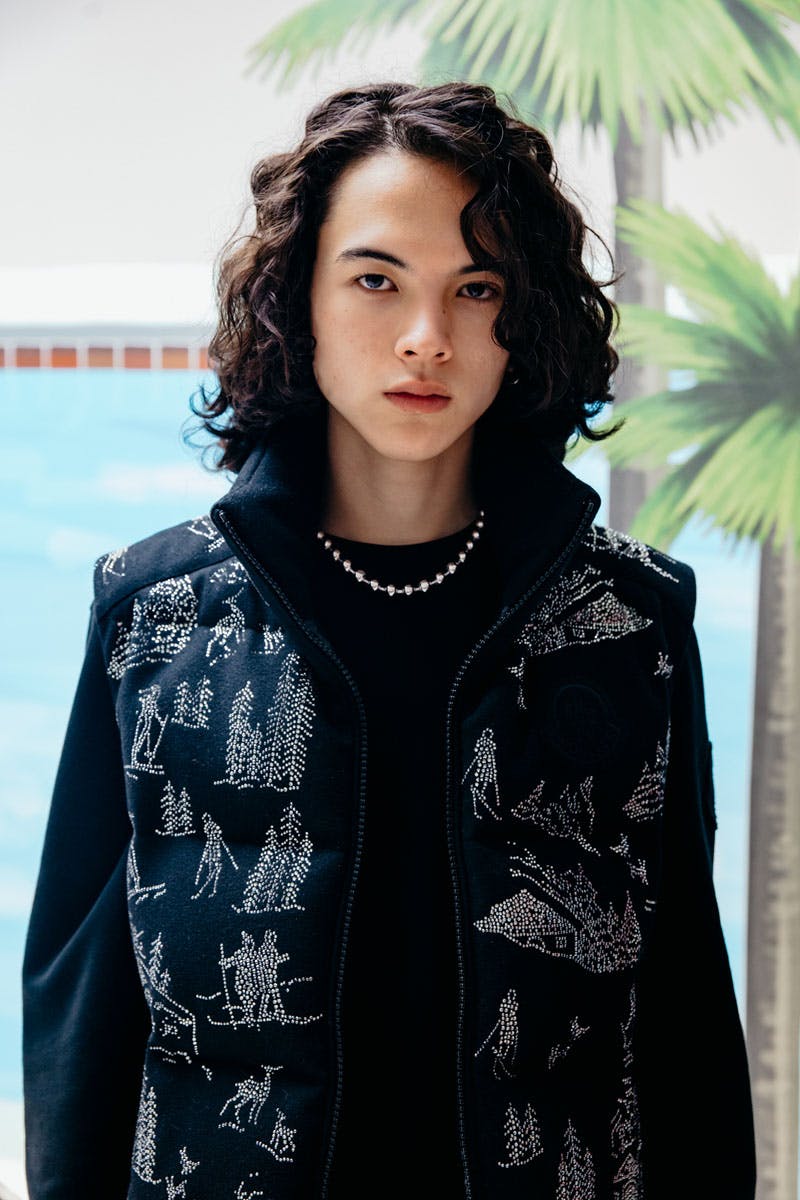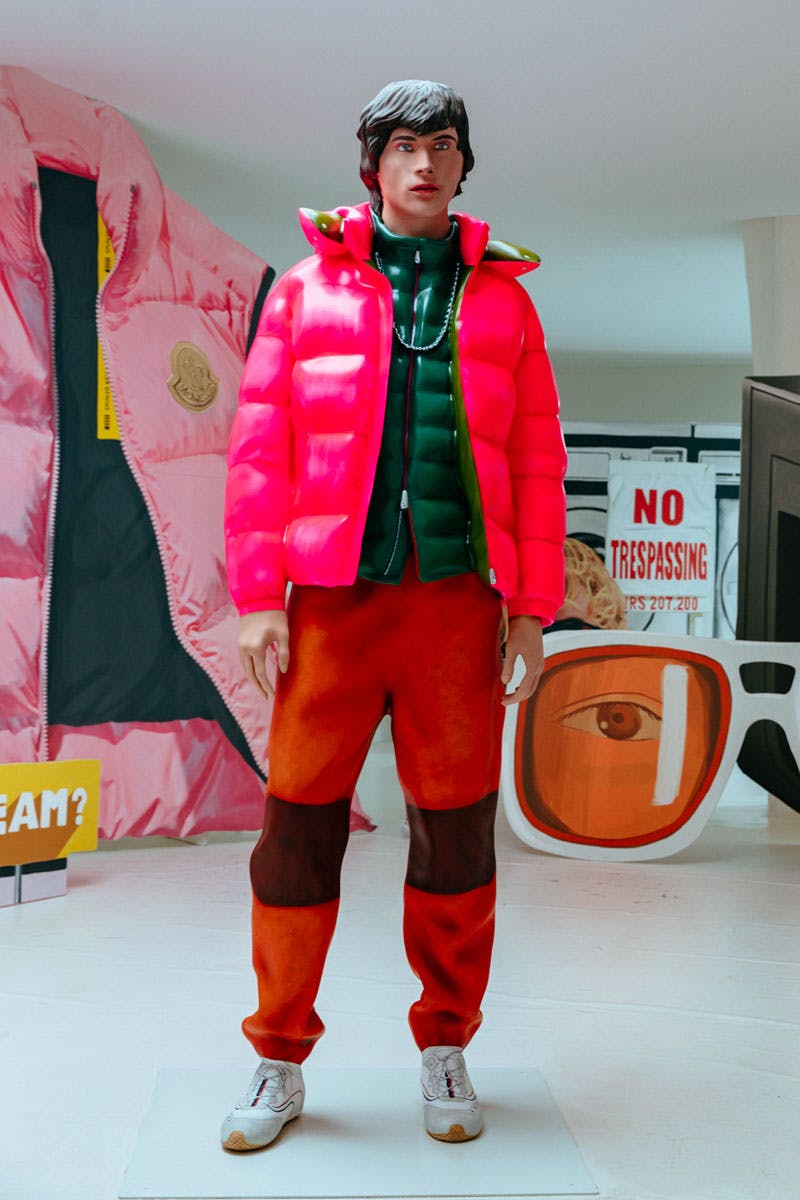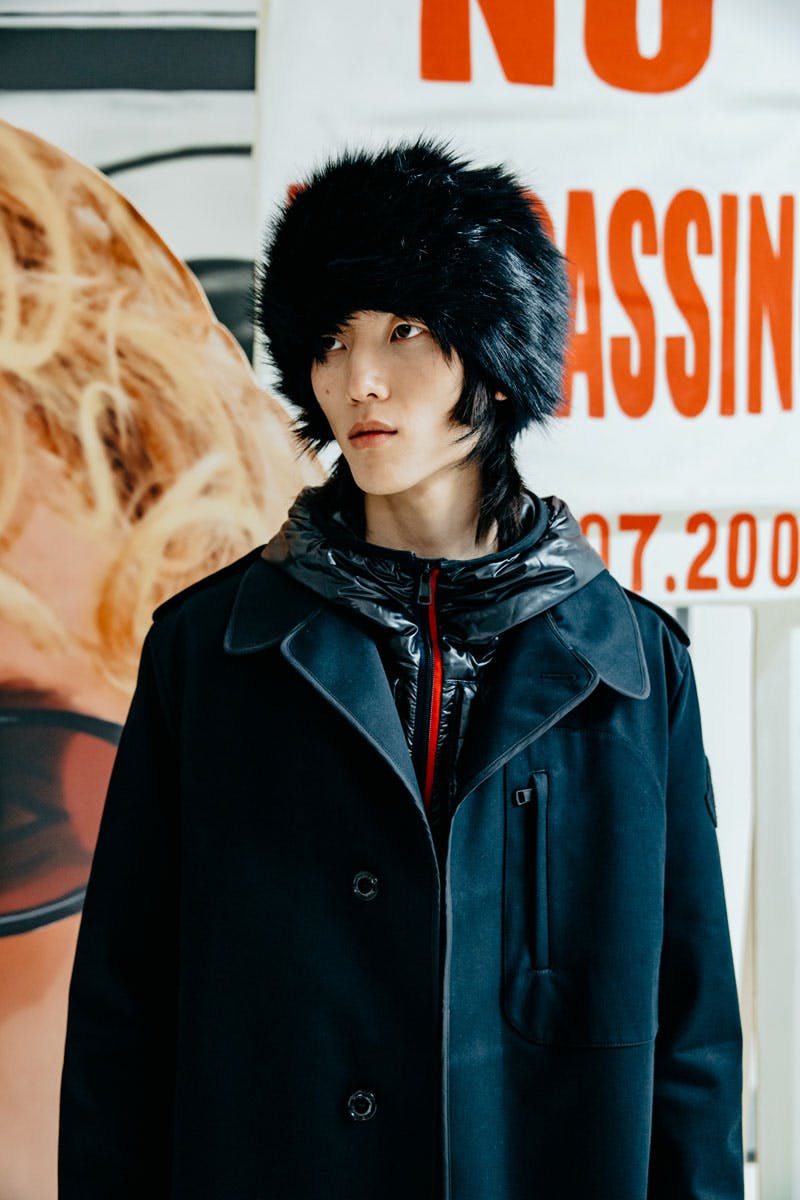 This was the presentation that will make you want to buy the whole thing and wear it immediately. Sergio Zambon, who heads the design for 2 Moncler 1952 Man, chose to set his collection to the rhythms and the spirit of Los Angeles. There was a high-modernist, '70s pop feel that one could imagine heading from the wan Modernist architecture of Palm Springs. Clothes for the winter in the desert, you might say.
Though it wasn't just Zambon's idea of Los Angeles that inspired him. He partnered with LA-based organizations, who represent LA now: Libertine, Undefeated, Balt Getty and AD.III. He states, "I took local tropes and clichés and turned them around, the Moncler way." Speaking of LA, when the recent Grammy dominator Billie Eilish's "Bad Guy" came over the speakers, you could see some of the models start dancing and lip syncing, then stop and pose for pictures.
2 Moncler 1952 Woman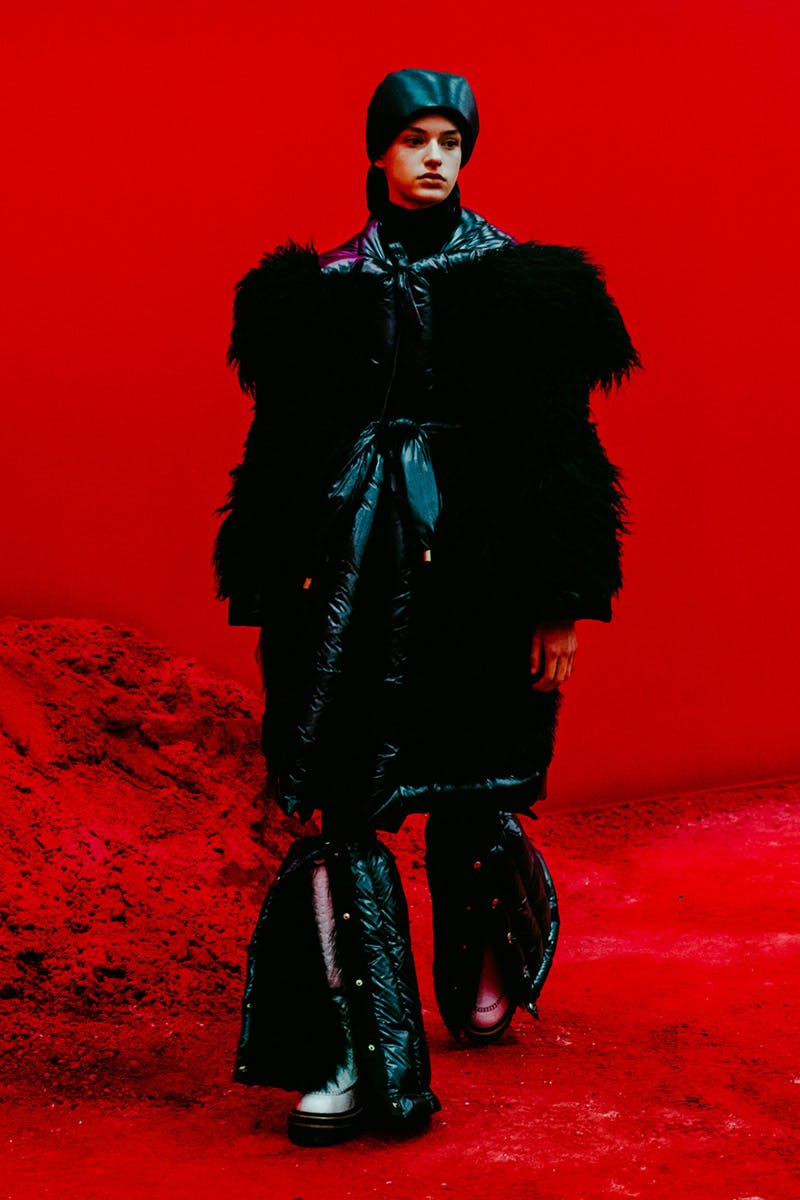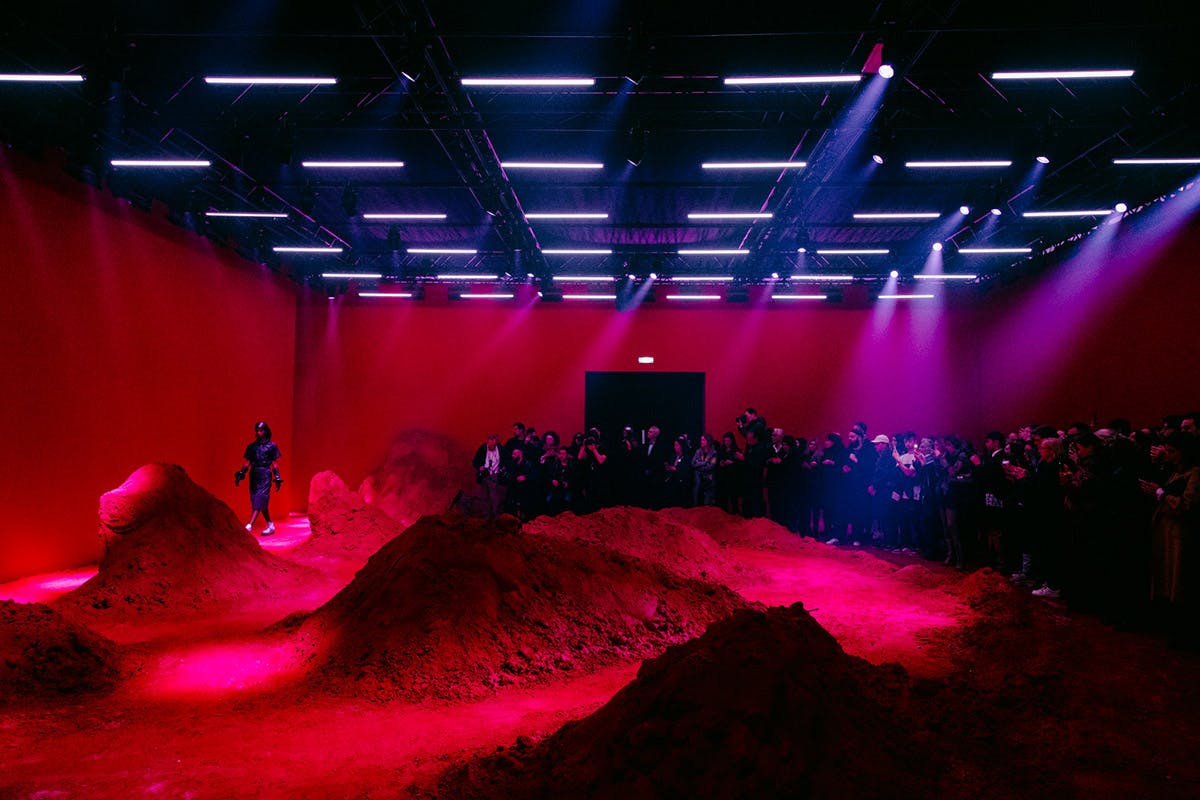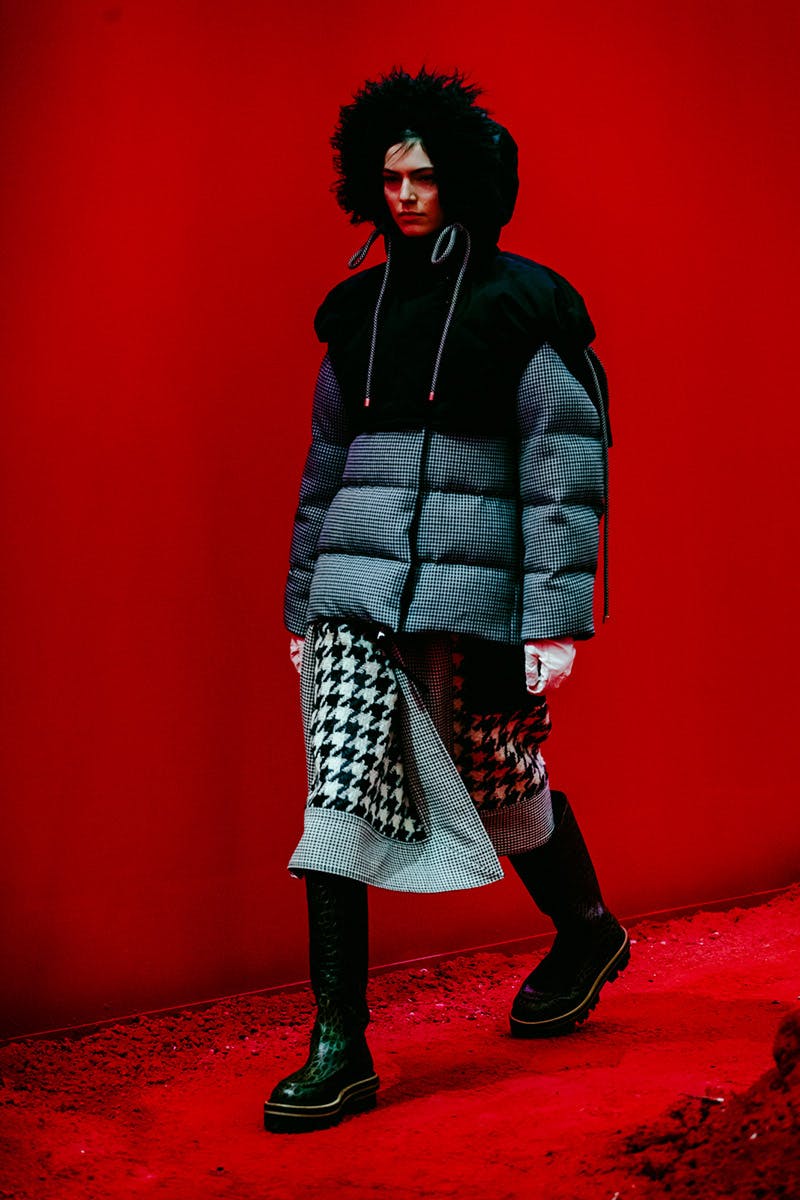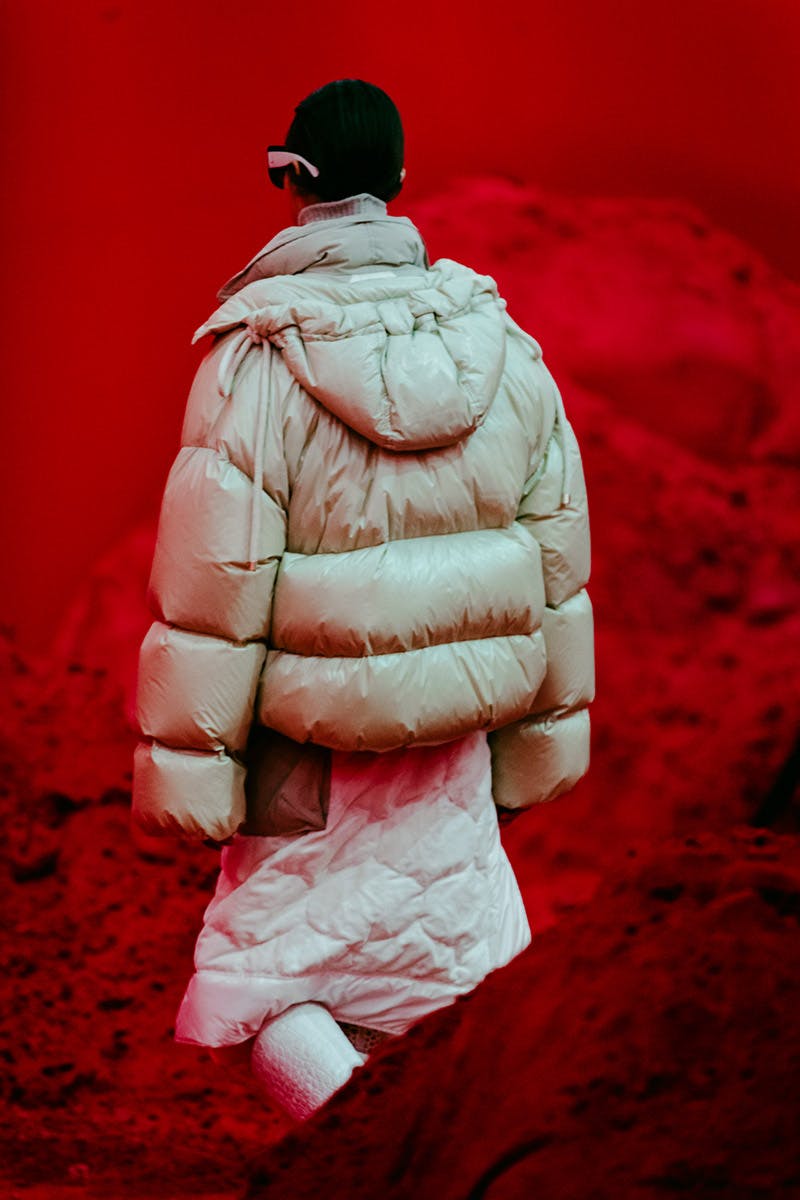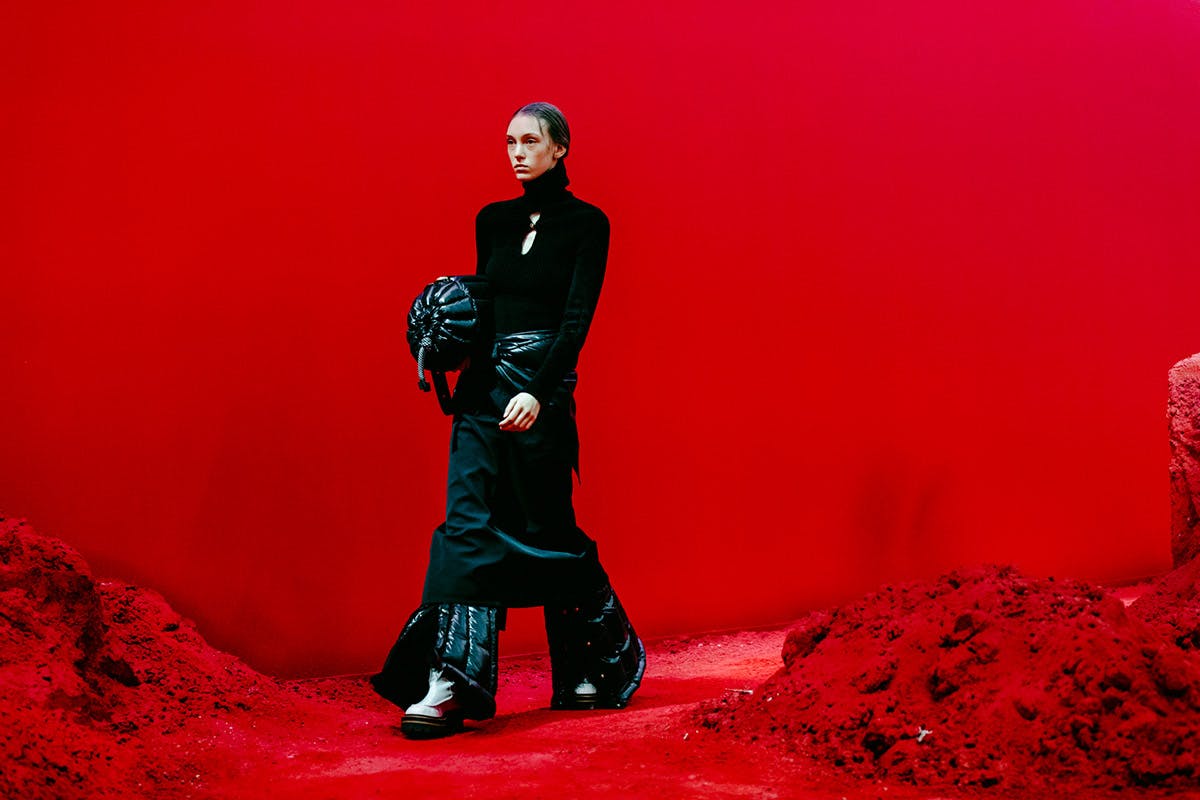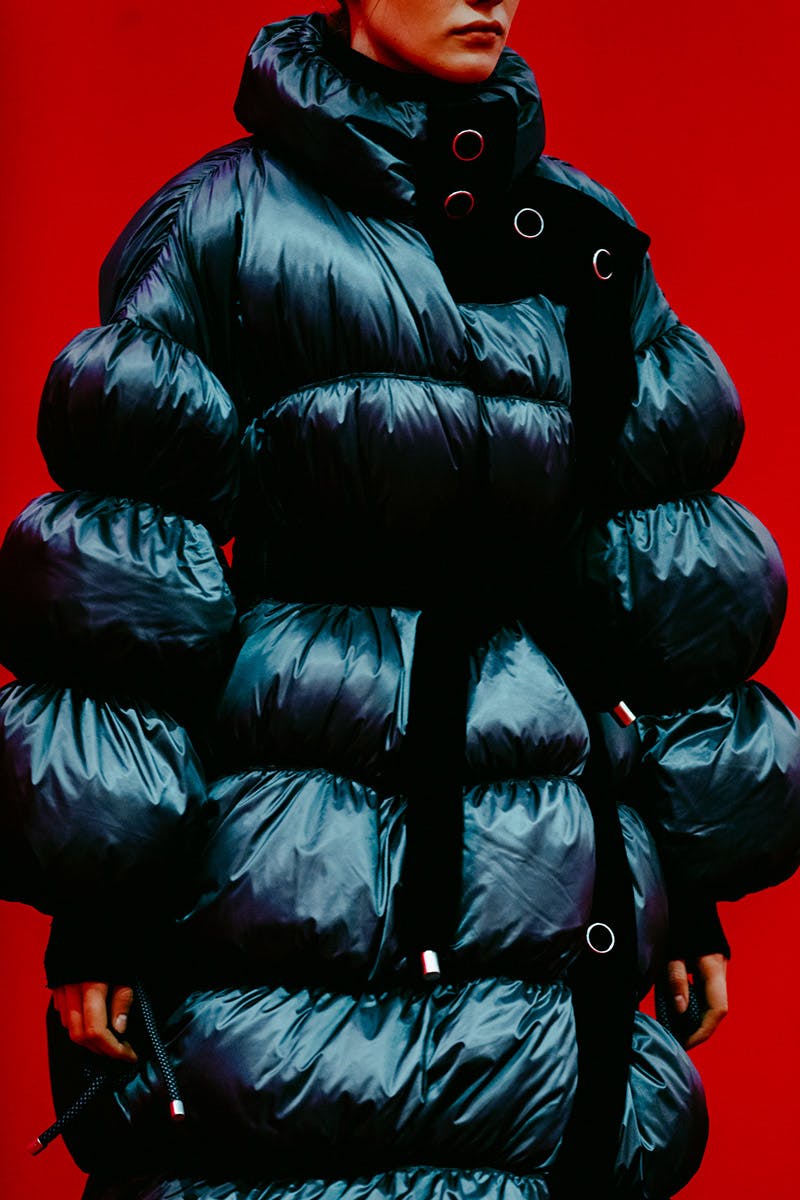 Veronica Leoni designs the 2 Moncler 1952 womens collections for Moncler Genius, and her latest collection for 2020 carried along some of her long-standing trademarks: luscious, feminine cuts that envelop and accentuate the body rather than dominate or hide it (as down so often does). A true master of her craft, Leoni demonstrated a virtuosic command of material: devoré velvets, nylon till, off-center diamond quilting and knit. It was a celebration of material as much as it was of the female body in all shapes and forms. She described it as "an army of women on a quest for a lost paradise." (FYI: The future is still female.) She goes on, "I am particularly proud of the collaboration with gender equality group Girl Up on a special item with the slogan: IT'S HER RIGHT."
4 Moncler Simone Rocha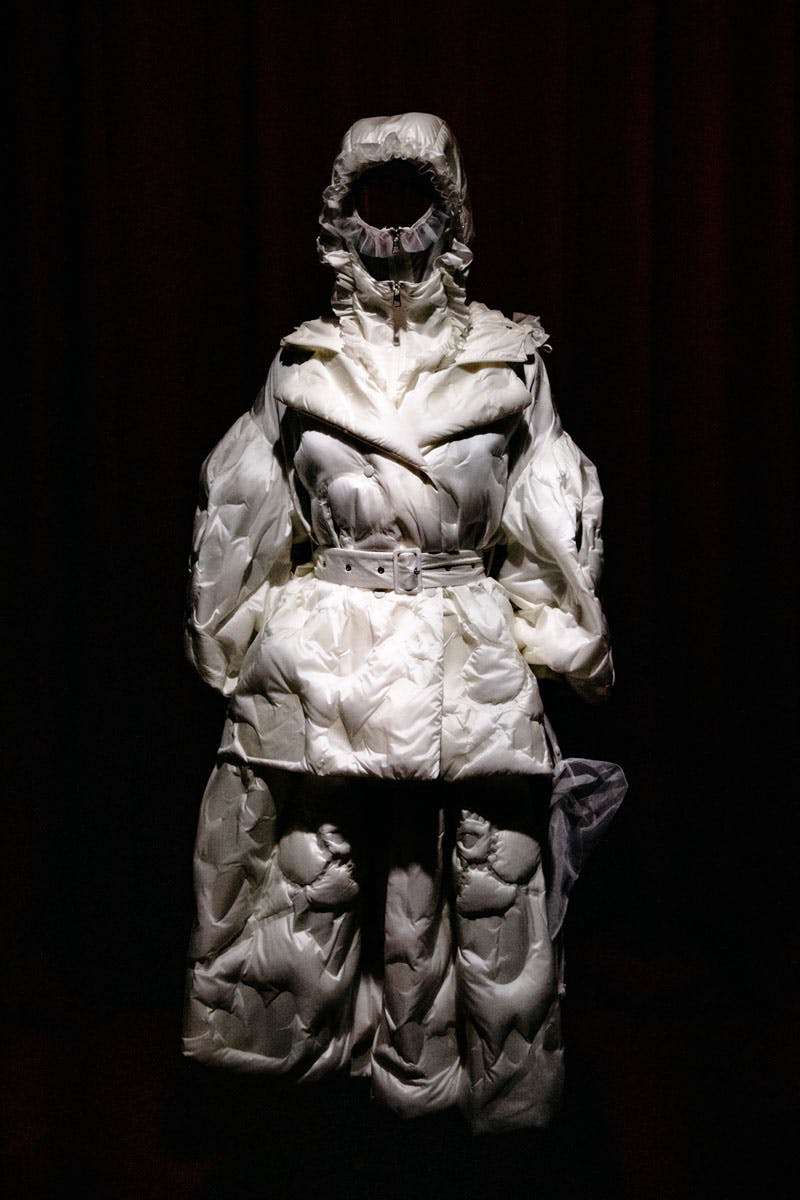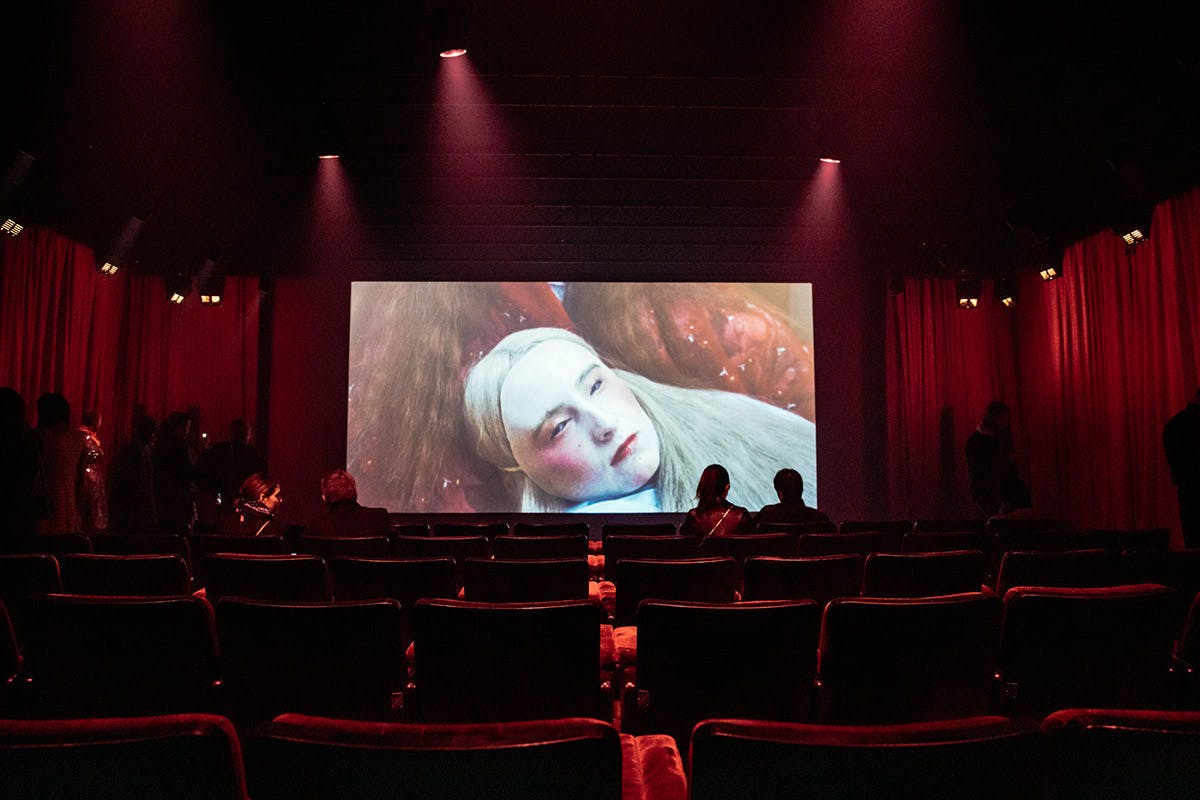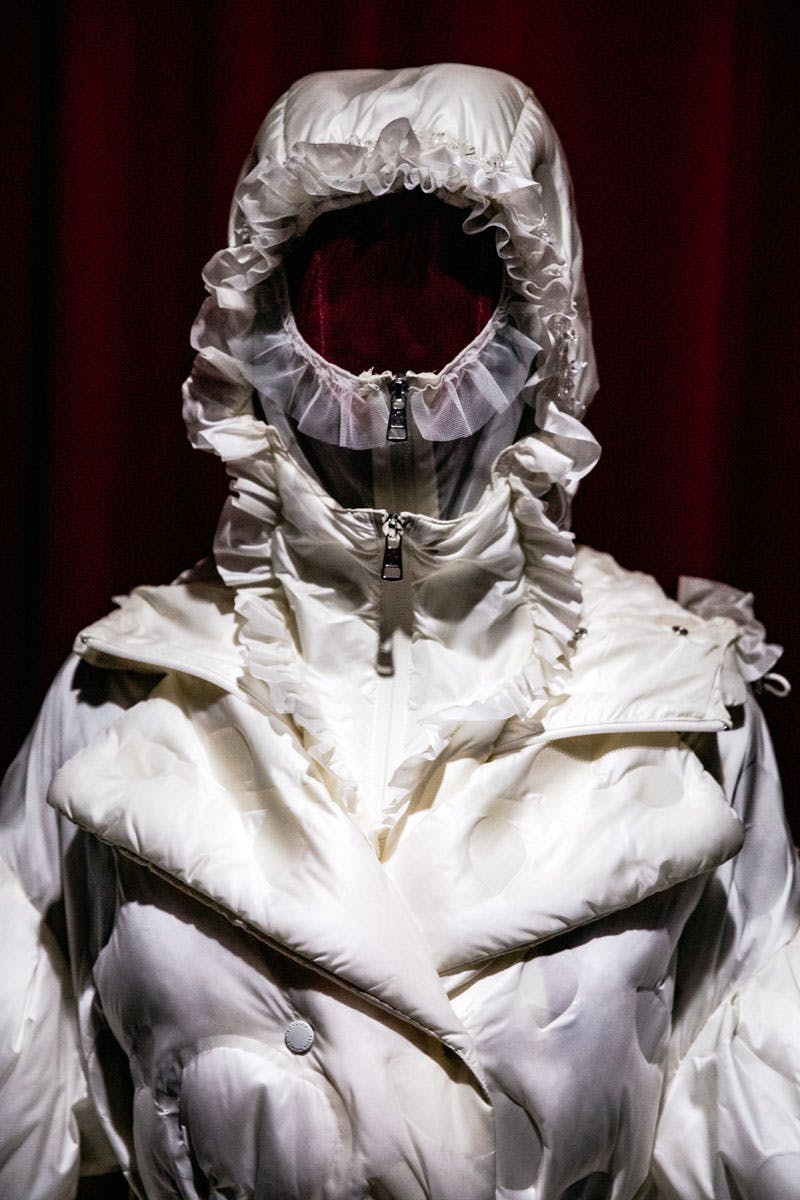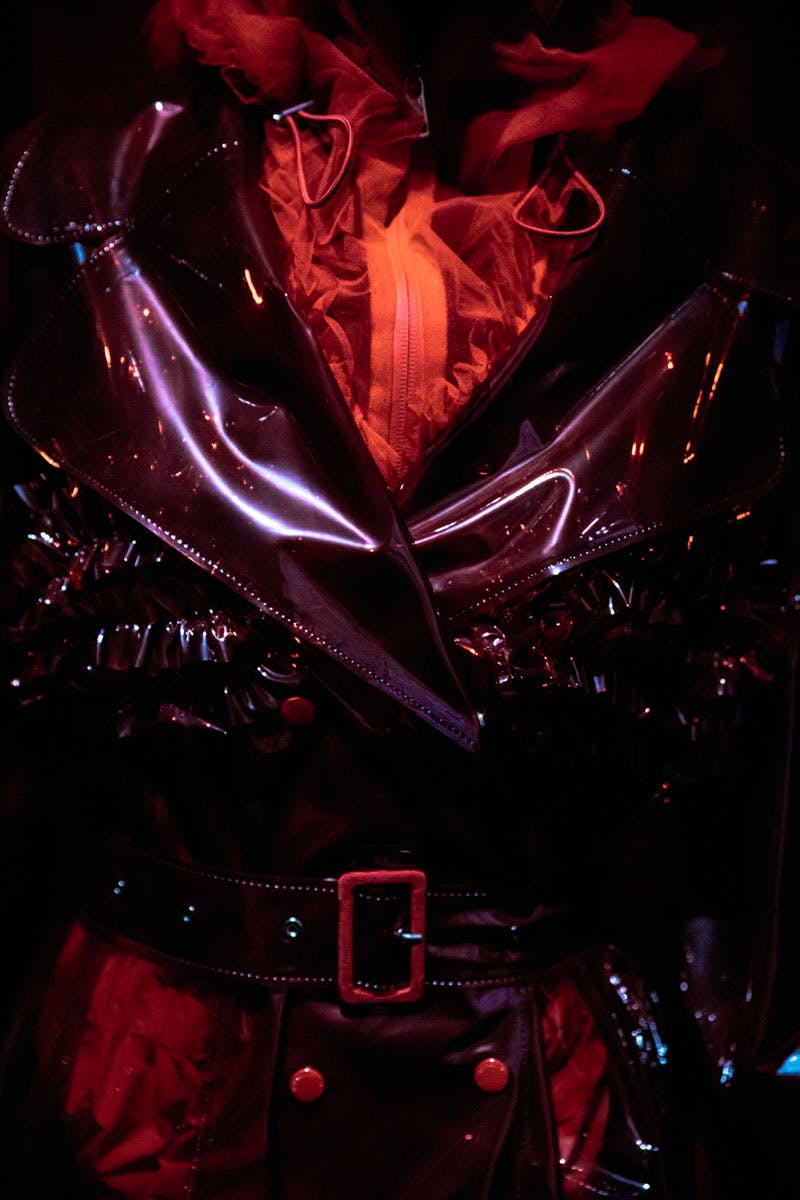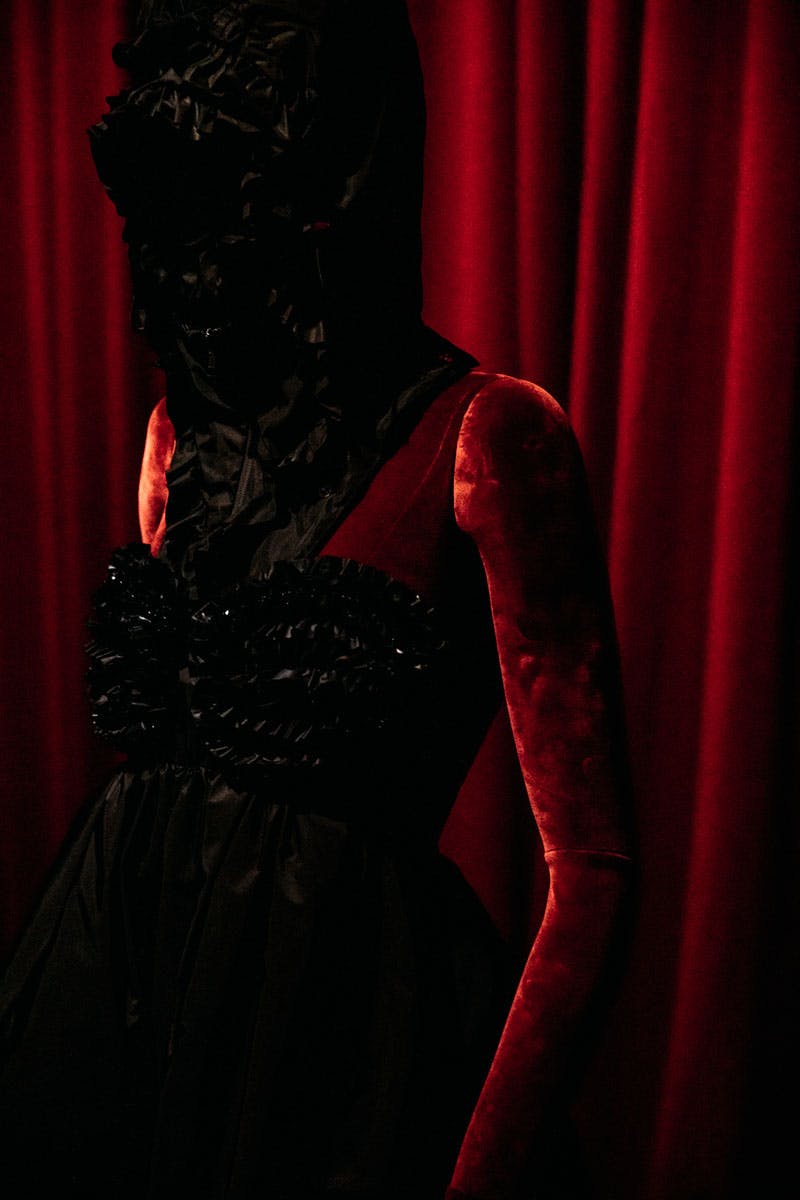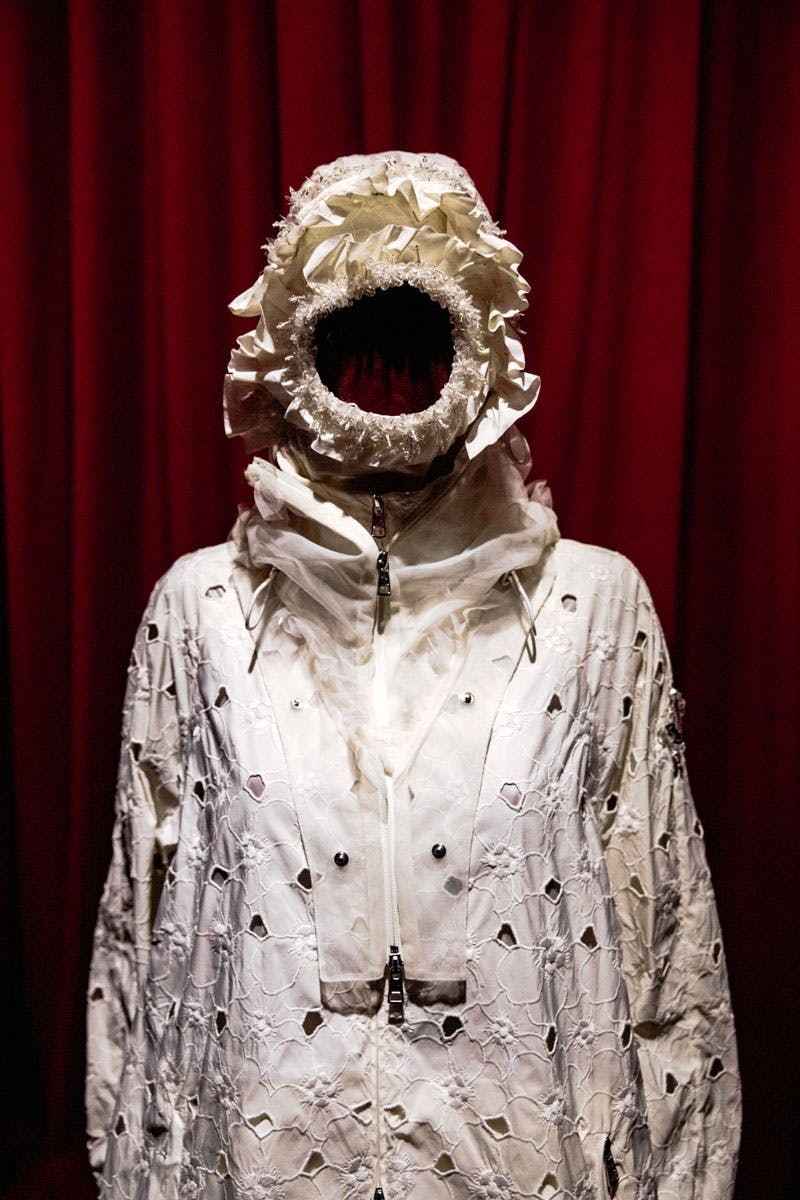 For almost ten years, Simone Rocha's design has been known for her blend of fabric and texture, creating forms that women really want to wear, and feel good wearing. For inspiration, she often draws from the Celtic hinterlands, which can be seen in the bundles of down scarves, ruffles, and laces in her first two Moncler Genius collections.
Simone Rocha's Moncler pavillion was a movie theater, with a dramatic campaign video featuring women on the verge of nervous breakdowns. As one of the Moncler Genius originals, Rocha chose to draw inspiration for her 2020 collection from dancers and legendary Italian director Fellini, such as the scene in 8 ½, when the drunk aristocrats perform a candle-lit seance in a castle. The clothes were filled with lush embroideries, embossing and rose prints, and frills in rich reds and lavender.
5 Moncler Craig Green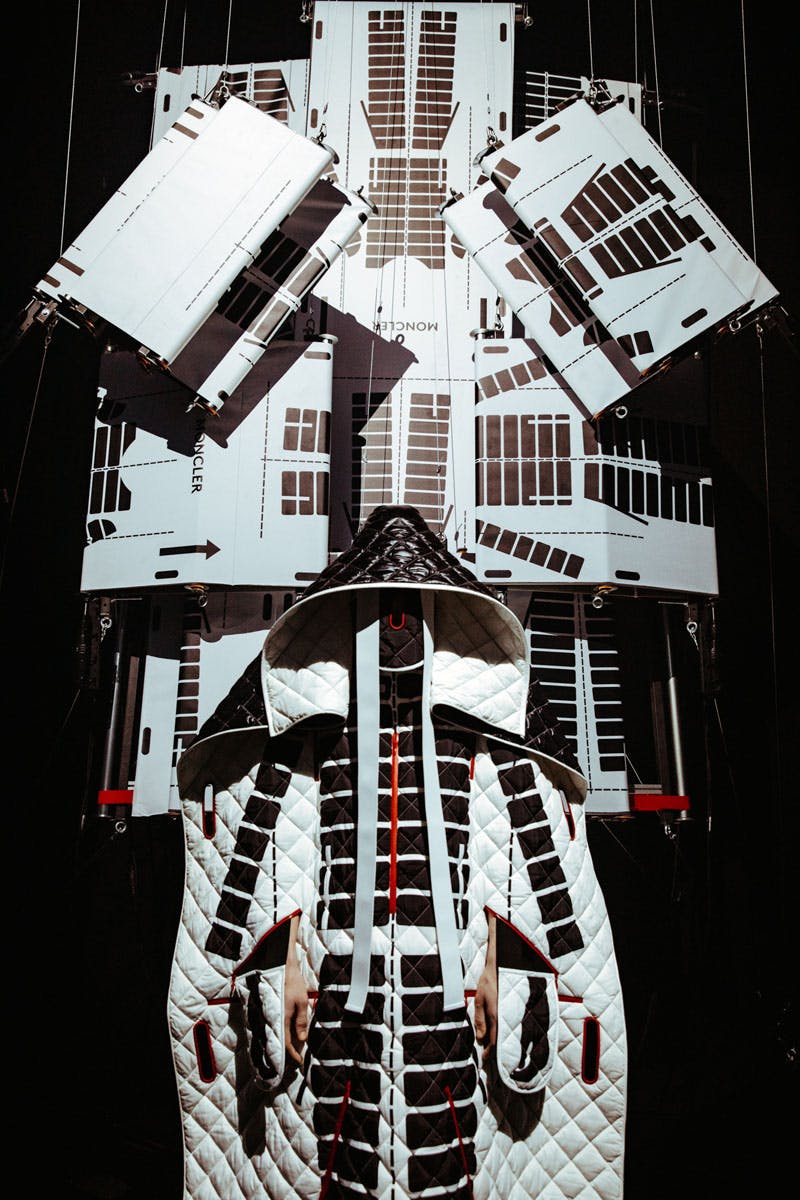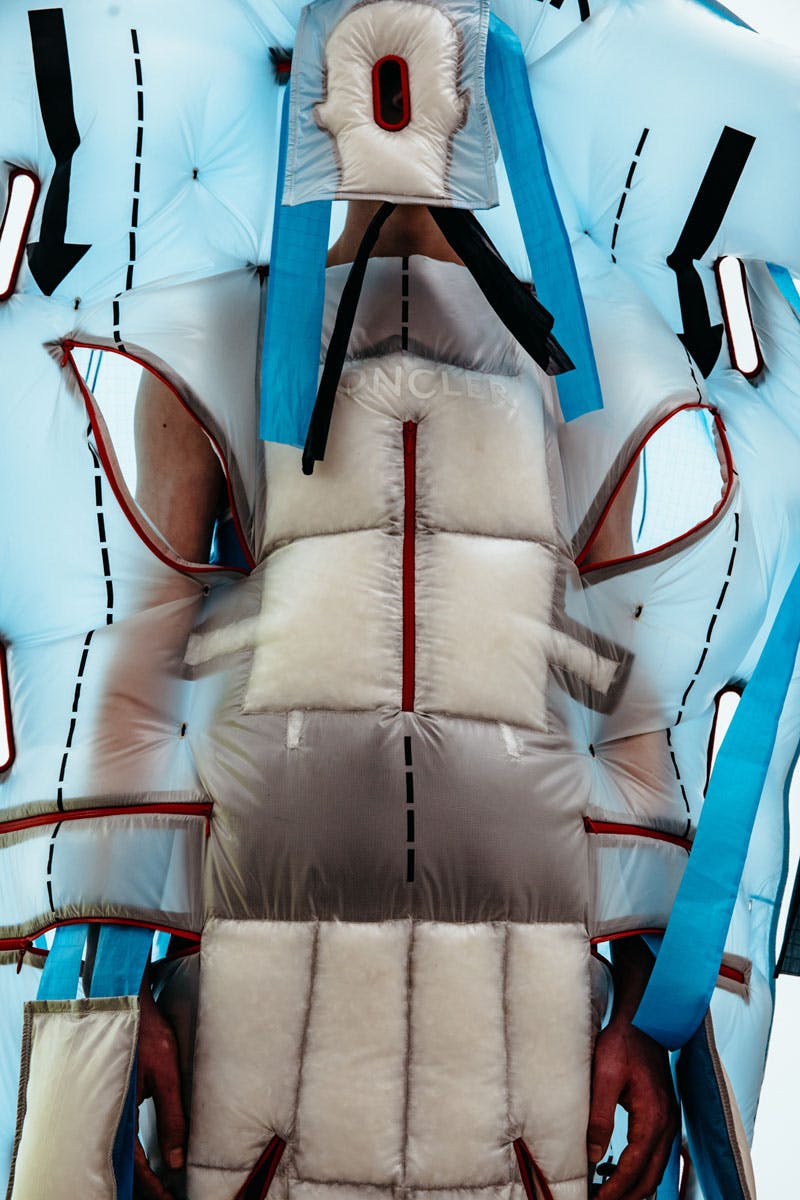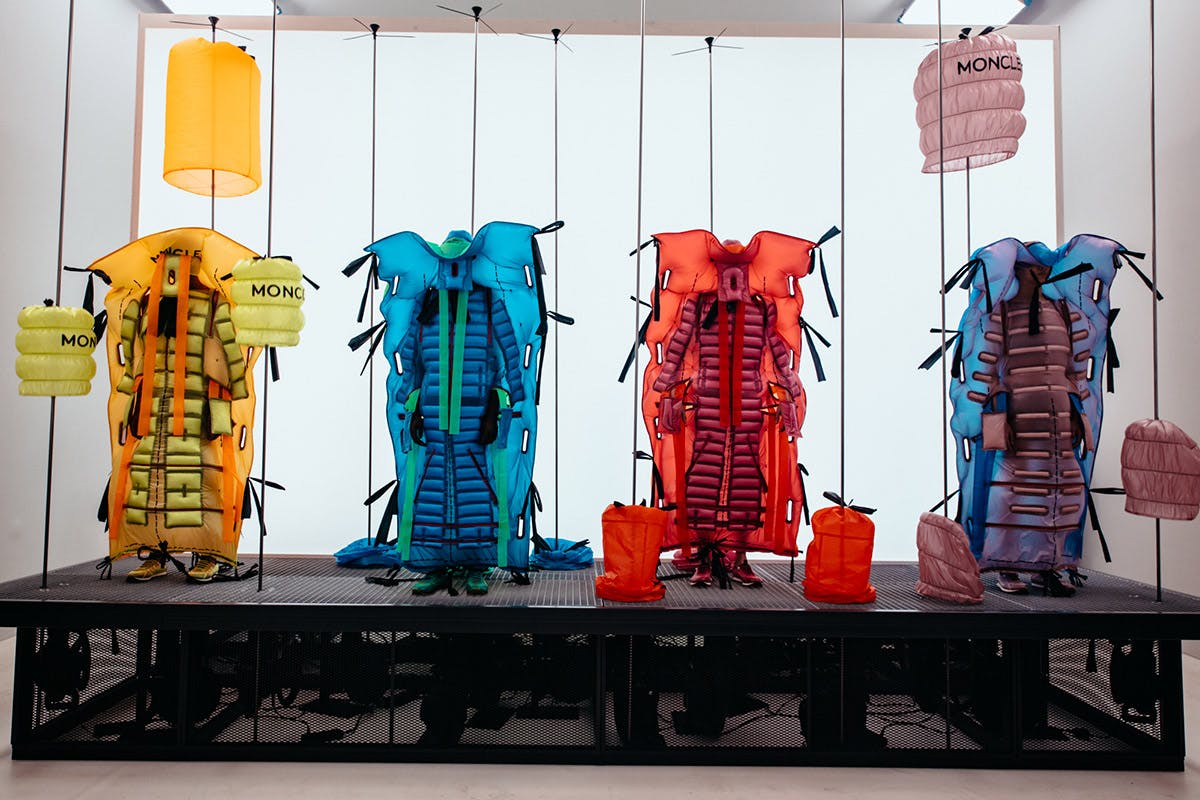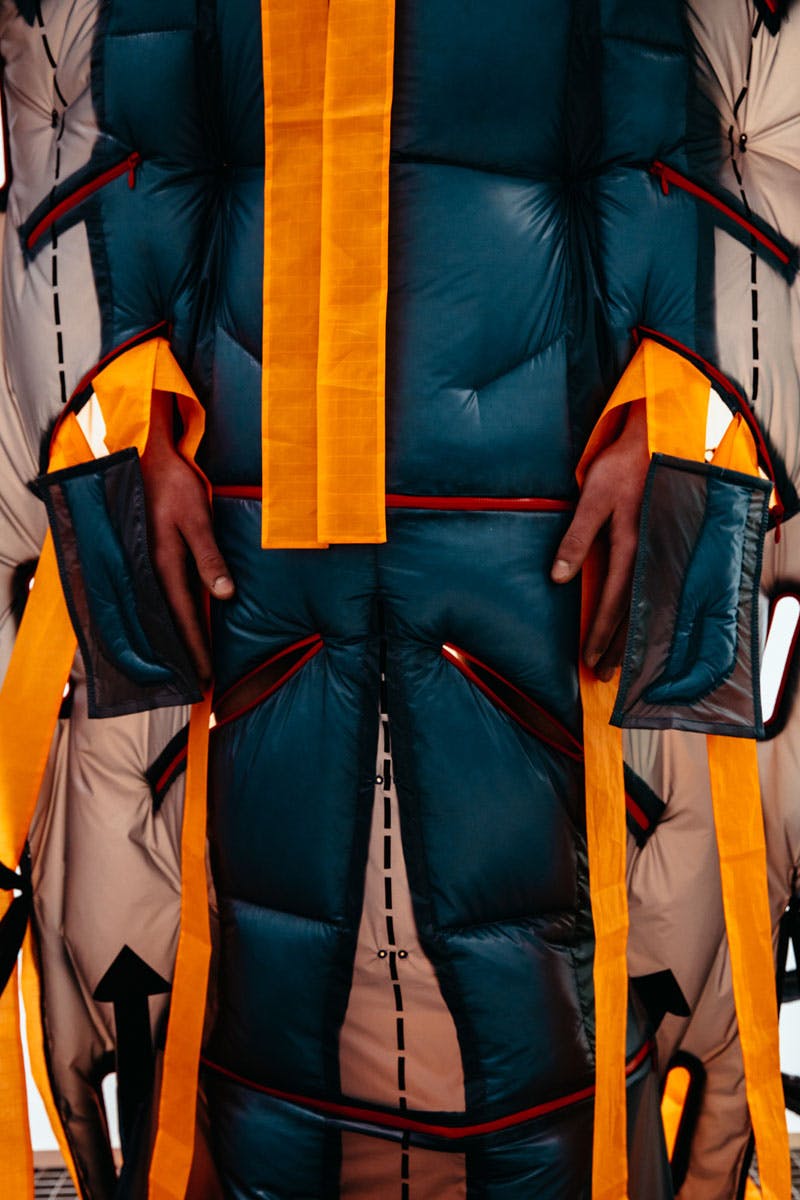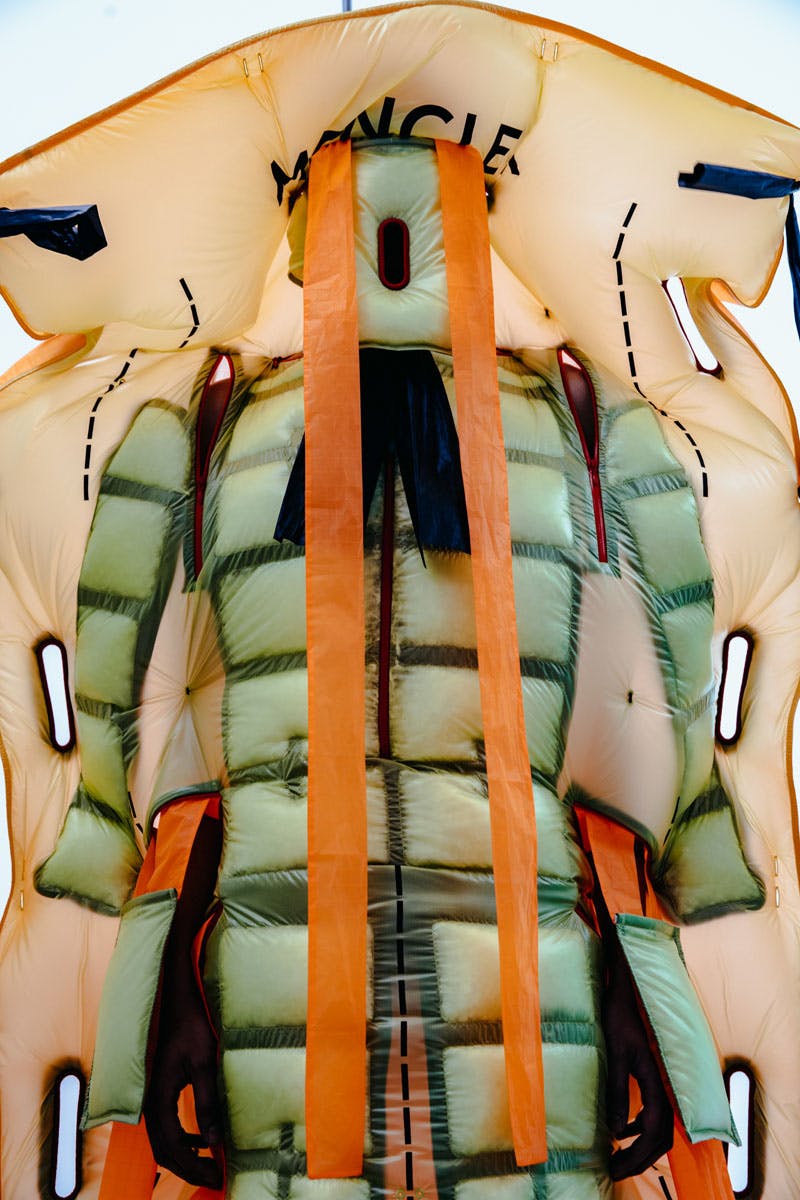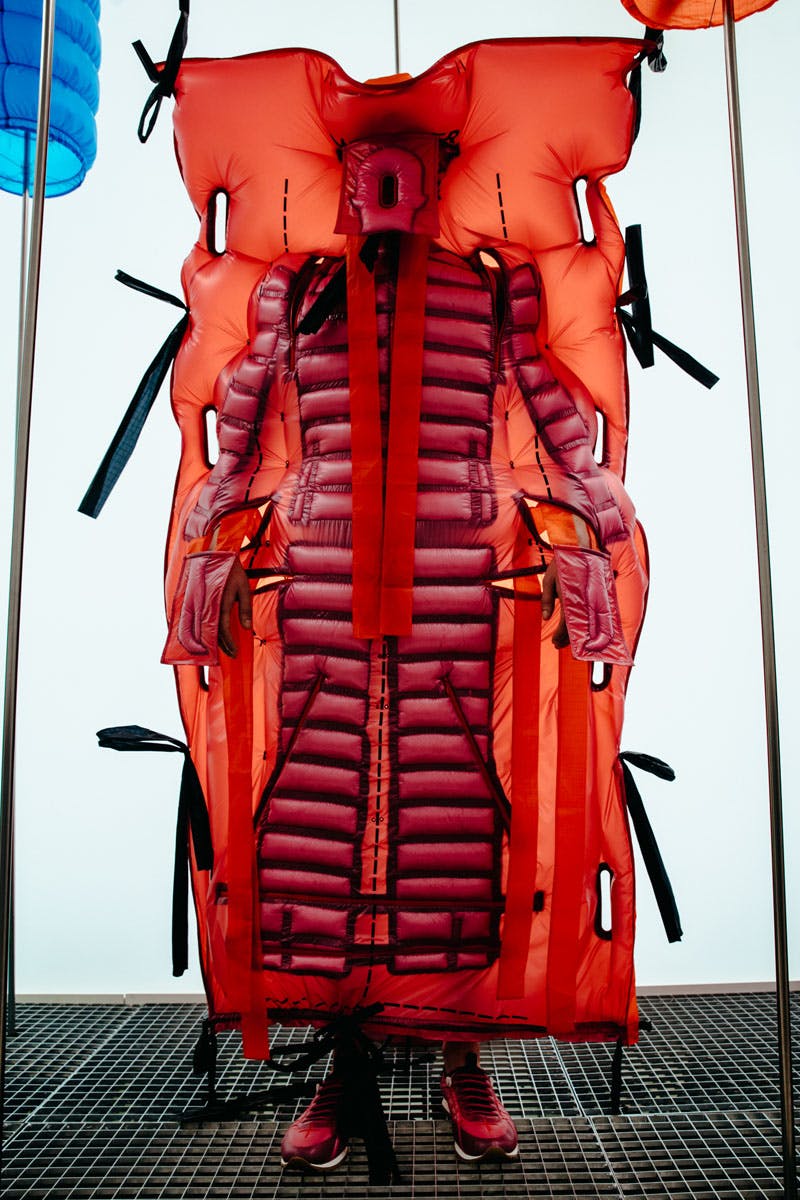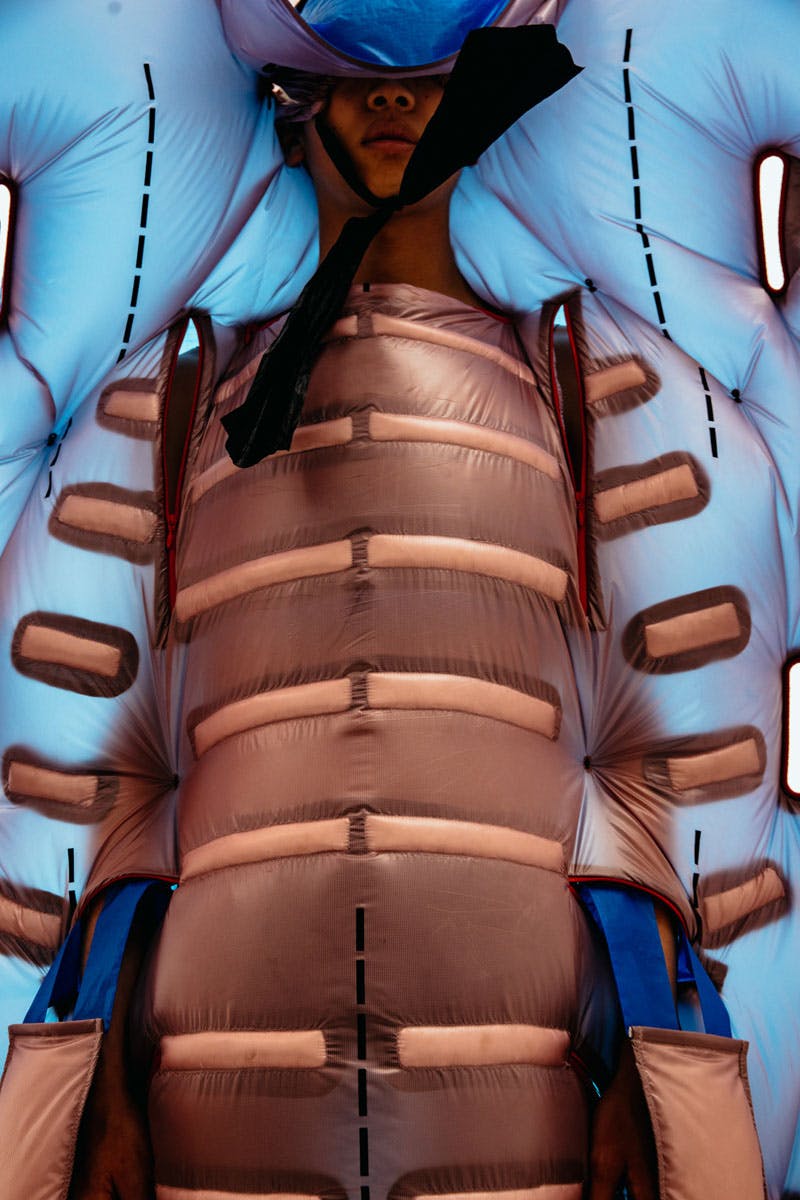 Craig Green makes people cry at the runway. Founded in 2013, his eponymous label is instantly recognizable for its conceptual and architectural deconstructions of workwear uniform. He talks a lot about the idea of clothing as "protection," and his past two collaborations for Moncler Genius demonstrated down and nylon wrapping around the body as an aggressive force.
His 2020 collection saw wearable hooded down robes with humanoid patterns printed on the inside, collapsing the iconography of the body onto the body itself. It looked simultaneously pre-civilization and futuristic, almost amoebic. Several looks featured the model's face completely effaced by a hood, with a single slit along the nose. It was very "no new friends." Green calls it "scientific." He said, "I wanted to explore ways of pushing simplicity to the extreme and using the process of down filling almost like a print, building volumes around the body from flat items, from 2D to 3D."
Q: What are the three most important things one should know about this collection? Craig Green: (1) The symbols used throughout the collection are created through new interpretations of iconic Moncler motifs. (2) The collection explores the contrast between shapes and volumes that can be created in both 2D and 3D forms. (3) The focus was how to create the lightest outerwear possible. Throughout the collection, we explored new technical construction and materials, such as micro rip-stop nylon, that give the illusion of being fragile and delicate but provide high levels of protection
Q: What distinguishes this collection from the other 5 MONCLER CRAIG GREEN collections? Craig Green: The previous 5 MONCLER CRAIG GREEN collections have explored creating and building different volumes and forms onto the body. For AW20 the focus was on how the body can create volume and shapes.
6 Moncler 1017 Alyx 9SM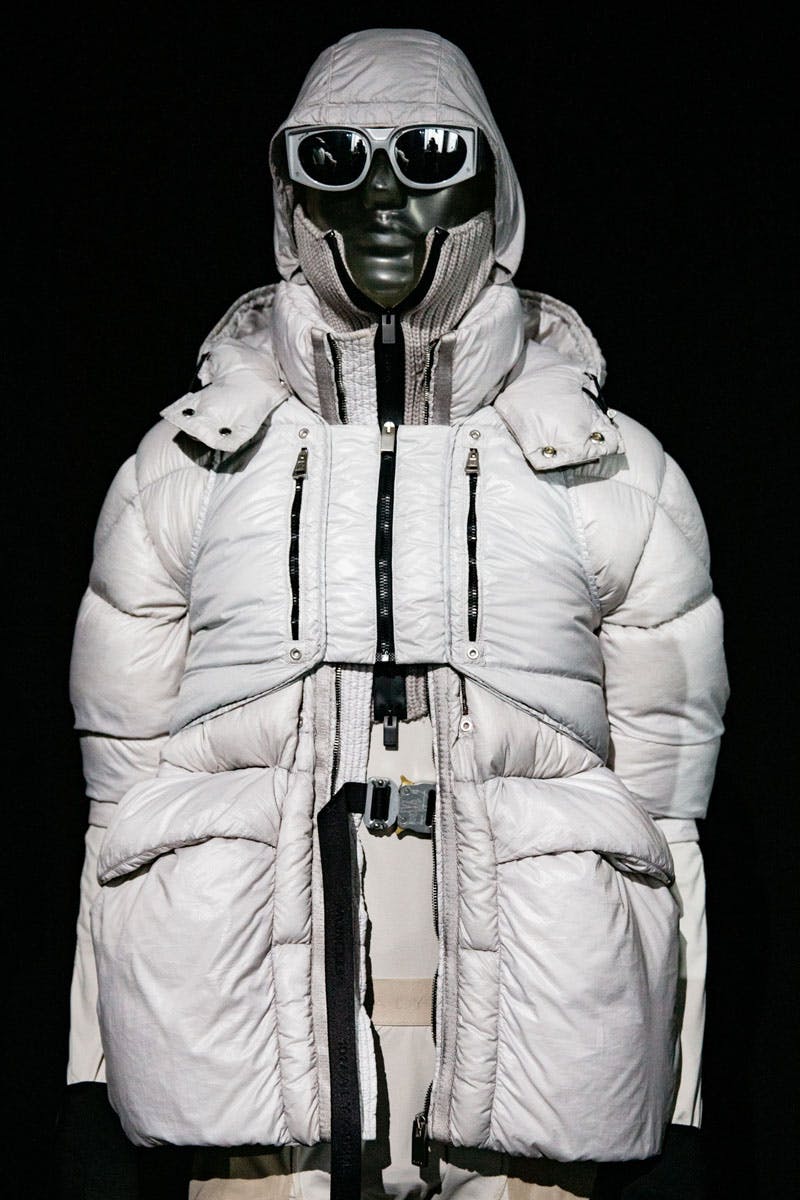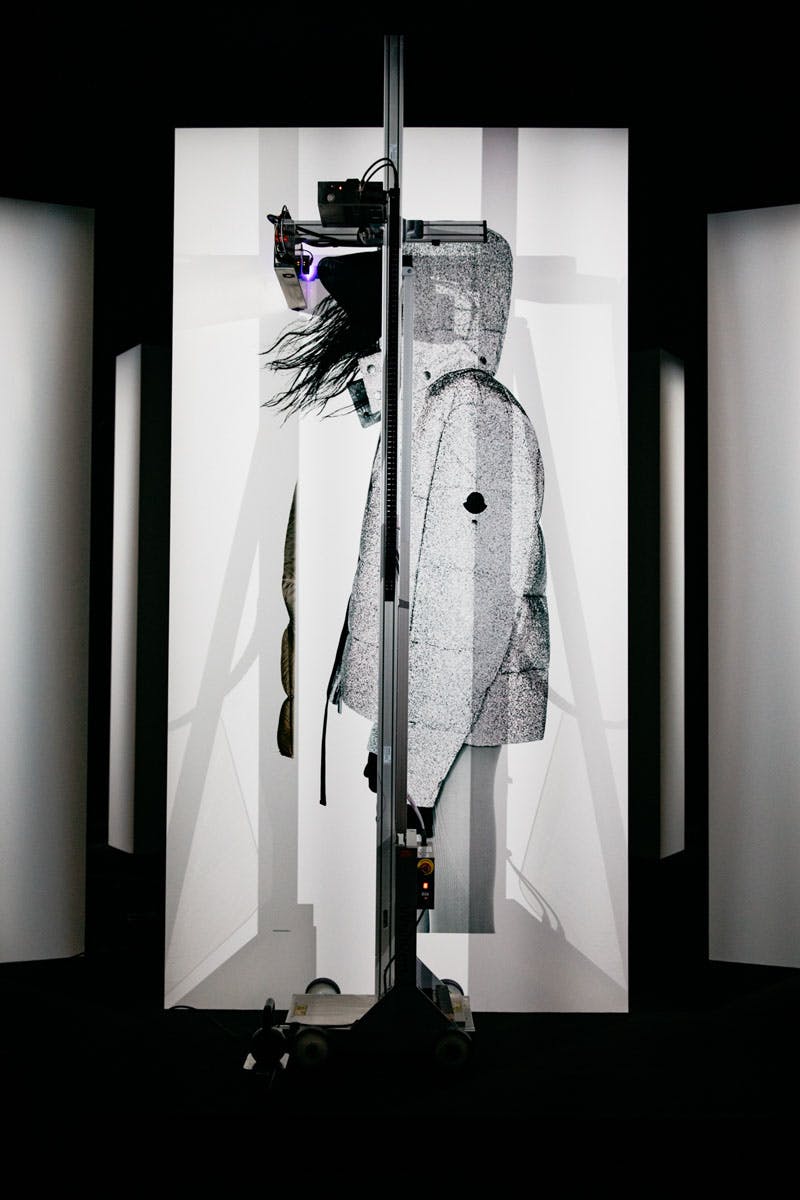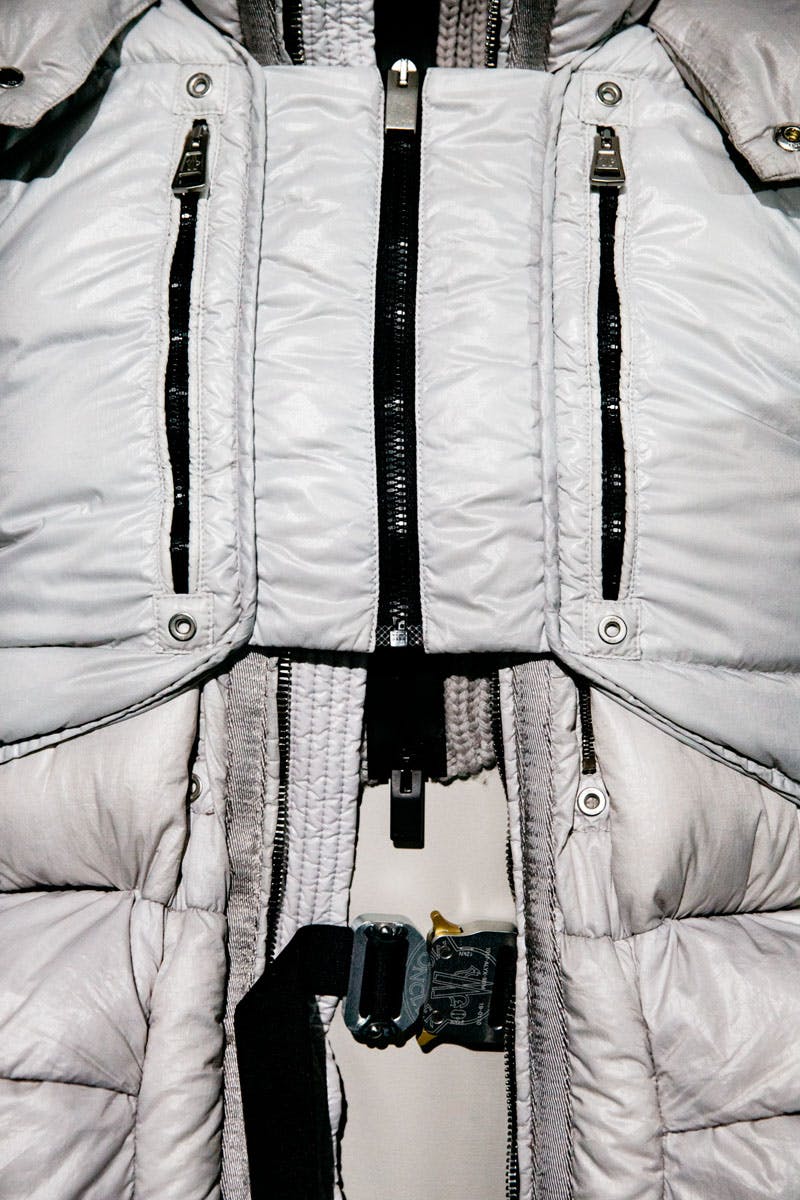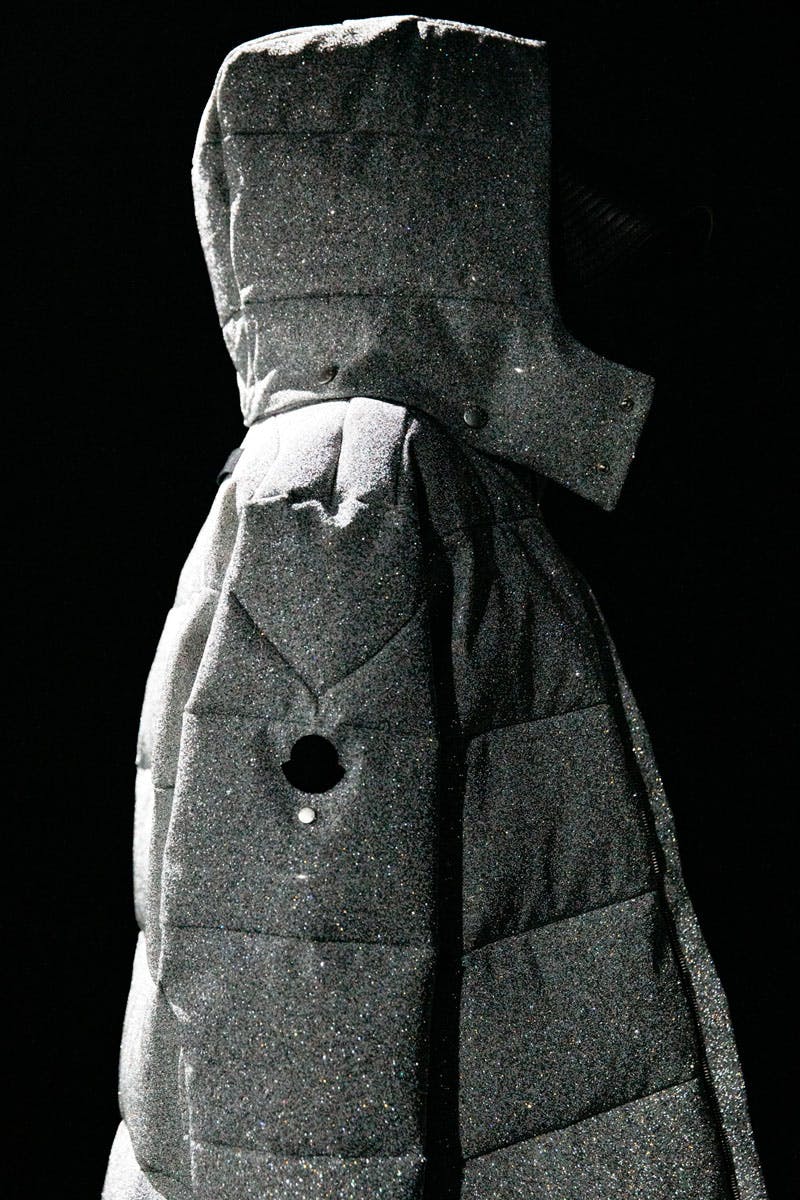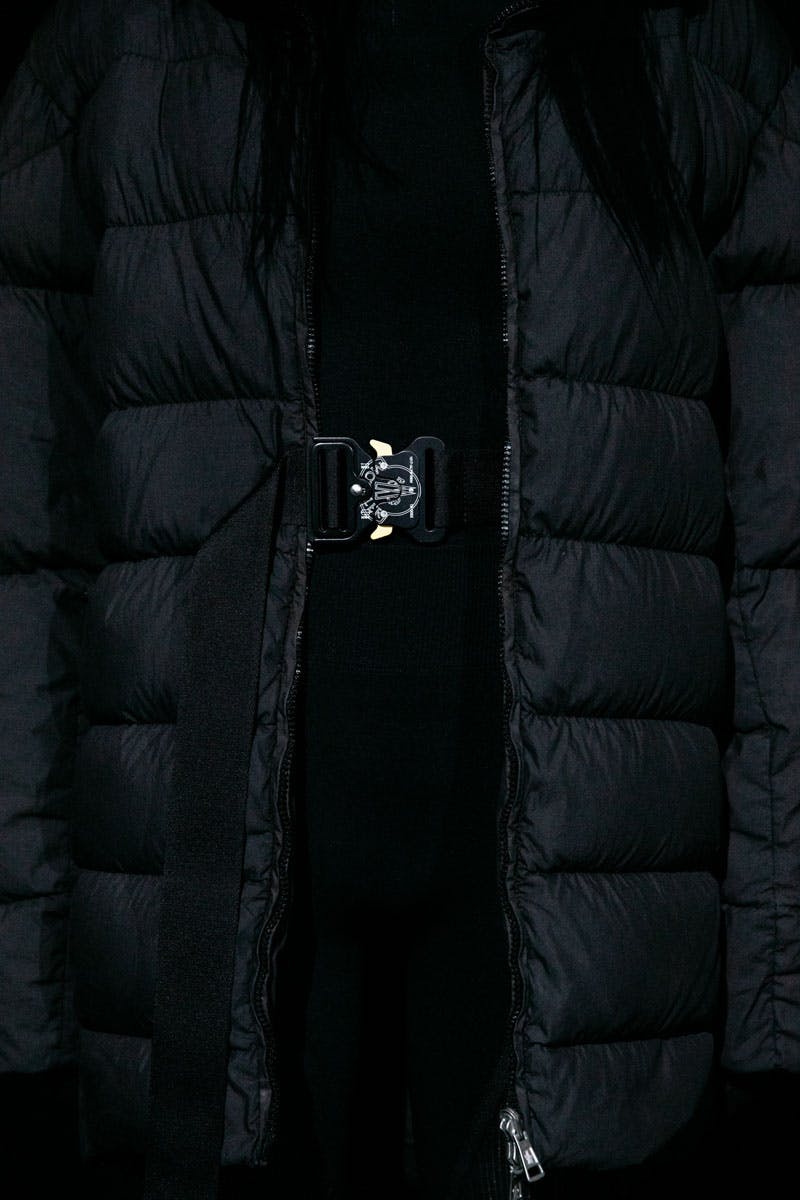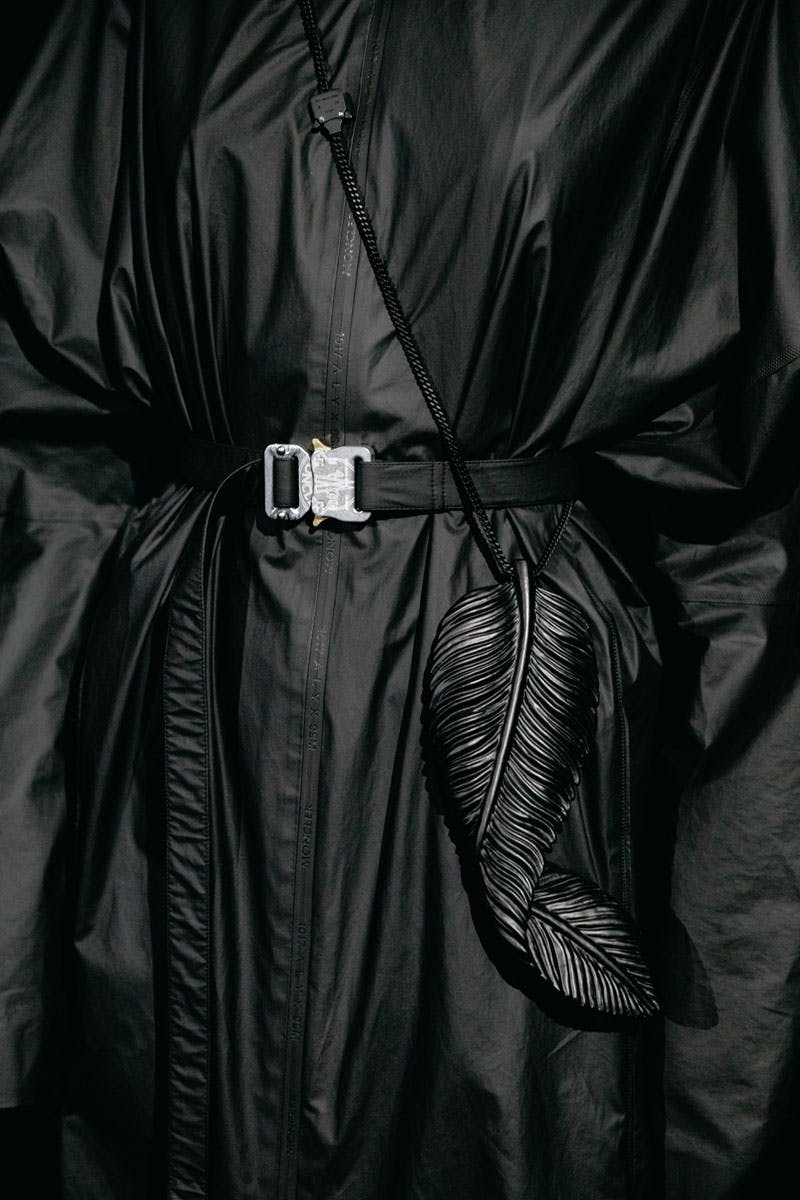 Matthew Williams has come a long way from BEEN TRILL. Specifically, to Milan where he recently relocated, making Williams' 2020's 6 Moncler 1017 Alyx 9SM collection particularly momentous. Over the last decade, his chic, industrial aesthetic has made a name for his brand 1017 ALYX 9SM as understated, mature, and very New York. He's been behind some of the past few years' most exciting collaborations, such as accessories for Dior and a custom watch for Audemars Piguet.
Williams' second Moncler Genius collection follows his enduring inspiration, the street, reinterpreted for the mountains. As the designer who made the roller coaster buckle a fashion it-item, of course he was drawn to Moncler's functionality. He stated, "Working with Moncler means a lot of technology, applied to luxury garments that are meant to be wearable." But as a nod, perhaps, to his Gaga years, he added Swarovski crystals into the mix, designing a chic, functional, and wearable collection.
Q: What are the three most important things one should know about this collection? Matthew Williams: Garment dye, Swarovski and hardware.
Q: What distinguishes this collection from Moncler's archive and other past collaborations? Matthew Williams: This season builds upon our previous collection with Moncler by introducing new colors, textures, and finishes. When working with Moncler, we try to make the most of innovation and materiality. They have such incredible resources and technologies for us to work with and incorporate into the collection.
7 Moncler Fragment Hiroshi Fujiwara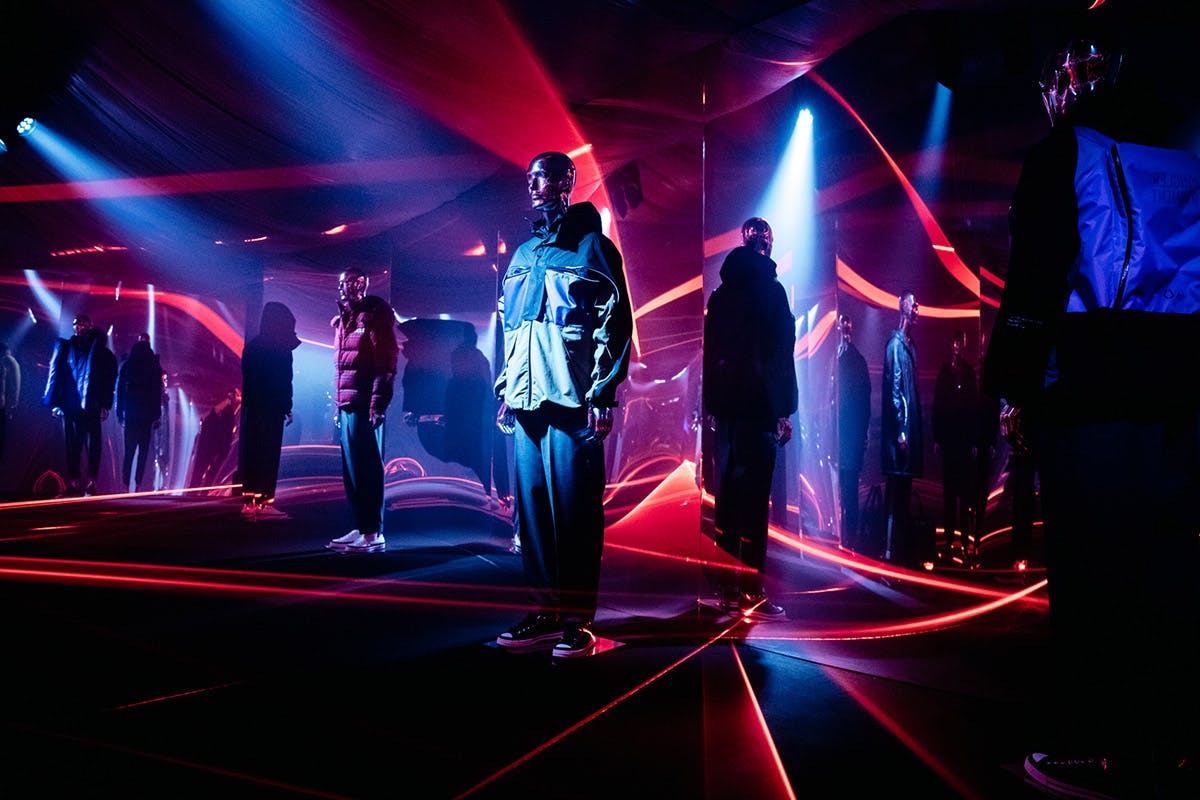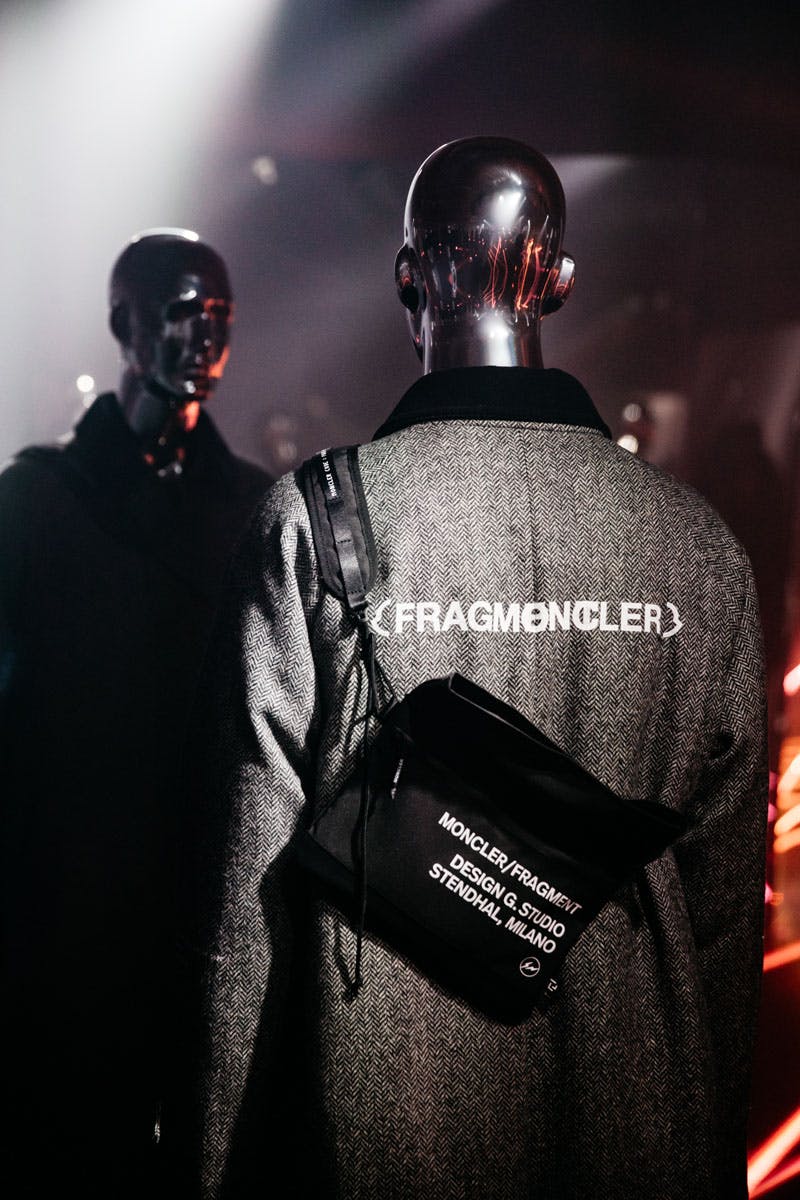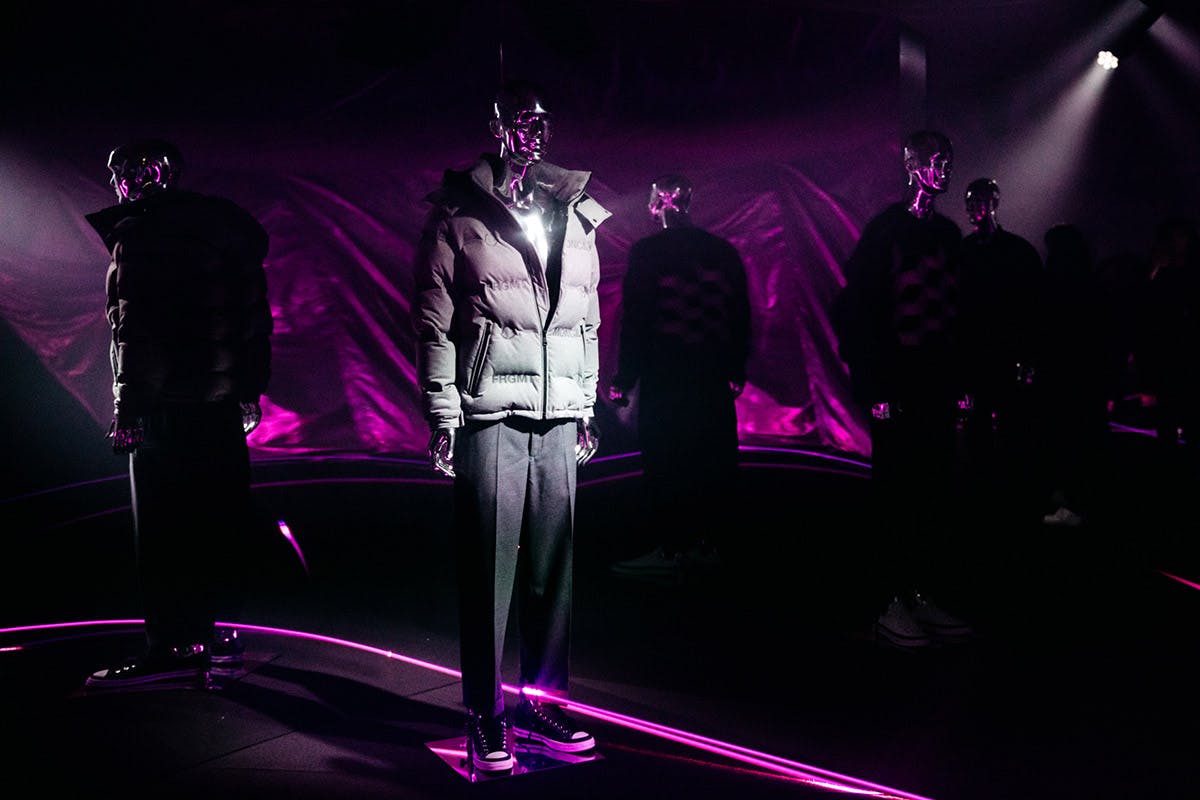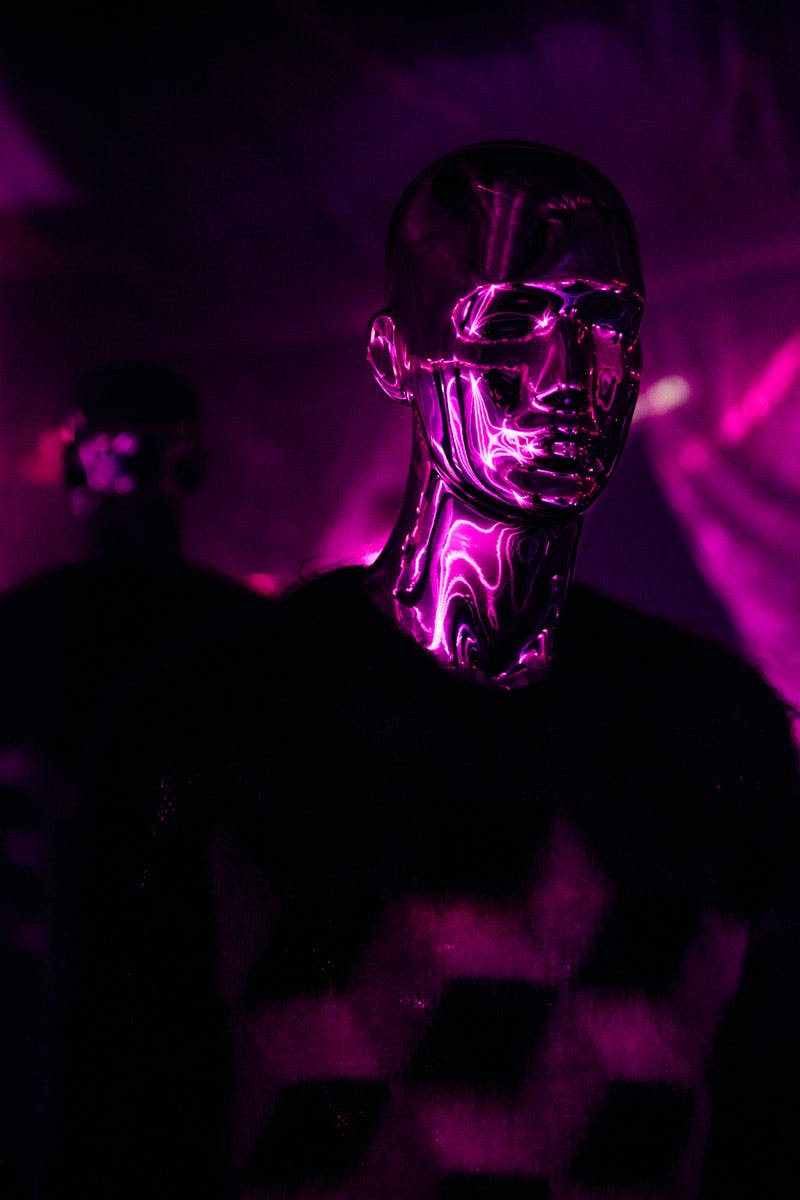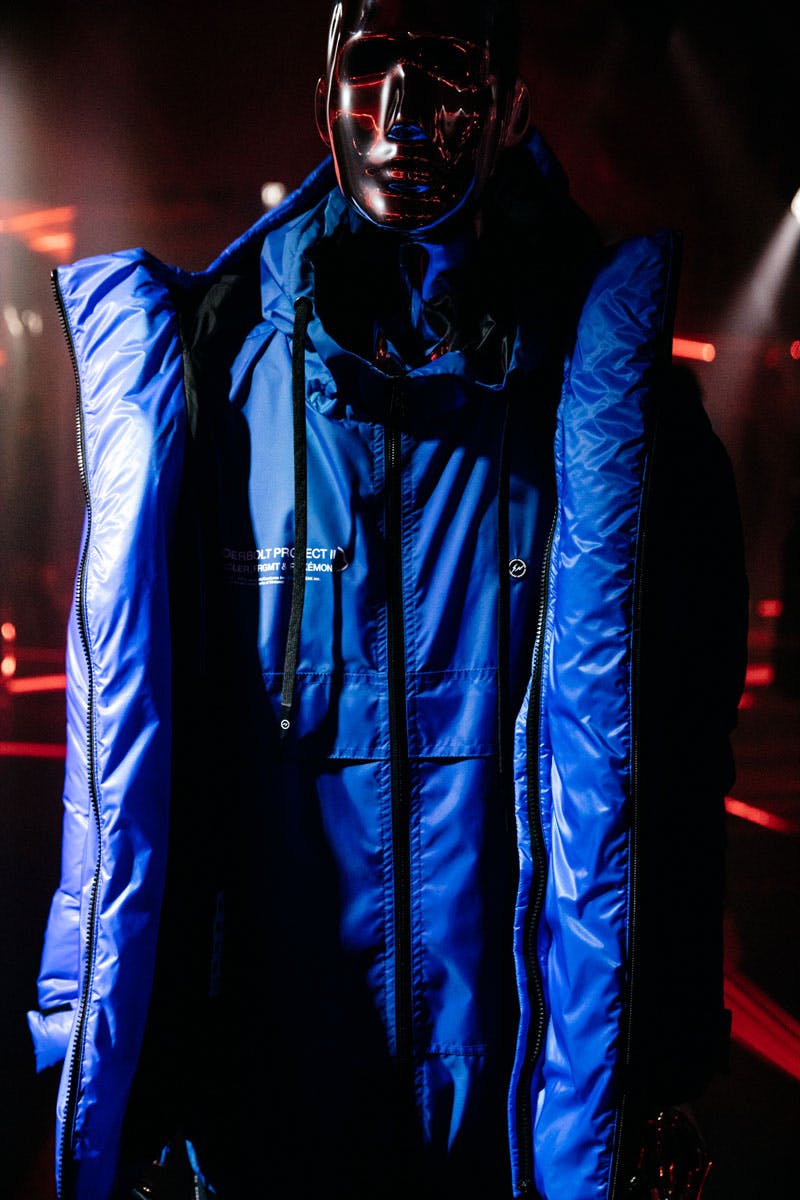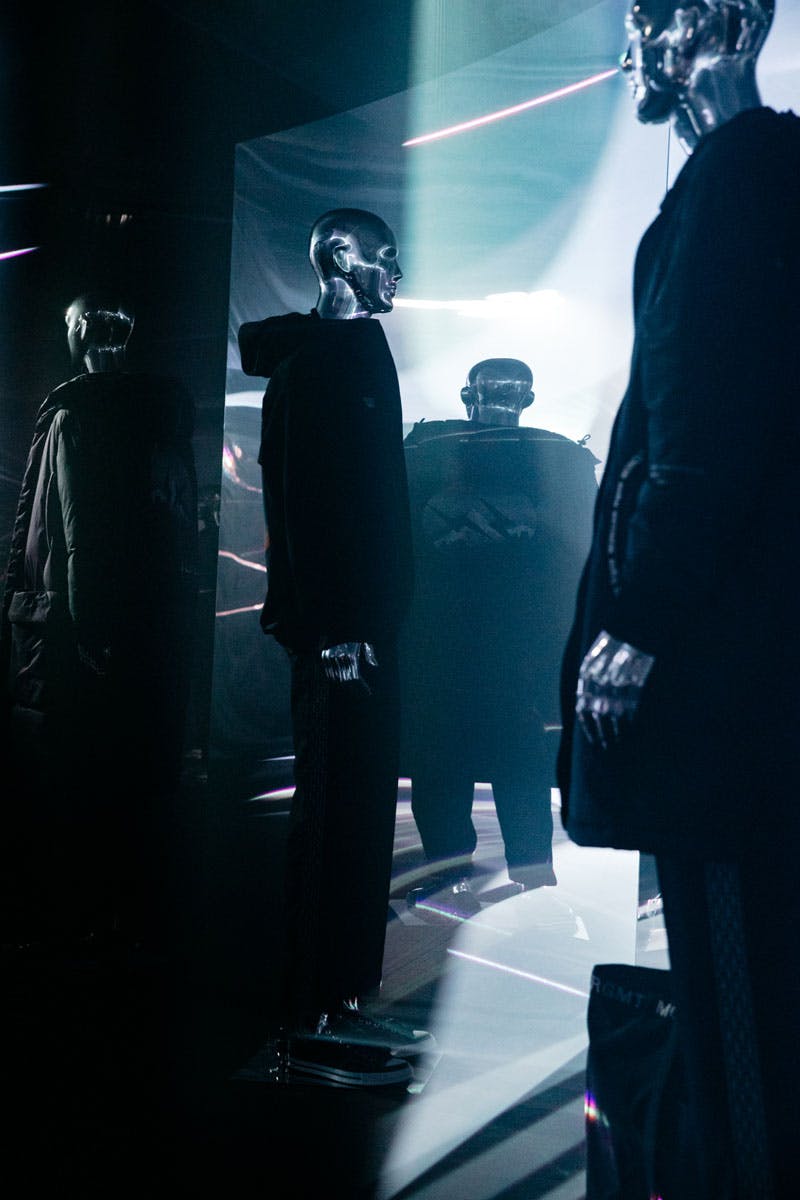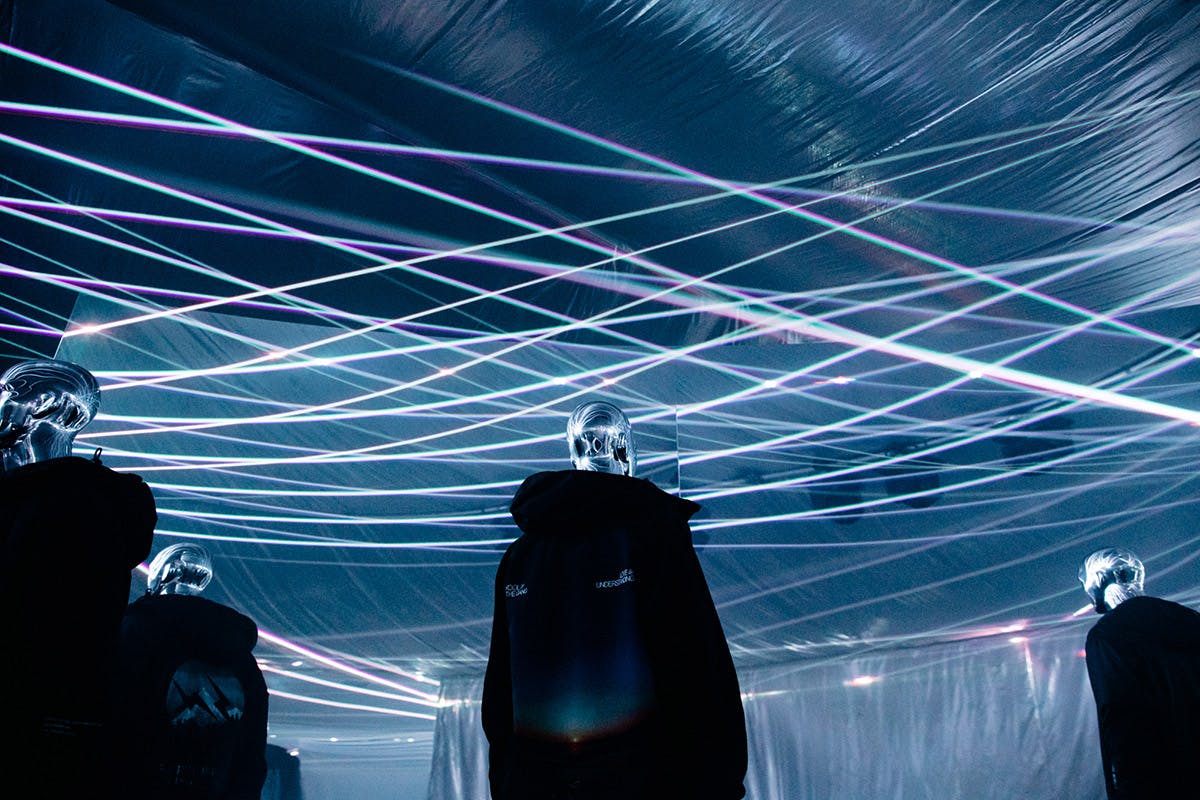 Dear 2020: Pikachu is still relevant. He (it?) features on badges for Hiroshi Fujiwara's chic, black jackets designed for 7 Moncler Fragment Hiroshi Fujiwara. As Japan's so-called "godfather of streetwear," was one of the masterminds behind some of Japan's most influential brands, such as A Bathing Ape, UNDERCOVER, and visvim. Today, he heads fragment design, whose range of collaborations include Air Jordan sneakers, Louis Vuitton, and two capsule collections with Moncler.
On his 2020 collection, Fujiwara stated "Working with Moncler is very easy"—and his collection also appears effortlessly fashionable. Here are clothes you can wear regularly as uniform, for the streets or the mountains, as reinterpretations of classic menswear staples, like the Nuptse puffer, post-war bomber jackets, or '50s bikers. The pieces are intelligent, urban, and witty. Just like fragment!
Q: What are the three most important things one should know about this collection? Hiroshi Fujiwara: Vintage, Military, Metropolitan
Q: What distinguishes this collection from Moncler's archive and other past collaborations? Hiroshi Fujiwara: Collaborations w/ Lewis Leathers and Kool and the Gang for prints.
8 Moncler Richard Quinn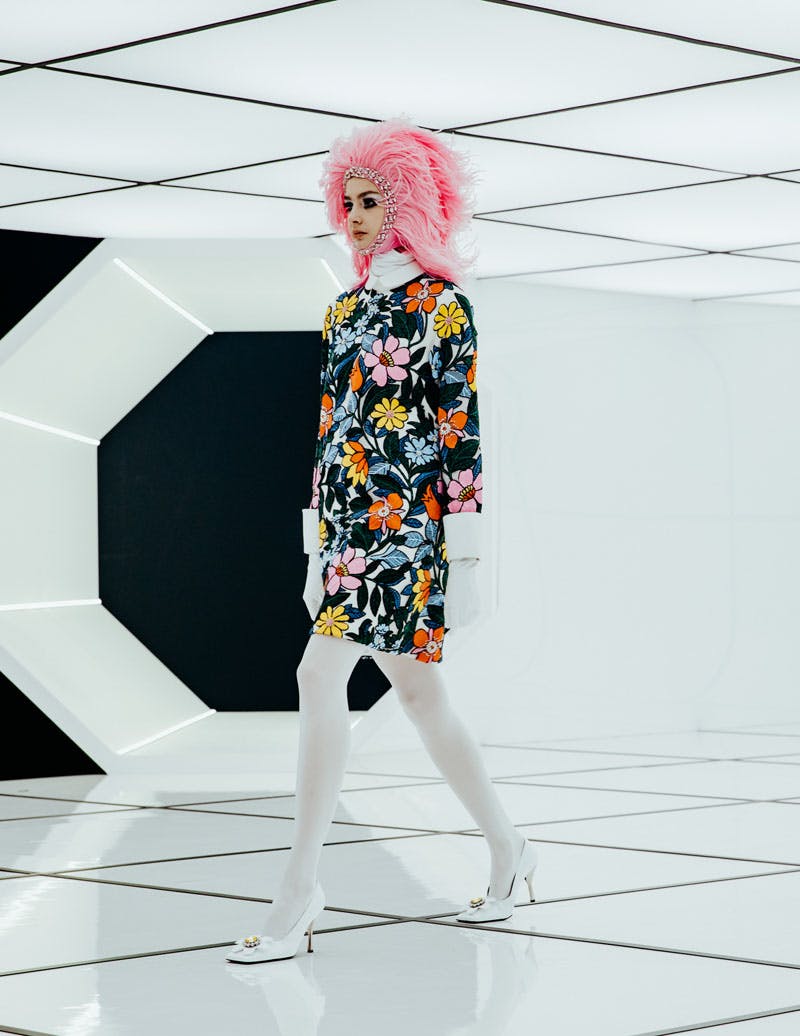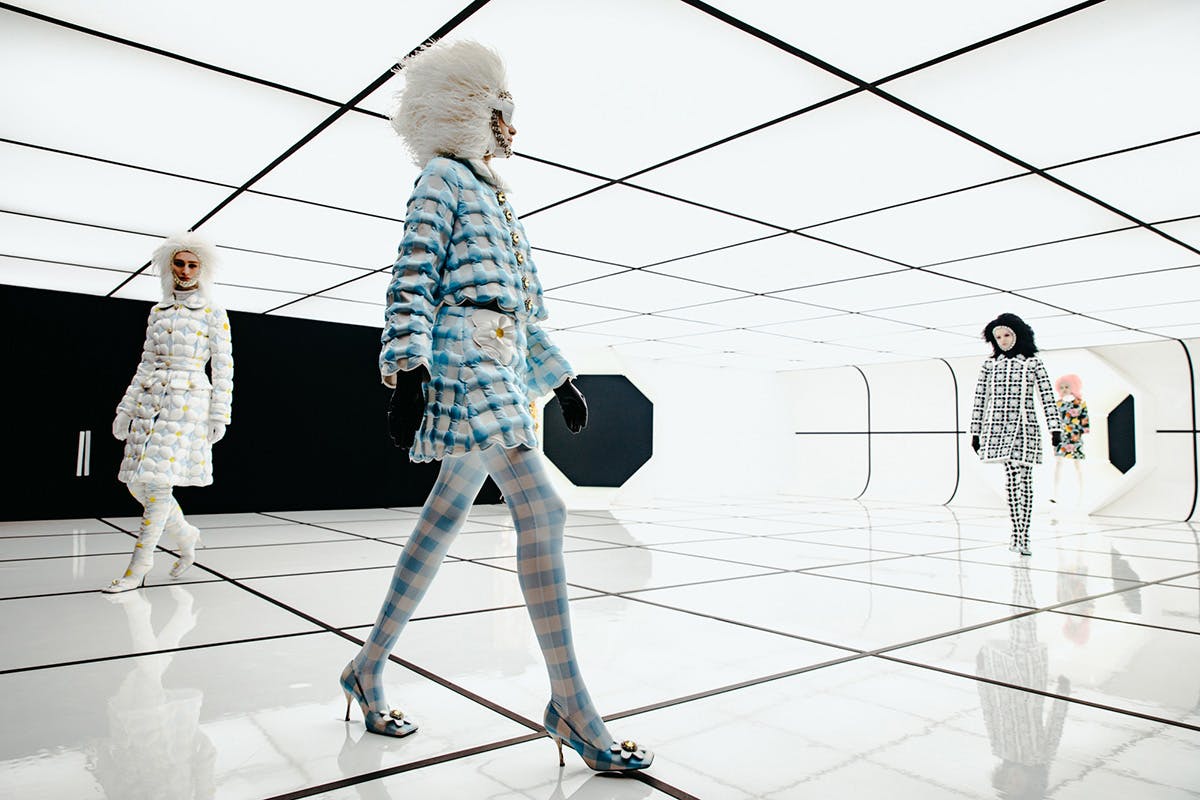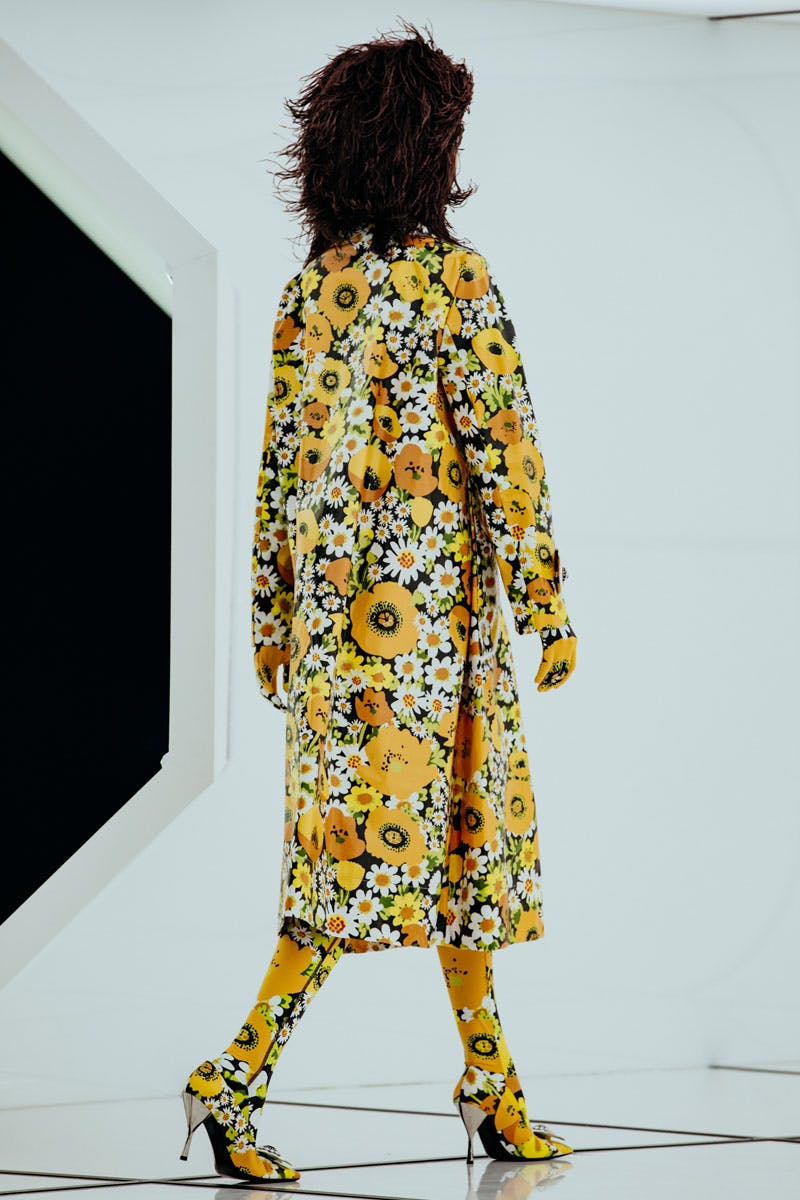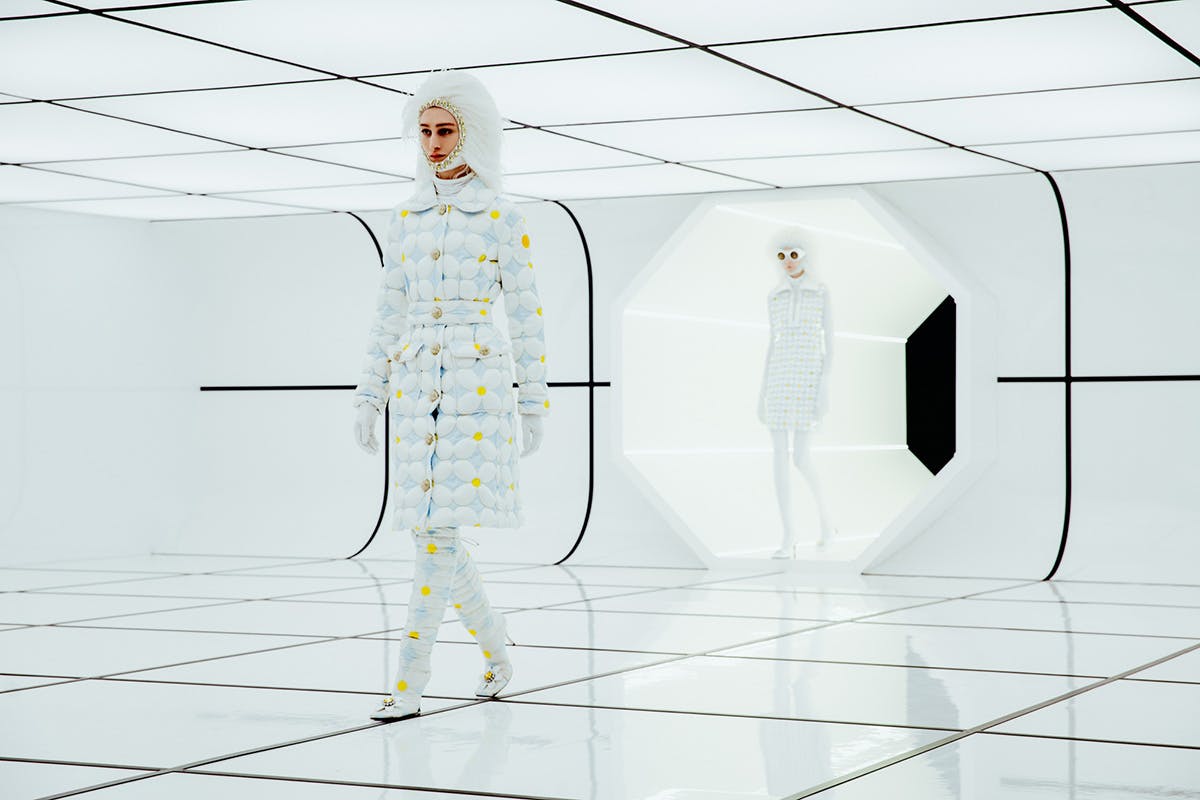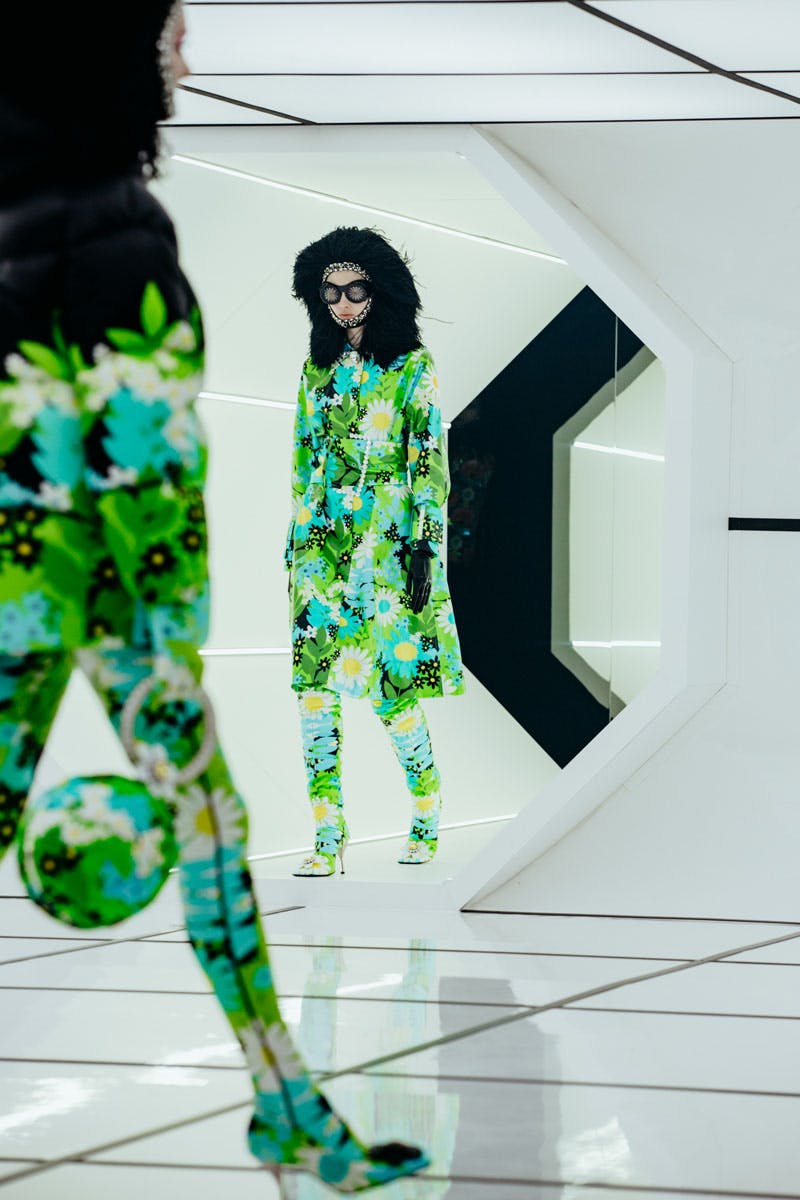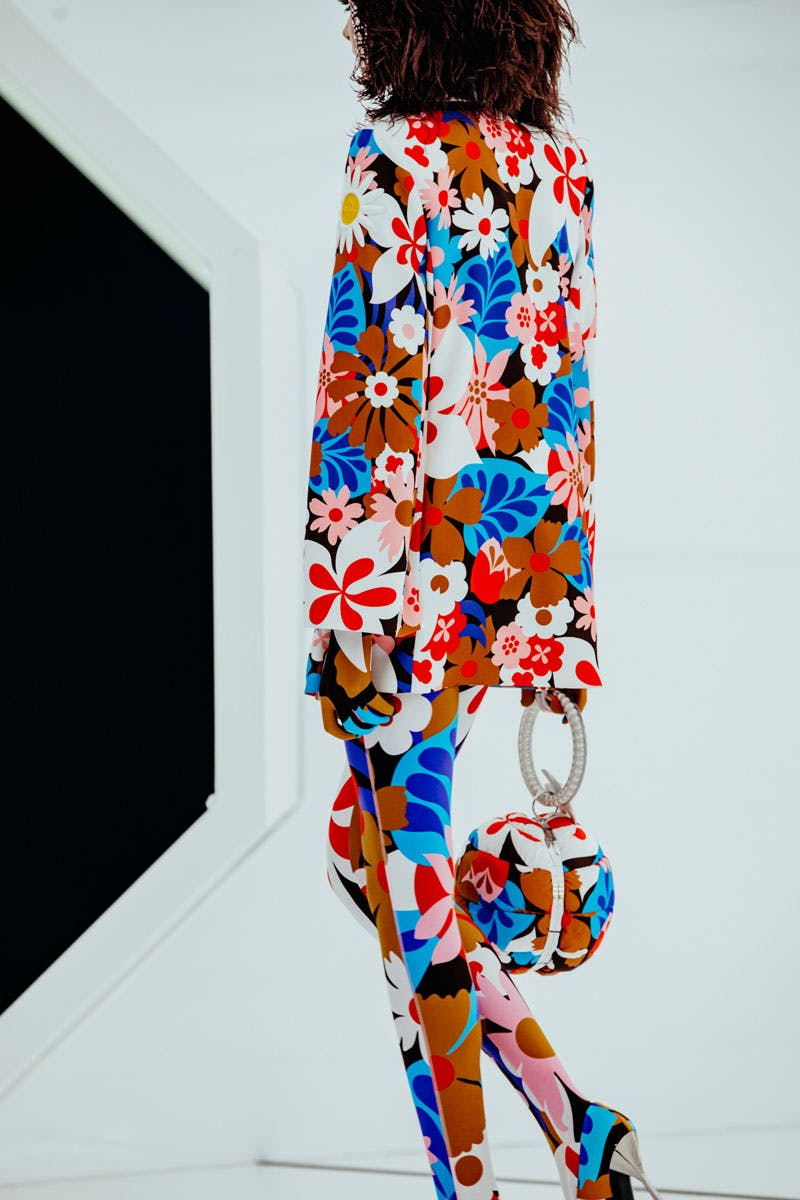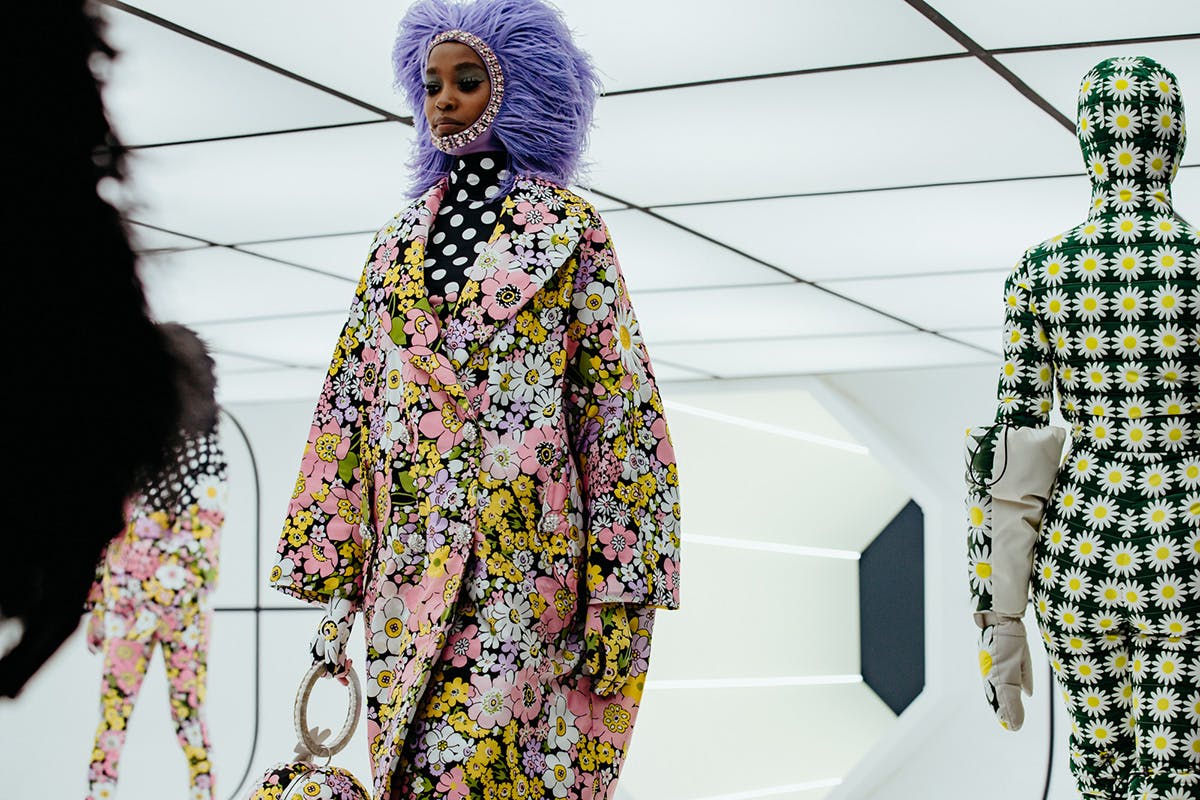 "A vibrant idea of total luxe," said Quinn about his collection. At his pavilion, a runway was set in a capsule-like tunnel inspired by 2001: A Space Odyssey, with bright panels from the floor, walls, and ceiling. Models walked up and down the runway, displaying the same flower motifs Quinn used in his Moncler Genius collection in 2019, with sleek, tailored silhouettes. To match, Quinn designed bags and stiletto-heeled duvet boots to match. The end of the show saw expanded couture ball gowns bursting in the full color of spring. Think slumber party with the Queen happening in a rocket to the moon. A girl can dream—that's what fashion's about, right?
Moncler Poldo Dog Couture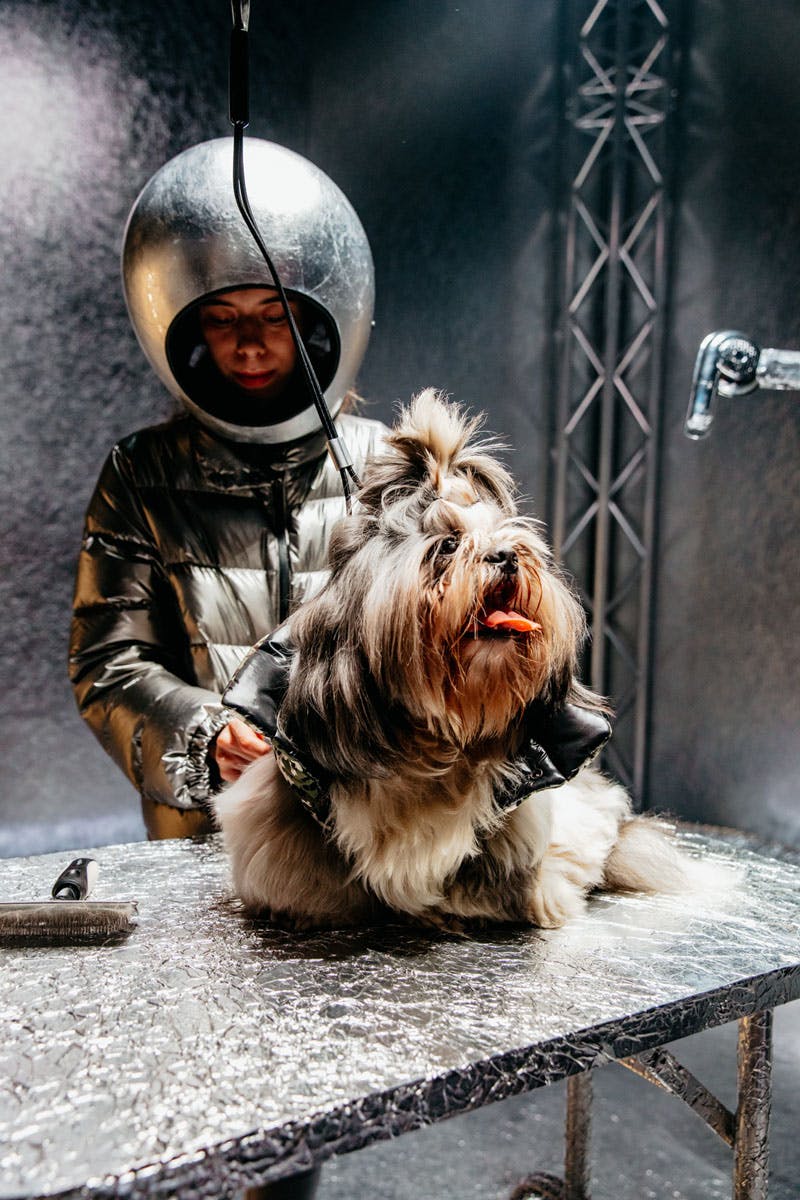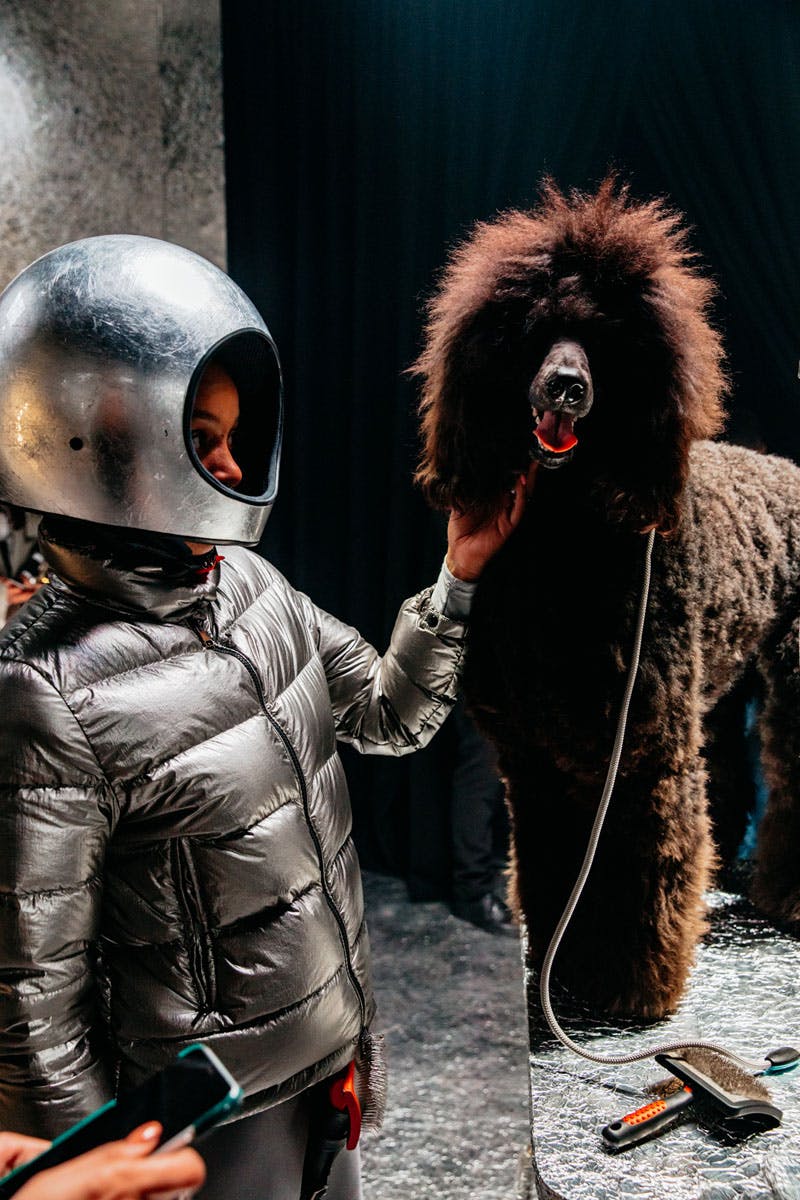 Yes, yes, and yes.
MONCLER RIMOWA "REFLECTION"
Founded in 1898, RIMOWA has made its name for aluminum and polycarbonate luggage—both durable and lightweight—that glides across the pavement as if it's on ice. It's become a cult favorite of DJs on world tours who need to protect their vinyl while traveling, and established RIMOWA as the it-brand for the techno jetset generation around the mid-00s. In 2016, RIMOWA became the first German brand to be acquired by LVMH, and is now headed by Alexandre Arnault, whose family owns LVMH. It has collaborated with brands Supreme and Off-White, and artist Alex Israel.
For its debut collection with Moncler Genius, RIMOWA designs a luggage set for those traveling from the city to the mountains, positioning Moncler now as a full-service brand, designed to take you to the peaks from start to finish and back again.
MONCLER MATE.BIKE
Like the addition of RIMOWA, Moncler's expansion into accessories—now transportation—signals a new direction for Moncler, now equipping people for the full mountain experience. MATE.BIKE, the pioneering electrical vehicle brand from Copenhagen, has designed electric bikes for Moncler, for a fully-sustainable future.
RICK OWENS X MONCLER!!!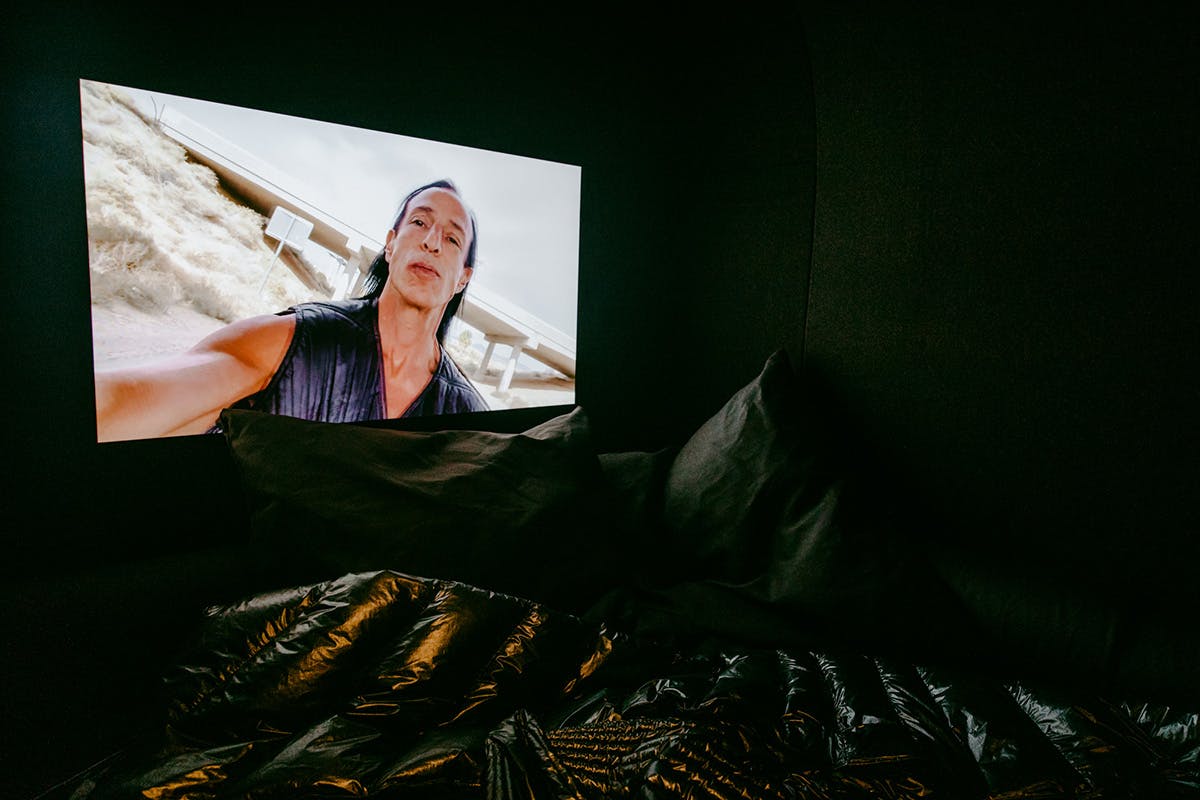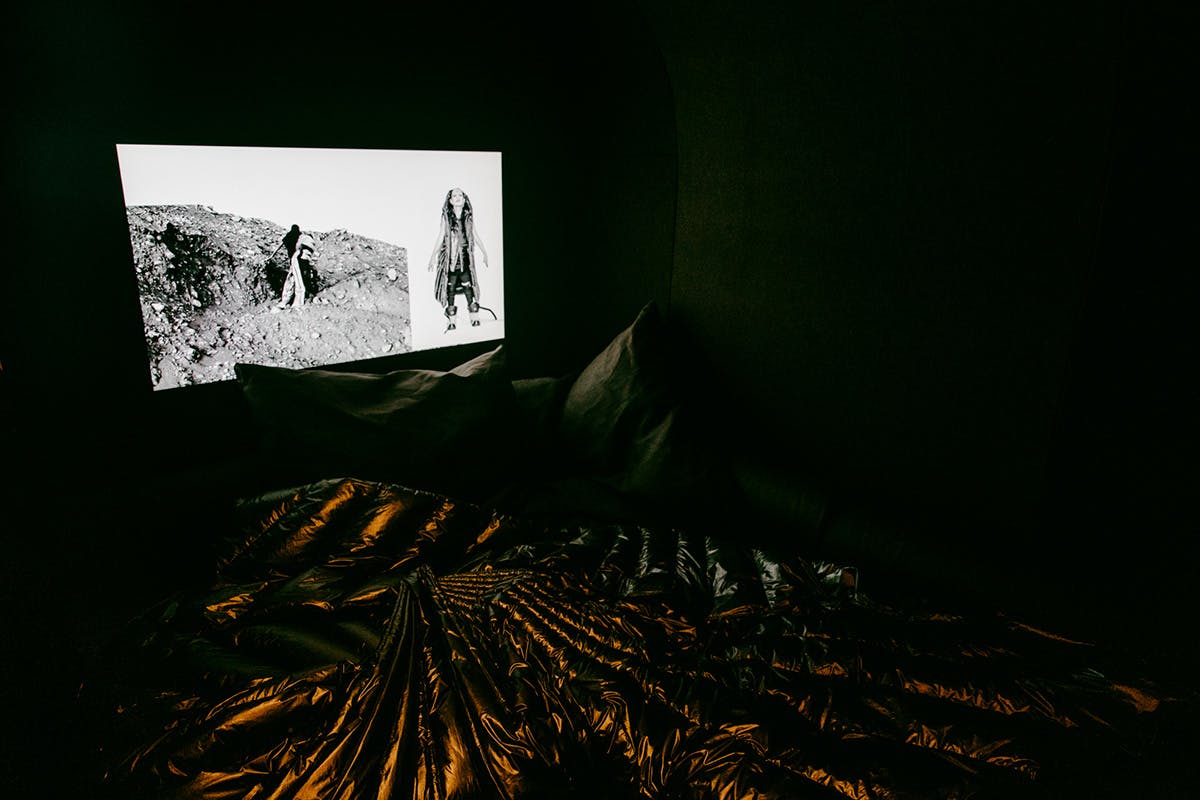 The event ended with a surprise: Rick Owens and Michèle Lamy making a special appearance at the event, dancing to DJ Pandora's Jukebox's techno beats as photographers and fans alike clattered around them snapping photos. In conjunction with the Moncler x Rick Owens collaboration (technically not part of Moncler Genius), Moncler featured a bus which featured the capsule collection inside. Both brands are true innovators of nylon and down. So the collaboration between Owens and Moncler seems so obvious and natural that by the time it was announced, it made you wonder how this hadn't happened earlier. It provided a fitting ending to the Moncler Genius fashion show, which can only get bigger and better from here.