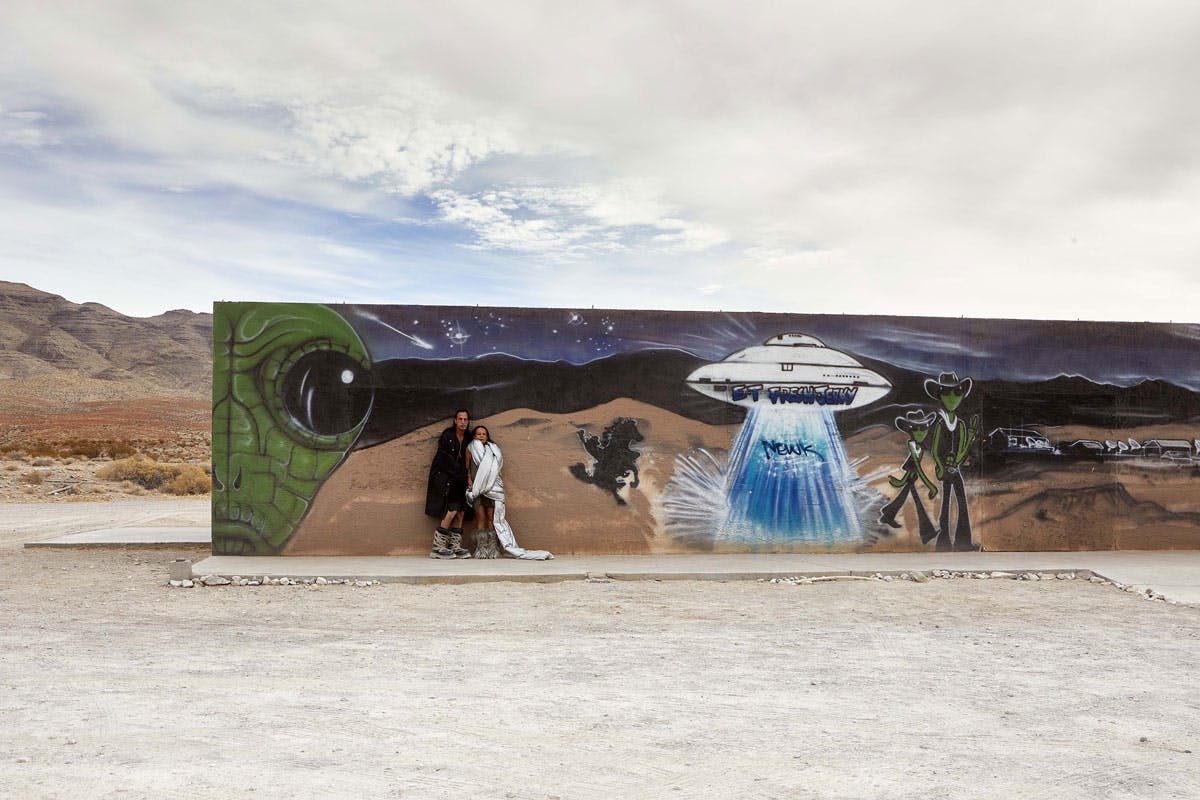 Moncler has revealed it will collaborate with none other than Rick Owens. Yes, Rick Owens-designed, avant-garde ski-wear will soon be a thing. Take our money!
It's not hyperbole to say that Moncler's hugely successful Genius project has rewritten the rule book on contemporary fashion collaborations in recent years. The collaboration with Owens, however, won't be related to Genius. Rather, it's a standalone partnership that falls under the Italian outerwear specialist's main line.
Details are currently scarce, but Owens has hinted at what's to come in his unmistakable all-caps style. A PIMPED OUT RICK OWENS TOUR BUS, ANYONE?!
MONCLER APPROACHED ME ABOUT A COLLAB AND I TOOK ADVANTAGE OF THE MOMENT TO ASK THEM TO DO SOMETHING DIFFERENT — TO CUSTOMIZE A TOUR BUS FOR HUN AND I TO MAKE A ROAD TRIP FROM LAX TO MICHAEL HEIZER'S RANCH IN NEVADA… HEIZER HAD INVITED US TO SEE HIS MONUMENTAL LAND ART PIECE CITY, 48 YEARS IN THE MAKING… AND I HADN'T BEEN TO THE WEST COAST SINCE I MOVED TO EUROPE 18 YEARS AGO… I WAS KIND OF THINKING ABOUT JOSEPH BEUYS TRAVELING TO THE U.S. FROM GERMANY IN THE SEVENTIES, LANDING AT JFK, BEING WRAPPED IN FELT AND TAKEN BY AMBULANCE TO HIS N.Y. GALLERY TO LIVE WITH A WILD COYOTE FOR 3 DAYS IN HIS INSTALLATION I LIKE AMERICA AND AMERICA LIKES ME, AND THEN GOING STRAIGHT BACK TO GERMANY THE SAME WAY…

OUR TOUR WOULD TAKE US THROUGH LAS VEGAS AND AREA 51 WITH A DETOUR TO HEIZER'S DOUBLE NEGATIVE… THIS CUSTOM TOUR BUS WILL BE EXHIBITED IN MILAN ON FEBRUARY 19 AND AVAILABLE TO ORDER, AS WELL AS THE CLOTHES MONCLER MADE FOR HUN AND I TO WEAR ON OUR TOUR...
While we can't wait to see the bus, it's a surefire bet that the garb will achieve instant grail status (yes, even if it's, like, drop-crotch pants filled with goose down). See you on the slopes!