There's a natural progression for many perfume brands to expand into other arenas; if you can make a successful eau de parfum, why not a body lotion, a soap, a hair mist or, of course, a candle? Niche Swedish perfume brand Stora Skuggan thought the same thing. But a traditional candle, the kind you might put on a desk or in a bathroom, wouldn't suit the house, whose otherworldly scents are inspired by the likes of Hindu mythologies and extinct plants.
"Using a traditional container didn't feel like it lived up to our design standards," says Olle Hemmendorff, one of the five co-founders behind the brand. "But making a custom container was too expensive to make sense for a normal candle, so the solution: make it outrageous and artistically interesting enough to warrant a really high price."
The resulting candle is indeed outrageous. Nearly a foot tall, and weighing in total 6 kilograms, the candles feature one-of-a-kind glass containers by Swedish glass artist Kristin Larsson filled with 1,500 grams of wax. By comparison, Le Labo's concrete candles weigh in at 1.2 kilograms and cost $485; Cire Trudon's "great"-sized candles are 3 kilos and cost up to $690 a piece; Spanish brand Lladró has a bevy of handmade candles costing hundreds of dollars, like the €750 Parrot's Scented Treasure candle, complete with a porcelain parrot. Titled with Swedish simplicity BIG CANDLE, each of Stora Skuggan's 10, limited-edition candles will cost €1,500.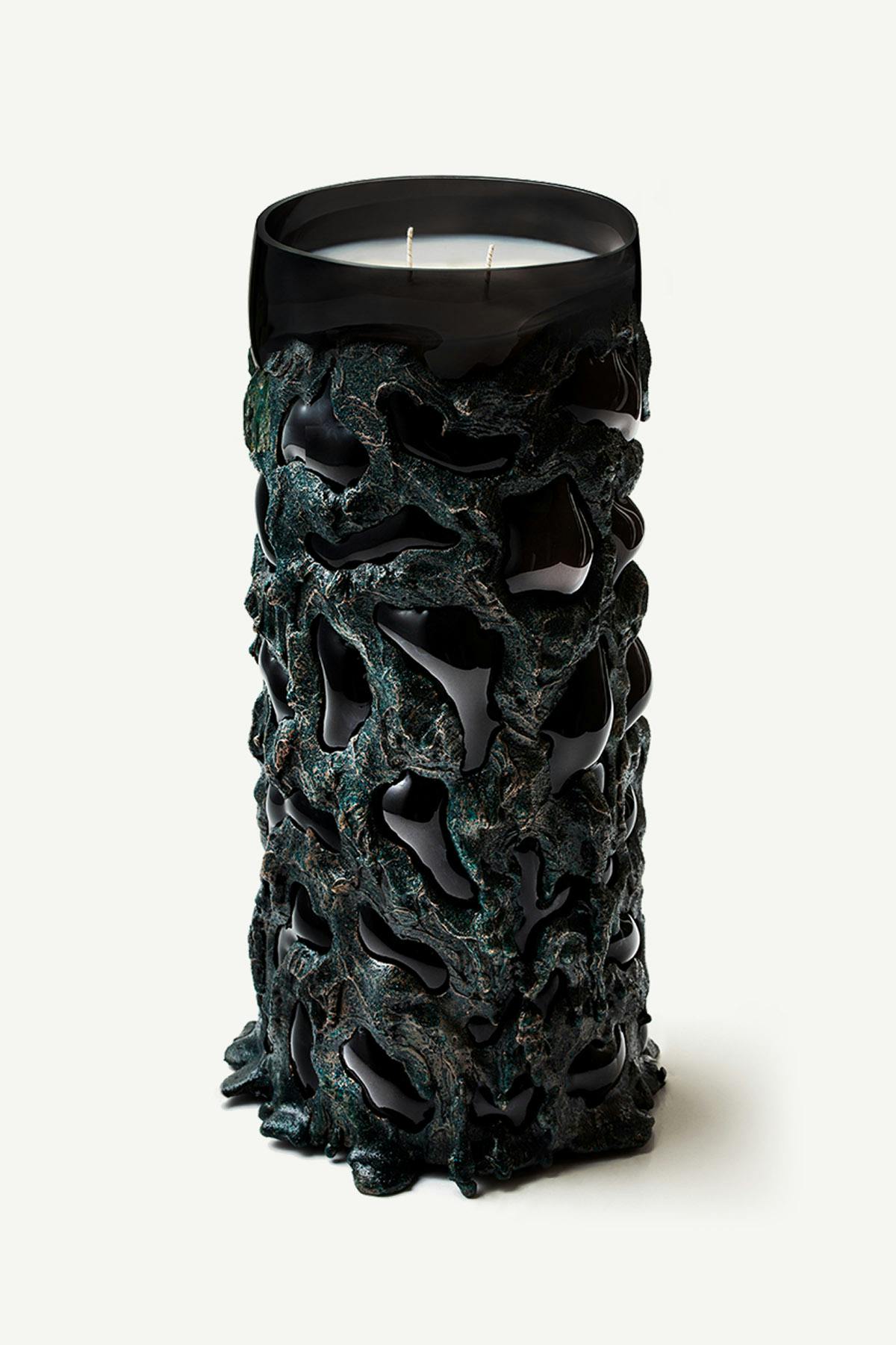 "In a sense this candle feels like a philosophical statement of the brand, something that exists in between a commercial product and fine art," Hemmendorff adds. "Also we like pretty things, and I truly believe there is inherent goodness in creating beauty."
Larsson's spindly design forms the base both literally and figuratively of the candle. Her organic aesthetic compliments Stora Skuggan's supernatural inspirations, and her spindly design for the candle's glass informs the scent itself, a mysterious mix of resinous and incense notes. "The resin comes from the balsam fir tree, which has small blisters, looking a bit like the candle," says fellow co-founder Anna Barkne. "For me, the glass is like a mix of the tree trunk and bark of the tree and an exclusive mystical, more fantasy-abstract delicious wanna-have world, which also describes the scent."
While the candle's scent is distinct from the five perfume's in Stora Skuggan's line, co-founder Tomas Hempel says developing a fragrance for a candle is not altogether different from crafting an eau de parfum. "The principle of developing a candle is the same as for a perfume, however you have a smaller palette for a wax-based product. Many ingredients that work in an alcohol-based one are not suitable for a candle," he says, such as many citrus notes, whose high quantities of limonene will result in an unpleasantly burnt smell and sooty flame.
And it is similarly arduous as developing a perfume in that designing a candle requires many painstaking trial runs before landing on the final concoction. "Of course it takes more time since you have to cast the candle — leave it to harden and then burn it for hours in order to evaluate," says Barkne. "I have a very nerdy and zealous notebook regarding this. But that's how you figure out what works and not."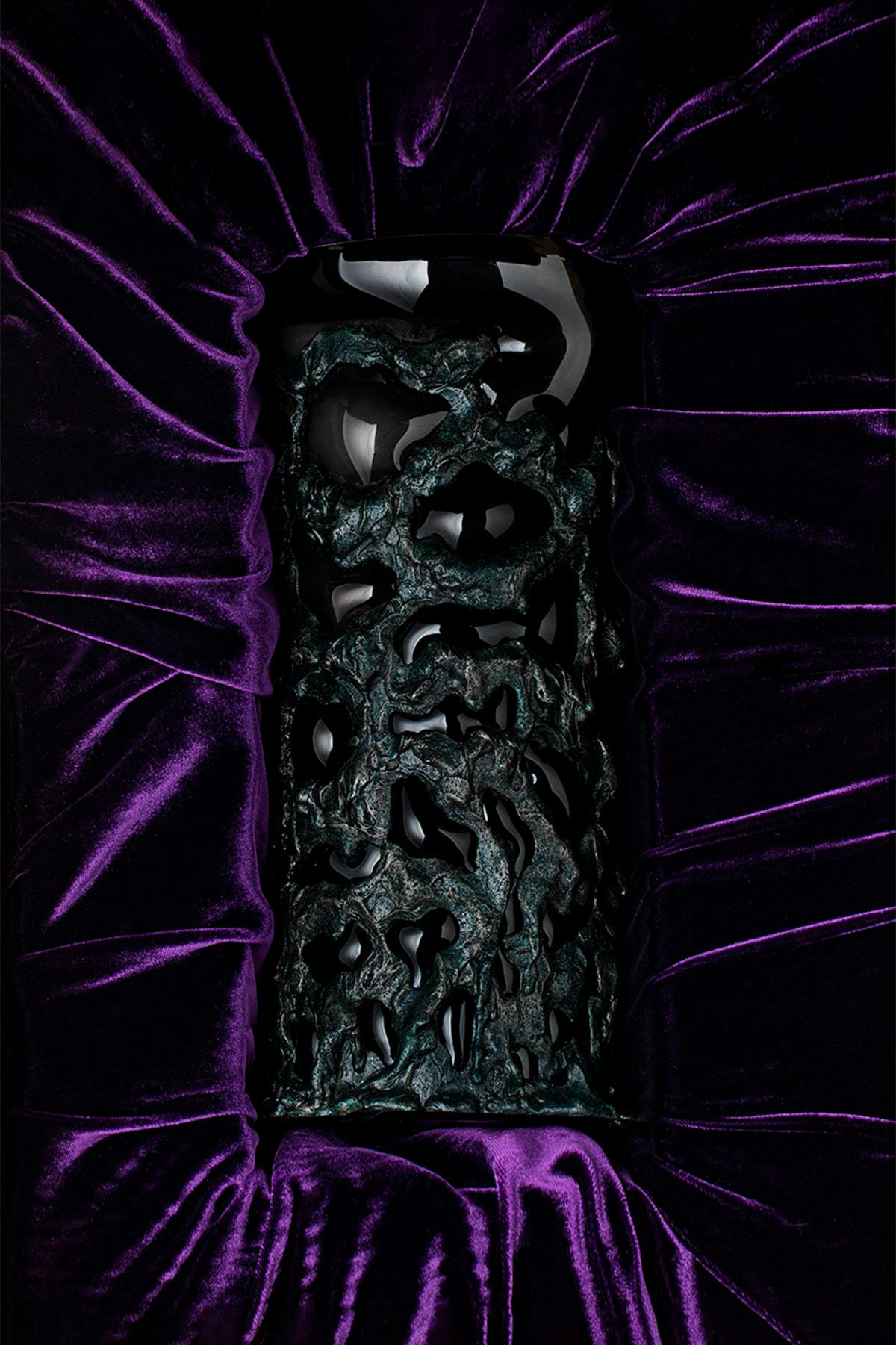 A smaller version of BIG CANDLE would be a natural next step, but don't hold your breath for such a release; Hemmendorf says the team doesn't plan to release traditional, mass-produced versions of the candle, though they would like to see the scent made into a more accessible product. "Ideally I'd like to have this one product that is really extravagant and no holds barred, and also a related product with the same scent that is dirt cheap. But the ingredients of the fragrance are quite costly so we'll see how that could work," he says.
Hopefully, whoever does drop the €1,500 for a BIG CANDLE will keep it, even when the wax burns away after hundreds of uses. "It's a custom-made art piece that will find its way to a few interiors around the world. I can see my son standing with it in Antiques Roadshow, telling the story of his father and his friends when I'm dead and gone, but first he needs to get ahold of one," Hempel adds with a laugh.
BIG CANDLE launches today on Stora Skuggan's website, where just 10 editions will be available. If a candle-turned-artwork is outside of your budget, Stora Skuggan's perfumes are a far more affordable €130 per bottle, and a small work of art unto themselves with their overblown caps and graphic labels.