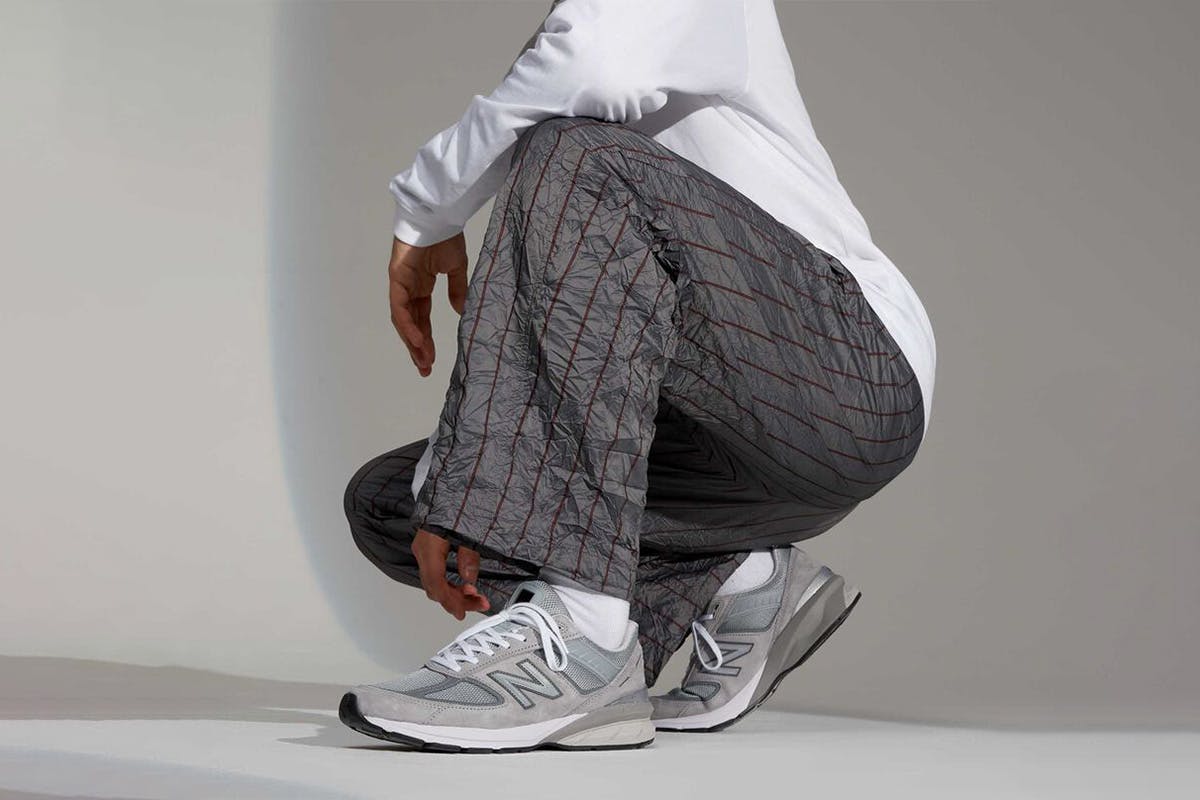 A wardrobe is only as good as its most basic item. You could own all the luxury highlights in the world but if you don't have a solid pair of sweatpants or a classic hoodie, what's the point? Your essentials are important, and when you're shopping for essentials there's no surer success than sticking to the sportswear giants. New Balance essentials have been honed over decades and it shows.
From iconic sneaker silhouettes like the 574 or 990 through to sweatpants and shorts, the New Balance essentials cover the brand's entire lifespan so you know that they've been perfected. Not only are they comfortable, one of their key pulls is that they're highly versatile. Your classic grey New Balance 990s will go with everything from sweats to tailored trousers.
Below, we've rounded up 10 staple New Balance essentials to shoulder the weight of your wardrobe.
Shop our top 10 New Balance essentials below.
Made in USA 990v5 Core
When somebody says New Balance essentials to you, it's highly likely that an image of the New Balance 990v5 in grey pops into your head.
574v2
New Balance has dominated the sneaker world on all sides over the last couple of years. While the collaborations are one part of this success, a huge aspect of it is that the brand's classics haven't lost any of their appeal.
574v2
The 574 is marketed as 'the most New Balance shoe ever' and we couldn't agree more. Especially in this grey outfit, it's a nod to the years of dominance that New Balance has experienced in the world of sportswear and sneakers.
Made in USA 990v3 Core
Wildly comfortable and definitely in the conversation for the easiest shoe to style ever made, the 990v3 is a timeless rotation star.
Essentials Metallic Sweatpant
Cut with a tapered leg and elasticated cuffs, the Metallic Sweatpant is designed for sports but, ironically, is the perfect pair of pants to do absolutely no exercise in at all. This is a lazy day essential.
Essentials Stacked Logo Sweatpant
Combining two of New Balance's logos — and therefore the past and present — this pair of essential grey sweatpants embodies the company's appeal.
Essential BBall Short
Essentials lovers should all own a pair of plain basketball shorts. Whether you're kicking back at home or heading out in warm weather, the basic mesh shorts are a dream in terms of utility.
Essentials Stacked Logo Tee
It's harder to design a good T-shirt than you might think. It has to be tailored right, the cotton needs to be strong without being too heavy, and the details can't be ignored either. All three boxes get a big, fat tick here.
Essentials Stacked Full Zip Hoodie
Doubling up on your essentials is encouraged. Pair this zip hoodie with the grey sweatpants we selected earlier for the full staple look.
Essentials Metallic Hoodie
And if you preferred the blue sweatpants, don't miss out.
Want to keep browsing? Head to the Highsnobiety Shop for more products that we love. Highsnobiety has affiliate marketing partnerships, which means we may receive a commission from your purchase.