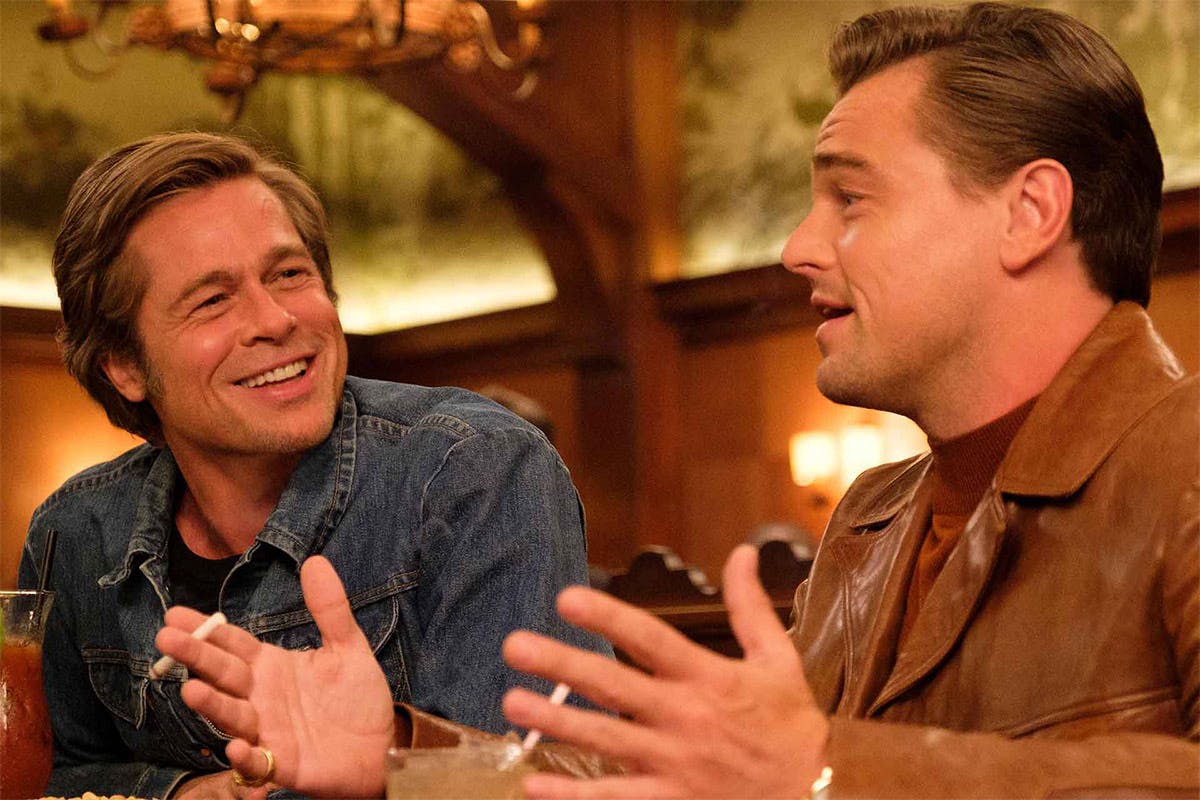 Quentin Tarantino's long-awaited ninth film Once Upon a Time in Hollywood has just premiered at Cannes Film Festival, and if early reviews are anything to go by, the star-studded movie has been worth the wait. The film received a long standing ovation at the festival, and the cast, featuring Leonardo DiCaprio, Brad Pitt, and Margot Robbie, came in for high praise from critics.
Judging by the critical reaction, it seems fears the director might exploit the grisly real-life Manson murders are mostly unfounded. That's not to say the film doesn't feature characteristic Tarantino violence, with one reviewer calling a moment in the film "absurdly violent."
The first full-length trailer for Once Upon a Time in Hollywood dropped yesterday, and it features our first look at Charles Manson. Watch it below, and then scroll on to see what critics had to say about the movie.
The cast brought their A-game
DiCaprio and Pitt fill out their roles with such rawhide movie-star conviction that we're happy to settle back and watch Tarantino unfurl this tale in any direction he wants.

Owen Gleiberman / Variety
It sits at the mature end of Tarantino's work, bringing his tongue-in-cheek storytelling together with exquisite craft and killer lead performances from Brad Pitt and Leonardo DiCaprio. And yet, it's still very much a Tarantino film, trading in genuine emotion one minute, unapologetically silly the next.

Dave Calhoun / Time Out
This curious fairy tale may not be the truth, and it may prattle on too long. But when its stars align, and they let loose with their unmistakable shine, Hollywood movies do seem truly special again. And, sure, maybe TV does too.

Richard Lawson / Vanity Fair
A return to form for Tarantino
Once Upon a Time in Hollywood is bold, beautiful, and brutal. It's Tarantino's best film since Kill Bill, perhaps even since Pulp Fiction.

John Bleasdale / CineVue
There's a gleeful toxicity here that will launch a thousand think-pieces — Pitt's character is capital-P problematic, absolutely by design — but the transgressive thrill is undeniable, and the artistry mesmerizingly assured.

Robbie Collin / The Telegraph
Quite simply, I just defy anyone with red blood in their veins not to respond to the crazy bravura of Tarantino's filmmaking, not to be bounced around the auditorium at the moment-by-moment enjoyment that this movie delivers.

Peter Bradshaw / The Guardian
Once Upon A Time in Hollywood is beautifully made. Beyond all the "Tarantino-esque" touches of the action, the banter, the violence, the constant movie references, there's a real craft at play here.

Fionnuala Halligan / Screen International
Expect trademark dark humor and violence
That drifting, elegiac quality (which at times may recall his once-neglected, now-classic Jackie Brown) is the film's great strength. There are several major set-pieces — some hilarious, some creepy, one absurdly violent — that will get people talking, but perhaps the most powerful is a lengthy, seemingly aimless one that comes smack dab in the middle.

Bilge Ebiri / Vulture
It's a grand playground for the director to further fetishize old pop culture, to break things and hurt people, and to bring a wide-eyed glee and a robust sense of perversity to the whole craft of moviemaking.

Steve Pond / The Wrap
Oh, and feet
Richly evocative, conceptually jaw-dropping, excessively foot-fetishizing, inescapably terrifying and unexpectedly poignant movie.

Justin Chang / Los Angeles Times
All the Tarantino hallmarks are here — the jet-black humor, fine-tuned dialogue, jukebox soundtrack, and, yes, bare feet.

Jordan Farley / GamesRadar+/Total Film
It's long, but what else did you expect?
Once Upon a Time in Hollywood is uneven, unwieldy in its structure and not without its flat patches. But it's also a disarming and characteristically subversive love letter to its inspiration.

David Rooney / The Hollywood Reporter
True, the film takes its sweet time; some scenes are overindulged. But the pay-off is explosive — a finale that's both grisly and strangely sad.

James Mottram / South China Morning Post
Once Upon a Time in Hollywood is out on July 26.