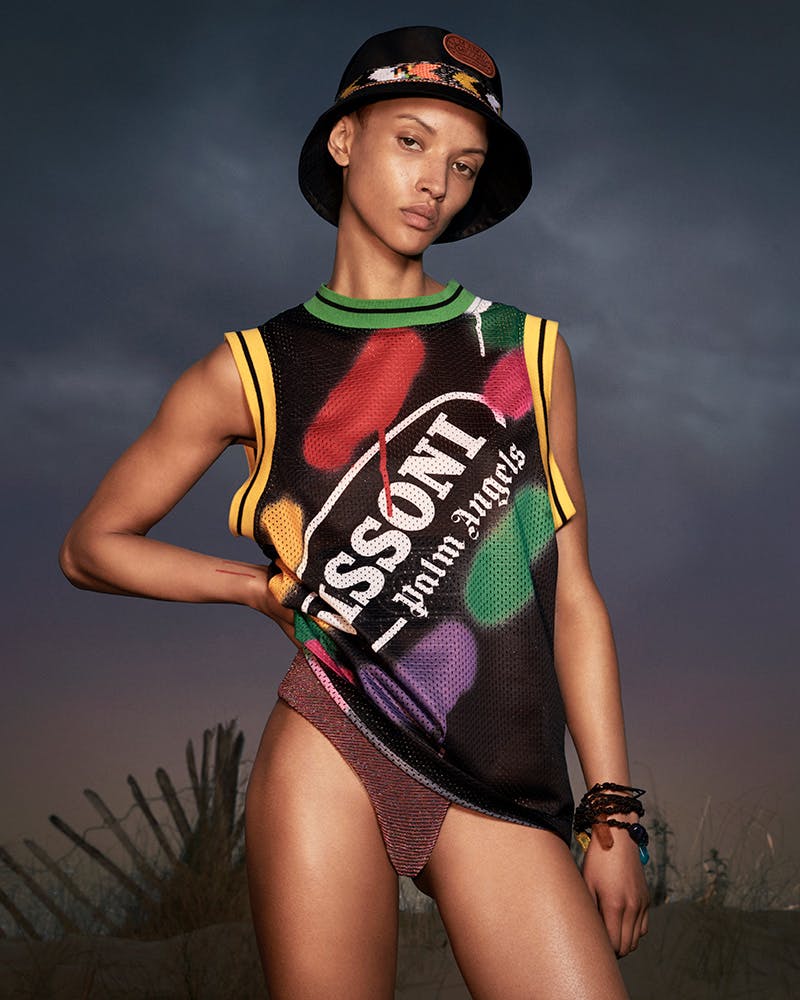 By design, Francesco Ragazzi's Palm Angels feels more Californian than it does Italian. It takes its name from Ragazzi's Rizzoli publication of Golden State skaters, after all. Still, Ragazzi hasn't forgotten his roots. Thus, Palm Angels' new Missoni collaboration is a coming-home affair, of sorts, translating the luxury house's flashy knitwear into Ragazzi's American-flavored sportswear to find their shared design language.
"I've always known Francesco," Angela Missoni tells us. "I've been a big fan of his since the beginning. Since [2009's] Converse All Star, I understood that collaboration was the way forward, joining forces with labels that I see as cool."
"So I was waiting for Francesco to ask me," Angela laughs. "I didn't want to impose." With full access to the Missoni archives, Ragazzi and Angela took a very Italian approach to the partnership, leisurely picking out classic Missoni elements and reshaping or replacing until a fit was found. The collaboration is no mere riposo, of course, as thoughtful touches abound. For instance, the co-branding is borrowed from the earliest Missoni logo designs, with "Palm Angels" appearing inside the circular design originally sketched by co-founder Ottavio Missoni. Ragazzi is "very familiar with Missoni's [history,]" Angela noted.
The collaboration "does feel like a natural extension of Missoni," she continued. "Beachwear, sportswear — [it's] in Missoni's DNA. My father [Ottavio] was an Olympic runner... we've always had tracksuits." Of course, the tracksuit is also a Palm Angels signature, so its appearance, in all its Missoni-patterned glory, in this collection is to be expected. It sits neatly with Ragazzi's fan-favorite fare — big hoodies and T-shirts, chunky sneakers — and flipped Italiano staples.
No Neopolitan suits here, though: the tailoring here is exaggerated and cozy. Summery jersey dresses are a slinky counterpart to spraypaint-printed basketball jerseys, while fringed ponchos, sharktooth-like necklaces, and big bags are begging for Instagrammable outings to Amalfi. "Of course, [the collection is] for younger shoppers," Angela Missoni says. "Fashion is fashion, it is Of The Moment. [We want to] introduce Missoni to a new generation."
Though it's not genderless, the collection was designed to be "fluid, natural," she continues. "There is some crossover" inherent to the easiness of the garments. "Situational, yes, but we're thinking of clothing that meets specific occasions. Comfort is the main thing — it's how Missoni began and it's always part of the DNA."