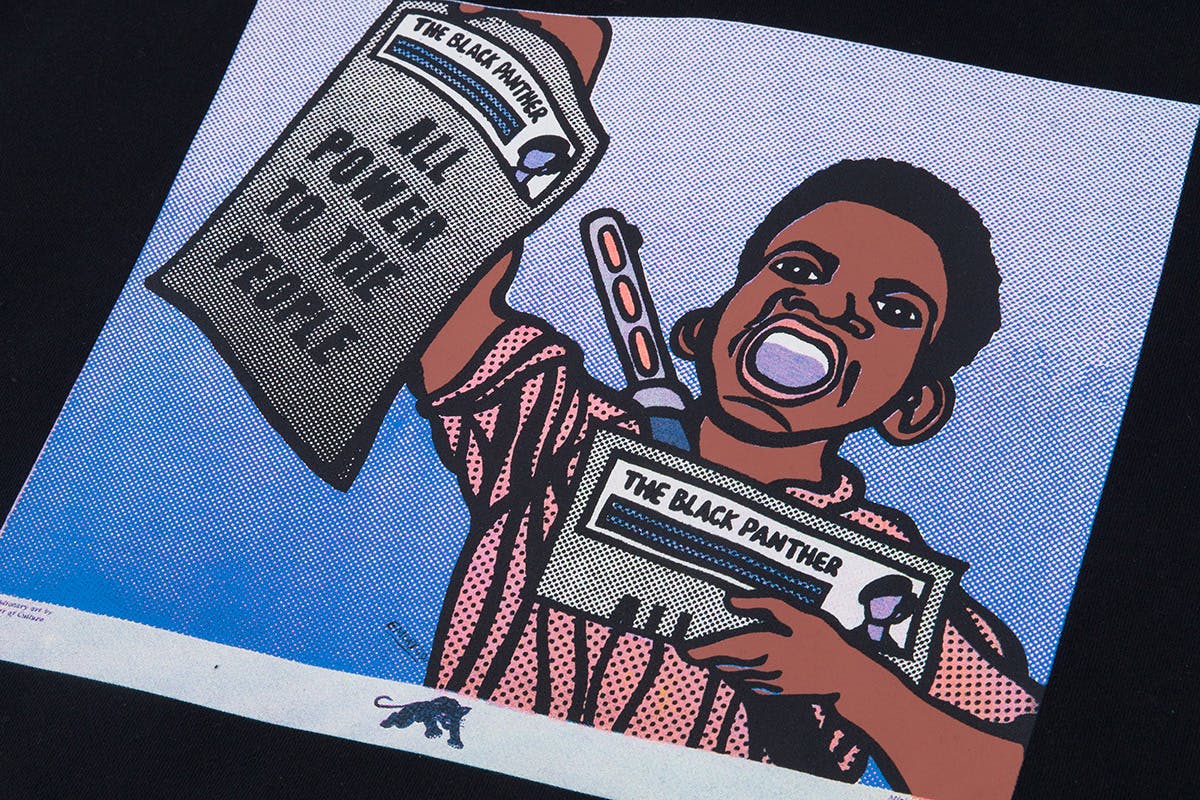 Curated by Highsnobiety and presented during the time period formerly known as Paris Men's Fashion Week, Not In Paris 3 is our third in a series of bi-annual digital exhibitions celebrating creativity in the age of remote interactions. Head here for the full series and cop our new merch via our online store.
All revolutions have arcs. While many may saw the murder of George Floyd last year as a wake-up call for the Black liberation movement, the Black Panthers have been ringing the alarm for decades. The only difference is, this time around we had a legacy to fall back on.
Fifty-five years ago when Bobby Seale and Huey P. Newton founded the Black Panther party, you couldn't flick your finger across a screen and have information immediately at your disposal like young activists can now. But even with the huge advantage modern organizing tools have given us, we still rely on the powerful messaging the Panthers left us. And the foremost political instrument we inherited isn't gun-toting activism – as some would have you believe – it's art.
As a revolutionary artist and minister of culture for the Panthers, Emory Douglas laid the blueprint for art as activism. Tasked with creating the images disseminated through the party's official newspaper, he developed a visual record for protest that we are still indebted to today. Through collages, bold graphics, and sparing uses of color, Douglas declared Black people's independence from a racist society and outlined ideals, modes of operation, and organizational structure.
One of the big issues the Panthers faced was limited opportunities to distribute their message, so communication had to be impactful. In 2021, the problem is in reverse: too much information, too much media. We're missing the overarching purpose of this continued struggle, which Emory Douglas encapsulated so well – so isn't it about time we bring that back?
That's precisely what the Dutch streetwear brand Patta is doing with its latest deliberate collaboration with a Panther, an icon. No, these aren't pages of the Black Panther paper, these are jackets, shirts, caps, and wallets, but the message is still the same. This is activism the Patta way.
Ahead of the capsule collection's release, spoke to Patta's brand director, Lee Stuart, about the impact of Emory Douglas' art and how clothes can be part of that legacy.
When and how did you first become aware of Mr. Douglas' work?
I really don't remember when I first became aware of Mr. Douglas' work, as it's so embedded in the Black Panthers I feel like I've been exposed to it since forever. On top of that, Emory has given lectures and has done projects in Amsterdam and Rotterdam for years, through institutions like Stedelijk Museum Amsterdam, with local contemporary artists like Farida Sedoc and Brian Elstak among others.
At what point did you decide Patta needed to do a collaboration?
This has always been at the top of my wishlist, to be honest. I got the last push when The Black Archives and HipHopHuis had Mr. Douglas over for a lecture and I got the chance to meet the man. I actually followed him.
How did this collaboration even come about? What were some of the challenges?
I literally followed Emory Douglas on his tour of Amsterdam. With a little help from his chaperones, I approached him, introduced myself and the brand briefly, and got his email address. I emailed him with the request to collaborate on a capsule collection but he shut that down real quick. From the start, the Black Panthers have understood that to really be about equality, you have to be anti-capitalist. All forms of oppression and inequality are tools of our capitalist system. It seemed impossible. But I know our intentions are good, so we stayed persistent. Mr. Douglas got more familiar with our brand and our ethics through repeated emails but also with some help from our mutual friends. He made some ground rules clear and then we got permission to work with his catalog.
What was it like working with such a legend?
A dream come true, obviously. It's also so good to see how involved Emory still is in community organizing, and also how he has evolved. Practically all his work from his time with the Black Panthers is still so relevant but it was very clear that he himself didn't get stuck in that time. He was very conscious of the power of his work and the messages therein, and that partly determined which works we ended up using.
Is there work of his or a piece from this collection that really resonates with you that you'd like to share?
Most of those works ended up in the capsule collection already, but I'd like to highlight one piece.
The phrase "DON'T SUPPORT THE GREEDY" ended up on a pouch wallet so that hopefully it reminds people that if they really want to make a change, there are simple, small ways to do that. Not everyone is a full-time activist, but everyone should educate themselves on the companies and places they spend money at, cause they vote with their wallets daily.
I guess the wallet [is my favorite]... but the combo of a black coach jacket and a black faux leather "ALL POWER TO THE PEOPLE" hat is super fire. It's like the message and the image are just so true to the Panthers but very current in my opinion.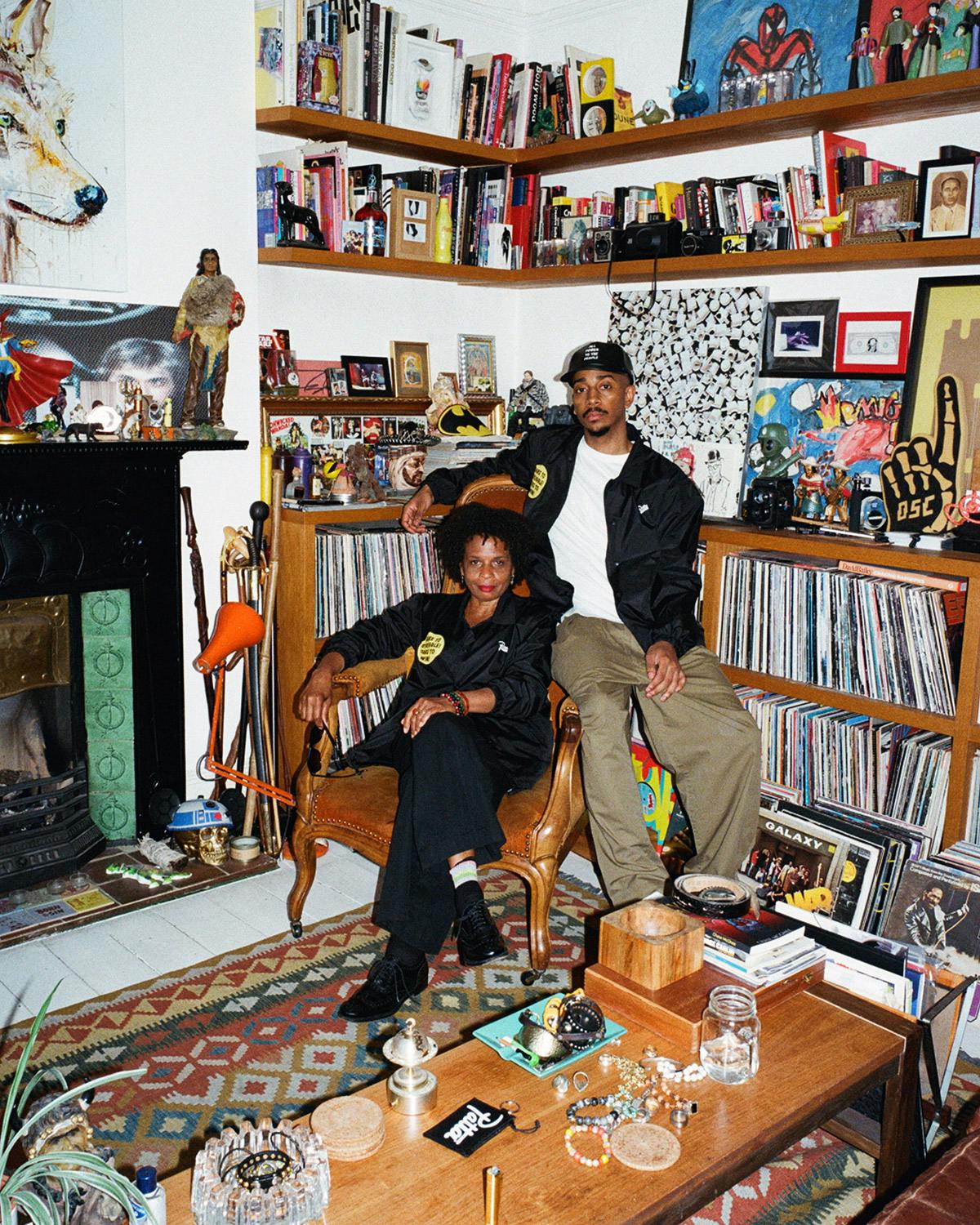 Why do you think art is such a potent weapon for (political) change?
In the case of the Black Panther movement and its visual language, from the start, the intention was to make the message instantly recognizable, especially to marginalized and illiterate people. So beliefs that maybe need a lot of words to be explained are instantly communicated. You can reach so many people so quickly with one artwork.
How different would the Panthers have been without Douglas, in your opinion?
He was elemental. He's responsible for the directness in the communication and so it is widely believed they would not have reached as many people [without him]. At the height of the movement, the Black Panther newspaper's circulation was close to 400,000 copies.
Some of the images in Emory's work are very graphic and what could be termed as triggering. Do you think art needs that shock factor? And can art even be this fearless now?
I don't think art needs that shock factor necessarily, and some works that we really thought were super strong, we decided not to use as we didn't want the collection to be too incendiary.
Why do you think it's so important for young people to rediscover Emory Douglas' art now?
Have a look at his work, most of it still applies. Especially since we experienced this new global wave of activism in the aftermath of the killings of Breonna Taylor and George Floyd, it's important to know what came before and to learn from the elders whose shoulders we're standing on. The Black Panthers were essentially intersectional activists decades before Professor Kimberlé Crenshaw coined the term.
The Patta x Emory Douglas collection will be available Friday, June 18 from 13:00 CET on patta.nl and the Patta mobile app. These new styles will be available from Patta London, Patta Milano and Patta Amsterdam at a later date.
Browse a selection from our Not In Paris Gift Shop below, and see the rest of the releases here.