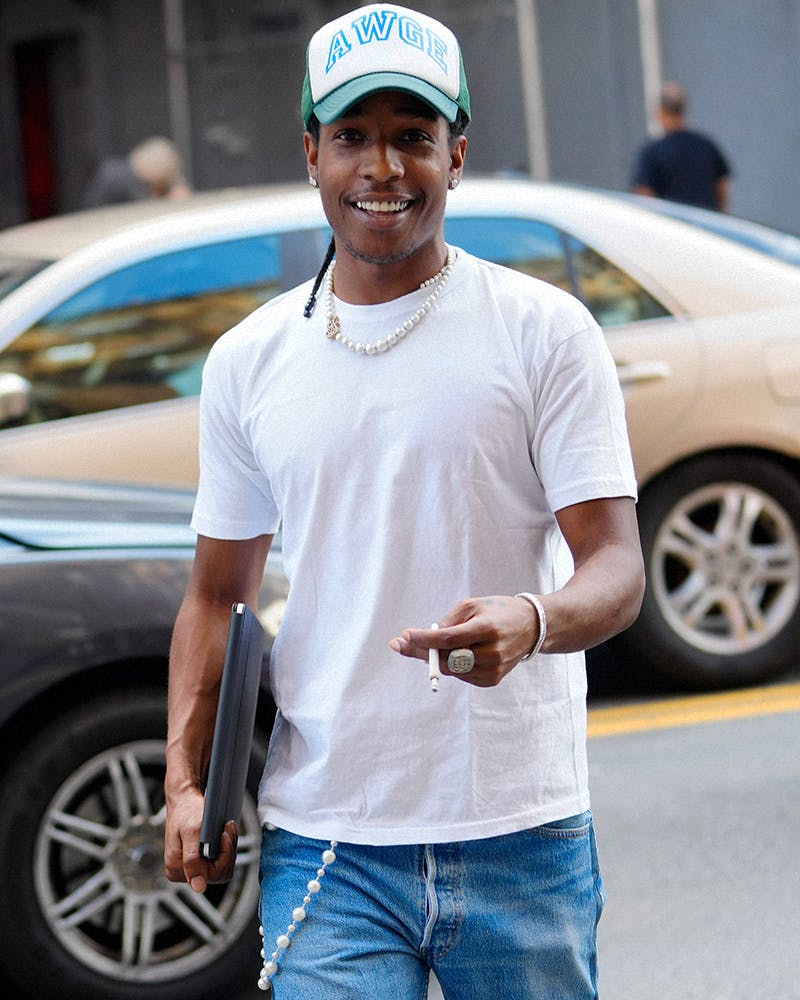 Pearls for men have been everywhere lately (Supreme just released a pearl-heavy collab with Tiffany & Co.) — and we think they're here to stay. Like a lot of our current fashion landscape, A$AP Rocky was one of the first to adopt the look. The rapper started wearing the classic jewel back in 2019 and since then he's kept them as part of his regular rotation, most recently pairing a suit with an oversized pearl necklace and matching rings.
Harry Styles is also a noted member of the pearls club, most famously wearing a single pearl drop earring to the 2019 Met Gala. Like Rocky, since first debuting the look, Styles is rarely seen without a band of pearls around his neck.
But it's not just our two favorite style gods wearing your grandma's favorite gemstone. To celebrate the release of his recent album, Call Me If You Get Lost, Tyler, The Creator enlisted New York Jeweler Alex Moss to make a custom belt and chain made of pearls, as well as wearing oversized pearl earrings during the album's rollout. Elsewhere, Jungkook and Taehyung of BTS, Shawn Mendes, Pharrell, Swae Lee, Jaden Smith, and Gucci Mane have all rocked some version of the stone. Clearly, pearls are having a moment.
Of course, men wearing pearls have attracted some haters that argue the trend is played out, but we beg to differ. The gemstone has remained ubiquitous in women's jewelry for decades now — everyone from that fashion week influencer you follow to your mother likely has a pair knocking around. Pearls are such a classic piece that they've transcended age, style, and now gender.
Men wearing pearls isn't a fad, it's an example of how the jewelry world is finally opening up to genderless style. Last year men buying jewelry increased by 150 percent according to Lyst's report, while searches for "men's pearls" increased by 17 percent, and searches for specific pearl styles (anklets and earrings respectively) grew by 67 and 25 percent.
While pearls are currently reserved for the most fashion-forward among us, in a few years, pearl necklaces are about to be as commonplace as chains are for men. Watch this space.
Not into pearls? Shop alternative jewelry for men below.