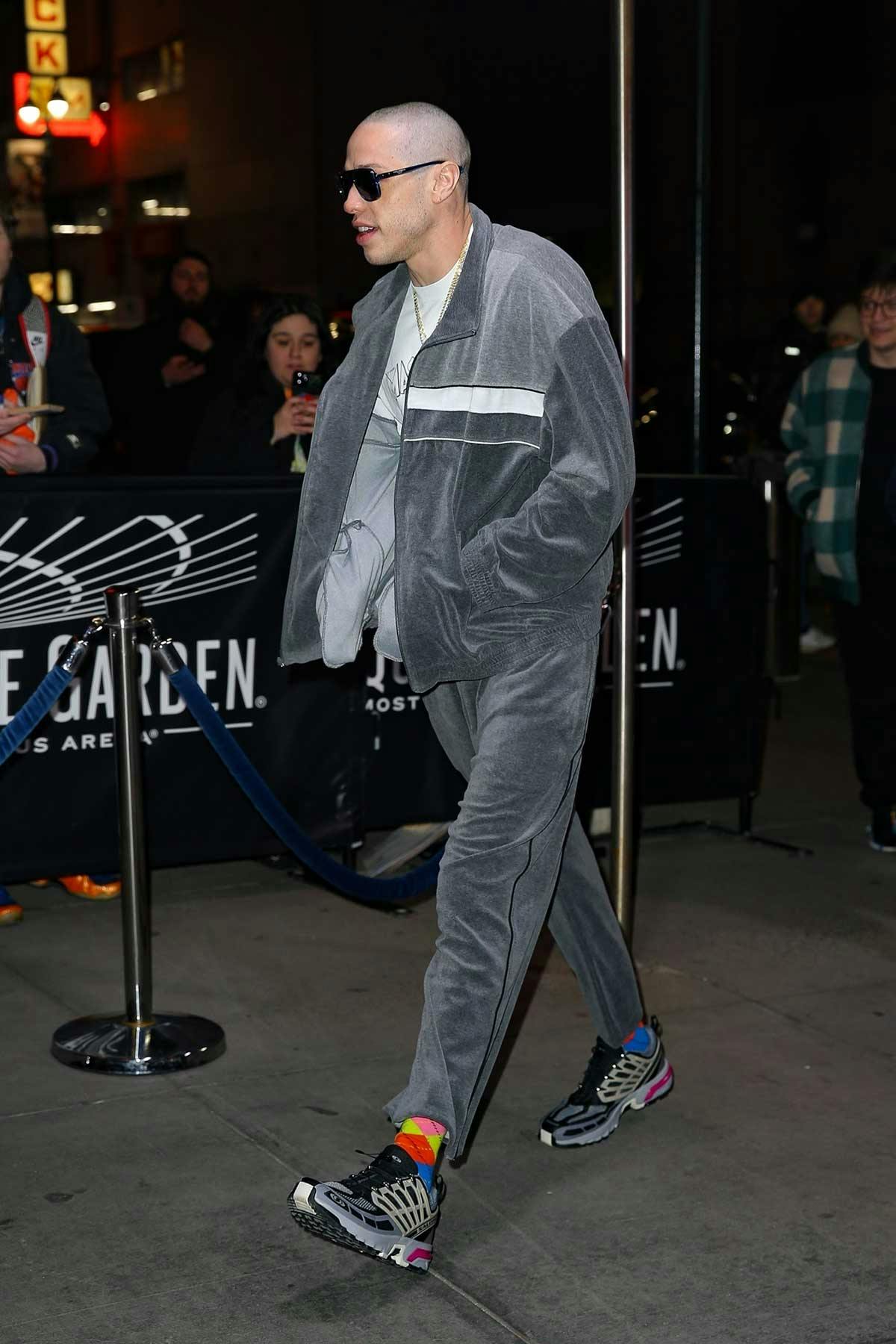 Pete Davidson is returning to his scumbro roots. The comedian, recently romantically linked to Chase Sui Wonders, was spotted on January 31 with a completely shaved dome and an outfit that screams "Staten Island Sleazeball," bringing us back to the Pete Davidson we knew and tolerated a few years back.
Davidson has been an unlikely style icon since he began dating Kim Kardashian (they're finally through, BTW), repping cultural lynchpins like HIDDEN.NY, Supreme, and MSCHF over the past year or so.
There's still a little bit of that in the latest look that Davidson wore to a Tuesday evening Knicks game, but this outfit is really all about the sleazy steeze he's channeling.
Firstly, yes, Pete's bald. Not that he ever had much hair to begin with but Pete has gone full chrome dome out of nowhere, making the 29 year old look plenty older by comparison.
Add in the plentiful gold jewelry, plush velour tracksuit, and giant hater blockers and Pete is really only a mustache and pair of flip-flops away from cosplaying Carl Brutananadilewski.
Not that it's likely to make Davidson any less appealing to fans or his many female friends, naturally.
At the Knicks game, though, it was full testosterone as Davidson was sandwiched between fellow comedians John Stewart and Hasan Minhaj, looking lanky AF.
The only way you'd know that Davidson is a little bit of a streetwear kinda guy is his Salomon Advanced sneakers, which really bring the retired mafioso vibes (again, very Staten Island) together with Daivdson's typical Nolita Dirtbag-lite aesthetic.
Shop our favorite products