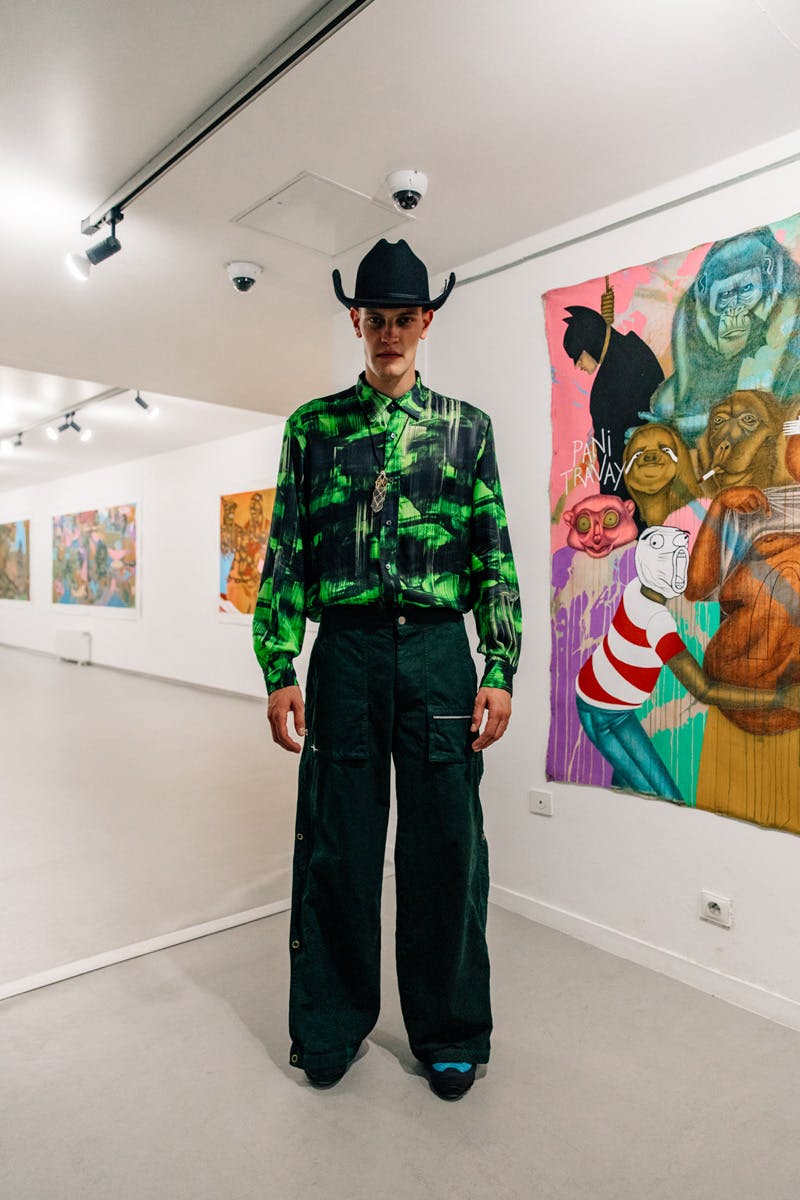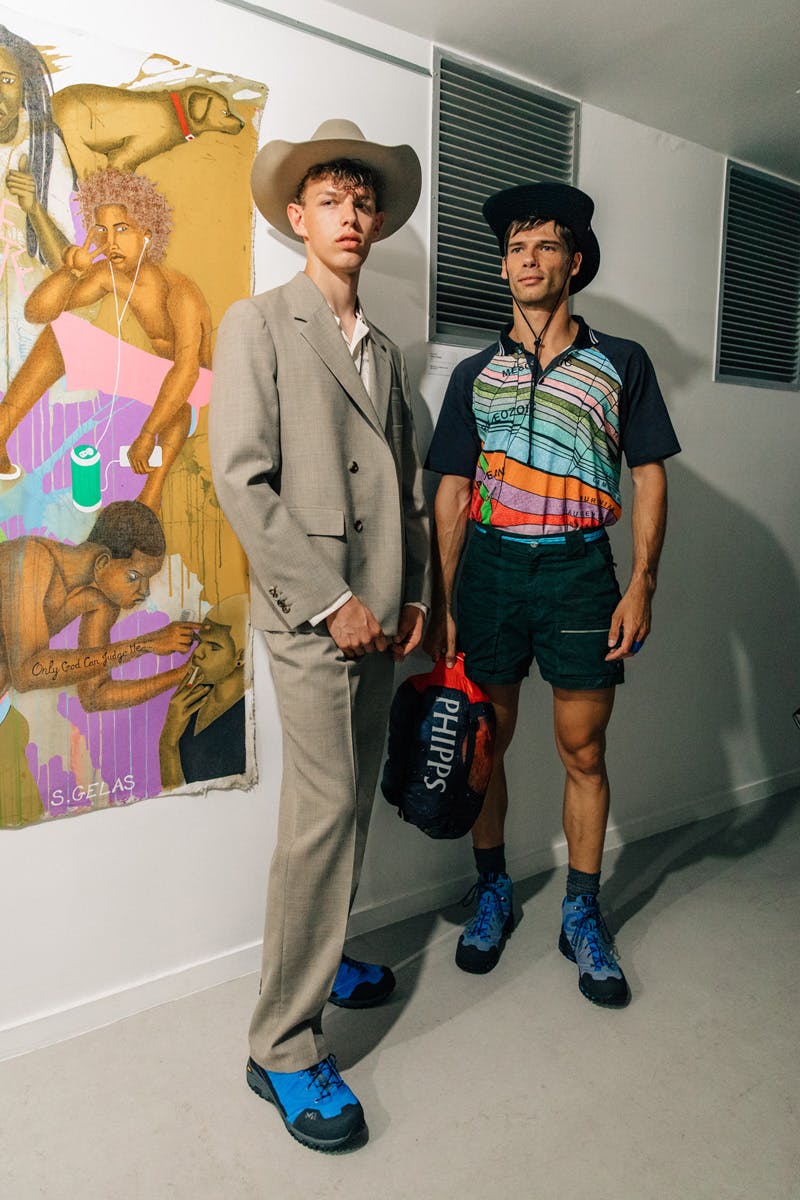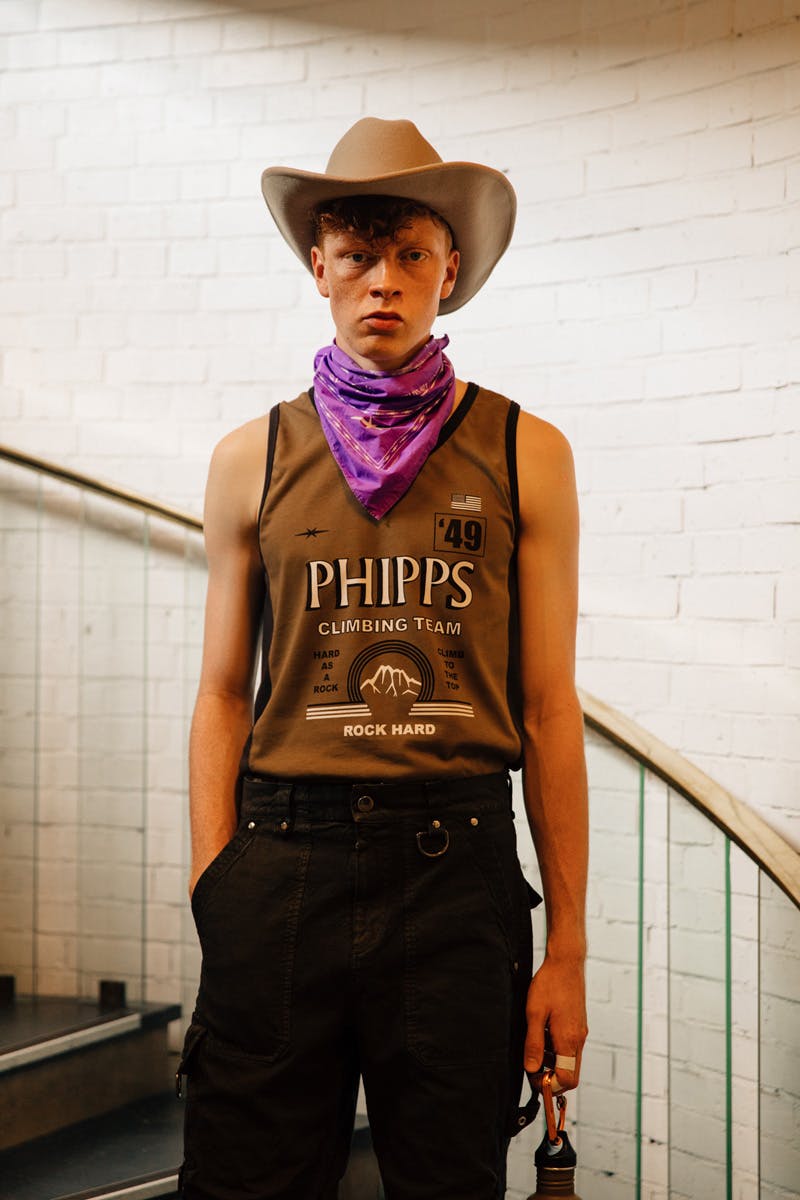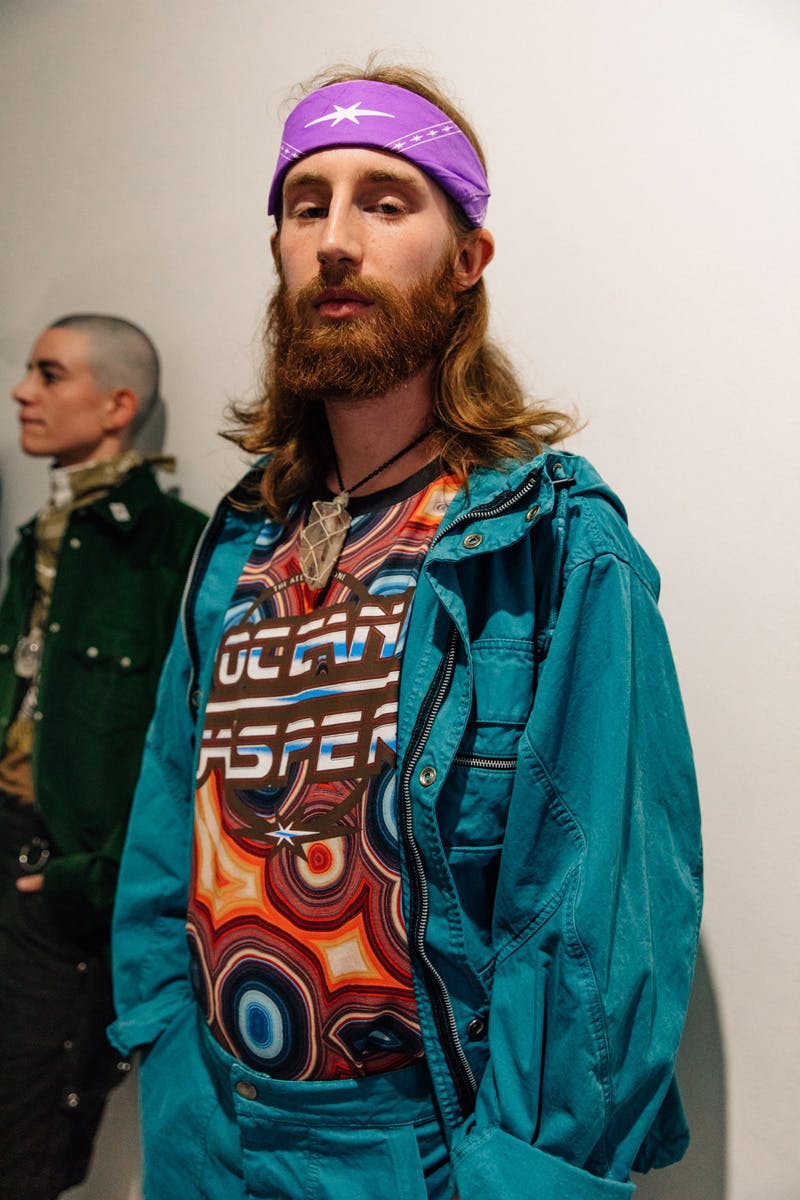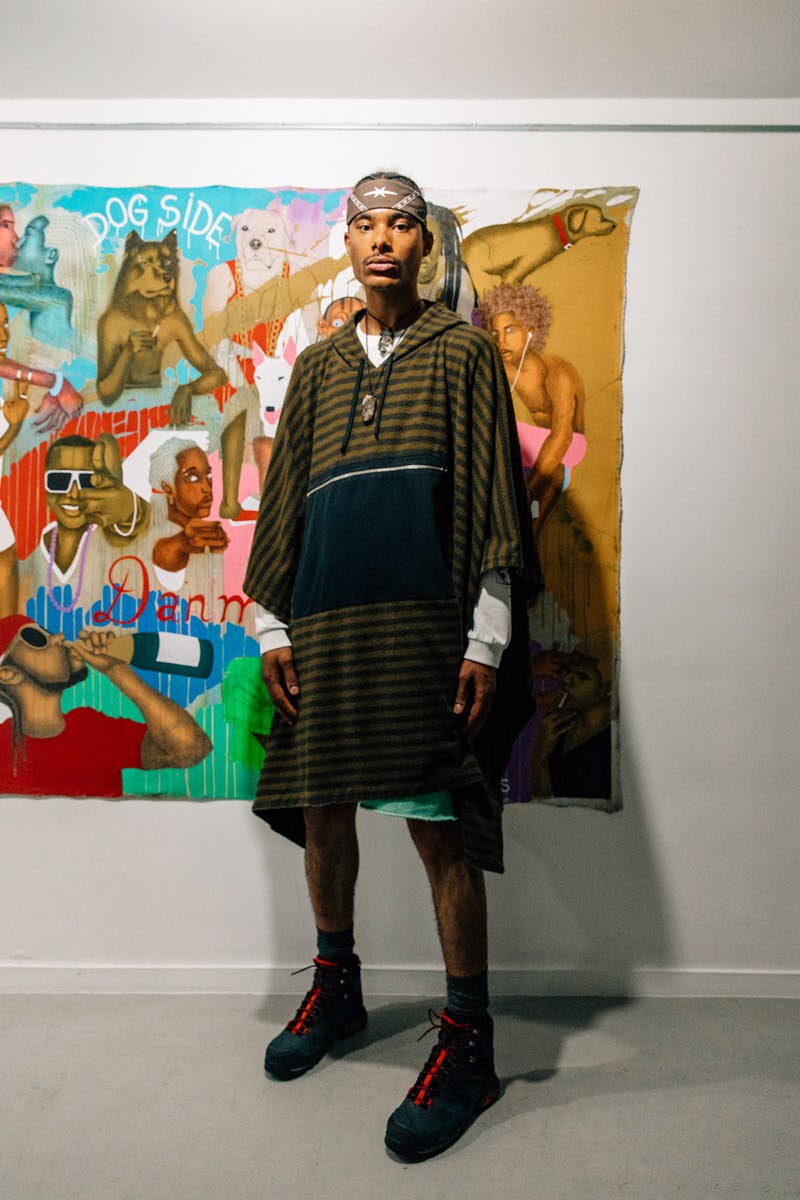 The work of Spencer Phipps, founder of namesake label PHIPPS, always has something pragmatic to it. From his early streetwear-inflected approach to workwear and his many references to the great outdoors, the American designer trained by Marc Jacobs and Dries Van Noten is known for his practical and globally conscious sense of dressing.
For Spring/Summer 2020, he continued that curious need for geographical exploration with a strong line of functional clothing. Strip back the styling and you saw workwear in its truest form, meant to get dirty and last.
"I always go back to the word useful," says Phipps after the show. "I want to make stuff that's practical in whatever capacity."
Phipps has a love of rock climbing and other outdoor activities, so the collection's starting point could once again be traced to the purest forms of man-to-nature interaction. Men wore climbing ropes, buckles, and PHIPPS-branded reusable water bottles, which have unexpectedly become a well-selling item for the label.
Hiking boots and high-performance outerwear in earth tones were made in collaboration with heritage Alpine brand Millet. Backstage, the designer explained that 50 percent of those who climb Mount Everest wear mountaineering gear by Millet. All fleece pullovers, nylon windbreakers, trekking pants, and a series of grid-checked utility backpacks here were upcycled from otherwise wasted fabrics from the Millet archive.
A celestially sprayed sleeping bag parka was quilted with Thermore padding made using recycled bottles while suiting in British wool came in naturally dyed, glue-free biodegradable versions. Everything was aligned with the brand's focus on building a tight-knit community and the goal of reconnecting man with nature.
"[People] want to talk about sustainability and global awareness, and that's a lot of talk, but can you do something powerful with it and deliver a meaningful message," says Phipps. By focusing on creating greener design solutions, Phipps certainly stands for something, both walking the walking as well as talking the talking with this collection.
"The whole thing started with a letter I read, which was written in the late 1800s, about how the American attitude and culture was shaped and what we call Americana today," he says of this season's inspiration. "It was about the savagery and the idea of a better world and finding the next modern thing. Meanwhile, they were killing each other and dying of starvation in the middle of the desert."
That's where the cowboy hats, chaps, and sleeveless shirts came from. He also looked at the work of photographers Richard Prince and Richard Avedon, thinking about the early notions of traditional masculinity and its earliest relationship with nature.
"We were looking at the different ways that geology touches people," says Phipps. "You had the gold rush and traditional coal miners, but also new-age spirituality, so all that hippie-dippy stuff."
In the digital age, being outdoors and taking care of ourselves mentally has become a luxury.
"We had a girl in Texas make all the crystals — those are very cleansing to your chakras," Phipps laughs. As for the prints on T-shirts, didactic and satirical graphics ranging from inspirational climbing slogans to a chronological calendar of the Earth's tectonic movements, these were made by Phipps' sister. "She's a major hippie chick in San Francisco," he explains.
Phipps is a finalist for this year's prestigious LVMH Prize. Whether he wins or not, there's a clientele out there for his brand's environmentally conscious approach, and with the right guidance, it has a good chance of making it big.