If you've read a 20th century art history textbook, you may know the story: In 1961, the Italian artist Piero Manzoni created an edition of 90 cans of Artist's Shit and sold them for their weight in gold. The one-liner artwork, editions of which have sold for over $250,000 since, reads like a meme (or NFT) before its time. And it contains two truths that have become increasingly unavoidable in today's culture: 1) That labelling something as "culture" makes it more valuable, and 2) that other people valuing something matters more than what it's actually worth.
But what stumps me most about Artist's Shit is that it's been around for 60 years, and yet people still seem confused by its lessons on the power of labels.
Take, for example, the head-scratching currently going on over Gucci and Balenciaga's decision to "hack" each other's brands over the course of two Ready-to-Wear shows. To its skeptics, Gucciaga (as we at Highsnobiety fondly like to call it) is a four-dimensional version of Artist's Shit occurring on the level of two fashion houses in a multi-billion-dollar luxury group. Critics of this gesture say that the brands who once were cynically taking our money by putting their logos on things are now cynically taking even more of our money by sharing their logos.
And this very much isn't an isolated occurrence. Just this Monday, Dior and Sacai just announced their own entry into the luxury collab matchmaking extravaganza. And on the same day, the art collective MSCHF launched a satirical fashion line called At All Costs, which features limited edition garments with their prices written on them. The message of the project is clear: Fashion is a magic wand that tells you what things are worth, and your role in buying it is to communicate that money to others.
But there's something deeply cynical in this line of thinking that I refuse to validate. Do people really think that Demna Gvasalia and Alessandro Michele sit in their studios cooking up new ways to trick consumers into buying schlock with designer logos on it? And, if so, wouldn't that kind of scheme be dangerous for business? Also, research we've done on young consumers during the pandemic shows that they actually aren't even interested in flexing wealth.
What these naysayers aren't tasting is the crucial ingredient that connects Manzoni to all of it: irony.
As we tumble further into a world defined by digital life, the gap between how things are and how things appear continues to widen; The void left between is a playground for irony, which in many ways has become the dominant mood of our generation. Irony is an impulse that likes to misname things. Wearing a name tag that says Mary Kate when you're a 300-pound linebacker is ironic. Naming a crypto currency after a picture of a Shiba Inu is ironic. Putting a label on a can of your own shit is also ironic.
Today, we're living in a luxury world that is now run by children of the Internet. In this epoch of design, we are seeing many designers grappling (or just having fun) with what it means to label something, what it means to charge astronomical prices for something, and what it means for luxury to even exist in the first place. And irony is the best tool for this.
Just take the co-perpetrators behind Gucciaga. Gvasalia came to fame creating luxury deliveryman and security guard T-shirts during his early years at Vetements, gestures activated by labels that seemed to toy with class boundaries. Many of his most-discussed products at Balenciaga have been luxurifying the seemingly banal and inexpensive — Croc high heel, anyone?
And while Michele's work is seemingly more romantic, it is a romance that comes with a heavy dose of camp. Let's also not forget that we're speaking about the man who commissioned the graffiti artist GucciGhost to spray-paint "REAL" on Gucci bags. This gesture is like a mille-feuille of ironies, one that received another layer when Gvasalia's Spring 2022 show featured a monogrammed tote with "THIS IS NOT A GUCCI BAG" spray-painted onto it. (Oh, and by the way, this is also a copy of the painting The Treachery of Images by Rene Magritte, another master ironist.)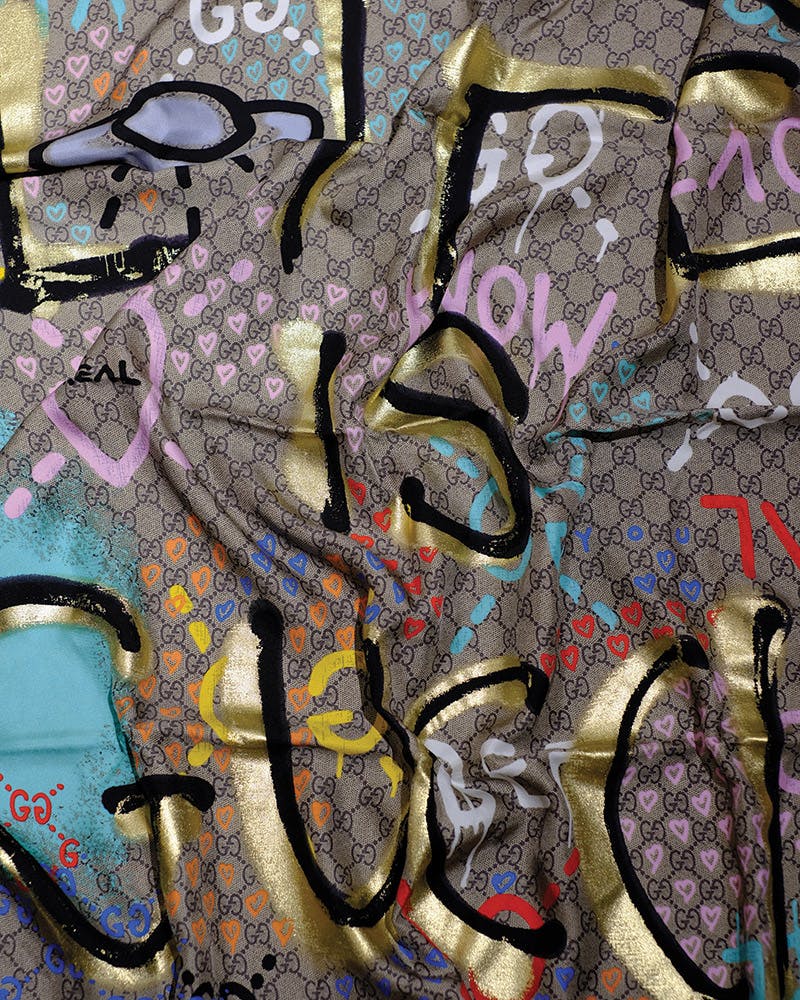 What do these things have in common? A willingness to play with their own subject matter as "fashion" and to live in the contradictions that come with making expensive things.
However, it's important to understand that irony is not a condition, but a strategy for making things. And it has an important rival that still holds a lot of power: authenticity.
For decades and decades, luxury was dominated by the idea of authenticity. Provenance, craftsmanship, and not being "fake" were crucial to what made something luxurious. Today's compulsion toward irony is clearly a reaction to that — a desire to let the tricksters and the bootleggers win — but being ironic is not the only way to make fashion modern. Take Raf Simons, a designer whose work is defined by a deeply un-ironic relationship to music, artwork, and youth culture.
But what makes the authenticity of a Raf Simons different from the provenance and craftsmanship of old luxury? In Highsnobiety's research on new luxury consumers, we've learned that two thirds of young shoppers invest in luxury as a way of communicating their knowledge (and not their wealth). The work of Raf Simons is a paradigmatic example of that: It doesn't feature prominent logos, it often features pieces of research stuck directly onto clothing, and it is supported by a cult fanbase that prides itself on memorizing his output. (Funny, then, that Simons has now teamed up with the Uber-ironic Miuccia Prada, whose version of the brand now lands directly on this spectrum.)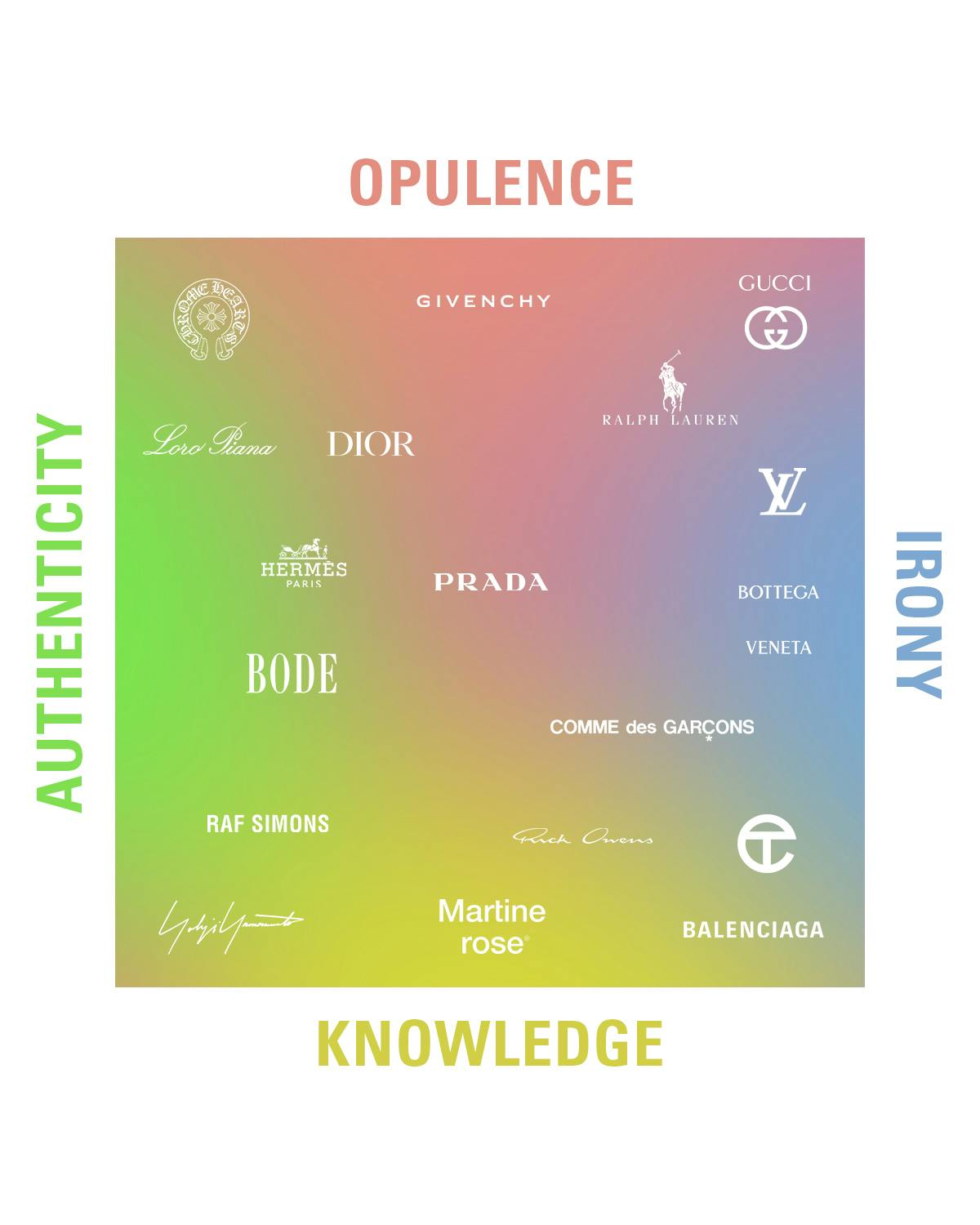 Knowledge vs Opulence, Irony vs Authenticity — when you look at these forces in combination with each other, the thought that modern fashion is on a perpetual downward spiral of cynicism is clearly a misguided proposition. Rather, the different practitioners who are making luxury are finding new paths toward creating value — value that can be mined in many different places.
Interestingly, when you read quotes about Manzoni and Artist's Shit, it becomes apparent that the artwork wasn't a cynical play to get collectors to buy feces, but rather a desire to give them what they really wanted out of art. "If collectors want something intimate, really personal to the artist," he once wrote in a letter, "there's the artist's own shit, that is really his."
And that's the thing we fail to think about when it comes to the ideas that are bought and sold on the marketplace today: there's a market for it, not because designers or artists thought of it, but because someone else clearly wants it.