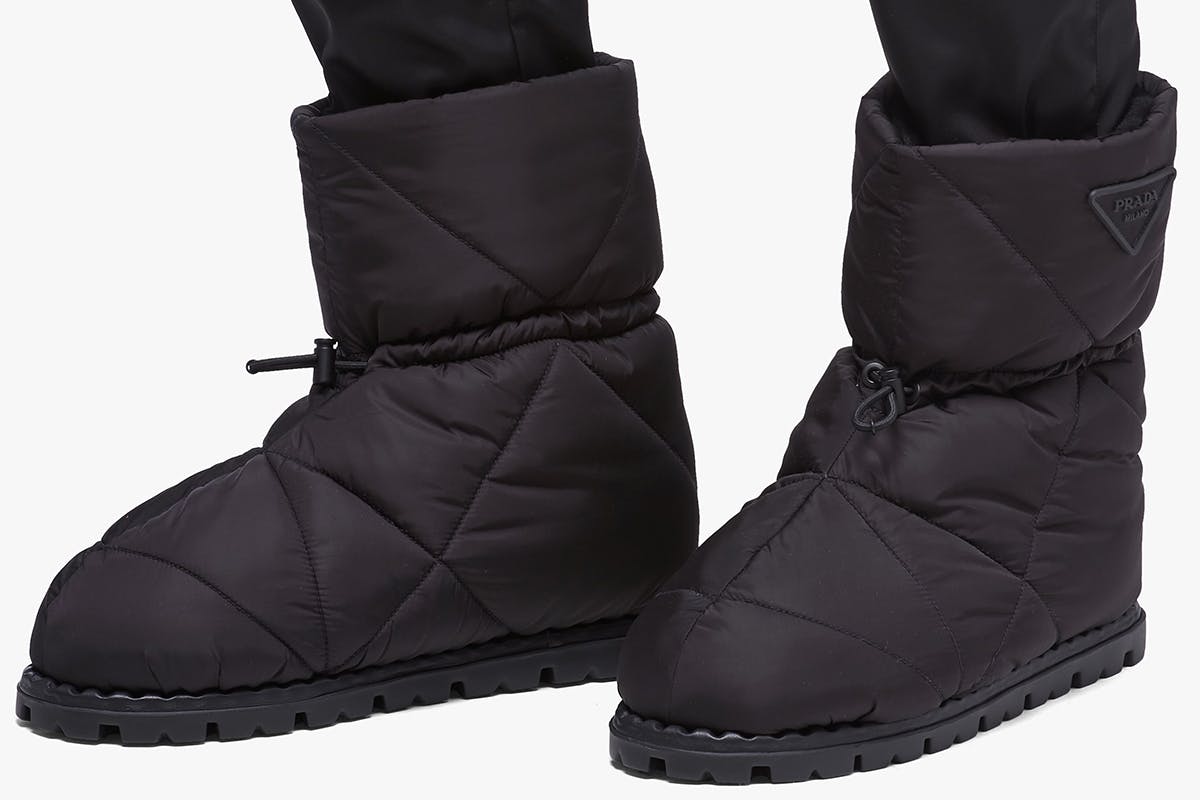 What makes the perfect fall/winter footwear rotation? It's a tricky recipe. Firstly, you definitely need something sneaker-based for everyday use, but you don't want it to be too lightweight or easy to scuff. Secondly, a pair of boots would be useful, but how do you reconcile your need for boots with your dedication to sporty, fashion-forward silhouettes? Finally, you'd do well to have something cozy in the mix, something to slip on when you get home or to make a quick trip out. In conclusion: Prada. You need Prada shoes.
Sure, it seems weird to opt for one of Italy's gatekeepers of luxury elegance when you're building a rugged winter footwear rotation, but hear us out. With a focus on the technical aspects of its brand history, Prada has quietly built the dream seasonal rotation for FW21. From the super-futuristic Cloudburst Thunder Sneakers to the season's best quilted mules, Prada shoes are your key to unlocking fall/winter in style.
Put your preconceptions aside and embrace the fact that one of the world's best-known luxury brands has dominated the technical footwear scene this season. Dive in below.
Shop the best Prada shoes for winter below.
Prada sneakers for winter
We love technical sneakers, and Prada's futuristic designs shave always stood out in the category. Now with the added chunk of the Thunder sole unit, they become the stompers you need for the tricky terrains of fall and winter. As naturally stylish on city roads as they are ready to tackle rocky terrain, the Cloudbust & Cloudburst Thunder silhouettes are a season winner.
Prada boots for winter
As we mentioned, there's a pair of Prada shoes for all fall/winter situations. If you're heading out into the unforgiving weather, opt for the boot version of the Cloudbust Thunder Sneakers. Or, for those looking to keep it wildly cozy, the Blow Quilted Drawstring Boots are a no-brainer. Snow boots for the city? Sign us up.
Prada slippers for winter
Okay, gratuitous mule moment. We couldn't not include the muled version of the toasty Blow Quilted Drawstring Boots. With the back chopped off, the quilted design becomes an at-home essential for the colder months. Plus, with a solid outsole, this pair's actually fine for running a quick errand, too.
Want to keep browsing? Head to the Highsnobiety Shop for more products that we love. Highsnobiety has affiliate marketing partnerships, which means we may receive a commission from your purchase.