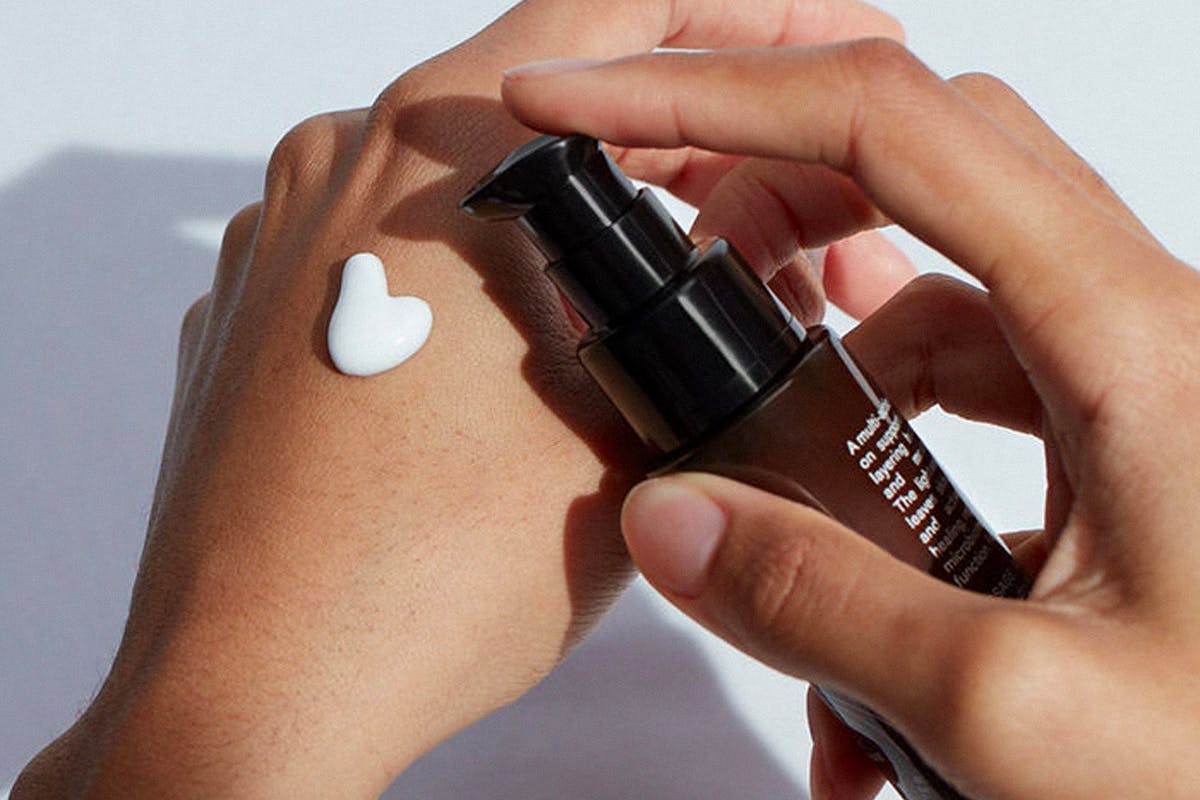 It's pretty normal to cringe at the mention of bacteria, but as science has proven, some bacteria have amazing health benefits. Known to aid digestion, combat yeast infections, and fight illness, chances are you're already orally consuming living bacteria. Whether it be in your go-to kombucha drink, your favorite greek yogurt, or daily supplements. But worrying about your biome or flora doesn't need to stop at your gut, skincare stans can now go the extra mile by opting for topical probiotic skin care products.
Like everywhere else on our bodies, the skin on our face is crowded with thousands of species of bacteria. Present to fight off infection, promote healthy molecules, protect against environmental damage, regulate pH levels and hydrate the skin, good bacteria risks becoming imbalanced when products like antibiotics medications, anti-bacterial or anti-acne soaps, or scrubs meet the skin's surface. That's where probiotic creams and lotions come into the bacterial balance equation. Consisting of live cultures of "good" bacteria, probiotic skincare works to reduce flare ups related to dryness, flaky skin, acne, rosacea, and eczema by restoring balance to your skin bacteria.
Finding the best probiotic skin care product for your skin isn't as simple as picking a daily cleanser or moisturizer. Given the newness of these products, only a handful have undergone scientific trials, been tested on human skin, or have an appropriate bacteria count for your skin type, so research is key here. As always, your best bet is to consult a dermatologist for recommendations, but that access isn't always available to everyone.
For the bacteria-loving among us, we've gathered six highly-raved-about probiotic skincare options below
The Nue Co Barrier Culture Routine
The Nue Co.'s Barrier Culture Routine is designed to simplify your skincare routine — and make your skin better in the process. The brand states that most people use 20 products on their skin (though that number seems slightly hard to believe), which not only can overload your skin, it's harmful to the environment too.
As an alternative, The Nue Co.'s two-step system comprising of a cleanser and moisturiser is said to solve 90 percent of skin issues. With a triple blend of prebiotics, probiotics and postbiotics the duo repairs the skin and balance pH levels. It also includes anti-pollution ingredients, so you can hello reduce landfill waste, while protecting yourself of its side effects too.
Drunk Elephant's Sweet Biome Sake Spray
Besides sounding like a delicious if overpriced cocktail, Drunk Elephant's Sweet Biome Fermented Sake Spray is a refreshing pH-balanced mist that helps support the skin's barrier. As the brand describes it, "Sweet B is to the skin what kimchi is to the gut: a nutrient-rich, probiotic boost." Designed to be spritzed on whenever skin feels dry, or the days are hot, this face mist is a must-have summer companion.
Tom's of Maine Prebiotic Bar Soap
Affordable and resourceful, Tom's of Maine prebiotic bar soap only costs $6 and can be used on your entire body. Free of artificial fragrances, sulfates, parabens, and preservatives, this award-winning bar soap helps support good bacteria to keep skin in healthy balance. Infused with inulin, a starchy substance found in several fruits, vegetables, and herbs known to promote the growth of healthy strains of bacteria — Tom's of Maine prebiotic bar soap will improve the bacteria diversity on your skin. With two scents to choose from — Soft Rose and Fresh Apple Scent — you can't go wrong choosing this simple bar with complex benefits.
Aurelia's Probiotic Concentrate
With zero synthetic chemicals or parabens involved, Aurelia's probiotic concentrate jumpstarts and increases your skin's natural repair process by utilizing probiotic proteins and cultures, combating pigmentation, wrinkles, loss of elasticity, hormonal breakouts and dullness. With claims to boost collagen by 140% and natural hyaluronic acid by a whopping 1900%, this cruelty-free treatment addresses more than just pH balance. Combine it with your favorite serum, facial oil or moisturizer, drop your irritating retinol, and still reap the same benefits: build firm skin, combat the loss of elasticity, and slow down the cycle of premature skin aging.
Biossance's Squalane + Probiotic Gel Moisturizer
Ultra-hydrating and infused with the probiotic ingredient lactococcus ferment lysate, this gel moisturizer helps to completely renew the skin barrier. Although highly recommended for dry and sensitive skin, Biossance's moisture-locking formula consists of redness-diminshing ginger extract and skin-soothing red seaweed extract, further maximizing hydration and reducing the appearance of pore size. Perfect for a sheer-feeling during hot summer months, this lightweight moisturizer made with squalane and sodium hyaluronate will moisten parched skin beyond compare.
Elemis' Dynamic Resurfacing Facial Pads
The most scientific of the bunch, Elemis' Dynamic Resurfacing Facial Pads are clinically proven to accelerate the skin's natural cell turnover aka makes your skin a lot smoother by shedding dead cells in just 28 days, Elemis' Dynamic Resurfacing Facial Pads are formulated with lactic acid and probiotic ferment complex. With in vitro studies — studies of biological properties that are done in a test tube — to back its claims, the products were proven to absorb fast and deep into the skin, have a positive influence on epidermal growth, and stimulated the production of antimicrobial peptides.