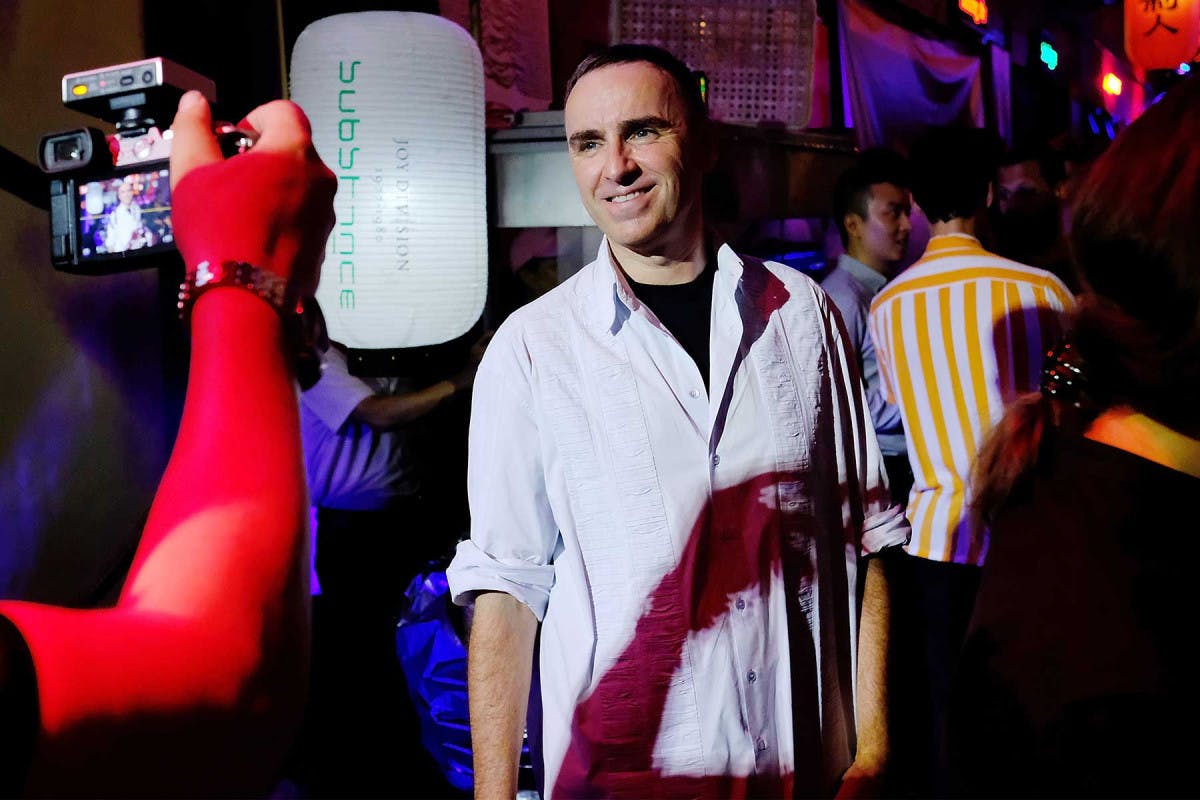 Turns out, that Raf Simons runway show in London wasn't a one-off but a swan song. On November 21, just over a month after presenting his Spring/Summer 2023 collection, Raf Simons announced that he will be shuttering his eponymous clothing brand.
The news comes apropos of almost nothing, with the Belgian designer recently issuing seasonal campaigns, home goods, and collaborations as if nothing was amiss.
Simons announced the end of the Raf Simons fashion label on his brand's official Instagram page, eliciting support from peers and pals like Marc Jacobs, critic Alexander Fury, and Bottega Veneta creative director Mathieu Blazy.
"I lack the words to share how proud I am of all that we have achieved," Simons said in his statement. "Thank you all for believing in our vision and for believing in me."⁠
To make a short story even shorter, Spring/Summer 2023 will be Raf Simons' final season as a clothing brand.
The designer will continue working with Miuccia Prada as co-creative director of Prada, a responsibility he's held since 2020. Don't be surprised if this figures into Miucci'a retirement plans — could we be seeing Raf Simons taking over as Prada's sole creative director down the road?
Both Raf Simons the designer and Raf Simons the brand have proven immensely influential over the years, especially in the field of menswear.
Raf Simons, the designer, has been credited with the popularization of the late-'90s slim-fitting suit, for instance, and his early graphic-heavy collections blurred the boundaries between luxury clothing and streetwear before the line that separated the realms was ever even established.
In late 2020, Simons introduced "History of My World," an in-house archive collection intended to reproduce some of his pioneering and long since sold-out designs, giving new fans a taste of old Raf Simons designs.
As his star in the fashion industry rose, Simons was tapped for brief tenures at Jil Sander, Dior, and Calvin Klein — where he had seemingly complete creative control — but swiftly departed each company in turn, preferring to focus on his namesake brand.
The role at Prada seems to be a better fit for the Belgian designer, who's working alongside Miuccia Prada to produce the seasonal men's and women's collections rather than doing it all by himself.
As mentioned earlier, Raf Simons impact can be felt across the fashion industry and beyond.
His youth culture translations were a core inspiration for Virgil Abloh, for instance — Simons once dismissed Abloh's work in interview though the two made up later — and the burgeoning archival fashion market has reframed Simons' clothing as all-important to streetwear culture at large.
Perhaps the earliest interfacing of Raf Simons and The Culture as we know it came in 2011, whenA$AP Rocky's single "Peso" gave the menswear-buying public an immortal one-liner doomed to be eternally repurposed as the caption of so many 'fit pics: "Raf Simons, Rick Owens usually what I'm dressed in." (Rocky mentioned both designers again in 2013's "Fashion Killa")
Anyways, Spring/Summer 2023 may be the "final season" for Raf Simons the brand but Raf Simons the man ain't going nowhere. He's still got work to do.
Shop Raf Simons — While You Still Can