Highsnobiety / Eva Al Desnudo
Raf Simons Fall/Winter 2020, Paris Fashion Week
Editor's Notes
The sulphuric light from Bureau Betak's set design captured the mood of sunrise on a faraway planet. It would be easy to forget you were in a Parisian warehouse, but that's the magic of Raf Simons — it just takes you somewhere different.
Following a slightly muddled SS20 collection that was neither groundbreaking nor nostalgic for his best hits, the Belgian designer had our mouths on the floor (and wallets at the ready) with a collection that dutifully disrupted the whole menswear conversation all over again. Muffs? Skinny pants? Metallic roll-necks? Zippered sweaters? Plastic-coated fur? Simons is thinking several seasons ahead of everyone else, but his general inspirations of youth culture and rebellion remain the same.
Speaking of rebellion, the FW20 collection was also to be the debut of a widely hyped new "RUNNER" shoe, which, having been announced on the label's official Instagram, led many people to expect a sneaker, a kind of spiritual successor to the adidas Ozweego collaboration. Well, Simons says fuck sneakers, you're getting a boot. While he's at it, Simons also says fuck PETA, you're wearing fur now, and it's wrapped in plastic, and fuck being able to lift your arms higher that 90 degrees because we're zippering everything up like a high-end knitted straight jacket.
The silhouettes were generally slim and elegant, especially on the leg, which was tapered up with a zip on the ankle. This might move the needle away from the du jour style of wide-legged pants that are more or less ubiquitous on the fashion runways. However, countering this streamlined aesthetic was a selection of pieces with tubular rectangle cut-outs wrapped around the chest in leather and wool.
Raf Simons' favorite word "YOUTH" was plastered all over the furry muffs, another accessory that we didn't see coming, nor did we really know that we wanted it. But we do. Imagine showing up to an event with your hands tucked away in a tidy purple muff, with "ARRIVAL THE FUTURE HAS BEGUN" on it. Regal.
Words like "apocalyptic" and "post-apocalyptic" have been used by fashion journalists to the point of exhaustion in the last few years: the tactical vests, the protective neck gaiters, the tired Matrix references — it made everything feel like the future was going to suck, and we had to prepare for it with a surplus of utilitarian outerwear.
However, Simons has done something here that feels, dare we say it, post-post-apocalyptic, a vision of the future that is weird enough to look interesting but doesn't gear us up for a trite kind of cyberwar. It's certainly a mature collection (fur = mature), but with the silvery underpieces, sneaker-slash-Chelsea boots, and plastic-wrapped varsity jackets, it feels like a new wave of what fashion kids will wear to live their best lives in the future colonies on Mars.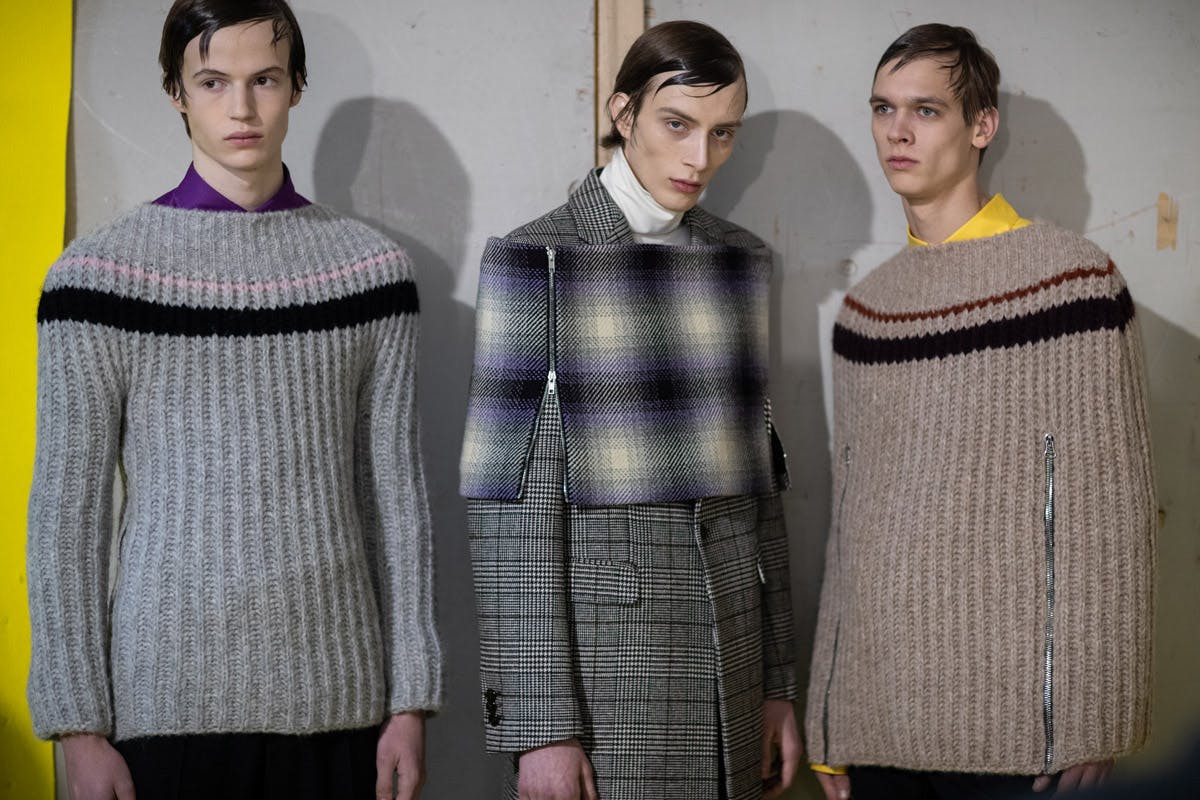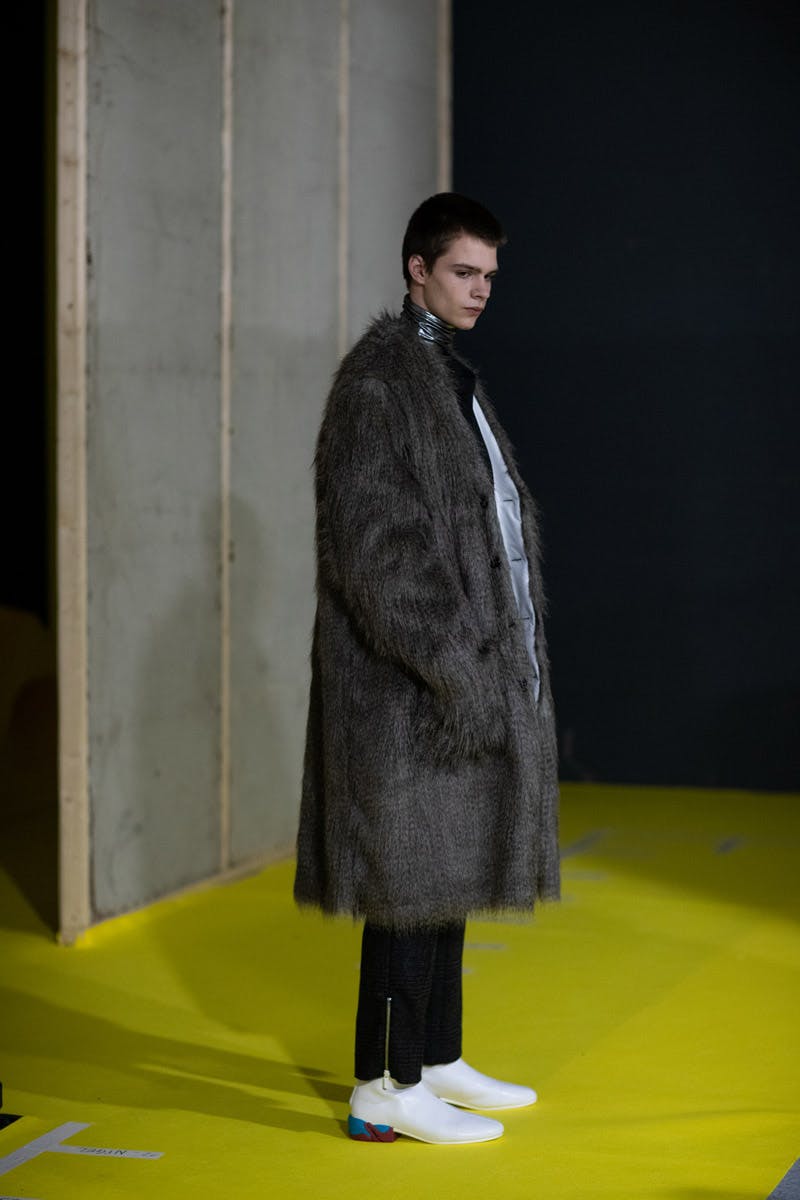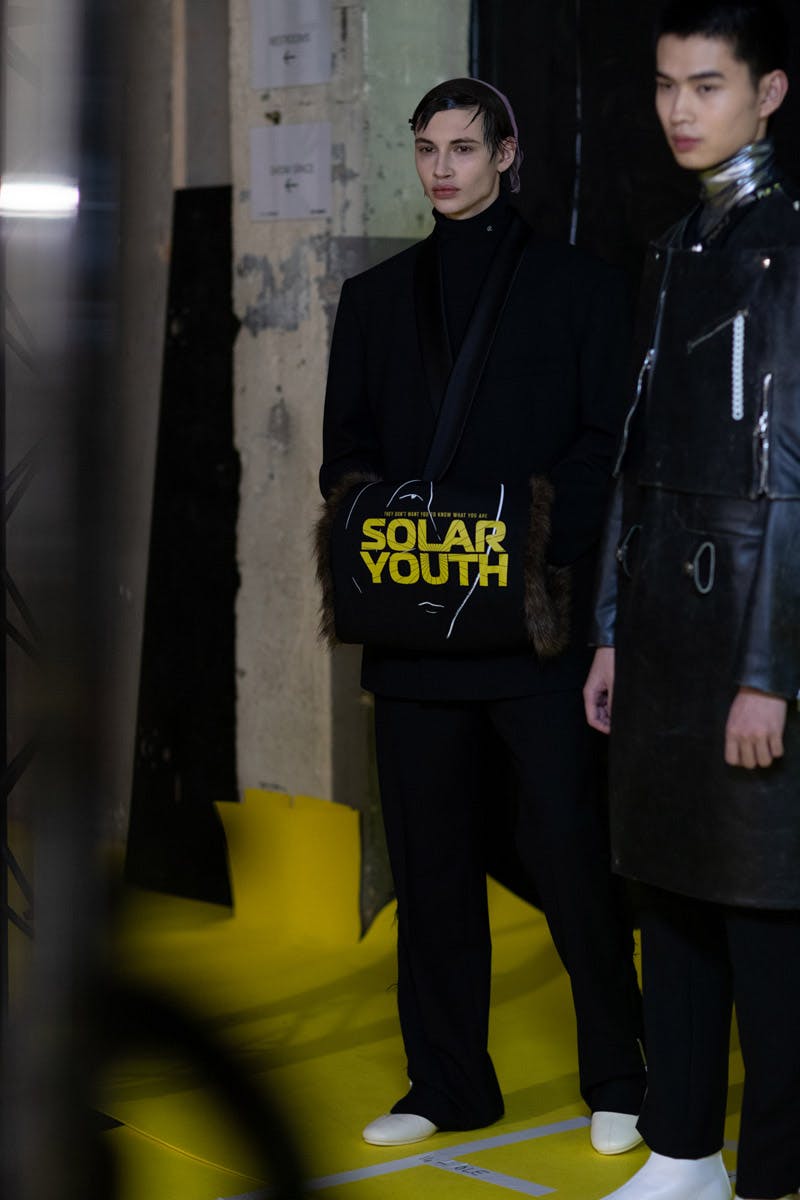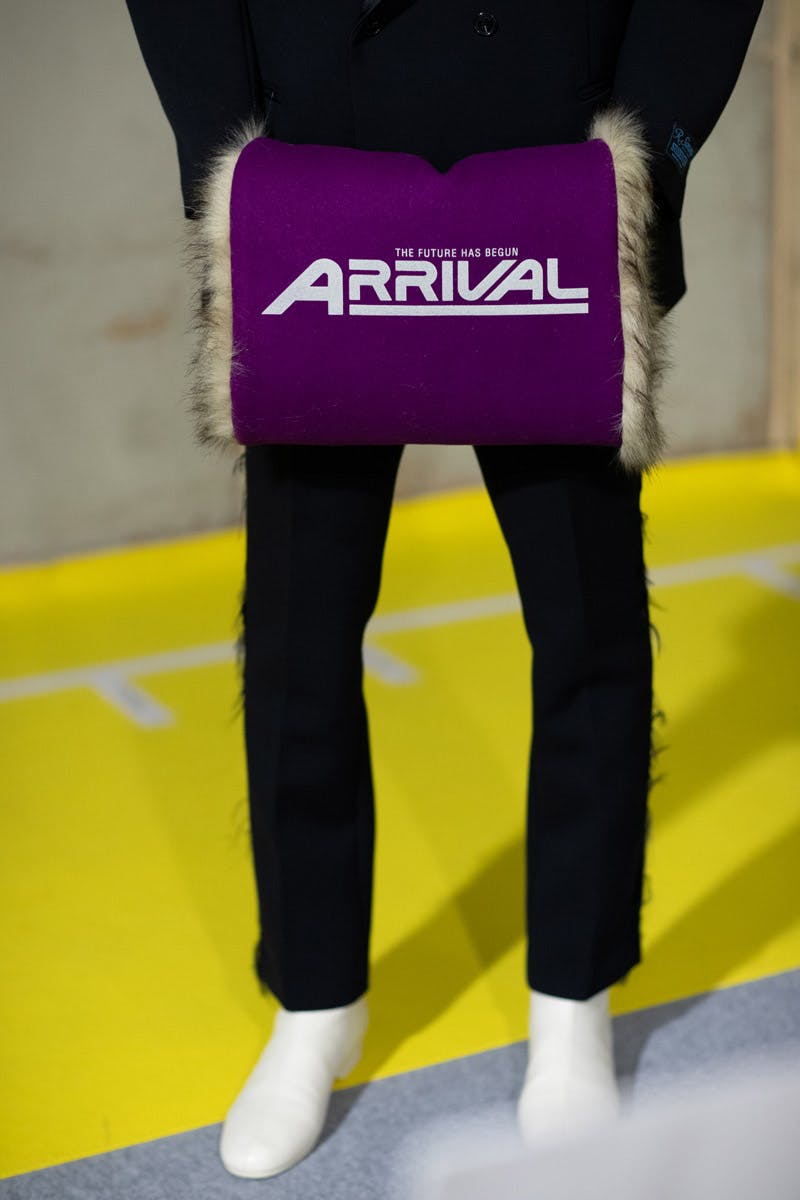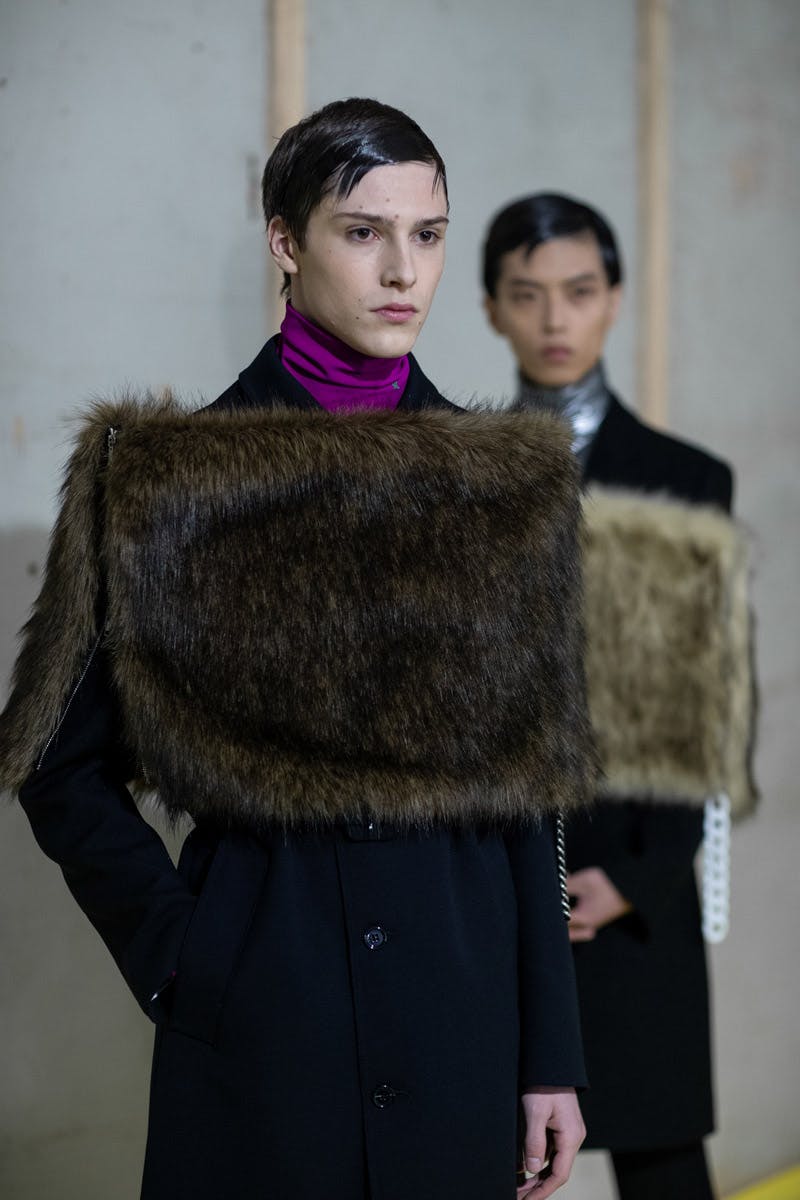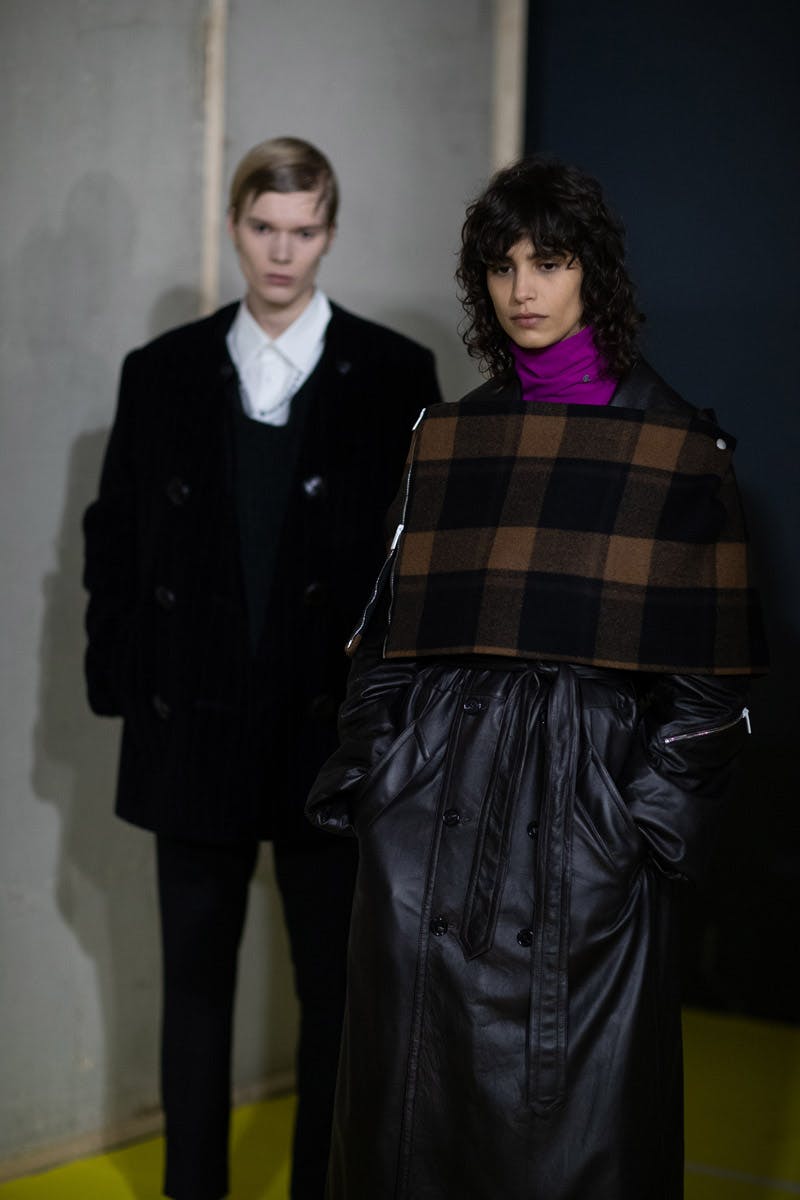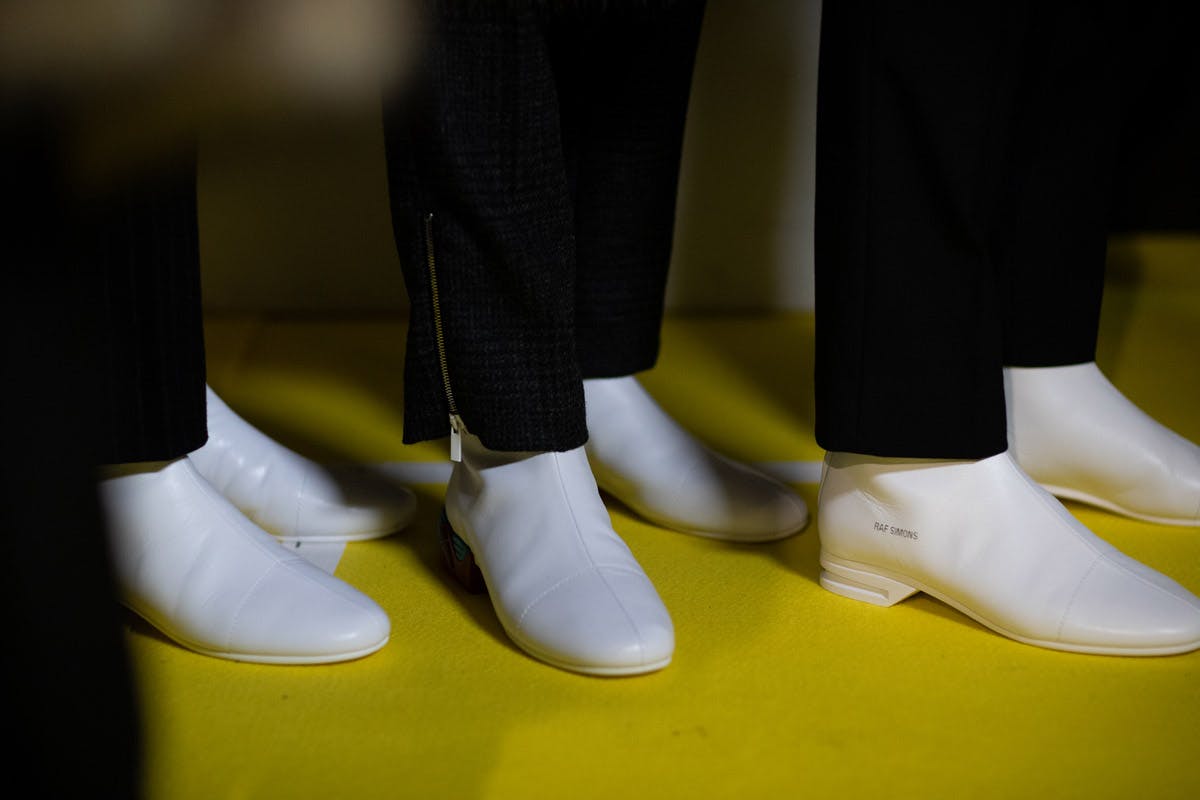 Audience on the Show
"Raf's direction is amazing. The footwear is on another level, made by Myles O'Meally. Always Progressive. Another level." -  Jefferson Osei, Co-founder, Daily Paper.
Highsnobiety Shopping List
This Zipped Sweater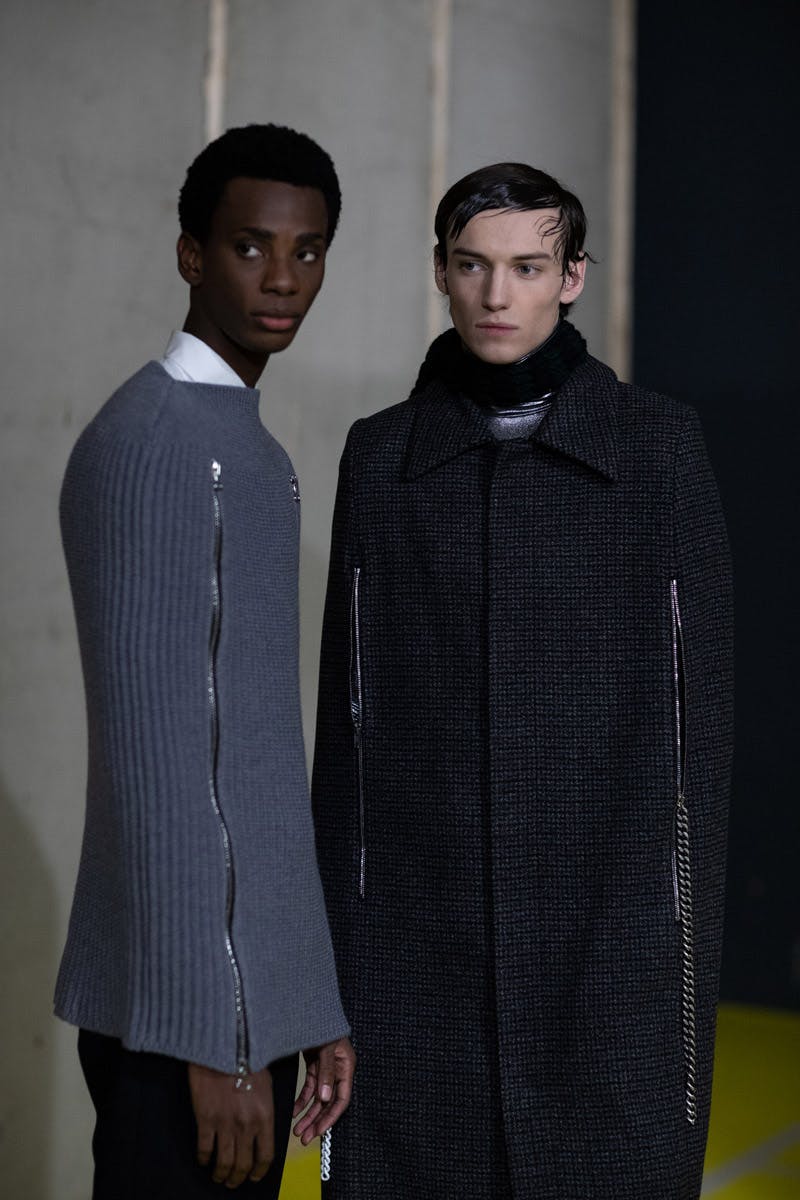 I mean, what's not to want about this? For FW20 I want to be as inert as possible. I want something to physically restrict me from checking my phone. We dig the styling cues here too, layered over a white collared shirt.
This Gray Shearling Coat
The space gray colorway with shearling trim and mottled patches is genius. Thankfully it rides a little higher than last season's cherry-adorned floor-length pieces.
This Fur-lined Lab Coat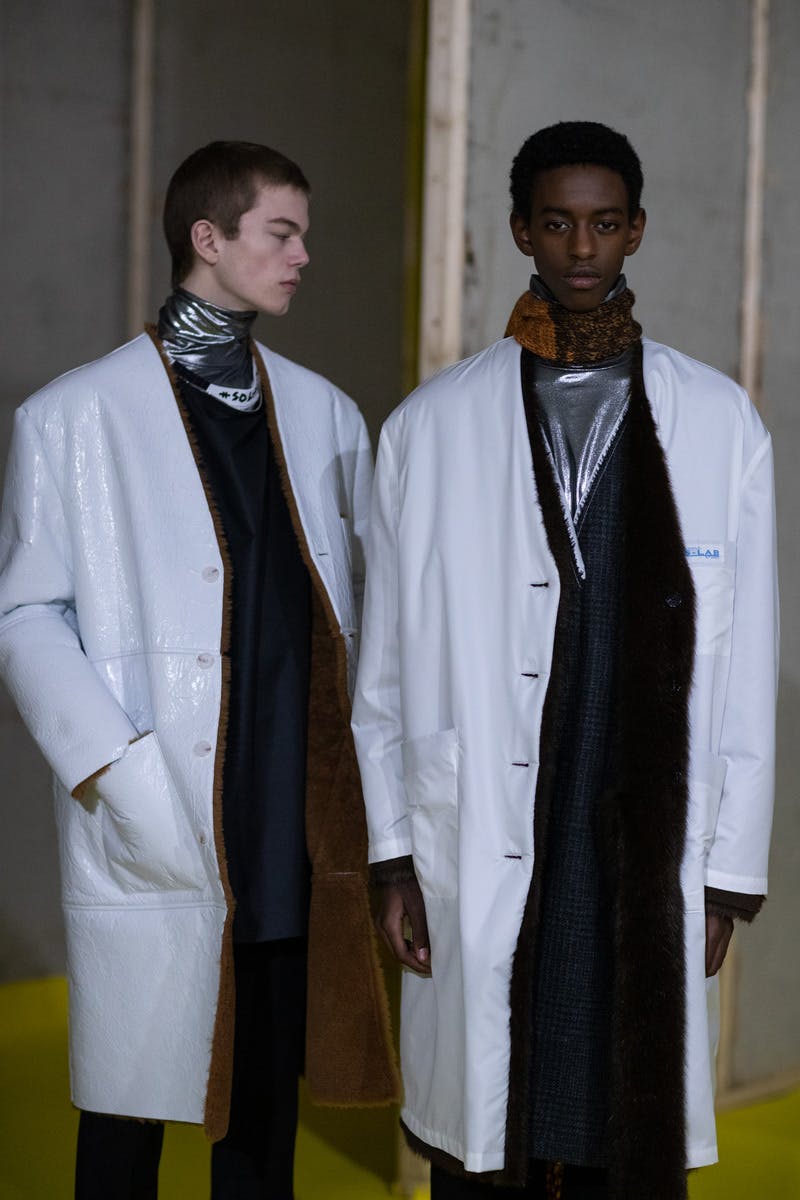 This was a Raf Simons show after all, and Simons is all about creating covetable outerwear pieces. To quote Highsnobiety's editor-in-chief Thom Bettridge who was in attendance, "THIS COAT IS C*NT."
This Crotchet Skull Cap
You've got your plastic wrapped fur mink on, you're about to leave the house Your hair is in a state.  Phones. Keys. Wallet. Ah! Forgot my crotchet knit skull cap!