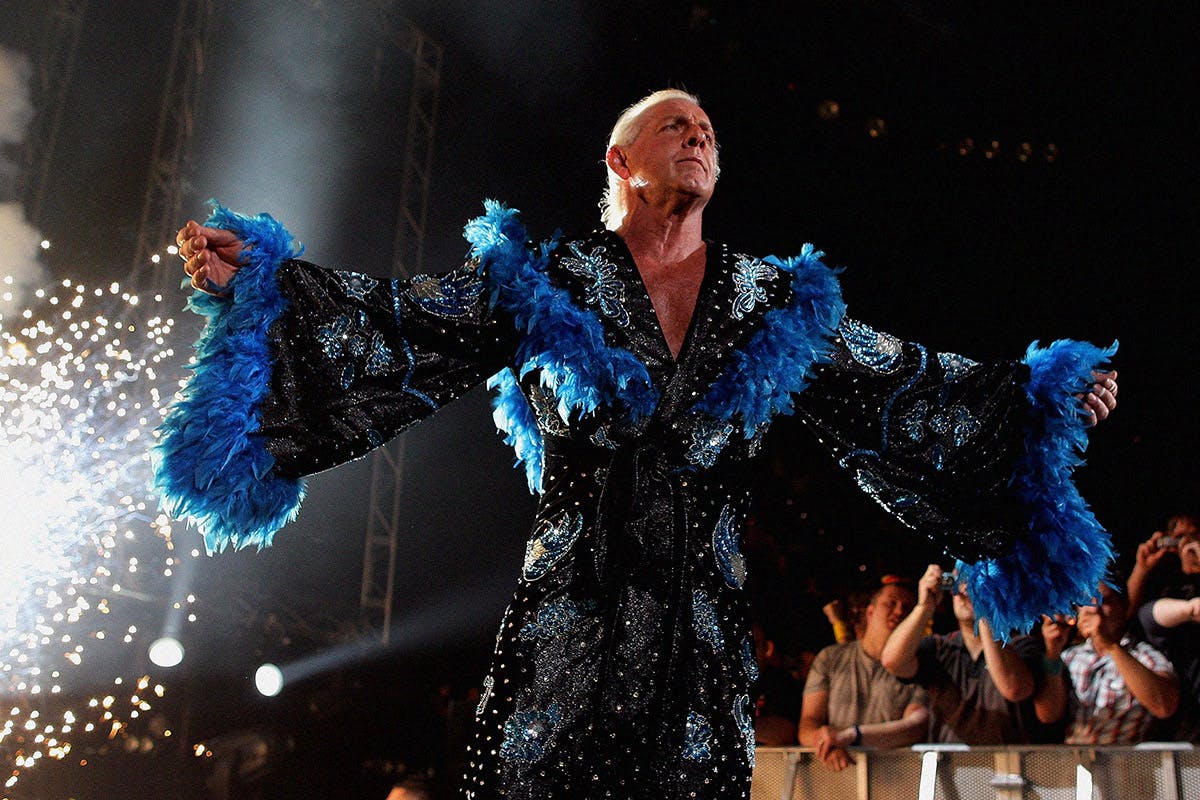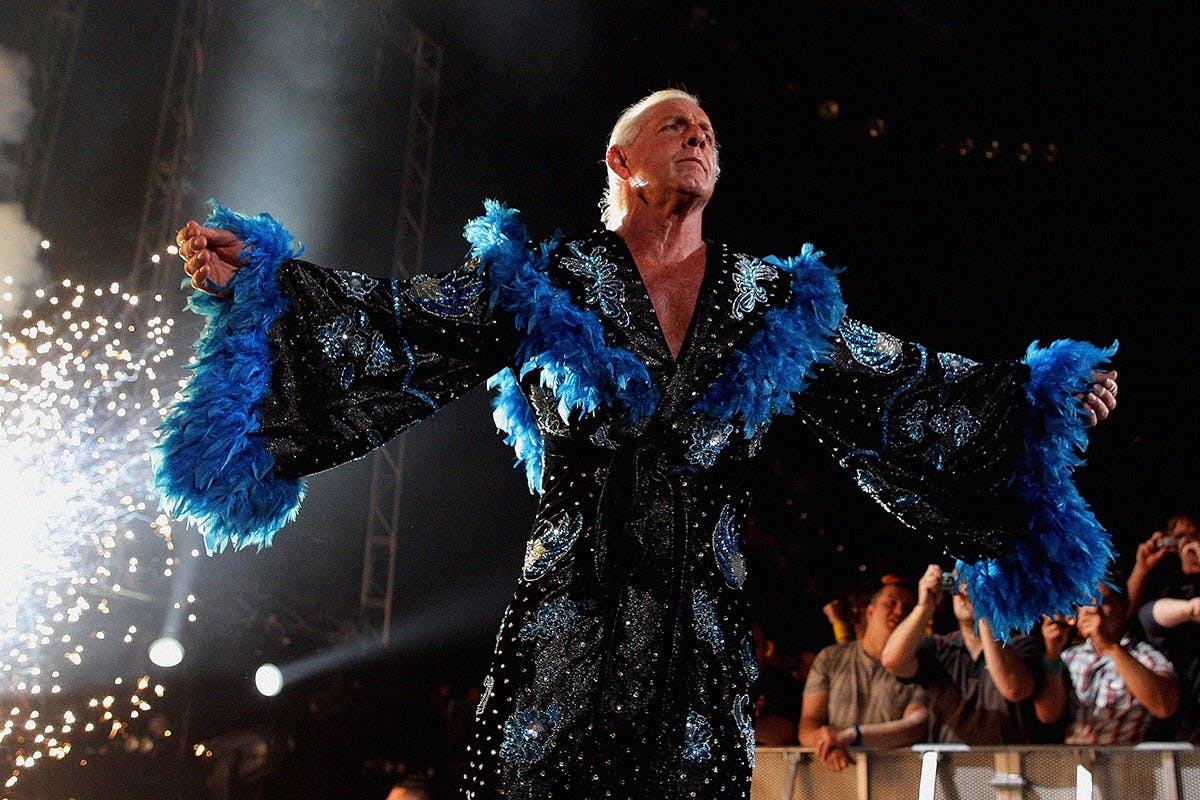 The age-old idiom in the past told us that most athletes wanted to be rappers, and that most rappers wanted to be athletes. While there have certainly been ample cases to prove the fact - including cross-pollination by the likes of Shaquille O'Neal, Allen Iverson, Kobe Bryant and Damian Lillard from the NBA into the world of rap music, and Master P, 2 Chainz, Cam'ron and The Game from the world of hip-hop flirting with NBA aspirations, there may have to be an addendum made to the theory.
Moreso than maybe ever before, rappers are providing evidence through their lyrics, sartorial garb and inflated personas that they want to be Ric Flair - the sequin clad, square-jawed wrestling legend who continues to be as culturally relevant as he was over forty years ago.
On the surface level, Flair may seem like an unlikely source of inspiration for hip-hop artists. But an examination of how he lived his life and how he enjoyed an upward trajectory - when he went from Fred Phillips to The Nature Boy - reveals countless similarities.
Although being a rapper is a relatively common pursuit for people these days, the acceptance is part of a long period of growth for hip-hop since Kool Herc's fateful party in the Bronx in 1973.
For most artists, being a rapper isn't a trade that is passed down from one generation to the other - like with other vocations like firefighting and law enforcement. Had that been the case, most individuals topping the charts like Kanye West, Pharrell Williams and Drake all would have gone into the world of academia due to their parents positions in the workforce.
While they weren't pushed away from music, they certainly weren't pushed into it either.
For newer artists like Travis Scott, he saw instances when he and his father got in physical altercations over his rap aspirations, saying, "I was going hard for this [music] shit. Niggas don't know. Like your parents are supposed to be 100%, backbone support, it's fucking like, 'Fuck that!' Hell no [they didn't want me to do music]!
Gary McPherson, a Professor of Music Education at the University of Illinois, has made direct connections between parental support and musical success.
"Parents who provide early encouragement and gentle ongoing support, are far more likely to see their child succeed with music," he says.
One can't help but think that replacing music with any number of other disciplines - especially athletics - would have a similar impact.
Ric Flair's own origin story provides a similar narrative as Scott's - where the pursuit of acquiring the necessary tools to compete in the highest level of wrestling was met with disdain from his conservative parents. Simply put, they couldn't understand why their child - who had possessed a strong football acumen - wanted to parade around in his jockey shorts.
Despite a lengthy career which began in 1972 and spanned well over 35 years, Flair estimates that his parents only saw him wrestle three times.
"It's like seeing Michael Jordan play basketball if you're his parents," said Rory Karpf, the director behind the ESPN 30 for 30 on his life, Nature Boy. "I mean, he was the best guy! He did it forever too. It's not like he was wrestling every once in a while. I mean, he was wrestling constantly and he was the best dude, so you'd think there would have been many opportunities to go see him and think about how many big matches. And that's what really struck me, and he said, 'well, they didn't get it.' Well, who cares? I mean, he's the best! If my kid could play chess, I may not understand it, but I'll go see him play chess, so I found that pretty striking."
Many attributes make rap music popular; especially the unflinching look at poverty - created through systematic racism - which pushes many young men and women into chronicling the impact of need informing necessity.
The "gangsta rap" genre saw young rappers describing what they saw; whether that was being tangibly involved in illicit activities, or as journalistic conduits.
As Ice Cube put it, "[the music] was really our only weapon of protest against what we saw. What was happening to our neighborhood. Coming in in the era of gangbanging and crack and police brutality and Reaganomics, this whole mixture of things forged N.W.A. And the neighborhood that we come from made N.W.A."
Groups like N.W.A, 2 Live Crew, Geto Boys, U.G.K, and solo artists like Biggie and Tupac created the template for what it meant to be rappers - dictating everything from fashion to lyrical content. Since not everyone interested in participating in the genre shared a similar origin story, artists subsequently felt obligated to stretch the truth.
As DMV rapper, Goldlink, recalls, "I feel like 99% of niggas lie in they raps; I don't. And the thing is, if niggas gonna lie and say they're gonna shoot somebody, they should at least tell the facts of the story. Because you likely gonna get caught. Think about it: You're not just gonna shoot somebody or sell drugs and then everything's gonna be OK. It's not like that. Rap songs had me start selling drugs, and that shit was not what I thought it was. So if you gonna tell it, just tell the whole truth. There are more negatives than positives, so if people stop lying in their rhymes, they would stop misleading a generation the wrong way."
Those that know Ric Flair outside of the ring describe him as a compulsive liar. His first wife, Leslie Goodman, stated in the 30 for 30 about his life, "Don't trust him."
WWE superstar, Paul Michael Levesque (Triple H) echoed her sentiments, saying, "Ric is a consummate liar. He'll only tell you what he wants you to hear."
Ric Flair has lived quite an extraordinary life. He's survived a lightning strike and a plane crash that shattered three vertebrae. But there are smaller and less "glamorous" stories like exposing himself on an airplane and buying rounds of drinks for strangers just so he didn't have to drink alone.
People expected him to be the "the Stylin', profilin', limousine riding, jet flying, kiss-stealing, wheelin' n' dealin' son of a gun!" Flair fed the expectations by attempting to be a living embodiment of his wrestling gimmick which itself was actually pilfered from Buddy Rogers.
But whereas rappers often depict a narrative focusing on street-level exploits which resulted in lavish riches, Flair portrayed that he had started at the top, and refused to acknowledge that his own personal life was crashing down around him. Thus, he's not only something that kids of a certain age admired, but also the tragic figure which reminds their adult selves about the pitfalls of excess.
People often mock wrestling for not being "real" and applaud rap music for being "authentic." But in both cases, they are stylized versions of theater based on genuine criticisms of how the American Dream often times begins as a nightmare.
"As a kid growing up watching Ric Flair, he was very inspirational to myself and a lot of other hip-hop artists because he represented what we wanted to be," Snoop Dogg said in the 30 for 30. "We wanted to be Ric Flair; we wanted to be flamboyant and the 'kiss-stealin, wheelin-and-dealin,' we wanted to be all of that. He was a part of our culture and our life. That's why we love him and we cherish him. We've always held him high in the black community, because Ric is one of us."
While Flair was touting his $10,000 USD robes, alligator-skin shoes and a Rolex for every day of the week - all lofty goals for whomever was watching - WWE stars like Rowdy Roddy Piper was appearing in black face to promote his feud with a character from Harlem, Bad News Brown, whom he later wrestled - in black face - during WrestleMania VI.
Other notable African-American wrestlers/personalities at that time included Virgil - a would-be man servant to The Million Dollar Man Ted DiBiase - and Papa Shongo, a mysterious witch-doctor who was played by Charles Wright (who notably embodied other stereotypical characters like Kama Mustafa and The Godfather).
Flair's gimmicks had universal appeal. It was especially pertinent for those exposed to early rap lyrics advocating commercialism like Run D.M.C.'s "My Adidas," and on JAY-Z's debut project, Reasonable Doubt, where brands like Lexus, Cristal, Mercedes-Benz, Gucci, BMW, Rolex and Versace were all name checked.
But it wasn't just that Flair mentioned what he had. Instead, he made it clear why his possessions made him better than not only his opponents, but also those watching at home.
"[He was] the first supreme shit-talker. Like a rapper," says Pusha T.
On his song, "Ric Flair," Kills Mike used the wrestler's persona to paint a template for success in hip-hop music; pointing to aspects in Flair's arsenal like the writing abilities of Christopher Wallace, the swagger of Diddy and a "wicked mindstate" like 50 Cent.
Both hip-hop and wrestling share a similar knack for borrowing from the past. With music, Future has had a distinct sonic impact on newer artists like Young Thug, 21 Savage and Desiigner. From a flow perspective, artists like A Boogie Wit Da Hoodie, Young M.A., XXXTentacion and Logic have all been at least suspected of borrowing cadences from other rappers.
While some have dismissed any similarities - refusing to even acknowledge a simple homage - Logic has instead owned up to the fact that hip-hop sometimes has to rob Peter to pay Paul.
Simply put, if it worked before, it will probably work again.
In wrestling, the imitation is much more overt because there's also a visual element. Tag team duo, Demolition, copied The Road Warriors, The Renegade was an Ultimate Warrior clone, and well-regarded wrestlers of their eras like Bret Hart, Sting, Diamond Dallas Paige and Stone Cold Steve Austin all borrowed their devastating finishes from other wrestlers.
Ric Flair has always been unabashed about his Nature Boy gimmick which he took from Buddy Rogers, saying, "But I took [his] stuff to a whole new level."
When A$AP Rocky sat down with journalist, Elliot Wilson, at the Tribeca Film Festival in 2015, he succinctly stated, "rap is the new wrestling," noting that how choosing an adopted moniker and crafting unique verbiage was a centerpiece for success in each discipline.
Ric Flair remains the most prominent example of the additional connective tissue in Rocky's comparison. It simply isn't enough to craft a persona; It has to become second nature.
In an episode of his podcast, Dinner With the King, legendary wrestler, Jerry Lawler, made the case that actor, Andy Kaufman, deserved a spot in the WWE Hall-of-Fame for growing the sport, saying, "That was the beginning of sports entertainment. That was the first time that wrestling and the entertainment world collided head-to-head and wound up working together."
The same case could be made for Ric Flair's inclusion in the Hip-Hop Hall of Fame. Whether it be mentions by the Wu-Tang Clan, or Offset immortalizing the wrestler in diamonds, he's the rare figure who has remained a viable namedrop for going on three decades.