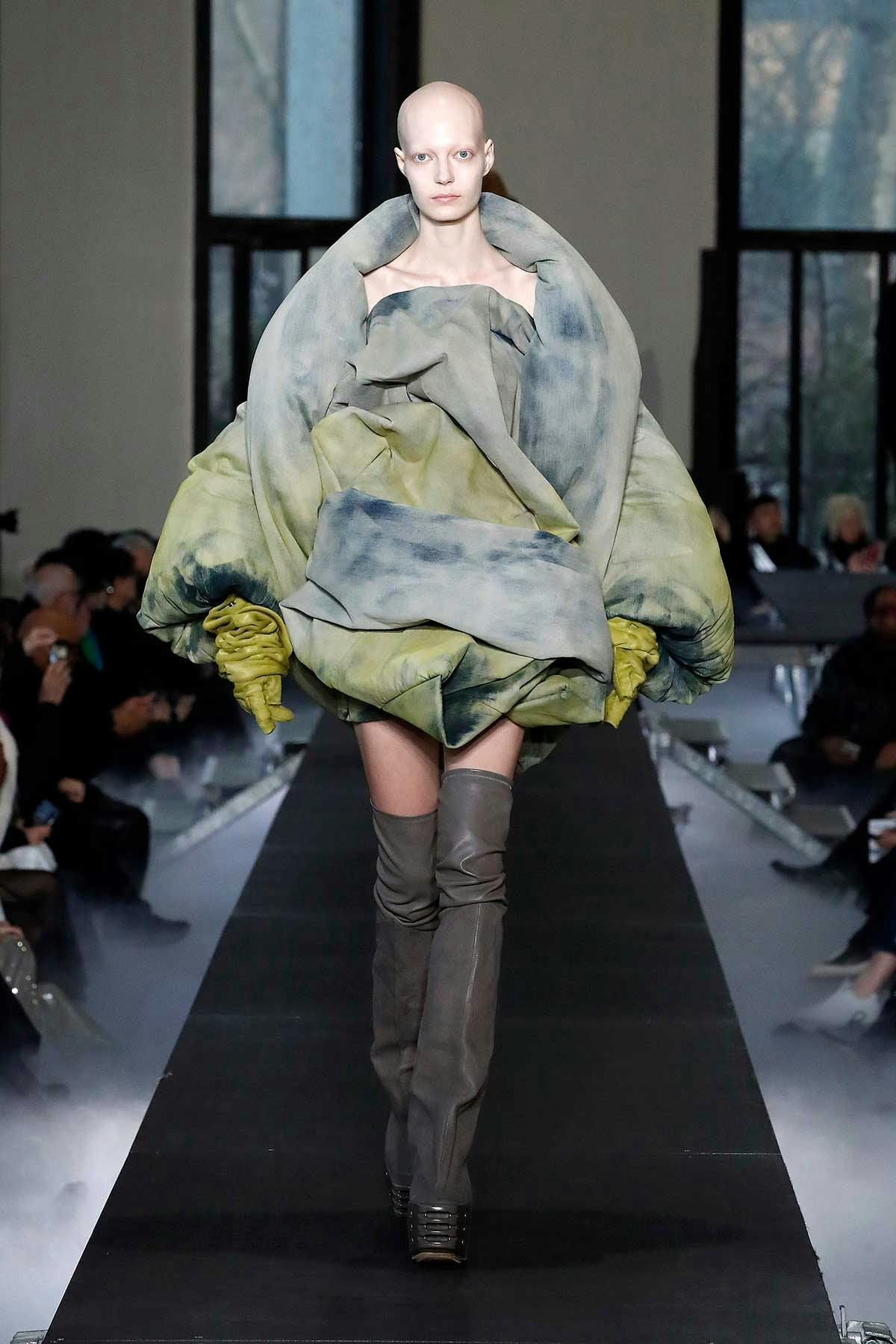 Rick Owens has a propensity for high-volume runway shows, both in terms of the music and the garments. Rarely do his Paris Fashion Week presentations disappoint in terms of spectacle but Owens' Fall/Winter 2023 womenswear show was especially out-there.
Building upon a trend that's been present in Owens' mainline womenswear collection for years, his FW23 runway was loaded with garments that defied categorization as, well, garments.
Swollen layers wrapped models' torsos, distorting human form beyond recognition. Necklines were obscured entirely, midsections melded into legs, arms were extended to the knee by exaggerated sleeves.
Though Owens is never not a showman, his FW23 womenswear showcase was especially evocative, what with all these dramatic puffers, alien metallics, and warped leathers, all anchored by Owens' reliable platform boots.
It was a Rick Owens collection, through and through. But, at least to some extent, it was also a COMME des GARÇONS collection — and I mean that in the most flattering way possible.
Dare to compare the dramatic distortion seen on Owens' runway with the extreme silhouette play that's been a COMME des GARÇONS staple for several decades now.
Rick Owens' work is distinct, to be clear, and he's not aping anyone. In fact, I'm pleased to see his work reach ever more outré heights. It's innovate or die, as far as the fashion industry is concerned, and I'd like to see Rick Owens stick around for as long as possible.
But you can see a throughline between his avant new work and COMME des GARÇONS founder Rei Kawakubo's ingenious clothing mutations.
Sure, Owens will always produce his comparably conventional bombers, hoodies, and giant sneakers as long as people will continue buying them but that's for them. This is for him.
No secret that Owens' partner, Michèle Lamy, is a massive Kawakubo devotee, to boot: Lamy took Owens to the premiere of Kawakubo's 2017 Met Gala exhibit, collects COMME runway pieces, and shops at the international Dover Street Markets every time she travels (I've seen it with my own eyes!).
Perhaps a little bit of Lamy's love for COMME rubbed off on Owens. Or perhaps CdG is simply the natural final evolution of every envelope-pushing designer who shows in Paris. I'm not complaining either way.