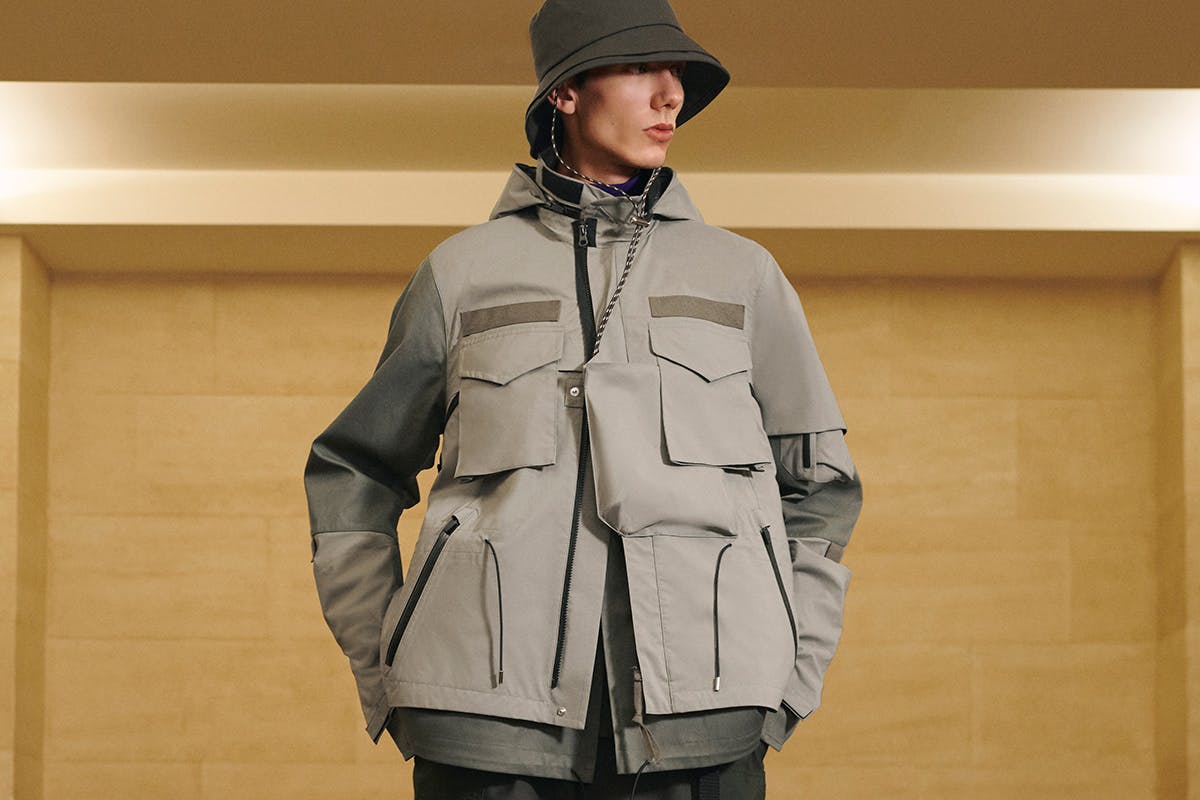 This article, published on July 27, 2021, was updated on February 4, 2022
Brand: sacai
Season: Spring/Summer 2022
Release Date: February 4
Key Pieces: The ACRONYM items, of course. Errolson Hugh's coveted brand doesn't often do fashion collabs so this partnership is a very special affair. All the outerwear and shorts are as technical as anything that ACRONYM has ever done — it also includes ACRONYM's first-ever womenswear offering via a techy dress — complemented by some of sacai's own high-spec layering pieces in very vivid patterns.
Buy: sacai's web store from January and February 2022.
Editor's Notes: The summer of sacai went down in 2021, with Chitose Abe's label introducing no less than four blockbuster joint efforts — Dior, Nike, KAWS, and Jean Paul Gaultier — in the past two months alone and that doesn't even include some smaller launches. Talk about a packed schedule.
Looks like Abe and creative director Daisuke Genma are keeping the pedal to the metal, though, as sacai is prepping a forthcoming ACRONYM joint effort as part of its SS22 collection.
Over on cultish fashion forum Superfuture, imagery of the sacai x ACRONYM collaboration actually leaked in July 2021, albeit in blurry and cropped form.
There, the ACR die-hards were mostly unimpressed (the likely sky-high price tags don't help) but in the context of the seasonal sacai collection, the goods make sense.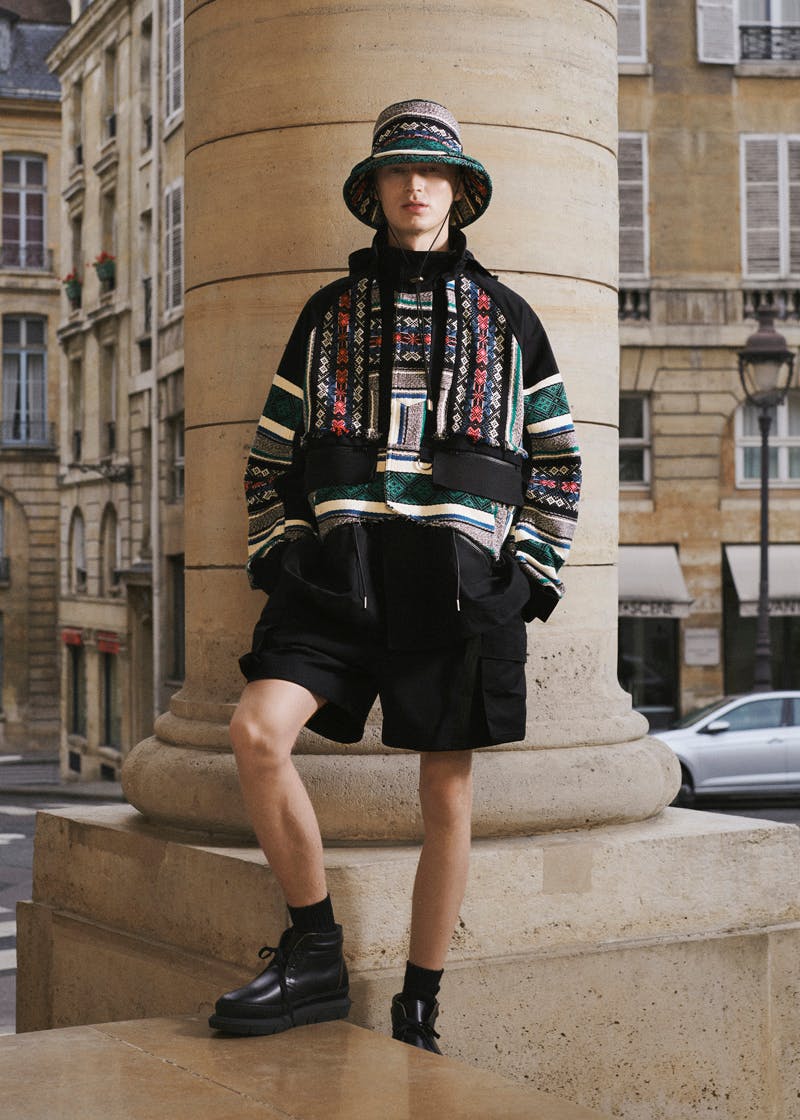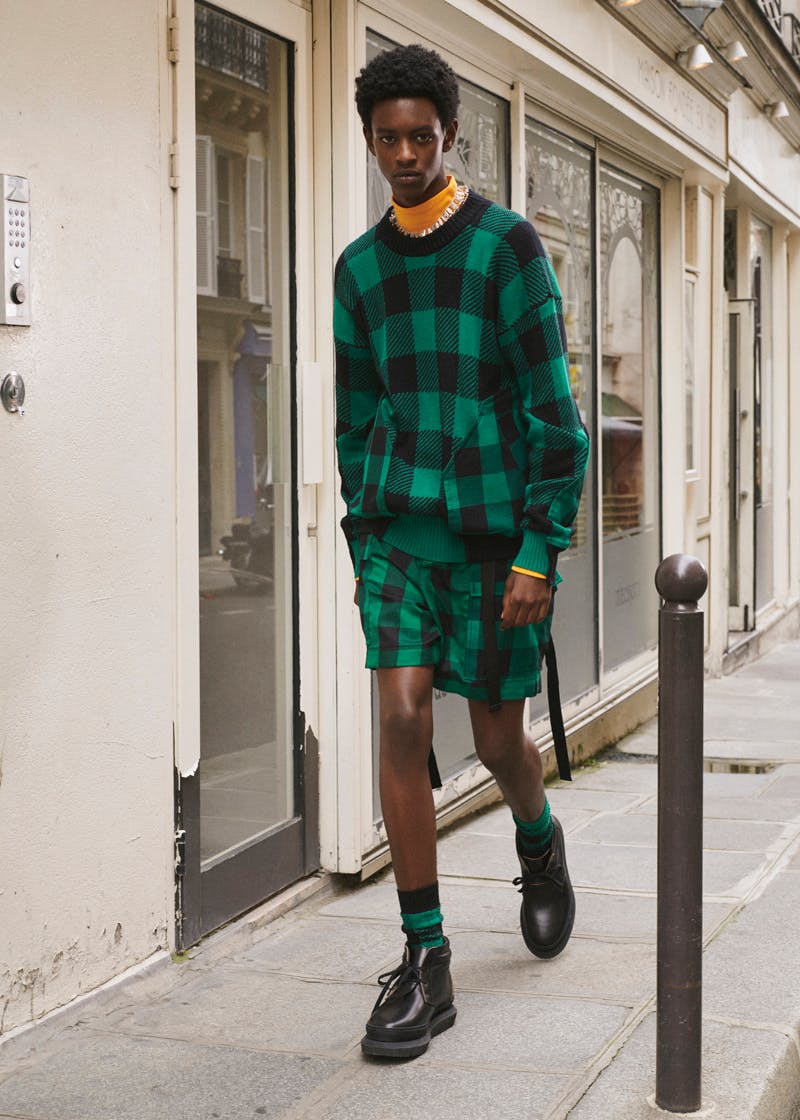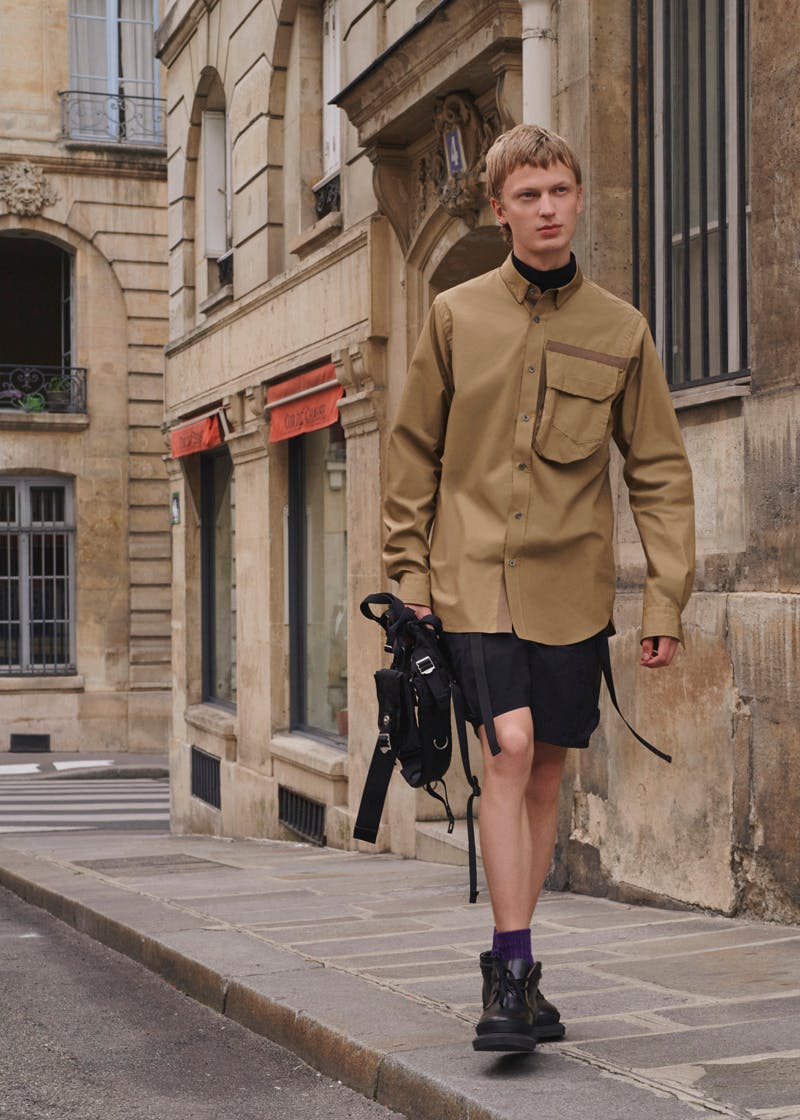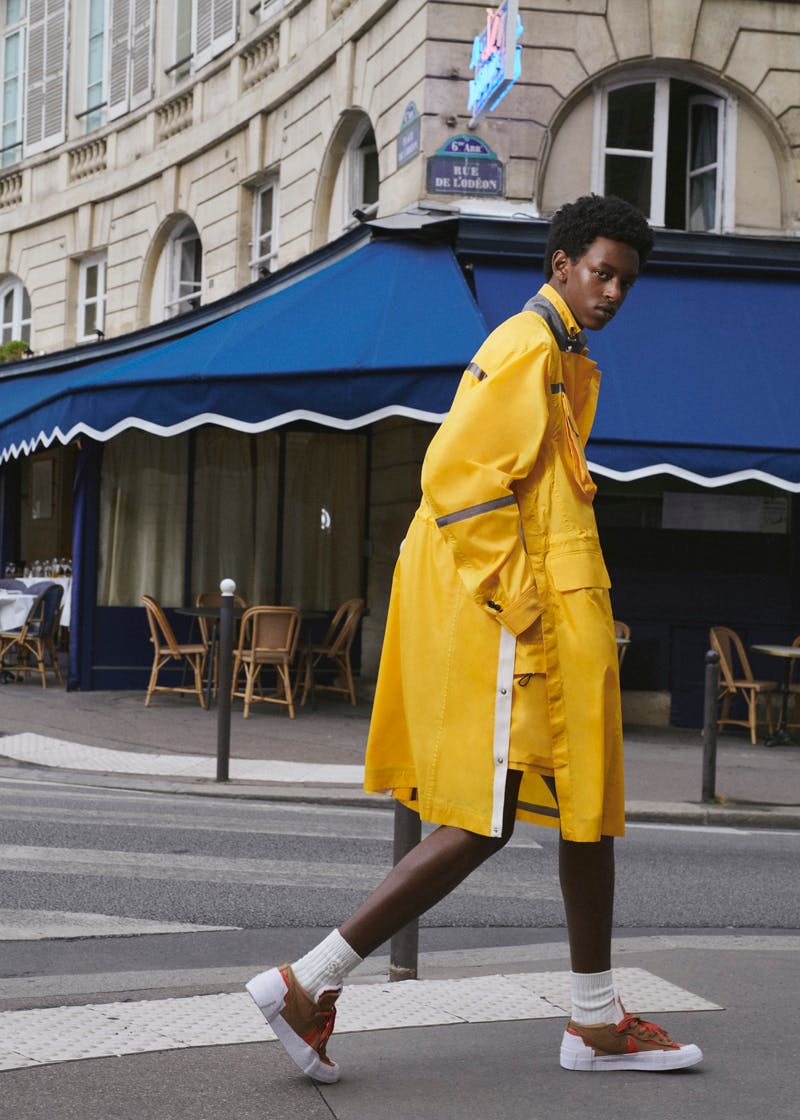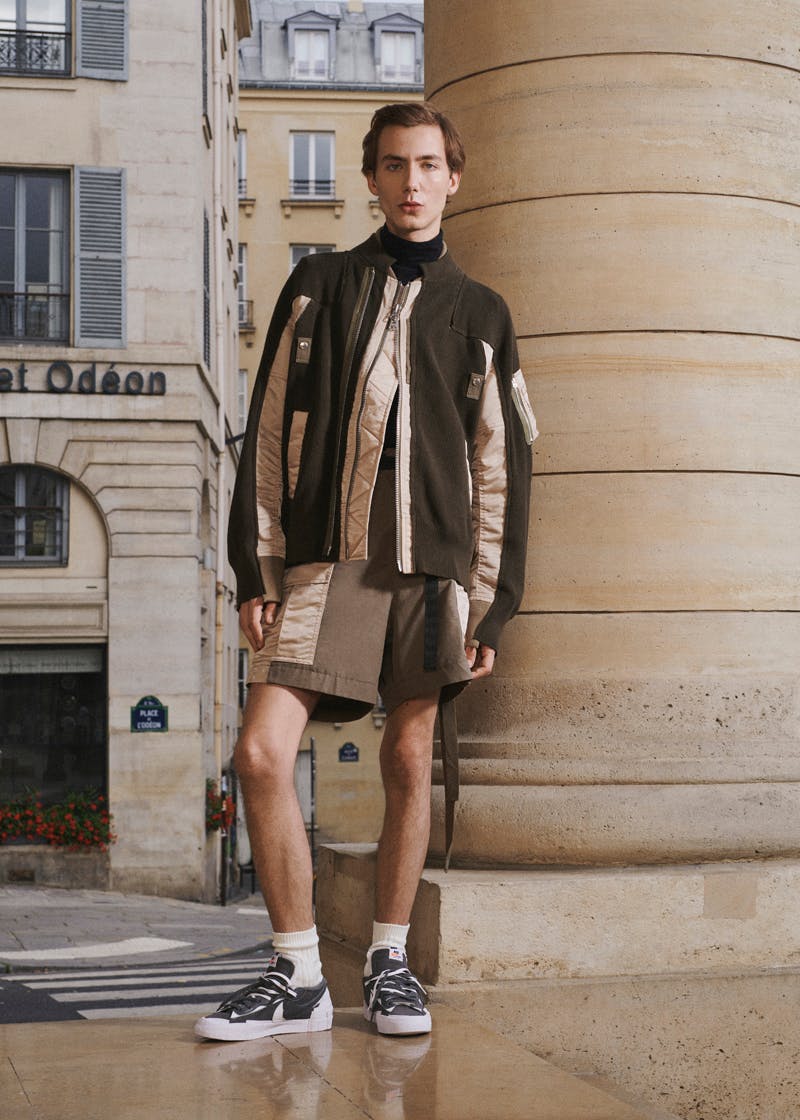 sacai has never shied away from technical outerwear in its own collections and the inclusion of ACRONYM only ensures that the resulting designs are as functional as humanly possible.
Not to mention, like previous sacai collabs, this tie-up was realized mostly through the friendship shared by Abe, Genma, and ACRONYM founder Errolson Hugh, who were all recently pictured together in Paris (presumably shooting the SS22 lookbook).
"Having known Chitose, and of course sacai, for many years, this collaboration is the ideal kind of cross-pollination," said Hugh in a statement. "And as I believe you can see from the results, it's a true blend of the philosophies of both brands, where the sum is greater than the parts."
It really can't be understated how important collaboration is to sacai, which has built an international following on the strength of its many joint efforts.
Of course, that also sells the brand's wares a little short: Abe's ingenious hybrid garments are no slouch and SS22 is another great showing.
Its disparate designs aren't willy-nilly cues plucked at random from the ether, but considered revisions of classic silhouettes made better sacai's signature stylistic clashes.
In-house technical jackets, for instance, are rendered in striking batik-like prints that match patchworked sweaters and shorts in a strong showing of sacai's predilection for pattern. These vivid accents are reinterpreted throughout the collection on various layering pieces, executed either all over or only across specific panels.
Elsewhere, there's a host of dynamic menswear items anchored by chunky sandals and those inimitable Nike Blazer Lows.
Bright blue suits feature surprising bondage straps at the hem and sporty pull tabs at the collar; T-shirts are rendered in technical mesh or floaty polyester; denim outerwear is infused with unexpected waterproof textiles; buffalo checks are blown up or faithfully recreated on breezy summer sets.
The ACRONYM pieces are rolling out on February 4, around the same time as the mainline sacai bits ought to be hitting retailers. It's pretty early in the season but that's just how the fashion calendar works — even though those cargo shorts will be sitting in closets for a couple more months, the hybrid jackets can be whipped out immediately
Oh, and speaking of Hugh, the ACRONYM founder is recently worked with Highsnobiety to judge the 2021 Berlin, Berlin prize.