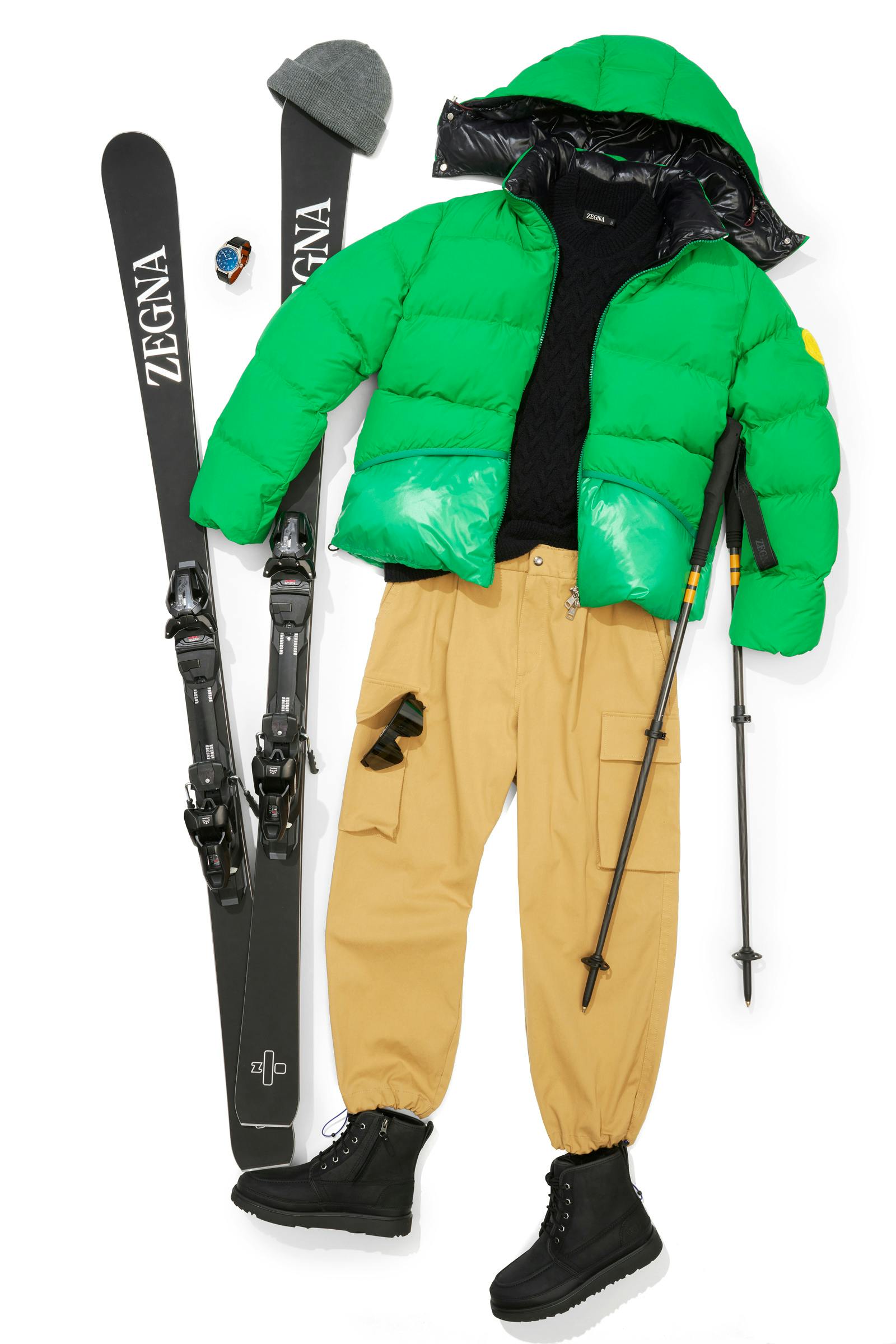 Experience this story and others in the new issue of Highsnobiety Magazine, available from retailers around the world and our online store.
Skiing is, quite honestly, very hard — and if you're a beginner, chances are that you're going to be pretty shit at it.
That being said, don't cancel your ski pass just yet, because the physical act of actually skiing (that is, gliding on snow on skis) is only half of what the sport is even about. In essence, the real battle is looking the part — and that's where we come in.
Being unbalanced, red-faced, and potentially terrified doesn't look half as bad if you're doing it clad in a nice 'fit. And unlike with many other sports, choosing the right gear is essential for safety and practicality. Below, we've curated a head-to-toe skiing rig that'll stand you in good stead next time you're in a spot of bother on the black run.
Moncler Puffer – What Moncler doesn't know about puffer jackets probably isn't worth knowing, which is what makes the brand so damn good at making them. This green Achill Short Down Jacket from the Italian outerwear aficionados is not only warm and voluminous, but it looks mega, too.
Zegna Sweater – Layering is paramount when you're some 2,000 feet above sea level, and Zegna's chunky cable-knit sweater more than fits the occasion. You could say it's piste perfect.
Zegna Skis – There's no better way to let your fellow skiers know you're there for a jaunt than turning up with a pair of designer skis. What's great about these is that they look their most impressive stationary, which means you can get the obligatory picture, unclip, and crack open a cold one.
IWC Watch – Let's face it, no one really needs an analog watch up a mountain, but in the spirit of looking business, anything from IWC is worth the extra weight.
Mango Hat – If, like this author, you're rapidly thinning up top, a beanie is an absolute must on the slopes — not only to keep your head cozy, but to protect those special strands you have remaining. Mango's classic knit beanie more than does the trick.
Oakley Sunglasses – Nothing screams skilled on the slopes like a pair of mirrored Oakleys. Pop these beauties over your eyes as you rapidly tumble down whatever slope you dare.
Ugg Boots – There's no feeling quite like slipping out of ski boots, except when you slip straight into a cozy pair of UGG boots. The absolute definition of snug, UGG is the go-to when it comes to warm pockets for tired feet.