This week's FRONTPAGE, from HIGHArt, a print magazine by Highsnobiety, available from retailers around the world and our online store, we dive into the defining art-bromance of our time: SLAWN and Soldier.
September 3, 2021
Okay, so where do I even start? Let's go back to the beginning of this year. There's this Nigerian skater guy, Olaoluwa Akeredolu-Ale, better known as SLAWN. He comes on my radar in January when I keep seeing these giant, bright colored canvases with variations of faces and penises on people's IG Stories. It's SLAWN's signature style.
Apparently this guy is selling his artworks, not via a gallery, not through an intermediary, but directly on his Instagram, announcing sales at random times. They sell out fast. As in, within the hour. And it's credible industry people buying them. Those who can't afford a piece can basically fight each other for one in his London studio, where he also might give you a buzz-cut in case fighting isn't your thing. By the way, some of the pieces are signed in blood — no idea whose.
Is that Lil Uzi Vert with one of the artworks? Is that SLAWN in the Supreme campaign? When did he even have time to partner with Virgil Abloh on art for Louis Vuitton? I see SLAWN has made it into Frank Ocean's Homer catalog. Holy shit, that's Burna Boy on the big screen holding up one of SLAWN's paintings in front of tens of thousands of people.
September 15, 2021
I'm on my way to Mayfair for this Skepta dinner that my friend Charlotte invited me to. I'm seated next to this woman named Nicole. She introduces me to her boyfriend, a Nigerian guy called Leonard Iheagwam — aka Leo aka Soldier. We eat, we drink, we go up to smoke cigars and he comes back with A$AP Nast. Sure.
After this dinner, Nicole, Soldier, and some others take me out to 180 The Strand in Central London, where designer Bianca Saunders is throwing a party. We're late and overdressed, but we make our way in through a side door. There I bump into SLAWN. We've actually never met, but Soldier tells me they're best friends and have known each other since their late teens. Together with their other friend Onyedi, they're the founders of the skate brand Motherlan. I can't stop thinking, "Who the fuck are these guys and how have I never bumped into them before?" They tell me they'll explain later.
October 1, 2021
It's two weeks later and I'm back at 180 The Strand. This time I'm waiting for both of the guys to arrive to get my answers. Both are late, which is fine. Soldier was stuck in traffic. SLAWN was hanging with A-COLD-WALL*'s Samuel Ross upstairs in Ross' studio.
"I'm just going to hit record," I tell them, asking how they met. "I tell everyone this story," SLAWN says. "Around 2016, [Soldier] literally just came to my house randomly one day. That was a very significant day. I never used to leave my house because I didn't have many friends at school. So Onyedi tells me someone's coming to the house named Flower Boy [aka Leo aka Soldier]. We just spent the whole day together and all started hanging and skating."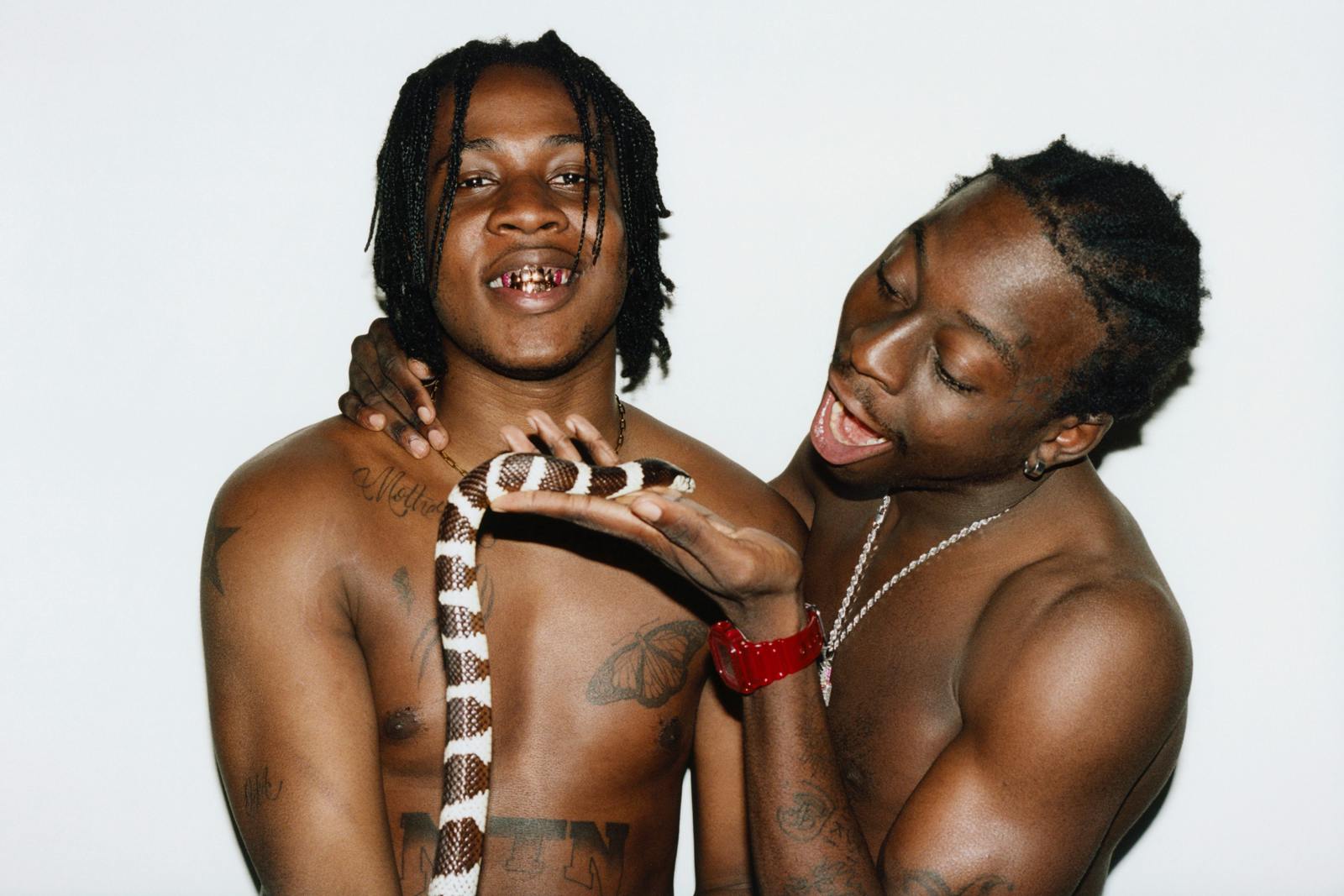 I ask them what the skate scene was like back in Lagos. "There only was one because we came around," SLAWN says. "There was this skate brand in Leeds, UK, called WAFFLESNCREAM, and when its founder Jomi [Marcus-Bello] came back to Nigeria to start his shop there, he was looking for people for this little skate team. He ran into us. At the shop we would skate, design for them, help with the store, paint the store. It was pure freedom."
That's when it blew up. "We became hot shit, getting drunk with older people, smoking weed. We had a lot of fucked-up friends who would just come stay on the couch. We were going crazy, I won't lie. Then Jomi got engaged and was like, 'This shit has got to stop.'"
Okay, fast-forward to the part where the two and Onyedi launch Motherlan. "I just remember us realizing we can't keep living this type of lifestyle," says Soldier. SLAWN adds: "So we made a plan for all of us." They started experimenting with art, made a quick buck, and were introduced to Skepta and his manager Grace Ladoja, who were visiting Lagos. "They were like, 'We need to get these kids' fucking details, they're sick.'"
Then Julian Consuegra from Stray Rats became a fan, followed by Erik Brunetti of FUCT. "Some of them made us understand that, shit, there's a bigger world from just being in Nigeria. We could actually leave and do some sick shit," says Soldier. SLAWN adds, "My mom was like, 'The fuck are you doing in the UK for six months?' I actually had to sell some art to get a visa."
In the end, SLAWN says, Skepta came in to save the day, helping the guys out by paying for an education where both SLAWN and Soldier studied graphic design. They couch surfed a bit, stayed with girlfriends here and there, and slowly made their way up with modeling, one step at a time.
"Lockdown was the perfect time to do work and school at the same time, because no one was really active and doing stuff, but we were doing stuff," Soldier explains. "Honestly, it's been the same formula since I met this guy. If you have something you can sell it to anyone for any price. So we're hustling all the time," he adds. "It's called juicing, bro."
I still want one of the pieces SLAWN used to put on his IG Stories, but when is the next drop? "That phase of mine is gone," he says. "I don't care about it, honestly, that art doesn't matter to me. It's what I can do with it that's fun. If people will fight for it, shave their heads, that's what I want to do with the money. If people could pay me to just bring hell, I would never make a piece of art again."
Soldier doesn't seem to agree. "If you want to do shit for chaos, to be honest, you can run it, [but] for me, I just like making art because I can."
So what's the end goal here? "You know the Power Rangers, when all of them get together and it's like 'BOOM,' that's us," says SLAWN. Soldier adds: "It's like a boss battle. There's a pinnacle to everything we do and there will be one point when everything makes perfect sense. Next year, Motherlan is gonna be on some fucked-up shit, for real. We're mixing everything together."
I think I get it. It's like the Antwerp Six? Or like Been Trill with Virgil Abloh, Matthew Williams, Heron Preston, and Justin Saunders where there's magic when united, and as individuals you build out the stories? Like the Kardashians in a way? "Kinda," says Soldier.
At this point I'm running late, so I ask the guys to give me some final words. "The only person I fear is God," Soldier begins. "And John Cena. I'm scared of John Cena. And we're actually also scared of Drake. He's smoky as he's gotten big now," says SLAWN. "I feel like Jay-Z is just stuck," adds Soldier. I really have to leave, I tell them. SLAWN nods. "Did you know Jay-Z's dreads aren't real? You know he's made from money, so he has enough of it to do that."
Head here to get a copy of HIGHArt, a magazine by Highsnobiety.