Under the Radar is Highsnobiety's weekly celebration of upcoming talent. Each week, we're spotlighting a brand that's bringing something new to the worlds of streetwear and fashion.
Social-Work wants you to think about who makes your clothes. The fledgling New York brand, founded by Chenghui Zhang and Qi Wang, says it aims to "bring more of a human touch to fashion."
The duo founded the label after graduating from Parsons School of Design in NYC. According to Zhang, they felt that the industry was too focused on spotlighting designers' creative visions at the expense of those doing the actual physical labor. "No one is talking about the people who work behind the scenes, like the factory workers or the seamstresses," says Zhang. "So we wanted to focus on the overlooked in the fashion industry."
For its debut SS19 collection, Social-Work did exactly that. The brand enlisted workers from its factory in Dongguan, China, all of whom receive a fair wage, insurance, and healthcare, to star in the collection's lookbook. To accompany the lookbook, the brand also released a mini-documentary in which they interviewed workers about their jobs.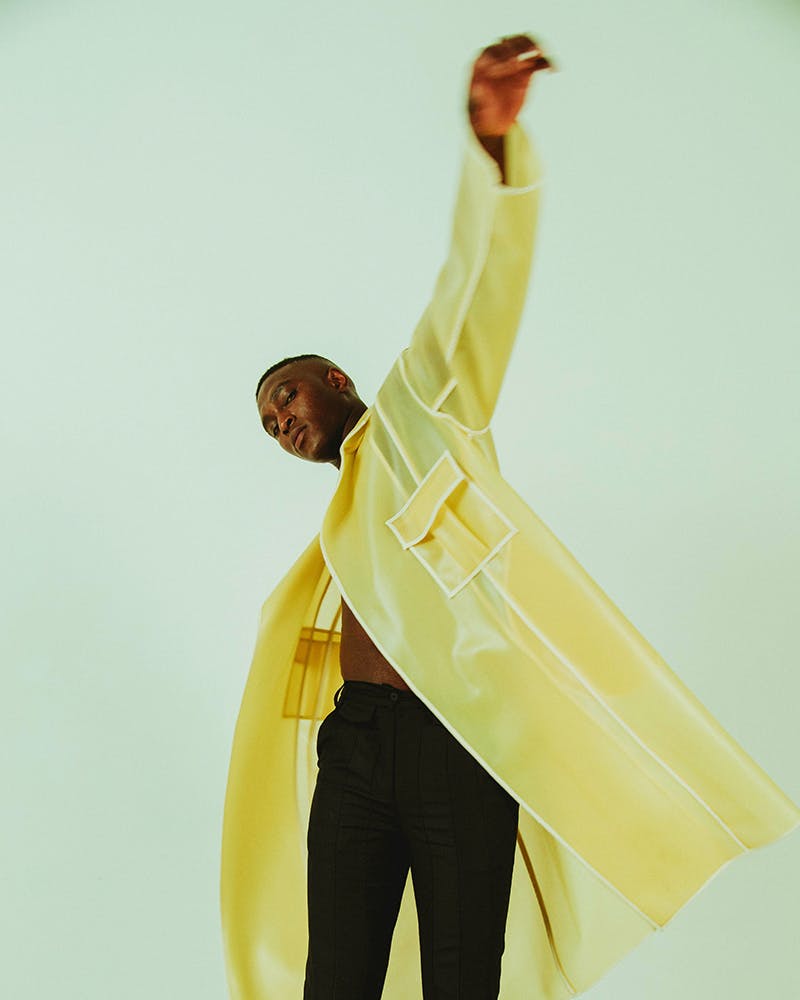 While interning during college, Zhang trained alongside factory workers who schooled her on production and commented on each garment they were making. She found the experience made her appreciate the product more. "Just by talking to the factory workers, I get a lot of attachment to the garments," she says. And that's something she's trying to replicate with her consumers.
"I like the idea that there's a human touch behind all the garments that you buy," she says. "Sometimes we forget that there is someone actually producing these things behind the scenes."
Zhang hopes that by highlighting the time and care put into making the clothes, it will encourage customers to have a more sustainable attitude toward consumption, making them realize a garment isn't "just a product that you buy, and then you throw it away because you don't like it anymore."
As part of this goal, Social-Work has launched a database on its website where you can see exactly who made your clothes and how long it took. For now, the database only has nine pieces in it, but Zhang has plans to expand it once production amps up, turning it into a sort of "educational institute" for consumers who are interested in the origins of their outfit.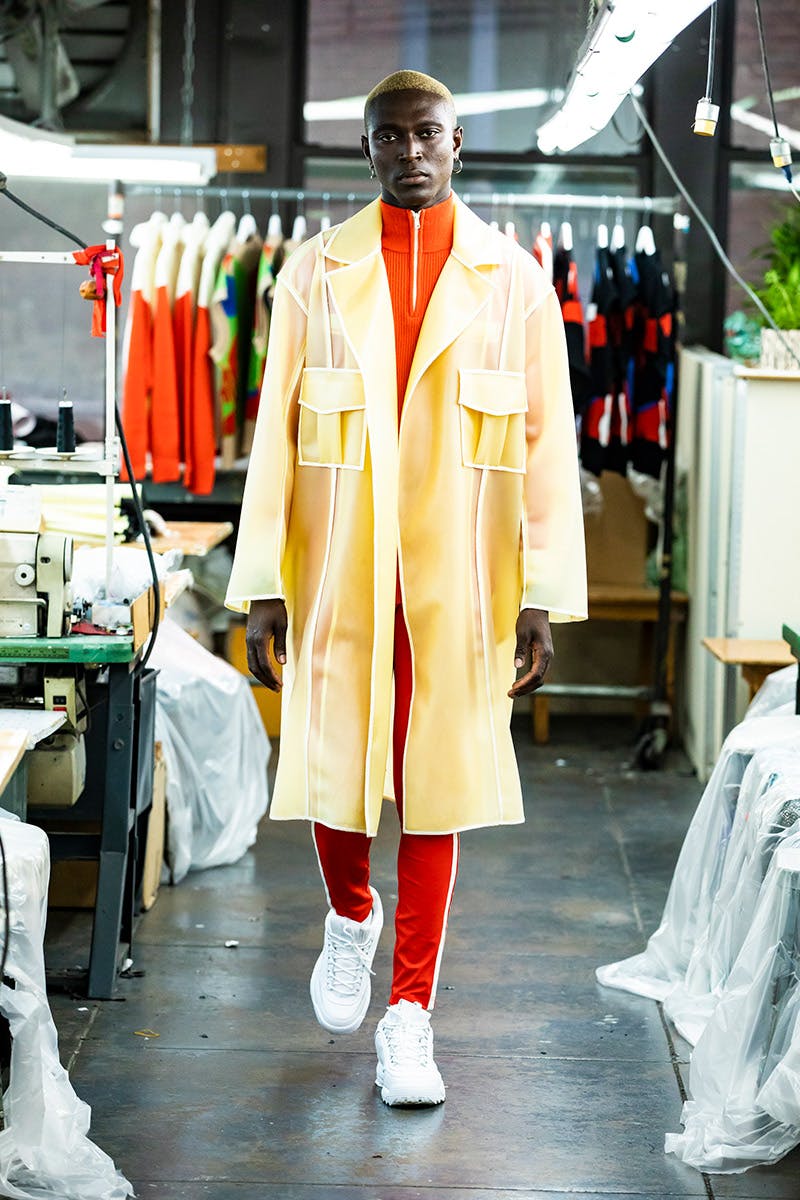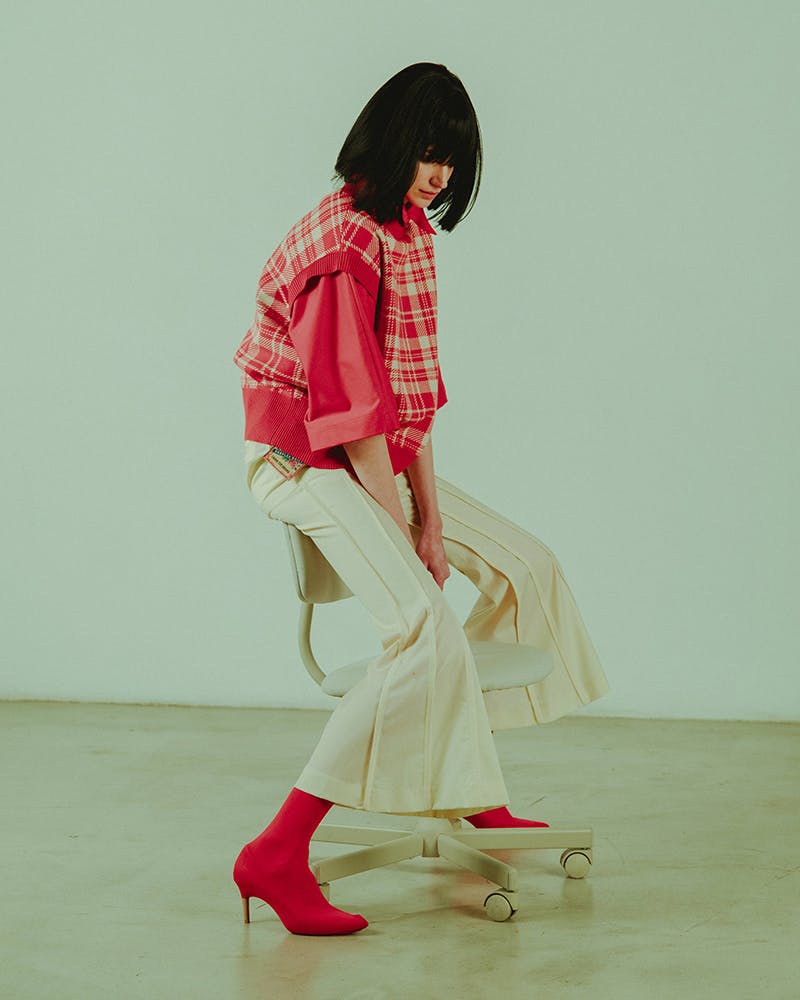 And Social-Work doesn't just put factory workers front and center, it pays homage to their daily uniforms. Workwear has been a trend for a while now, so it's not entirely surprising to see a rising brand borrow utilitarian aesthetics. What's different is that Social-Work doesn't just borrow the look; by putting both models and workers-turned-models in the same boilersuits, Social-Work reconnects workwear with its roots and reminds the wearer exactly where the trend came from.
"Social-Work is representing those people who are in the working class, so that's something we also want to respect with the brand," Zhang explains.
Elsewhere, Social-Work's founders mine their roots for inspiration. Both moved from China to the US for their education, Zhang growing up in the city of Shenzhen and Wang in the province of Hubei. The brand's collections merge the two dominant cultures in their lives.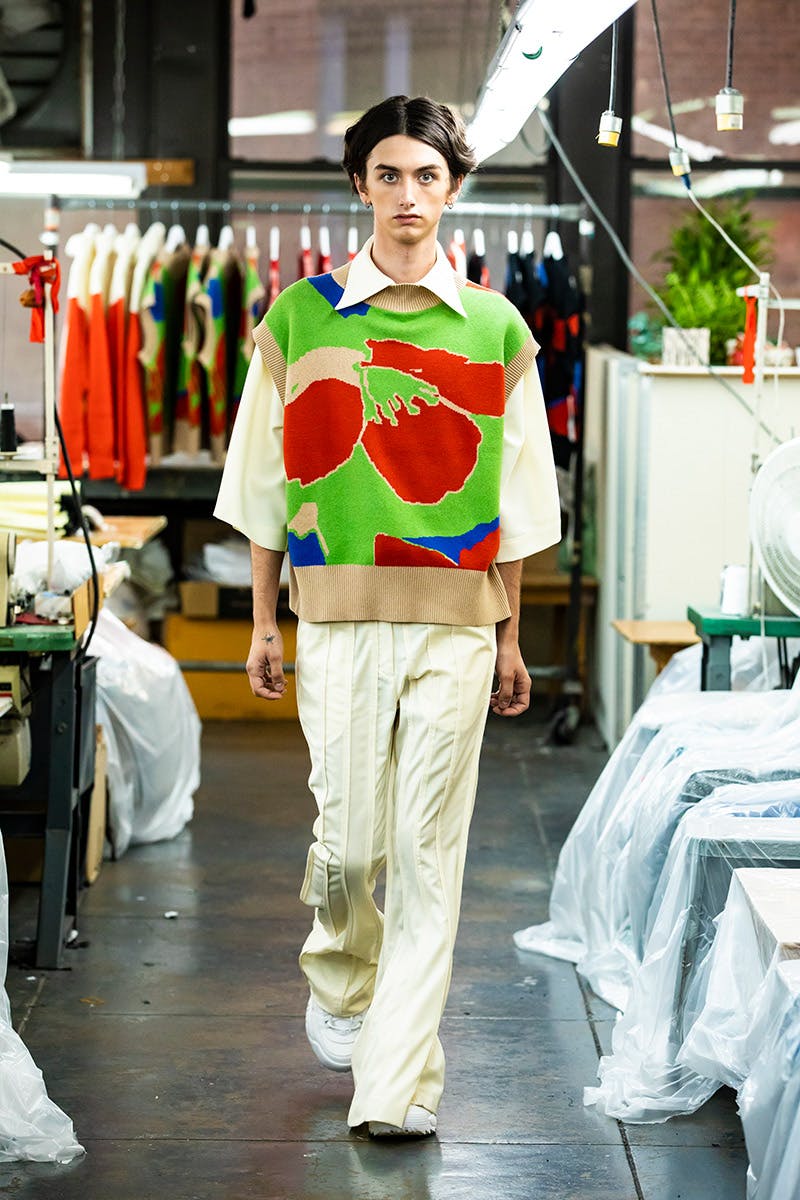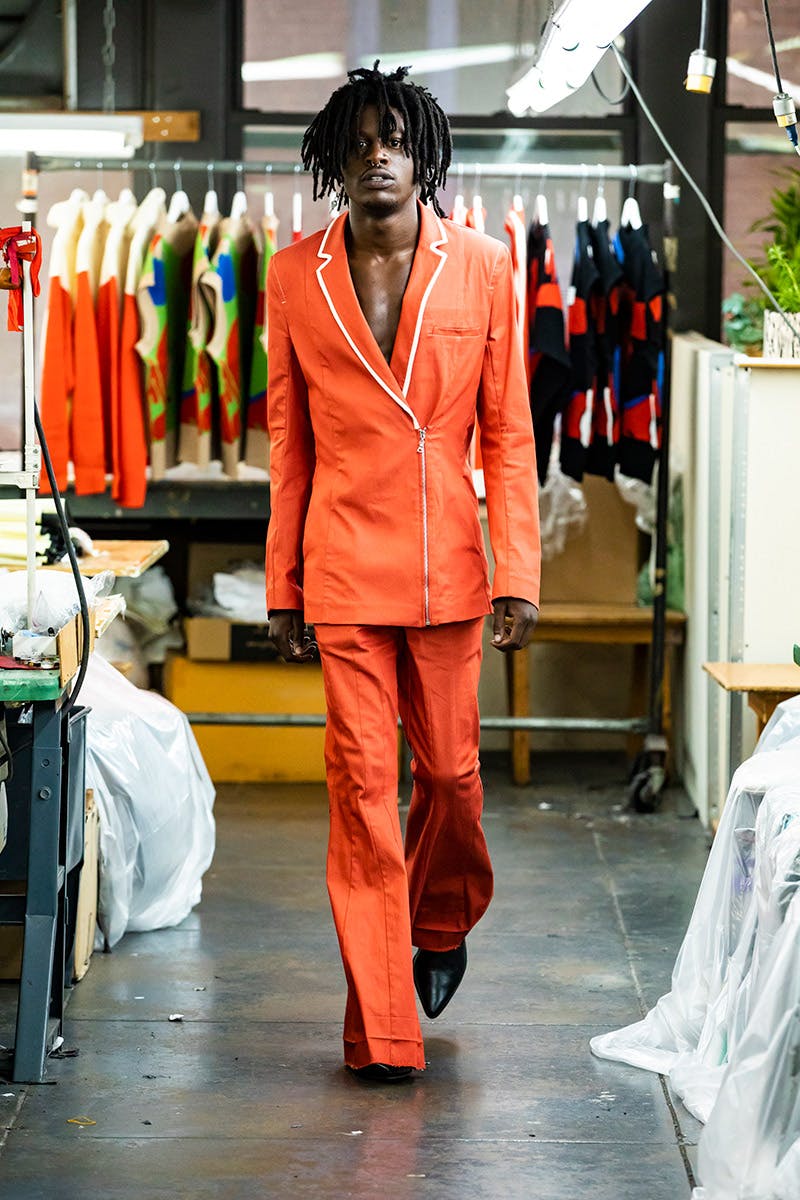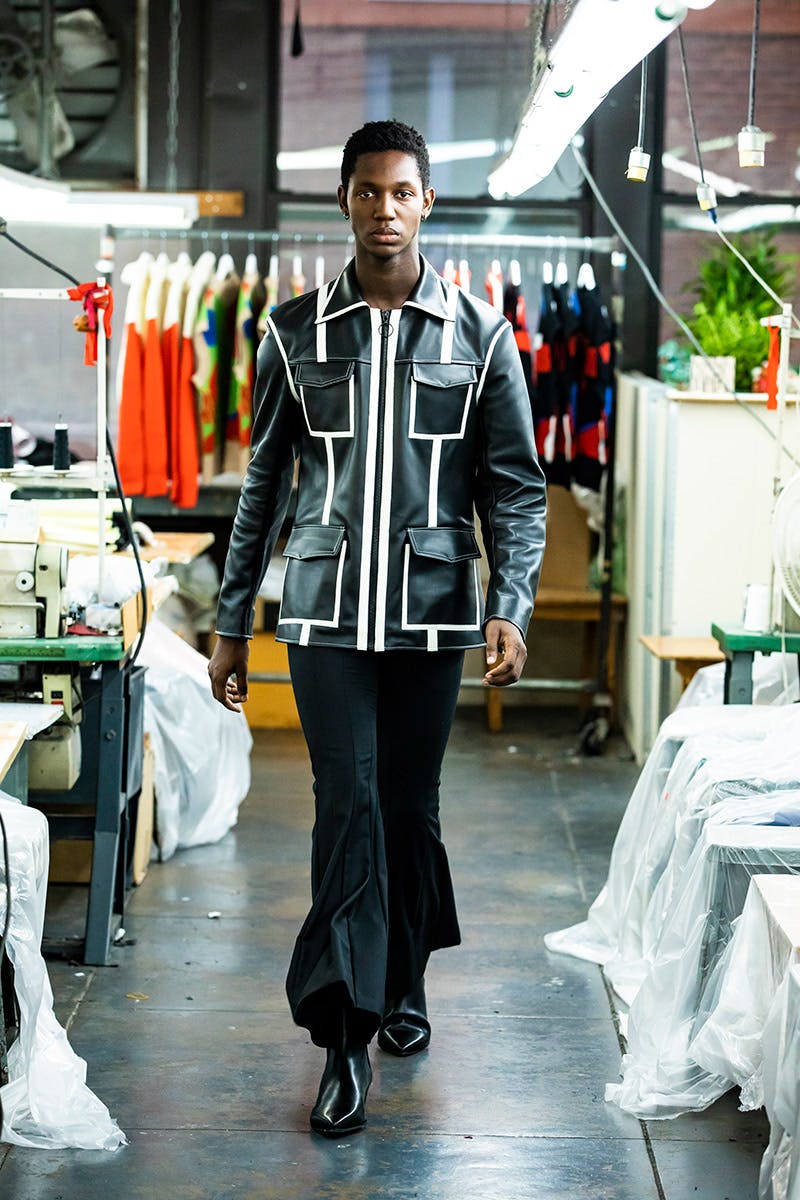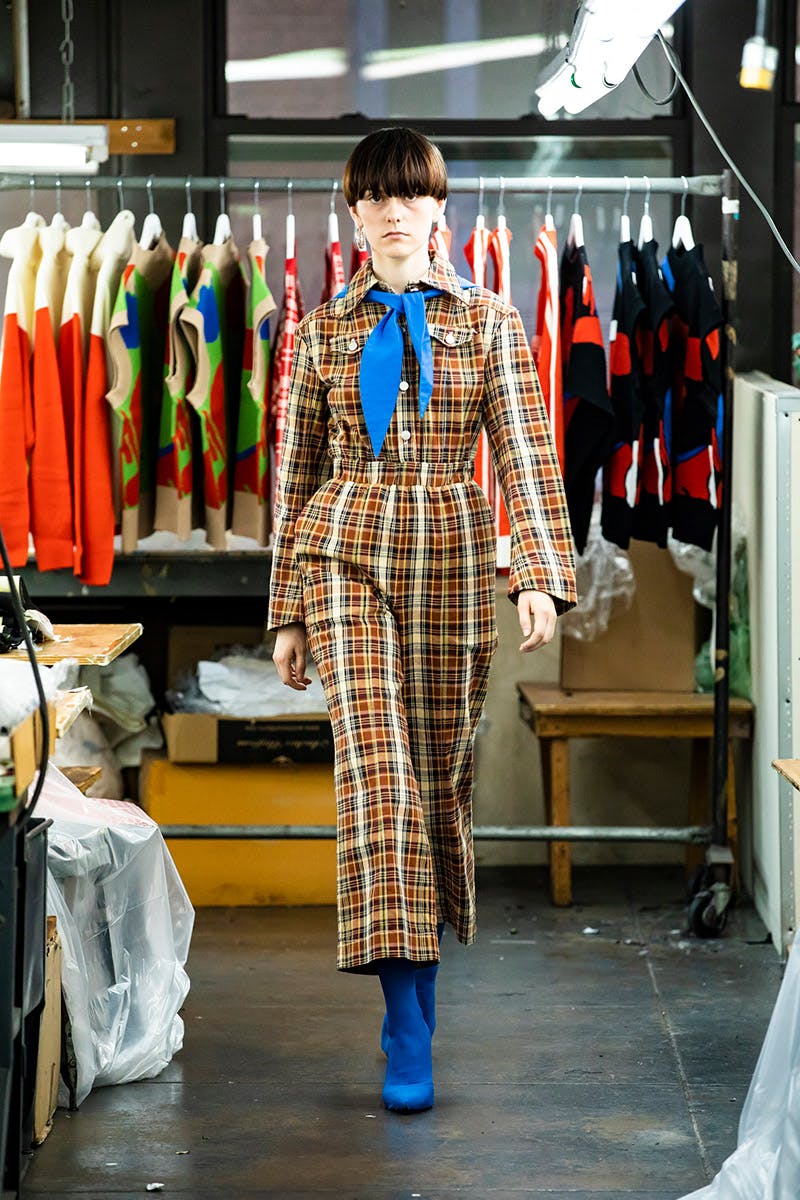 "We are Chinese designers. There's no other way — you don't really run from it," Zhang says. "And then you also want to embrace the Western influence, so we think it just came naturally."
In a Vogue interview last year, Zhang revealed that moving to the US made her appreciate Chinese culture more. "When we come here, we even more embrace our own culture," Zhang told the magazine. "When you're in China, people say, 'Oh, how great is America, how great is the West,' but when you come here, you start to realize how fascinating your own culture is."
Each season, Social-Work takes inspiration from a mix of contemporary and historical Eastern and Western influences. For SS19, the duo took elements from two wildly different but concurrent historical events: the countercultural hippie movement in the West and China's Cultural Revolution. The result is a subtle mash-up of both cultural moments: Chinese plum blossoms decorate an Americana-style vest; a blue kerchief flips the red scarves worn by schoolchildren during the Cultural Revolution; and workers uniforms permeate the collection, with rubber trenchcoats, overalls, and work shirts.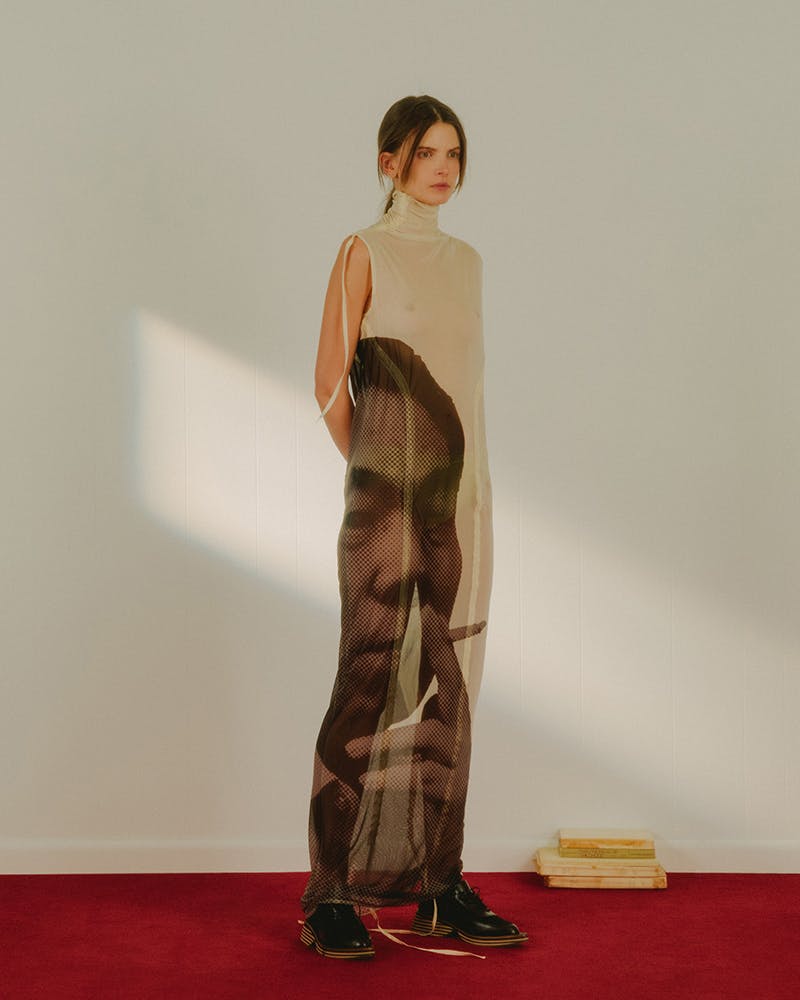 For FW19, Social-Work wanted to encapsulate a feeling of change. Taking inspiration from Europe's Renaissance period and Chinese workwear silhouettes from the '90s, the "Rebirth" collection examines the transformation of the Chinese economy and links the "Made in China" wave of industry to Europe's artistic rebirth and the introduction of a three-dimensional way of drawing during the Renaissance. How this translates to the clothes is a lot simpler than it sounds, with the collection combining loose romantic silhouettes with hard-working fabrics including leather and nylon.
Zhang chose the name Social-Work because she "wanted to remind ourselves that as a brand you're responsible for the society around you." The two founders feel a responsibility to the people who produce their clothes and are fascinated by people full stop. While the exact inspirations for collections change, Social-Work's entire brand identity is rooted in people and the meaning their clothes carry. By bringing us back to the roots of workwear and exploring the significance of different historical moments, Social-Work challenges us to think deeply about our clothes — and the people who make them.