Regarded for its variety of sought-after rarities, including, but not limited to, fine and decorative art, Sotheby's remains at the forefront of art's representation in the modern age. In a bid to prepare for fine art's place in an increasingly digital future, Sotheby's has partnered with Highsnobiety for the release of an exclusive, seven-piece capsule referencing the broker's Old Masters collection.
Launching on the Highsnobiety Shop, and in The Co.lab — a first-of-its-kind retail experience hosted in the Selfridges Corner Store — on January 20, the capsule features a selection of ready-to-wear garments, and accessories.
Featuring everything from rich portraiture, to scenes of 16th-century opulence, the Sotheby's x Highsnobiety capsule puts forward a compelling case for the need to re-contextualize such pioneering works. Though many may argue that the sanctity of these paintings is only damaged by digital's encroach, the following interview suggests that there may be a lot to gain from doing so.
I believe there is a flight to quality in a world where there is so much content to take in. People are really appreciating these unique, one-of-a-kind works of art.

David Pollack, Old Masters senior vice president and specialist
However, this does not mean that the gap between the digital and the physical must be completely bridged, but rather, logical parallels must be drawn between the two. Next to this, the capsule aligns well with Highsnobiety's continued quest to define luxury's new meaning, as it transforms luxury's more historical hallmarks into wearable garments for the contemporary consumer.
To commemorate the launch, we sat down with David Pollack and Brahm Wachter — Old Masters senior vice president and specialist, Sotheby's director of e-commerce development respectively — to run the rule over the collection's feature artworks, and better contextualize fine art's move into the digital sphere. Spanning centuries, we discuss masterpieces such as the "Allegory of Abundance," a 16th century example from the Florentine School, and Ginevra Cantofoli's "A Sea-Nymph."
The full interview and collection lookbook can now be viewed below.
Wachter: David, can you talk a bit about the modernization of the Old Masters paintings, and the need to build an online presence with these works?
Pollack: I think that the Old Masters market, and the traditional Old Masters buyer, at least in the public's eyes, haven't been a group historically associated with emerging technological trends. Yet, as we move into a new decade, it's very important for our department to be cultivating a new generation of Old Master lovers. We feel that through our digital channels, we can reach a whole new generation.
Pollack: What are your thoughts about the value in turning such prestigious works of art into wearable garments?
Brahm: I think as you said, this partnership, and many others we have been doing, are about engaging with new audiences online and through our e-commerce platform. Each item from the Highsnobiety capsule is beautiful, and present the individual works in a totally new way. They are interesting, unique, and at the same time, immortalize a very specific moment that is usually fleeting — our Day Sale for example — through their designs.
Wachter: What does the future of Old Master paintings look like to you? How will values move in the 21st century?
Pollack: Our market is quickly moving online. It's a great thing for Old Masters to be shared digitally, as one of the things that makes these works so beautiful are the details. And through high-resolution photography, you can really appreciate the paintings in a completely new way. In regards to many people's concerns of diminishing popularity, or supply, what we're seeing is actually a resurgence in appreciation for the Old Masters series. I believe there is a flight to quality in a world where there is so much content to take in. People are really appreciating these unique, one-of-a-kind artworks.
Wachter: I totally agree. I think when people see these works, and the quality inherent to them, they really respond. I feel continuing to do partnerships like this, and ones like Fabrizio Moretti x Fabrizio Moretti "In Passing," or the partnership the Old Masters team did with Victoria Beckham, continue to expose people to the beauty in these works. We actually had record levels of online bidding for our Fabrizio Moretti sale, and in total sold 100% of the works for a price above the high estimate. I really think this speaks to the power of partnerships and collaboration. Building on that momentum, we were especially excited to partner with Highsnobiety to find a new way to showcase and share these incredible works, which the artists could have never imagined in their time.
Wachter: The colors on this work are spectacular. Specifically the deep reds and luscious greens. By far my favorite of the lot. It's spectacular in person!
Pollack: This is a mysterious painting, one which takes inspiration from a number of schools but is closest to the type of work produced in Prague during the 16th Century. It is quite literally an allegory of abundance, so naturally the artist has included a cornucopia of fruit, animals, and so forth. It is bursting with life.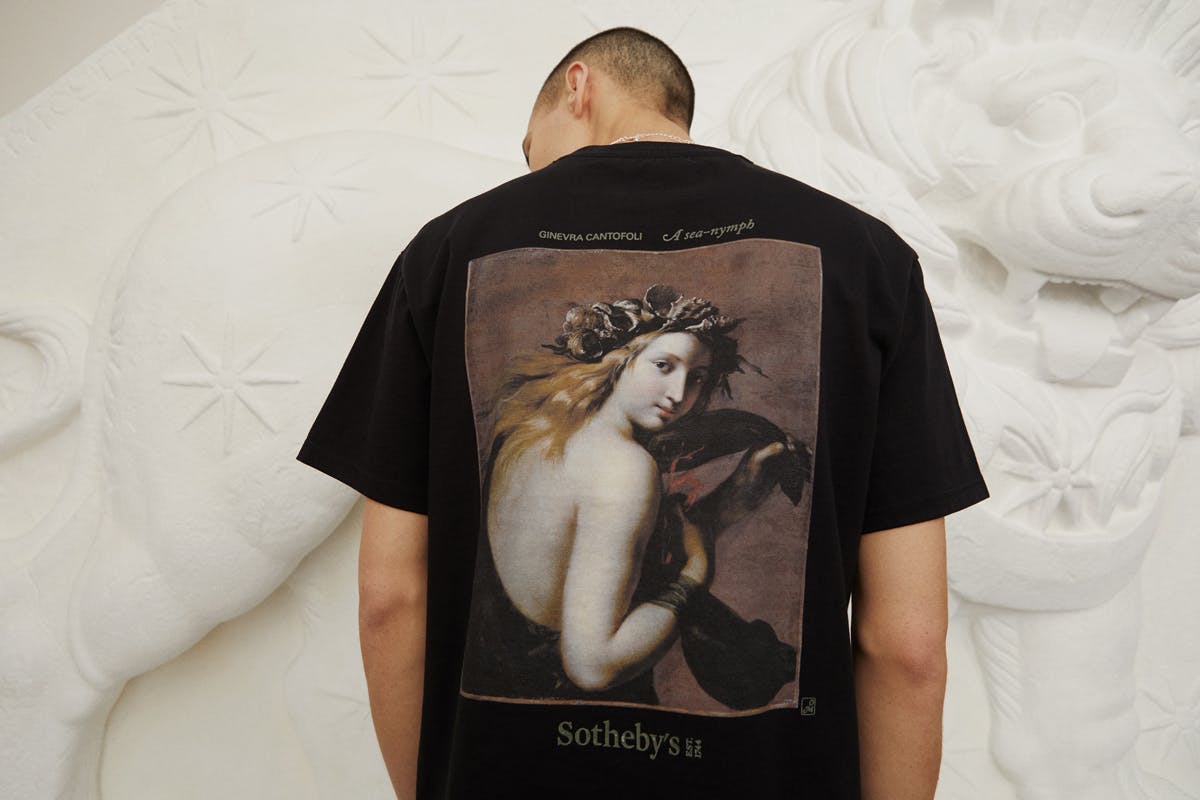 Wachter: It's a small detail, but the coral she is holding in her hand, and the way it is lit, is incredible, and vibrant. I appreciate how our Day Sale is referenced on the front of the T-shirt, too.
Pollack: Ginevra Cantofoli was one of the few, very successful female Old Masters. She painted in Bologna in the 17th century and this female sea-nymph is an amazing summation of the region's style. Idealized, smooth skin, and beautiful. It is one of the best paintings in our Day Sale.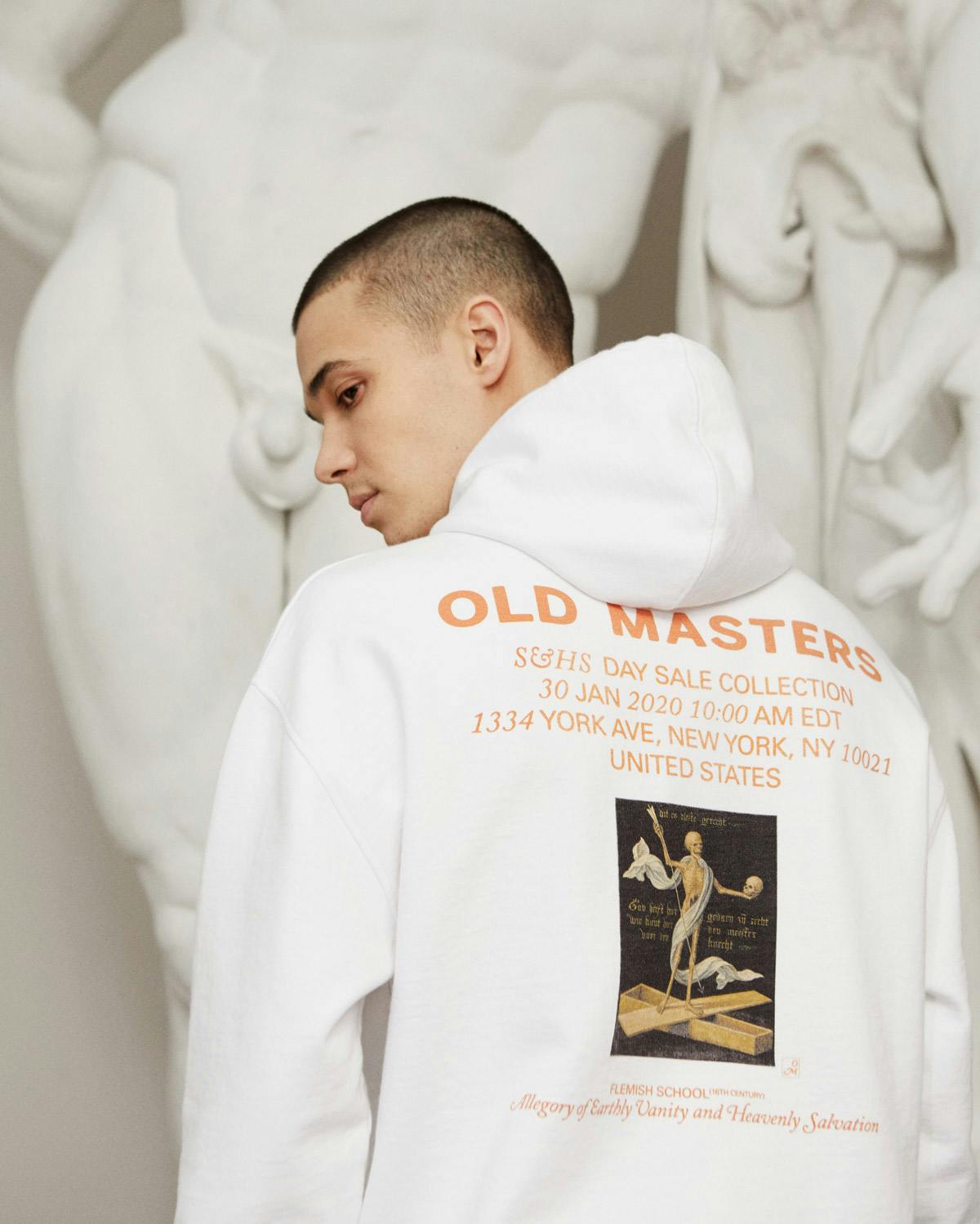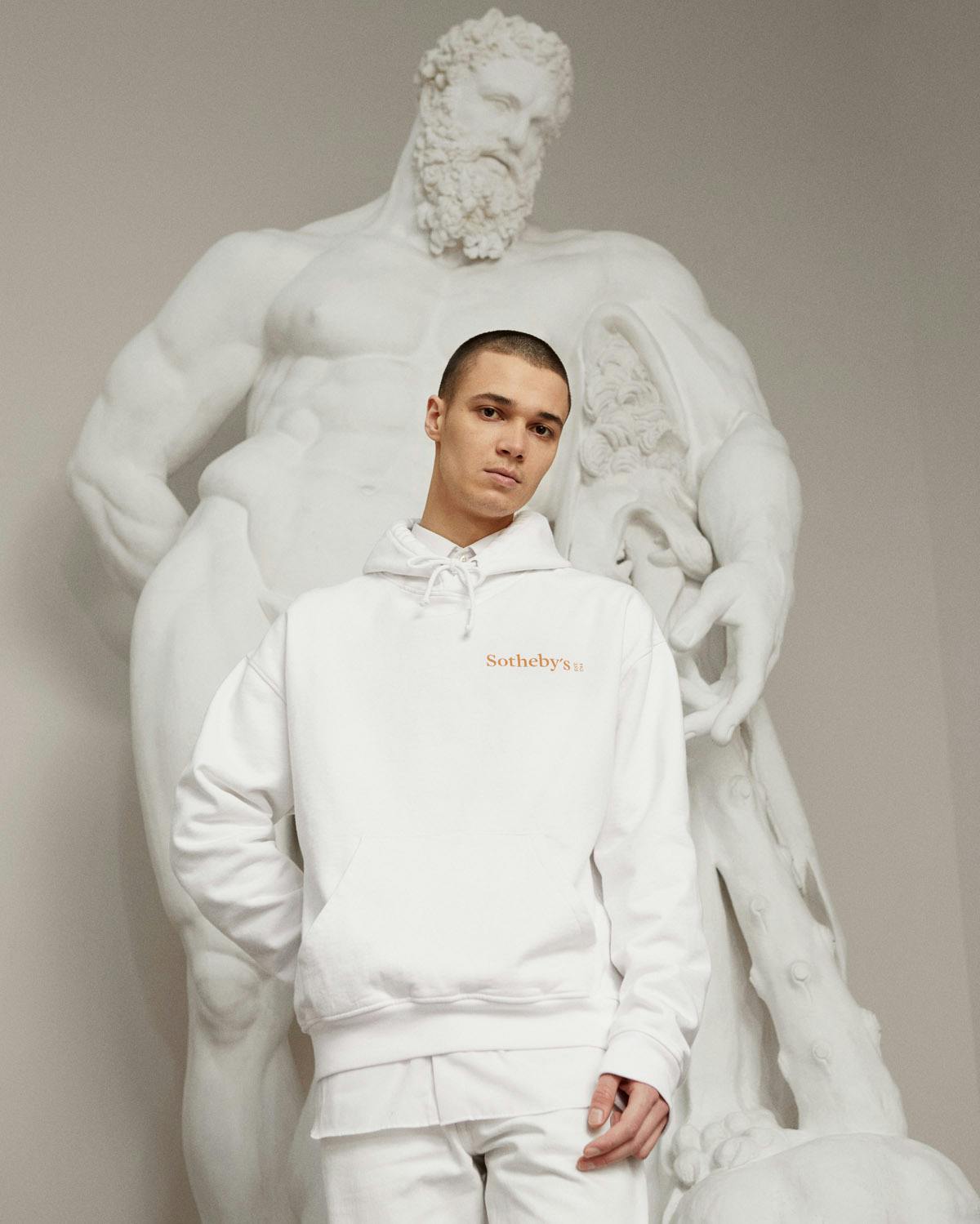 Wachter: People love Memento Mori — which is supposed to be a reminder that we are all going to die — if for nothing else than to help us lead our best lives.
Pollack: Yes, people love Memento Mori. They are timeless images which people appreciate for their contemporary references, but when they were produced they were seen as moralizing reminders of the transience of life. They are among our very best performers, and are widely collected by a variety of people. Obviously, I love this hoodie.
In summary, what we can learn from the above is that fine art's eventual digitization should not be feared, but encouraged for the way in which it can bring attention to the pieces that would have otherwise been overlooked today. The trade-off for moving these works away from their original form is thus minimal, serving more to highlight forgotten mastery, rather than destroying its inherent value.