Highsnobiety Q2 is the second in a series of quarterly insight weeks dedicated to the business behind youth culture and what makes our market tick. Head over to our Q2 hub to see the full series.
It was in the beginning of the global Covid-19 pandemic when Brice Partouche decided to pull the seasonal collections of Satisfy — the upscale running brand he founded in 2015 — from every single one of its 60 stockists. While it has opened an online platform where wholesalers can order select products, it meant saying "no" to nearly $1 million of turnover in a single season, a dicey move for a label still in its infancy.
For Partouche, the fashion calendar dictating how product is delivered and sold no longer made sense with the needs of his tight-knit community of runners who, unlike many hardcore fashion fanatics, simply weren't looking for products six months in advance. Their calendars were dictated not by fashion federations, but by training goals and races.
"We made a bold move to stop wholesale, basically," says Partouche, a skateboarder at heart. "I don't want for things to go back to normal. The retail process has been the same for over 30 years, and it doesn't make any sense. And so we've decided to shift our model to a direct-to-consumer business where we'll still work with select wholesalers, but on our conditions."
Satisfy is now shifting to a monthly drop model where each new drop will exclusively launch in partnership with a single department store or multi-brand boutique, allowing a closer collaboration. The first one being with SSENSE later this month. "Wholesalers are now becoming storytellers," Partouche says of the strategy. The collection complements the content they will be creating for SSENSE's site, not the other way around.
Satisfy isn't alone in seizing back control from third parties that have long dictated individual brands' narratives, both on the shopping floor and through media. At a time when a brand like Gucci has more than 500 monobrand stores and over 40 million followers on Instagram alone, there is little it can't do — or sell — through its own network. This is why the Italian megabrand already generates 85 percent of sales from its own channels and is looking to increase that number. It's also why the brand directly communicates new campaigns, products, and collaborations to its followers through its own social media accounts. Media coverage is just the icing on the cake.
Many brands that long relied on middlemen to promote their products and brand values — including Louis Vuitton, Cartier, and Nike — are clearly adapting similar models. The Swoosh, for its part, has projected that its direct-to-consumer business – bolstered through its Nike+ membership app, flagship stores, and e-commerce – will reach $16 billion in sales by the end of the fiscal year, up from $10.4 billion just two years earlier.
The effects of Covid-19 on fashion consumption have dramatically accelerated the number of brands shifting how they communicate with the customers on the daily, and what their overall retail strategy will look like going forward. Not only does speaking and selling directly to consumers increase margins, give a brand better insights into their clientele, and allow them to better control markdowns — most of all, it allows them to own the touch-points and interaction with its audience from A to Z. Many department stores, popular boutiques, and glossy magazines are already folding as a result. It doesn't mean brands no longer need multi-brand retailers or publishers, it simply means that, in order to be relevant, third parties need to become cultural producers in their own right. Those who can't innovate through rich brand-fitting storytelling risk being bypassed by the brands themselves.
"The customer is really the one in control, not the retailers and editors. And that's been a big recent shift, and one that's been very reluctantly recognized within the fashion world," says Robert Burke, founder and CEO of retail and fashion consultancy Robert Burke Associates, which works on brand development with clients including Ralph Lauren, Marc Jacobs, and Dunhill. "It's really all about access. The brands that are smart are giving the customer control and providing them with the information and knowledge they crave"
Now that the traditional gatekeepers of cultural authority have extended beyond just the top tier buyers, editors, stylists, photographers, and celebrities to the cultural engineers that reside on the consumer side — and with fashion moving away from seasonal trends — the brands themselves are going to be put to the test.
According to "Culture, Culture, Culture," a new white paper by Highsnobiety and Boston Consulting Group that quantifies the value of cultural credibility brings to brands, the biggest drivers of purchase decisions for Gen Z and Early Millennials is wanting to live the full lifestyle of individual brands right from the start. "Brand journeys" were so important to this cohort that they accounted for a quarter of all purchasing occasions, and beat choice, person of influence, value, impulse, and convenience as reasons to choose a specific brand.
So now that the brands have the megaphone, what comes next?
Brand Loyalty 2.0
In the DTC era, the most important objective brands have is increasing brand loyalty among their audience, and that isn't easy in today's extremely oversaturated fashion space. Forward-thinking brands are now increasingly looking beyond loyalty measuring metrics like clicks, engagement, and conversions.
Instead, some are doubling down on the credibility that helped them become relevant in the first place. Although less tangible in nature than data-driven statistics, broader cultural interventions are what stand to benefit brands the most. And the essence of credibility is community, the goal of "engagement" that sometimes gets lost in the search for clicks. Those who engage with brands as a community member carry its message forward in those silent moments between brand-owned flashy events, advertising campaigns, and product drops. In other words, they're loyal members of the tribe.
"I come from the generation where you would read a magazine and have media come at you, telling you things, and you accepted it. And if you didn't like that point of view, you would move on to the next person or outlet to connect with," says Eva Chen, director of fashion partnerships at Instagram. "I think that the difference is that the conversation nowadays with followers isn't one-way anymore."
Partouche agrees: "If you don't have a community, don't start a brand, because you can't expect a community to fall in love with just your product. It won't happen. The mistake that a lot of brands are making is thinking that people will just find them."
Brand tribes have long existed. In the 1990s, they centered around the personality cults of designers like Helmut Lang, Martin Margiela, Alexander McQueen, and Jean Paul Gaultier. Like the religious devotion of football fans, loyalty for individual fashion houses and the creative directors that led them ran deep. Yet with the growing prominence of fashion conglomerates like LVMH and Kering in the early 2000s came the global expansion of the many luxury brands they owned, and with it a loss of exclusivity around its community. Today, there are only a handful of non-legacy brands, including Rick Owens, Telfar Clemens, Thom Browne, and Raf Simons, who have built up dedicated tribes.
Now that we are heading into a new frontier of DTC, we're about to see the rise of brand loyalty 2.0. But how have things changed? First, with the big multi-brand retailers and publishers dissipating, we are going to be fully focussed on the individual brands at times of engagement, whether it is scrolling through a brand's own feed and e-commerce website, or making the trek to its brick-and-mortar store, without distractions.
Secondly, with the product itself becoming just one touchpoint of a brand, the most loyal consumers are going to want to dig deeper with fellow brand aficionados. Yes, there will always be shoppers whose relationship with a brand stops with the purchase of a logo-ed product to signal status, yet for loyal fans, developing cultural literacy around their favored brand will increase in importance.
What's more is that this group is about to get a lot bigger with fashion houses going global and the fashion brands becoming media presences in and of themselves. Now, the lesson is simple: Brands need to capture audiences and not just consumers.
"These days, the equivalent to literary fan fiction is when people create a fan Instagram account. It's a level of fandom that's somewhat consummate with the brands," says Chen. @newbottega, a fan account run by Italian fashion student Laura Rossi dedicated to creative director Daniel Lee's output at Bottega Veneta, has 300,000 followers, @raf_simons_archives has nearly reached the same number, and as of publication, @chanel_archives fans number 130,000. London-based emerging designer Mowalola — recently hired by Kanye West as the design director for Yeezy's invasion of Gap — has one, too; @peoplewearingmowalola just hit 1,000 followers.
We've seen this before. The fan communities now surrounding luxury bear a close resemblance to those dedicated to Supreme, Bape, Palace, and the many original forums on street fashion that came before them. Like the secondary sneaker market being a more accurate sign of a sneaker's success than the primary market, the most successful brands understand that fan accounts are where credibility around a brand is created through opinionated discussion about product, new campaigns, and real people wearing the brands.
The next step for brands in this new terrain is understanding that one size doesn't fit all when it comes to different communication and retail channels. "Alessandro [Michele] from Gucci does a good job at this," Chen adds, also crediting Pyer Moss and Jacquemus. "They use every surface in such a specific way. On their IG feed, it's more curated and polished, and where they collaborate with artists, illustrators, and writers. But on Stories, they do offbeat things with takeovers. What they do on IG Live is different from what they'll do on IGTV, and hopefully with IG Reels and IG Live shopping when these launch. The ability to story-tell is going to be the most important thing in building a successful brand."
The Rise of Brands as Curators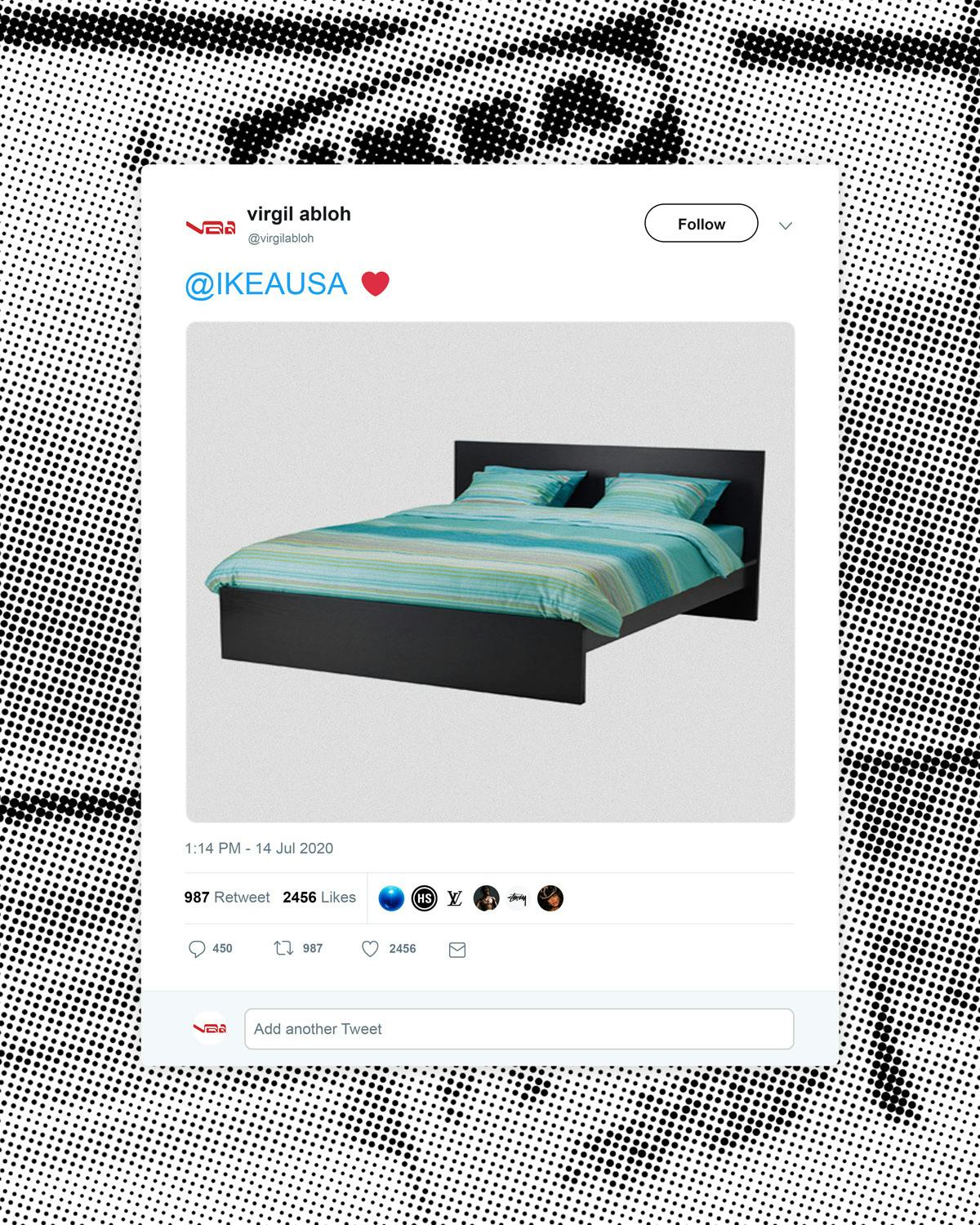 Despite brand tribes already growing beyond megafans, the rise of DTC 2.0 will see the scope of what brands address, discuss, and endorse grow as a bid to reach an even larger audience. The long outdated realization that consumers don't just have one favorite brand will result in businesses broadening their brand universes through the curated endorsement of products, people, and places outside of their owned realms.
Covid-19 has accelerated this change, compelling brands to get more creative with the content they put out in lieu of stores being shut and events cancelled. Giving their online platforms to creatives that fit their brand universe, whether through digital cooking classes, musical performances, or activist lectures, has meant letting go of control, becoming more relatable to its audience in the process.
"What's really key is that the consumer doesn't want to be hard sold, acting like the only product that exists is [from one brand]. They expect to get a glimpse into what that personality of a brand and its creative director is, and it goes far beyond just branded products," says Burke, who adds that brands should take it even further.
Some are already testing the concept out. At The Row's store in Central London, a rack of hand-picked vintage from designers including Chanel, Comme des Garçons, and Yohji Yamamoto — as well as a selection of vintage lighters and ashtrays — can be found next to curated artworks of James Turrell, John Chamberlain, and Isamu Noguchi, and The Row's own products. Similar concepts can be found at Los Angeles-based brand Sophie Buhai, who (next to her coveted jewelry) sells a curated assortment of furniture and homeware. Over at Dior.com, alongside sneakers, expensive ready-to-wear and flashy accessories, the brand now offers cotton towels, steel water bottles, and decorative porcelain plates and mugs, all made by streetwear legend Shawn Stussy. It also sells limited concrete artworks crafted by Daniel Arsham.
The obvious next step will see brands act as concept stores, one-stop shops that showcase their entire universe and cater to the wider cultural hunger of consumers today through products and services of others. The place for exploration, introduction and connectivity will differ per brand and can include art, music, food, tech, sports, performance, and more. It will be different to the classic standalone monobrand extensions that you see today, including Versace homeware, Bulgari hotels, Ralph Lauren restaurants, and Armani bars. Rather, we might see a Prada grocery list with the brand's favorite products, a talk show created and hosted by Gucci ambassadors, a Dries Van Noten flower shop, or a Supreme video streaming subscription. The opportunities become endless.
What Are Brands Even Selling?
If brands moving into curation is done innovatively, a brand will see an expansion of its audience and universe. The territories they once competed in will equally grow. We already see what happens when brands widen their offering. Rimowa, known for its signature aluminum luggage carriers, now sells phone cases and small accessories. Just last week, it ventured into sunglasses.
The bubbles in which these brands now operate are becoming so big, they're touching the bubbles of brands that were not even competitors to start with. Byredo is no longer a challenger of other perfume and scented candle brands — today, it's competing with everyone from luxury houses and streetwear brands to home goods businesses and office supply makers, with its wide offering of leather handbags, sneakers, blankets, and even scented paper. What it's really competing for, however, is a consumer's time, money, attention, and ultimately loyalty, putting it at direct competition with any brand at a similar price point, from streaming services to restaurants and bicycle manufacturers.
No one seems to just want to be a fashion brand anymore — and this isn't a Richard Branson-esque shift toward them having phone companies and airlines. Rather, beyond physical products, the ultimate goal of the modern day business is to trade in the intangible. A brand's universe, its visual identity, and loyalty are what bring it value more than anything else. Products, then, simply represent trophies of belonging and cultural literacy.
"I've always said the best Instagram accounts are the ones where you can put your hand over the handle, and, without seeing anything but the grid of photos, know what brand it is," says Instagram's Eva Chen. "Jacquemus is one of them, and in the beauty space, when I think of Glossier, I think of a very specific aesthetic. I think of a certain shade of pink. I can imagine the kind of furniture that person would have, where they would go on vacation, what their outfit would be. And the best fashion brands truly have a lifestyle, and an ambiance associated with them."
Having not just a brand but a universe means you are able to now sell anything, even the intangible, beyond physical products. And in the future, some brands will.
"I love the entertainment media business, the hospitality travel business, the health and wellness business, the tech business," Tommy Hilfiger tells Highsnobiety in an upcoming podcast. "I think a lot of people don't think about those things [together] because they think their company name is [just] the company name, and they're going to make certain product lines and stay within those confines. [But] I really believe that reinvention is evolution."
Selling the intangible is how a once niche Dutch streetwear brand like Patta has been able to grow its entire business. "Before Patta was founded, there was already a community. 'Downtown Worldwide' we used to call it, where our founders Ed and Gee connected with [likeminded] people from New York, Tokyo, London, and the Amsterdam hip-hop scene," says Lee Stuart, Patta's brand director. "Yes, it's cool to look good and sell great product, but it's even cooler if you help people from our world to the next level."
Patta has a dedicated running team (founded in 2010) that frequently runs for charity, in addition to a popular blog that releases new music mixes via Patta Soundsystem, talks about upcoming cultural events, and publishes its "Get to Know" interview series that features friends and family of the brand, including photographer Shaniqwa Jarvis, musician Rasharn Powell, and local Amsterdam hip-hop café owner Daniel Eeuwens. It also gives lectures and offers mentorship at universities around the country.
About a year ago, it started Patta's Book Club in partnership with The Black Archives — a literary collection dedicated to Black history — in which books exploring racism and the historical oppression of the Black community are discussed. The club is currently being expanded into Patta Summer School, a youth program where, three times a week, young people between the ages of 12-21 can learn about wide ranging topics from entrepreneurship and talent development, to art and nutrition. "Each one, teach one," Lee calls it, where once the door has opened, you let as many of your people in. "You wouldn't expect a fashion brand to do these things, but it's important," he says. "And I really think that often it's not even the clothing that speaks to our audience, it's this whole ethos that attracts them."
Chen agrees: "I think that brands very much should think in a direction where it's like, 'I'm not just selling a product, I'm selling my voice, I'm selling a vision, I'm selling a point of view.' The brands that adopt that will be the ones that succeed."
From this point onwards, the bottom line of brand loyalty will be about reinventing what it means to sell the intangible, through services, knowledge, and even community. It's what true fans care about — and being hardcore has become mainstream.