Being an Englishman in the streetwear scene, you notice that there's a bit of a one-way cultural conversation going on. Everyone knows American street culture. Pretty much the entire world wears Jordans and Supreme, listens to Kanye West and drops American slang. Streetwear was born in the USA, so the situation is inevitable, really.
Recently, though, British cultural exports have been gaining traction over in the States. Drake and Skepta are best mates now, Palace Skateboards is approaching Supreme levels of hype and some of my New York counterparts have even started saying "ting" on Instagram.
The latest development in streetwear's romance with British culture is Stone Island, a label that's rapidly picking up steam over in the States. It may be Italian in origin, but the brand, and its unmistakeable compass emblem, has been an inescapable part of UK street style for decades.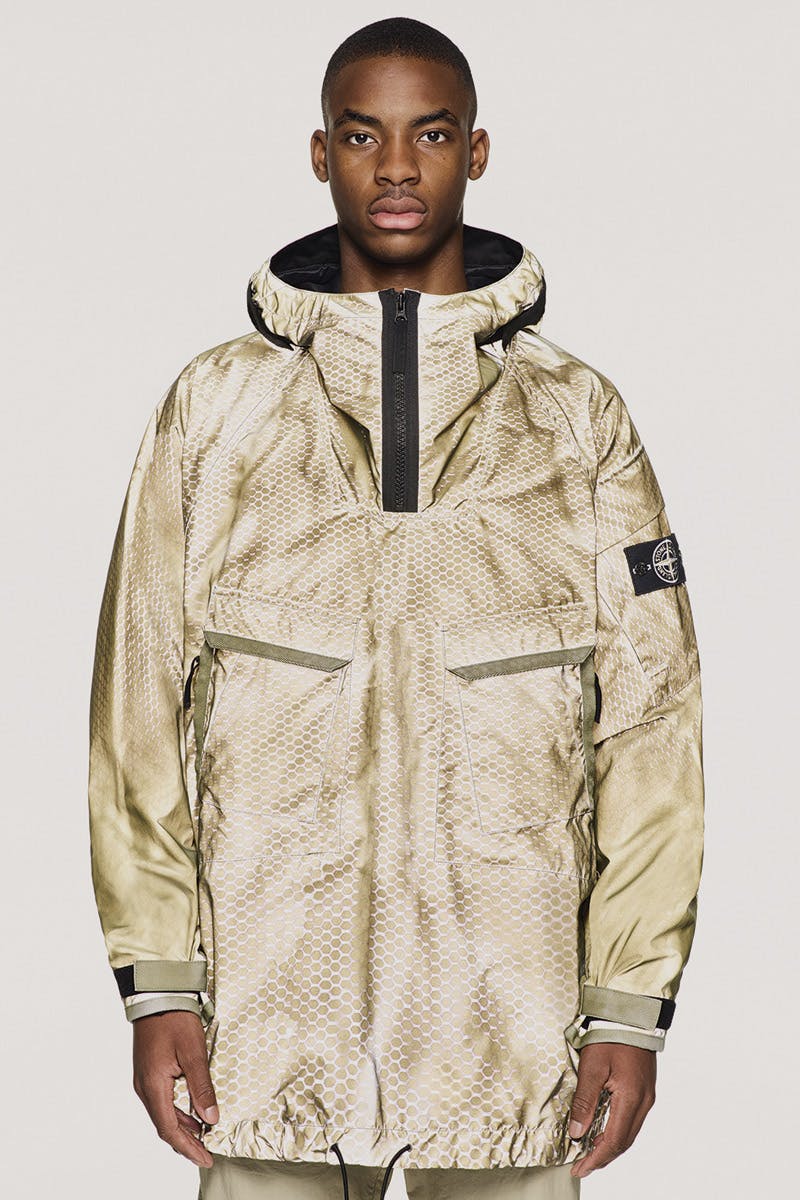 Stone Island - or "Stoney" as it's affectionately known - recently opened an LA flagship, and is in the third year of what's proving to be an extremely popular Supreme collaboration. It doesn't hurt that rappers like Drake and Travis Scott are giving the brand's iconic arm patch a ton of exposure to people who would normally never see it.
The rap scene has taken to the label in such a way that A$AP Nast and Travis Scott even had a bit of online beef over it. Seeing American rappers argue over who discovered Stoney first is a cultural mindfuck of hilarious proportions - sort of like the Duke of Edinburgh and the Prince of Wales beefing over Biggie and Tupac.
Given the momentum that Stone Island is building across the Atlantic, we thought we'd take the opportunity to educate our American readers on the brand's rich background, and its importance in UK style.
"Stone Island is steeped in history, culture and brilliant design," Ollie Evans of Too Hot Limited told me. Ollie is a London-based reseller of archive Stone Island gear, and has been dealing vintage pieces from the brand for years. He first encountered Stoney way back in 1999, when the Birmingham City Zulu firm (a firm being a crew of hardcore football fans) was wearing it to raves in Birmingham.
"Stone Island has had a cult following in Europe since the very beginning," Ollie explained. "It was first adopted by the Paninaro youth in Italy in the '80s - their style was very much inspired by '50s Americana, but combined with sporty Italian designer labels. It was around this period that British football fans, following their teams to European Cup games, started bringing back some of these same labels to wear on terraces in the UK, appropriating the Paninaro look and building their own subculture around it."
It's impossible to talk about Stone Island without mentioning terrace casuals, a subculture of diehard football supporters with a taste for flashy designer labels that emerged in the UK in the '80s. Rather than wearing their team's colors like previous generations of hooligans, casuals chose to avoid attention from the police and rival firms by flaunting flashy designer labels instead.
"These brands were initially very hard to source and only available in Europe, so a culture of one-upmanship emerged with guys trying to outdo each other with rarer, more expensive and more innovative pieces. Stone Island fitted perfectly into this, with their boundary-pushing designs. The brand is an integral part of what is known as casual culture."
Stone Island suited the casual movement's tastes perfectly - it's expensive, visually striking and the brand's arm patch allows fans to identify each other without drawing unwanted attention. Stoney's identity is, whether the brand likes it or not, inextricably tied to hooliganism, and you'll find that compass patch on terraces and football grounds everywhere from Middlesborough to Moscow.
Nowadays, though, the brand has grown beyond just casuals and can be found in tough, inner-city neighborhoods across the country - particularly in London - and to many, the brand's iconic arm patch is a raw expression of butch masculinity. The grime scene has taken to it in a big way - which is probably how Drake discovered the brand, given his newfound fondness for the genre and his close links with Skepta and Boy Better Know.
While the label will be forever associated (to an extent) with tough-guy hooligans and streetwise hood rats, at the end of the day Stone Island is about boundary-pushing technology and innovative fabrics. "It's almost a cliche to talk about innovation in relation to Stone Island," Ollie explained. "They are - and always have been - constantly pushing the boundaries of garment technology, creating product that's fresh and that no one else would even think of. Stone Island have been producing reflective and heat-reactive garments since the '80s, way before anyone else."
It's easy to see how Stone Island's high-tech, military-inspired design language resonates with the more macho, masculine end of the menswear market. "It's a real boy's brand." Ollie added. "It's like, Wow, this jacket changes color! This one's reflective! This one's made of stainless steel! It's a real culture of one-upmanship and trying to look better than your mates."
Stone Island owes its striking aesthetic and commitment to innovation to its designer Massimo Osti, who founded the brand in 1982, to run alongside his other brands CP Company and Boneville. Osti left Stone Island in 1995 to found Massimo Osti Productions and Left Hand, before passing away in 2005.
"Massimo Osti set the blueprint for Stone Island and his legacy still informs where it is today. He's the man who brought us reflective jackets, color-changing heat-reactive jackets, polyurethane-lined weather protective jackets, reversible jackets, dual-layer jackets with removable linings. These are all ideas that are now commonplace, and I guarantee that every major fashion house in the world has some of his work in their archive somewhere."
In fact, Supreme's ongoing collaboration with Stoney features many homages to Osti's work. "I'm a huge fan of Osti's '80s and early '90s designs, so it's fantastic to see that work referenced again in the Supreme collaborations," Ollie continued. "The marina-style stripes, the heat-reactive jackets, the Tela Stella anorak and the helicopter jacket with the goggles from their first collab are all Osti's."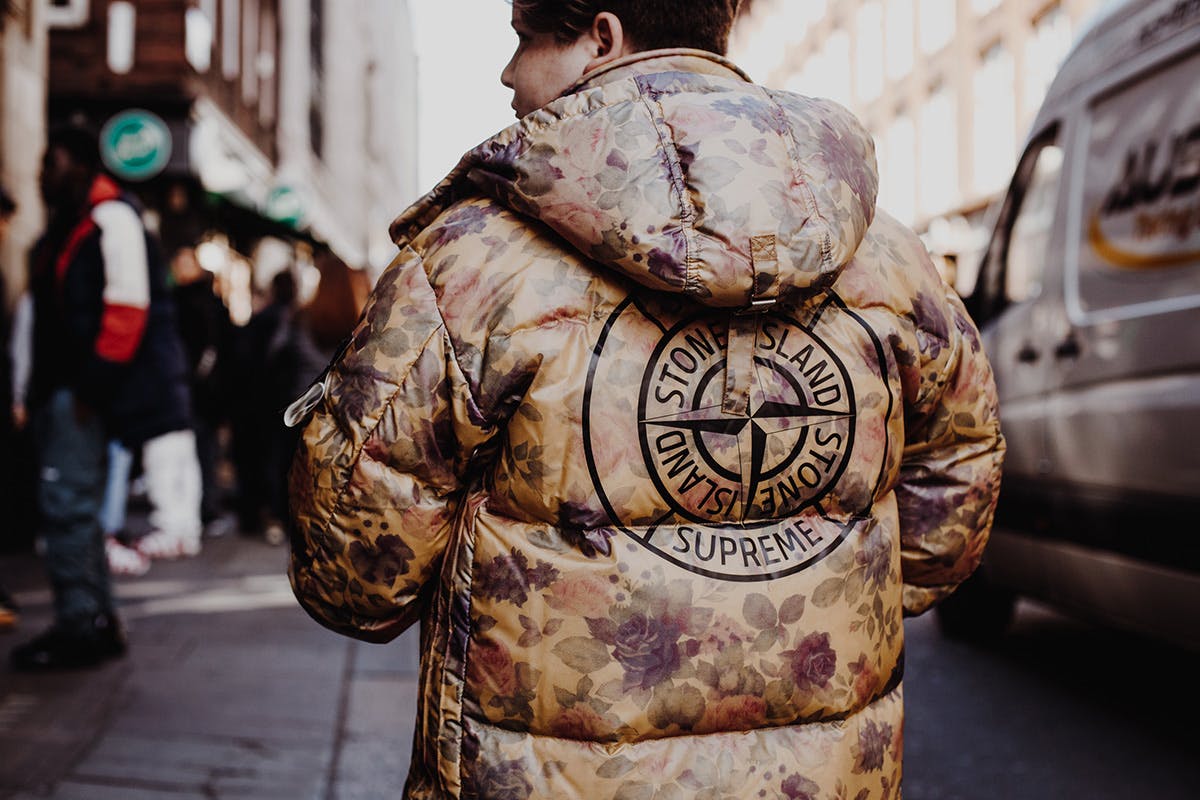 It's a very interesting time for both Stone Island and Supreme. The two brands have come a long way from their roots, and find themselves treading unfamiliar ground. Stone Island is approaching a transatlantic audience that has very little knowledge of the brand's history, innovation and cultural significance - just a few co-signs from rappers and a collaboration with the most hyped streetwear brand on the planet.
Supreme, in contrast, is attracting an increasingly younger audience that has much less understanding of the brand's history and irreverent, counter-cultural tendencies. Both Supreme and Stone Island face the same challenge: how to grow into new areas and attract a larger audience, while keeping their respective credibilities and histories intact.
Ollie's project, Too Hot Limited, stocks archival gems from Stone Island alongside pieces from other terrace casual favorites, like Polo Ralph Lauren, C.P. Company (Massimo Osti's first label), Prada Sport (the Italian luxury house's brief foray into sportswear), Iceberg and Burberry. Too Hot also offers a glimpse back in time via its in-house editorials, which serve as wistful tributes to the flashy, designer label gear that was all the rage in the UK in the '90s and '00s.