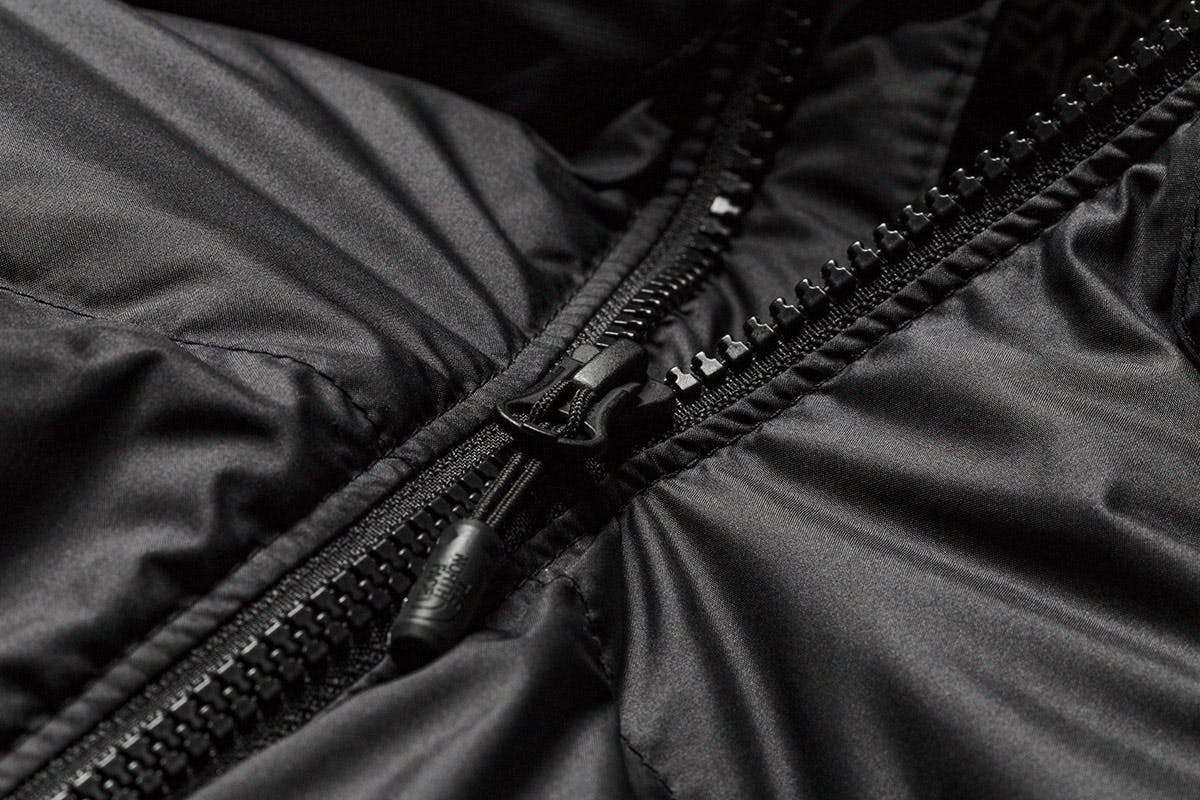 Make no mistake: fashion as a whole is guilty of pollution. However, with technical apparel — outerwear in particular — it's especially problematic. High-performance garments often come with highly damaging manufacturing processes, as many of those crazy tech-ninja jackets are, at the end of the day, made from plastics.
If you're taking steps to minimize your environmental footprint, then it's worth thinking about the impact all those layers of technical performance apparel have on mother nature. You can swear off Styrofoam because it doesn't decompose, but neither do membrane jackets. If you're choosing organic foods because pesticides hurt ground water, then you should consider the impact of water-repellant coatings.
Thankfully, progress is being made, and many industry-leading brands out there are creating high-performance gear that doesn't kill the planet. "Nobody is sitting around saying, 'No, no, no, no Global Warming is not a thing,' comments Drummond Lawson, Sustainability Director at Arc'teryx, the Vancouver, CA-based maker of hardcore adventure gear. "Instead, we're like, 'Okay I think we've moved past that phase of the conversation; how do we now find innovative, low-carbon materials to work with?'"
Whether due to some modern climate soul-searching or the quiet work of industry giants, the world of technical apparel – one of fashion's least eco-friendly categories – appears poised for a breakthrough.
Looking for performance gear that lets you enjoy the planet without harming it? Here's everything you need to know.
Recycled Fabrics
Starting with the biggest immediate impact, seek out gear made from recycled fabric. The adidas Outdoors x Parley 2L Jacket (new for Fall 2018) marks a huge step for the Three Stripes: simply put, you use up a lot more ocean plastic making a high-function shell than a pair of adidas x Parley sneakers. Patagonia's Rannerdale Jacket is another great option for a recycled fabric raincoat. Your jacket keeps you safe from weather while also supporting Patagonia's legendary sustainability efforts. Win-win.
While you're still buying new, let's be realistic: companies won't stop making newness any time soon. Take it or leave it, that's fashion. Buying a jacket made from recycled fabric (like The North Face Denali 2 Fleece, made from PolarTec's recycled fleece) sends a signal that the newness worth making is that which helps the environment. Then, years later – when your well-loved gear enters the ultimately-more-sustainable used clothing market – its impact is just further amplified.
In the case of techwear like Columbia's OutDry Eco line, that's real potential. 27 upcycled PET bottles go into each OutDry Ex Eco Down Jacket. Multiply that by Columbia's massive reach, and that's a lot of plastic plucked from the places worth preserving.
Organic Fabrics
Next, consider performance wear that's cut from a different cloth. The outdoors go-to is merino, a fine, soft sheep's wool that wicks sweat while staying dry to the touch unless soaked. Garments like Mission Workshop's Bosun Jacket represent versatile, all-seasons pieces that are, theoretically, renewable. As long as there are sheep and grass, there'll be more wool. No oil byproducts needed. While nowhere near as low impact as merino, cotton – specifically, cotton ventile – can also make for superb sustainable performance. A piece made from ventile (for example, the Tilak Odin Anorak) offers extraordinary weather resistance due to its fabric's ingenious properties. Long story short, ventile is woven in a way so that when it gets wet, the individual strands of yarn expand into each other to "block out" the elements. When it dries, the yarns contract, creating a system of dynamic breathability. Also, cotton is biodegradable and easily repaired.
Waterproof Coatings
While it may not be as visible as the face fabric, a garment's waterproof coating has a real impact on how the piece performs and the environment as a whole. The most-effective waterproof coating, "DWR," is commonly made with a long-chain fluorocarbon called "C8." C8 DWR's are very good at repelling water. Unfortunately, its by-products are also toxic (oof) and persist in the environment (yikes). Turns out something good at keeping nature out isn't the best for nature once distributed in it. Crazy, huh.
Considering how important waterproofing is to performance gear, sustainable alternatives — from both the past and the future – have gained prominence as many companies phase out C8s.
Sweden's own Fjallraven waterproofs garments by treating them with wax, an age-old process that turns hardy explorers' kit like the Greenland Jacket as hydrophobic as any modern jacket. Meanwhile, Germany's Jack Wolfskin has pledged to remove fluorocarbons from its product line by 2020. While that may seem ambitious given DWR's widespread use, the process is already 90% complete, according to the company.
Design for Longevity
Now that the surface is understood, it's important to consider what's going on underneath. While most performance gear is fungible, some brands have distinguished themselves for designing with an eye towards long-term durability. For saving the planet, that's important: if you only ever need to buy one, you'll put less junk into the world. It may not be as sexy as a bottle recycling story, but from a lifecycle of goods perspective, buying a single bomb-proof shell will use much less factory electricity and shipping oil than a stream of replacements.
In the technical space, Arc'teryx is a diamond for the rough: priced like gemstones but as tough as it gets. The brand's flagship piece, the Alpha SV jacket, was first introduced in 1998, and it's likely that there are some OG models still in service with the outdoorsmen who bought them.
"I won't say 'own,' but I'm the custodian of my grandfather's Arc'teryx Bora 30 backpack from 1995," explains Lawson. "There's a little bit of the urethane coating wearing off in some of the pockets, but it's hard to distinguish from when it was new."
A new entrant to the "won't die on you" space is Vollebak, a UK-based clothing startup whose Kevlar-infused 100-Year Hoodie made headlines when it was released last year. While it may be a few years still for that claim to be tested by natural causes, a technical midlayer that can survive being pulled by a boating tow cable is hardy, indeed. Beyond the Buyer
Sustainable choices extend beyond the piece itself – when buying with ethics in mind, it's essential to do your homework on what else the brand in question does to support the environment. Patagonia, for example, supports the circular economy by encouraging used clothing sales through its WornWear store. Cotopaxi, a Utah-based startup, donates to a number of environmental non-profits while also producing its famous "repurposed" fabric jackets.
Notably, The North Face caught eyes last year for the launch of "Cali Wool," an apparel line which takes its name from a "carbon neutral" sheep-farming project in the brand's home state of California.
"The way that the sheep were ranched actually sequesters carbon from the atmosphere, increasing the carbon content in that soil," explains James Rogers, The North Face's Director of Sustainability. "This also improves the ability of that soil to retain water and therefore, for the ranching stage of production, we're actually making a positive impact instead of a negative impact." The output of the project is wool – already a renewable alternative fabric – yet, because of a thoughtful, pre-factory process, Cali Wool garments switch the sustainability paradigm by doing "more good" instead of "less bad," according to Rogers.
While denim is a filthy business, performance wear is just plain tricky. Plastics and coatings make effective, durable weather-resistance possible, enabling people to get outside and love the Earth. However, the very presence of those pollutants in nature is far from beneficial.
Innovators like Vollebak and Cotopaxi offer product solutions that don't just function, but look damn cool. Established brands like Arc'teryx and Patagonia offer outdoors community-approved solutions of their own. What, then, is a conscious consumer to do?
The answer may be… well, exactly that.
At a birds-eye view, unnecessary production of "fast fashion" consumption will always offset the benefits provided by a better match of people and pieces. In the possible simplest terms: efficiency is sustainable.
Counterintuitively, this is why mega-brands like The North Face and adidas may actually make the largest overall impact. They make more product, meaning economies of scale. They spend more on R&D – meaning more probing for "the next big thing." They also have the ability to amplify small changes due to their scale.
"For Fall '18, we converted all of the mesh in our trucker hats to recycled mesh," comments Rogers. "In one hat, recycled mesh is maybe not the biggest move. But, when we do that for all of them, that's what moves the needle."
There's still work to be done within the burgeoning space of sustainable performance wear, but armed with knowledge, your next gear purchase will help preserve nature for us all.
Here's everything you need to know about buying a sustainable pair of jeans.