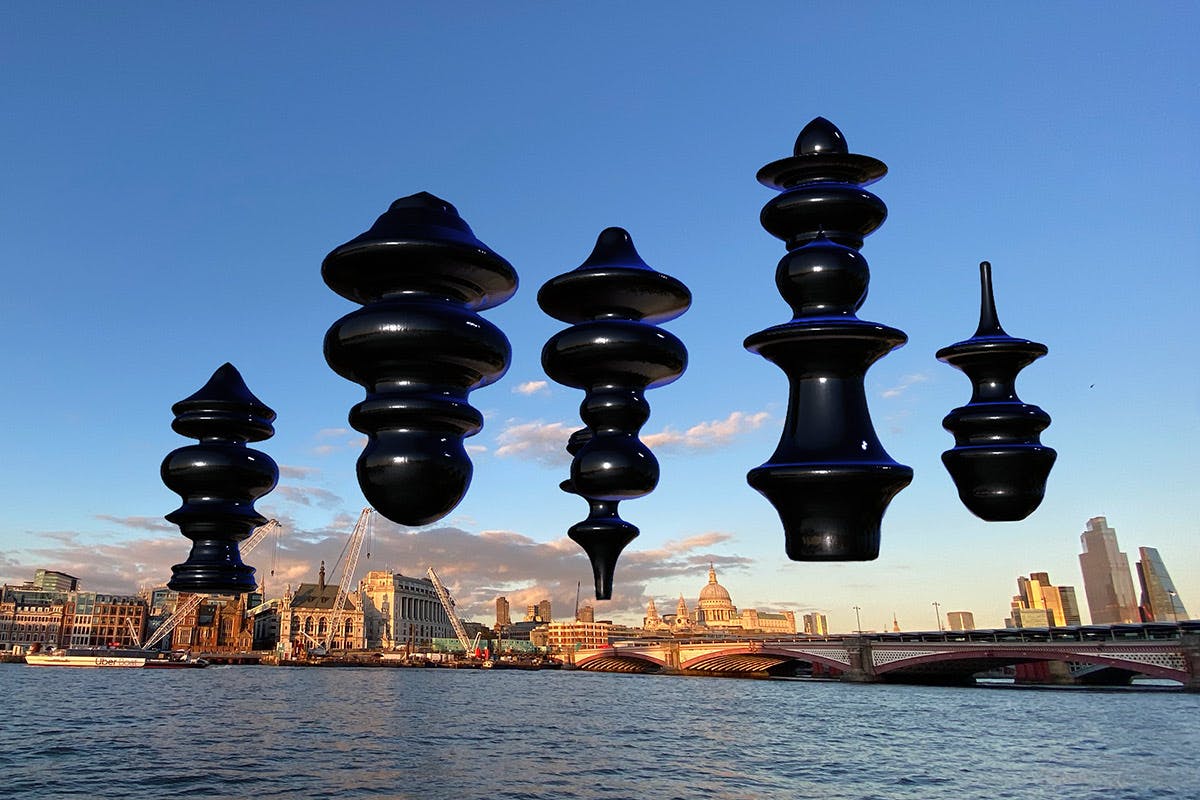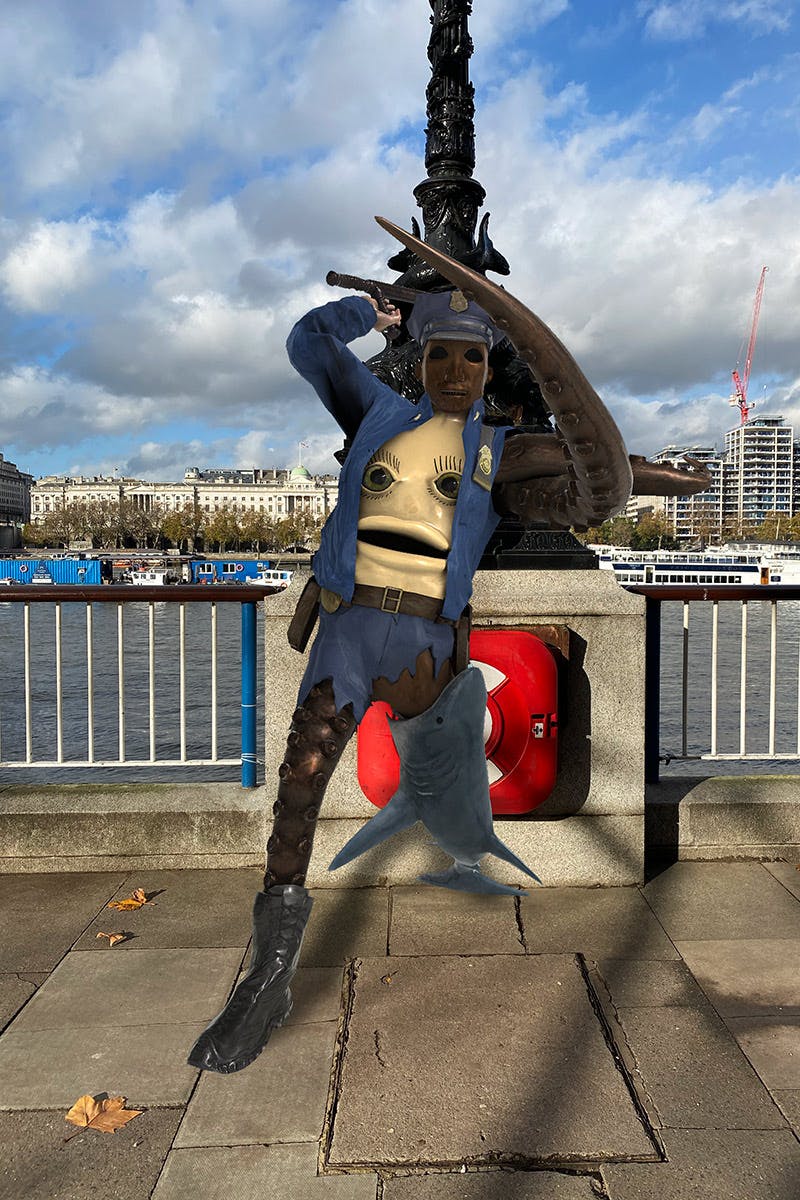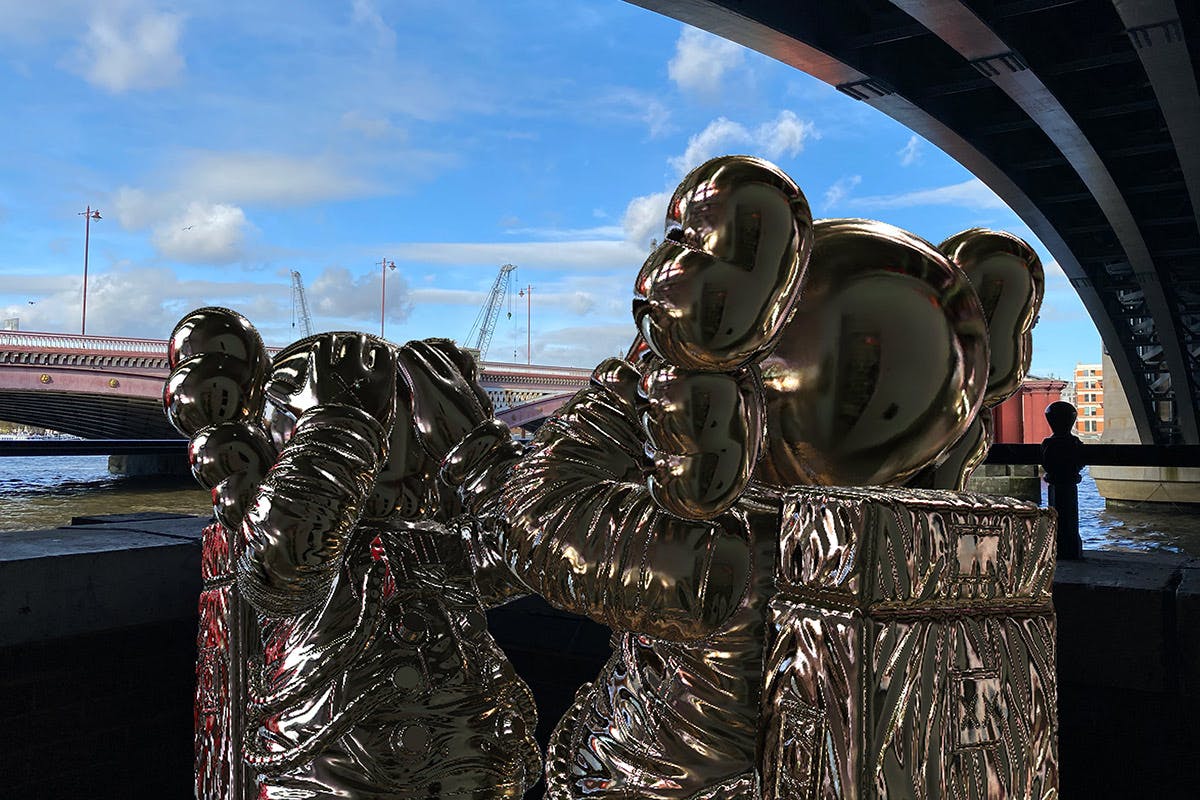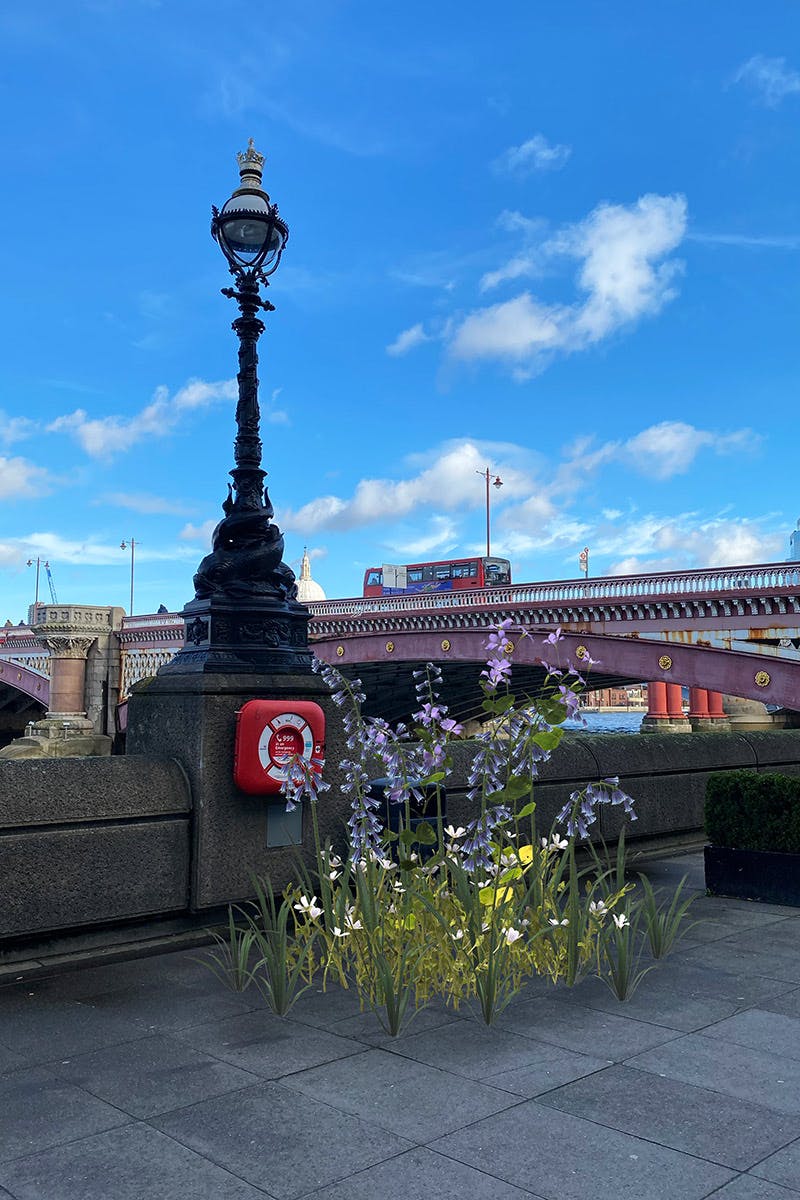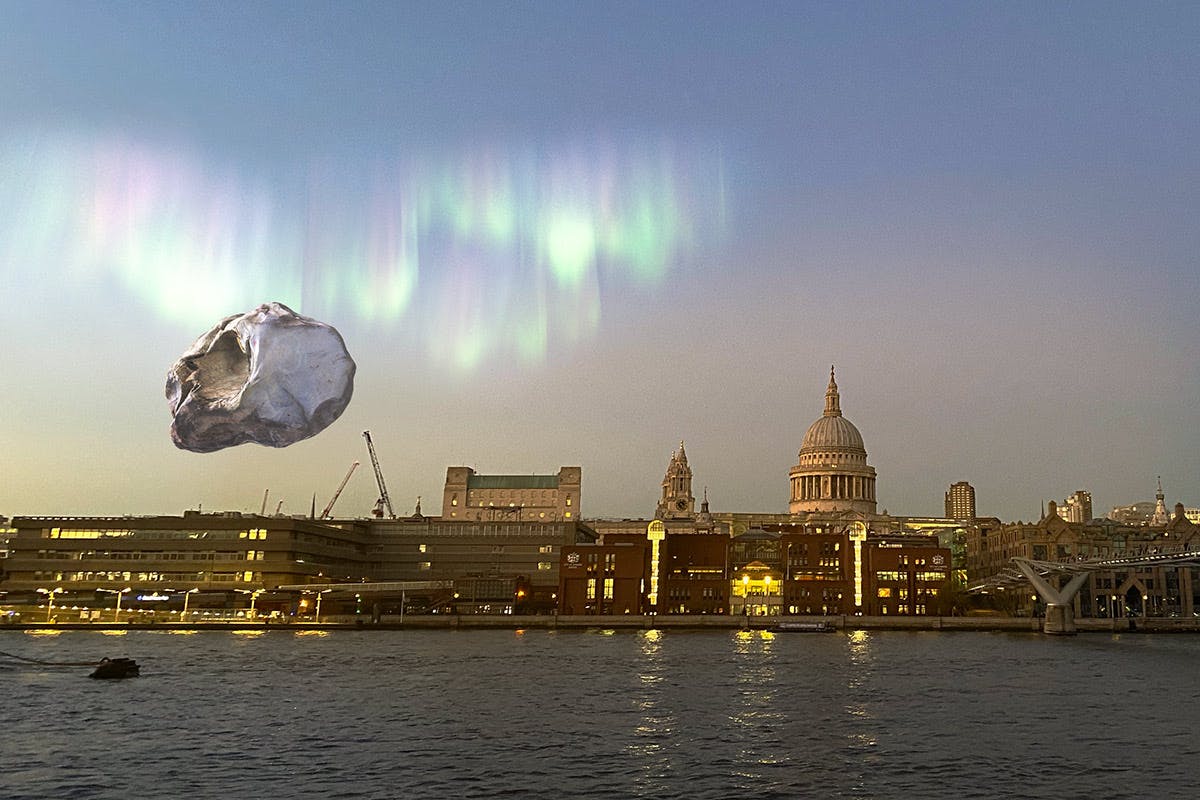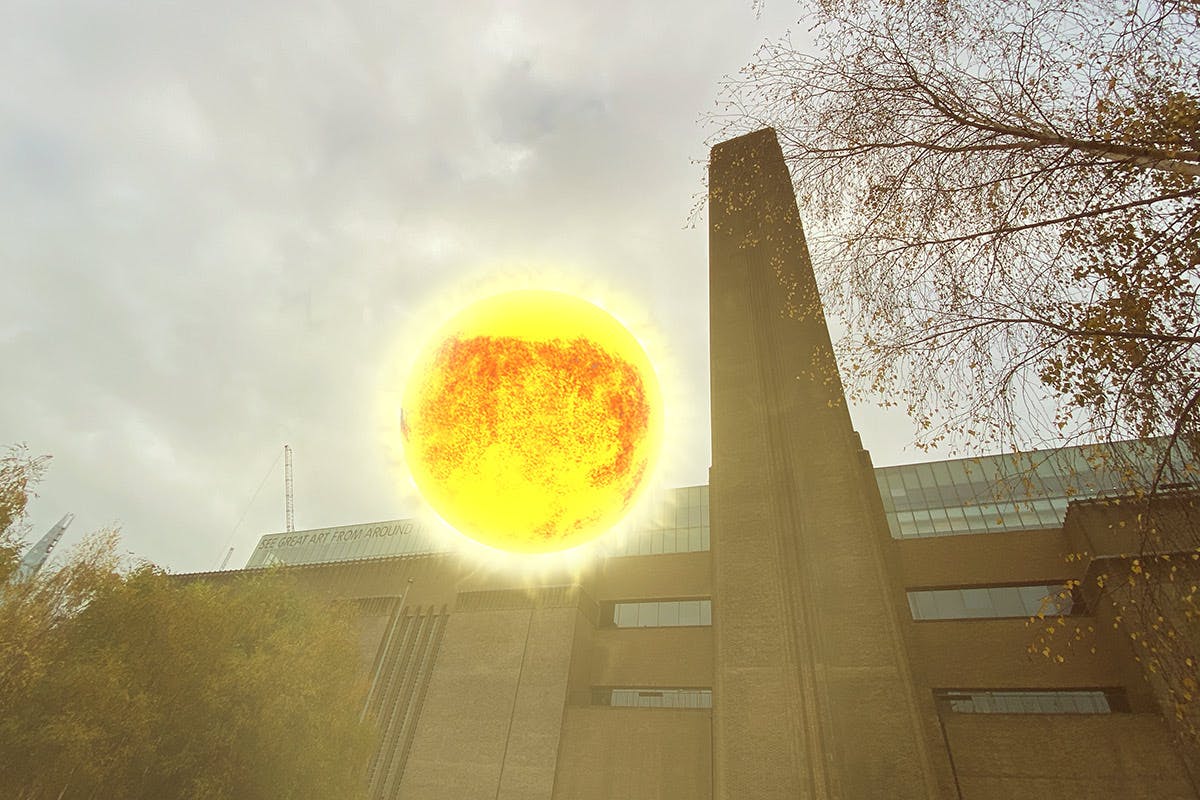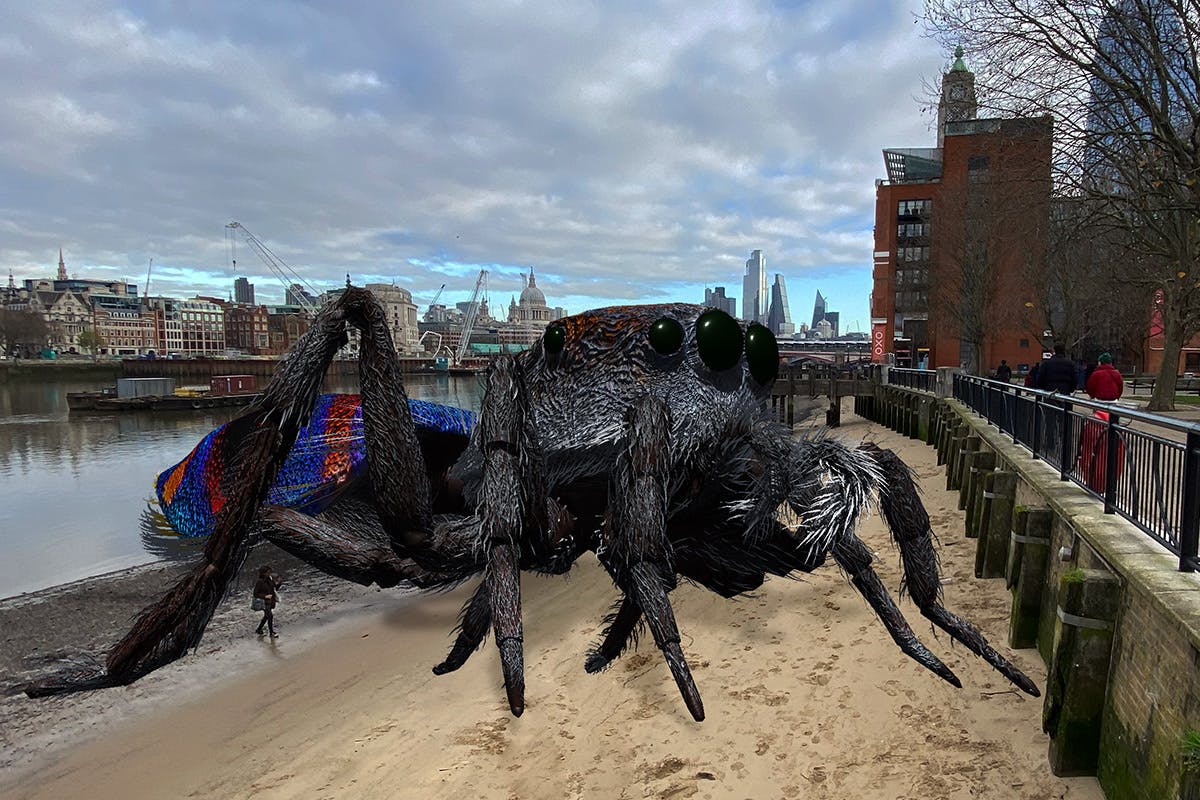 If the success and hype of Pokémon Go told us anything, it's that augmented reality is assimilating even deeper into the real world, and the technology to create fully immersive, augmented experiences is already in our pockets.
Presented by AcuteArt and Dazed Media, "UNREAL CITY" is a new AR art exhibition featuring over 36 digital artworks across London's River Thames to radically alter the way you experience the city's iconic waterfront – and it's now been extended till February with an update to view the art from your home too.
The artworks – from Nina Chanel Abney, Olafur Eliasson, Cao Fei, Alicja Kwade, Koo Jeong A, Marco Brambilla, in addition to never-seen-before works by KAWS, Darren Bader, Bjarne Melgaard, and Tomás Saraceno – are now viewable on your iPhone or iPad by downloading the Acute Art app.
Speaking to WWD, Daniel Birnbaum, artistic director of Acute Art and curator of the show says "The beauty of augmented reality means that rather than extending the site-specific show by popular demand, we can respond to interest and the new lockdown measures by bringing the exhibition to you."
Commenting on the change in how the public can experience art Olafur Eliasson says, "The current pandemic has caused immeasurable suffering and disrupted so much of our everyday existence together. This is especially true for those of us who value and take part in cultural life. Because many of the important cultural sites that we take for granted are all closed – cinemas, theatres, concert houses, clubs, museums, and stadiums – the only public spaces where we can move about safely together is outdoors, in the shared space of the city. It's important to celebrate – even now – that public space belongs to all of us and that it is, in fact, very valuable. The artwork I've created, Wunderkammer, is about looking at your surroundings anew. Use it to explore our shared public spaces and add to them an element of the unexpected."
Meanwhile, American artist and Dior collaborator KAWS comments on how the evolution into AR feels like a natural progression for his work. "I hope people see this show as a turning point of how exhibitions can be experienced. You witness it, you walk around it, interacting with the works in a way that gets into your mind and becomes part of your memory. It's much more than looking at a picture. I'm comfortable with ephemeral works just from doing graffiti which would sometimes last for a few hours or a few months and then you're left with the photographs so this seems full circle for me."
Check out the video below for the vibe.