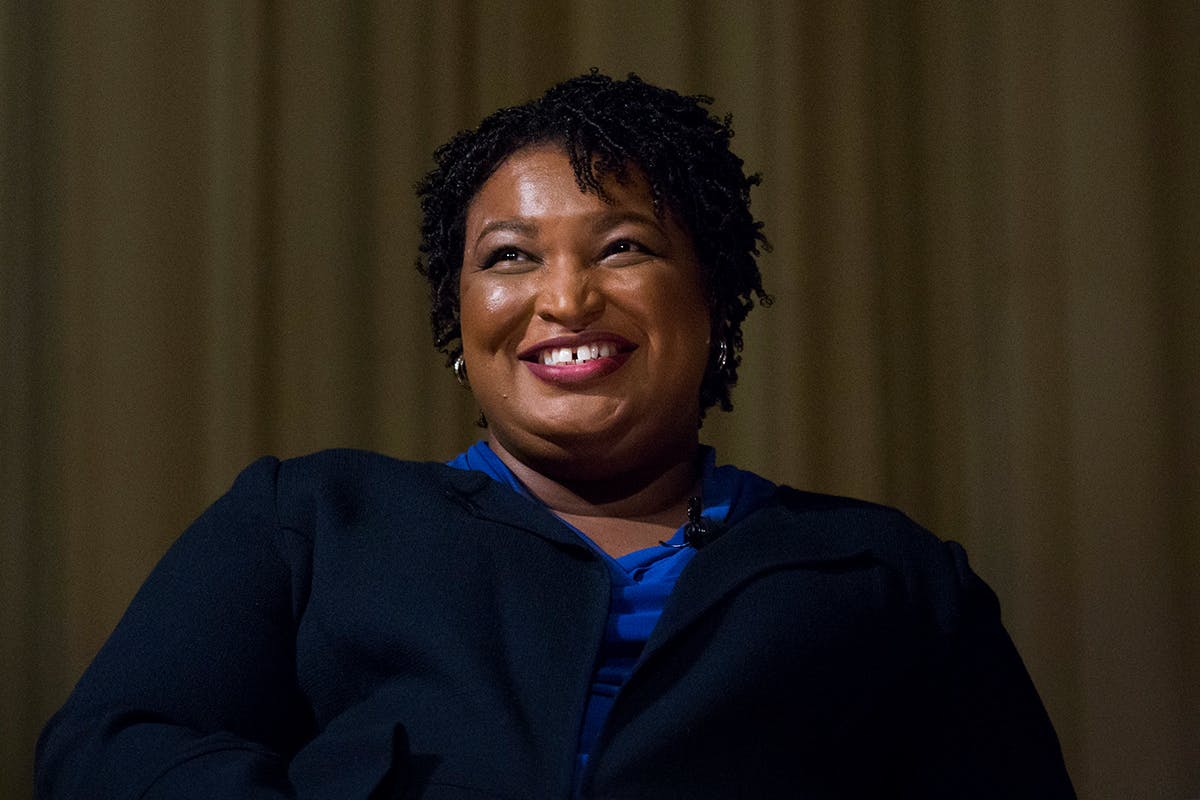 The US state of Georgia, historically a stronghold of the Republican Party, has delivered a crucial victory for the Democratic Party. Spurred by progressive grassroots leaders that were largely led by Black women, the democrats effectively flipped the senate in Georgia. It's a win that would not have been possible without Stacey Abrams and all the unsung bottom-up leaders she has worked with over the years.
Georgia was the final battleground for an aggrieved Donald Trump, and for the first time since 2009, Democrats took control of the senate with two Georgia victories. Following a historic turnout, Democrats Rev. Raphael Warnock and Jon Ossoff just won Senate seats, too. Warnock has made history as the first Black senator of Georgia.
It was progressives, America's youth, and grassroots candidates that rallied to get the presidential election in the bag for Joe Biden in November. 2020 saw a 10 percent increase in youth voter turnout, with particularly high engagement in key battleground states. Biden reportedly had the support of more than 60 percent of people aged 18-29 across the country. Vitally, he had the support of 86 percent of Black youth, 82 percent of Asian youth, and 73 percent of Latino youth — percentages that made a mammoth difference in states like Georgia, where 53 percent of people in that aforementioned age bracket are people of color.
That big increase in voter turnout was largely in thanks to grassroots efforts put in place by people like Abrams and her team.
Abrams ran for governor of Georgia against Brian Kemp in 2018. She lost, citing voter suppression, but rather than giving up she spent the last two-plus years putting together a team that aimed to address the questions: Why is it that so many Americans still cannot access the ballot box? Why does that still particularly affect people of color? And why is that problem getting worse?
In response, she set up Fair Fight, an organization dedicated to training voter protection teams in states across the country. That, along with the New Georgia Project (another voter registration org that she set up before she ran for Governor) lead Abrams and her team to registering 800,000 new voters for this election.
To overlook individual efforts like this and rather pile them into one over-arching victory banner is to overlook the massive part progressive grassroots candidates played in physically (or postally) getting Gen-Z to the polls. It's also insulting. But alas, when Democrats lost a number of key seats during the ballot count, fingers began pointing inside their own party. Some Democratic House members began blaming the party's left for the failure, which not only exposed internal cracks but outdated attitudes.
"Progressive policies do not hurt candidates," AOC explained in an interview with The New York Times. "Every single candidate that co-sponsored Medicare for All in a swing district kept their seat. We also know that co-sponsoring the Green New Deal was not a sinker.
"I think it's going to be really important how the party deals with this internally, and whether the party is going to be honest about doing a real post-mortem and actually digging into why they lost [in some states]. Because before we even had any data yet in a lot of these races, there was already finger-pointing that this was progressives' fault and that this was the fault of the Movement for Black Lives."
She continued, "I've already started looking into the actual functioning of these campaigns. And the thing is, I've been unseating Democrats for two years. I have been defeating Democratic Congressional Campaign Committee-run campaigns for two years. That's how I got to Congress. That's how we elected Ayanna Pressley. That's how Jamaal Bowman won. That's how Cori Bush won. And so we know about extreme vulnerabilities in how Democrats run campaigns."
Addressing these extreme vulnerabilities include dissecting the continued white support of Donald Trump, and actively working to combat it, rather than, as AOC asserts, avoid "poking the bear. That's their argument with defunding police, right? To not agitate racial resentment.
"We need to do a lot of anti-racist, deep canvassing in this country. Because if we keep losing white shares and just allowing Facebook to radicalize more and more elements of white voters and the white electorate, there's no amount of people of color and young people that you can turn out to offset that.
"This isn't even just about winning an argument. It's that if they keep going after the wrong thing, I mean, they're just setting up their own obsolescence."
There was a lot more to AOC's interview, but the message boils down to one major factor that was made excruciatingly clear during last night's attempted coup: Joe Biden's team needs to start really listening. If the Democrats stand a chance at making any sort of change in the US, at truly starting to address white supremacy, police violence, voter suppression, at the climate crisis, they have to start taking progressives seriously.