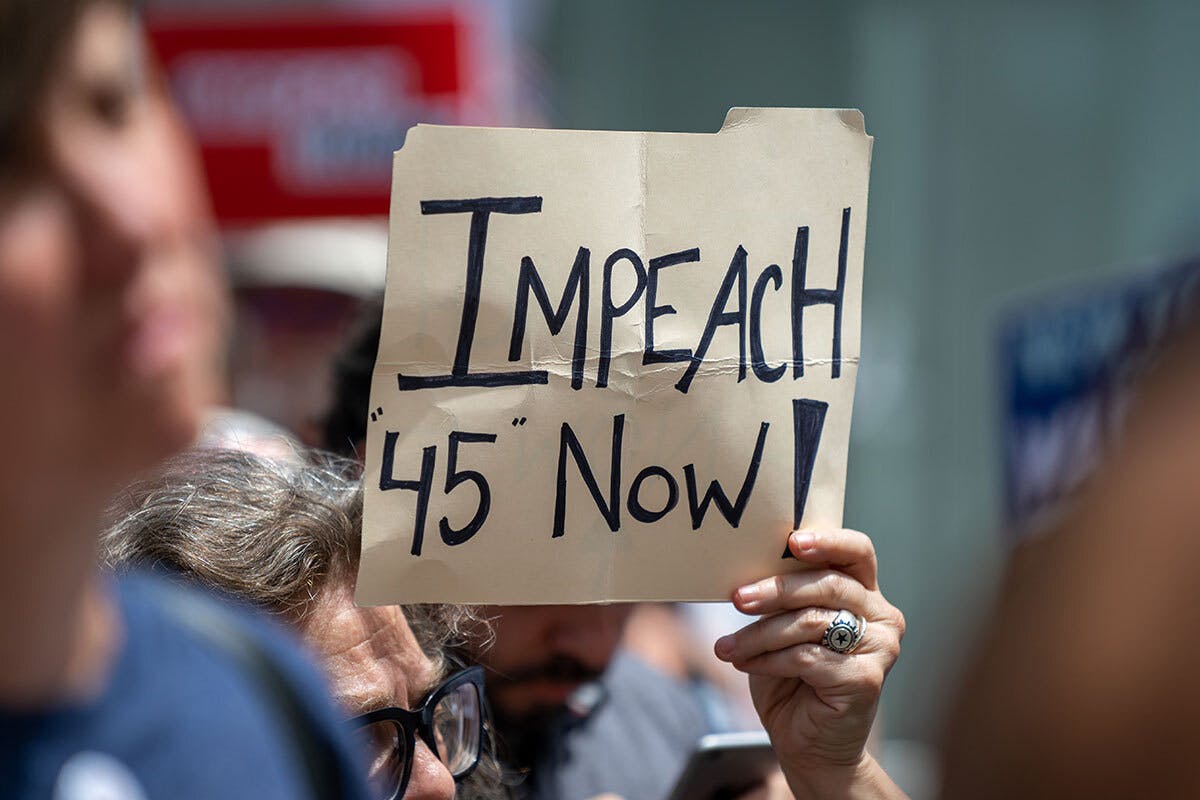 After supporters of President Trump violently stormed the government yesterday, the US Capitol is once again secured. The insurgence came after Trump urged his supporters to fight against the ceremonial counting of the electoral votes that will confirm President-elect Joe Biden's win. Following the chaos, Trump has been blocked from Facebook and Twitter.
At the end of a long day and night marked by chaos and violence in Washington, Congress certified President-elect Joe Biden and Vice President-elect Kamala Harris' victory. In a statement released just after the certification was finalized, Trump at long last acknowledged his election loss and promised "an orderly transition" on January 20.
"To those who wreaked havoc in our Capitol today, you did not win," Vice President Mike Pence said, once lawmakers reconvened. "Violence never wins. Freedom wins, and this is still the people's house."
Despite extremists' attempts to thwart the peaceful transfer of power, Biden has officially won the Presidency.
The President-elect addressed the nation as events unfolded in Washington yesterday, reiterating what we all know: This was not a "protest." This was an attempted coup. The actions of this mob have led to calls for Trump's immediate impeachment.
"At this hour, our democracy is under unprecedented assault, unlike anything we've seen in modern times," Biden said in Wilmington, Delaware. "The scenes of chaos at the Capitol do not reflect a true America, do not represent who we are. What we're seeing is a small number of extremists dedicated to lawlessness.
"I call on President Trump to go on national television now, to fulfill his oath and defend the constitution and demand an end to this siege," he concluded. "It's not a protest; it's insurrection. The world is watching."
Trump was slow to discourage the mob — reports suggest he welcomed it — and only responded after they had already besieged the building for two hours. In a social media message to his white supremacist following, he said "I love you" and then told them to go home. He also repeated false claims about election fraud.
"I know your pain, I know your hurt. We had an election that was stolen from us. It was a landslide election, and everyone knows it, especially the other side," he said. "But you have to go home now. We have to have peace. We have to have law and order."
Here's what happened in Washington yesterday.
Shortly after 1 p.m. ET Wednesday hundreds of pro-Trump protesters (many of them armed) pushed past officers in full riot gear into the Capitol. The group made their way into the Capitol building after grappling with officers, eventually causing the House floor to be evacuated.
Then for several hours, the mob laid siege to the Senate floor and the House of Representatives in what is regarded as one of the gravest security lapses in recent U.S. history.
It took until roughly 5:40 p.m. ET for the building to once again be secured. Four people died during the storming of the building, according to DC police — Trump supporter who was shot by a Capitol Police officer, and three others who died of "medical complications." No members of congress were hurt.
While 52 arrests have been made thus far, of these 47 were in response to rioters violating DC's 6 p.m. curfew. In the aftermath of events, law enforcement also recovered two pipe bombs from the headquarters of the Republican and Democratic national committees, as well as a cooler from a vehicle on U.S. Capitol grounds that contained Molotov cocktails.
We, and many others, have noticed the devastatingly vast contrast in the law enforcement's response to yesterday's events. Representatives from the Black Lives Matter movement attested to this earlier today on Twitter. "When Black people protest for our lives, we are met by National Guard troops or police equipped with assault rifles, tear gas, and battle helmets. When white people attempt a coup, they are met by an underwhelming number of law enforcement personnel who act powerless to intervene."
For reference, there were 14,000+ arrests at the George Floyd protests, among the multitude of injuries and fatalities sustained by way of tear gas, rubber bullets, firearms, brute force, and more.