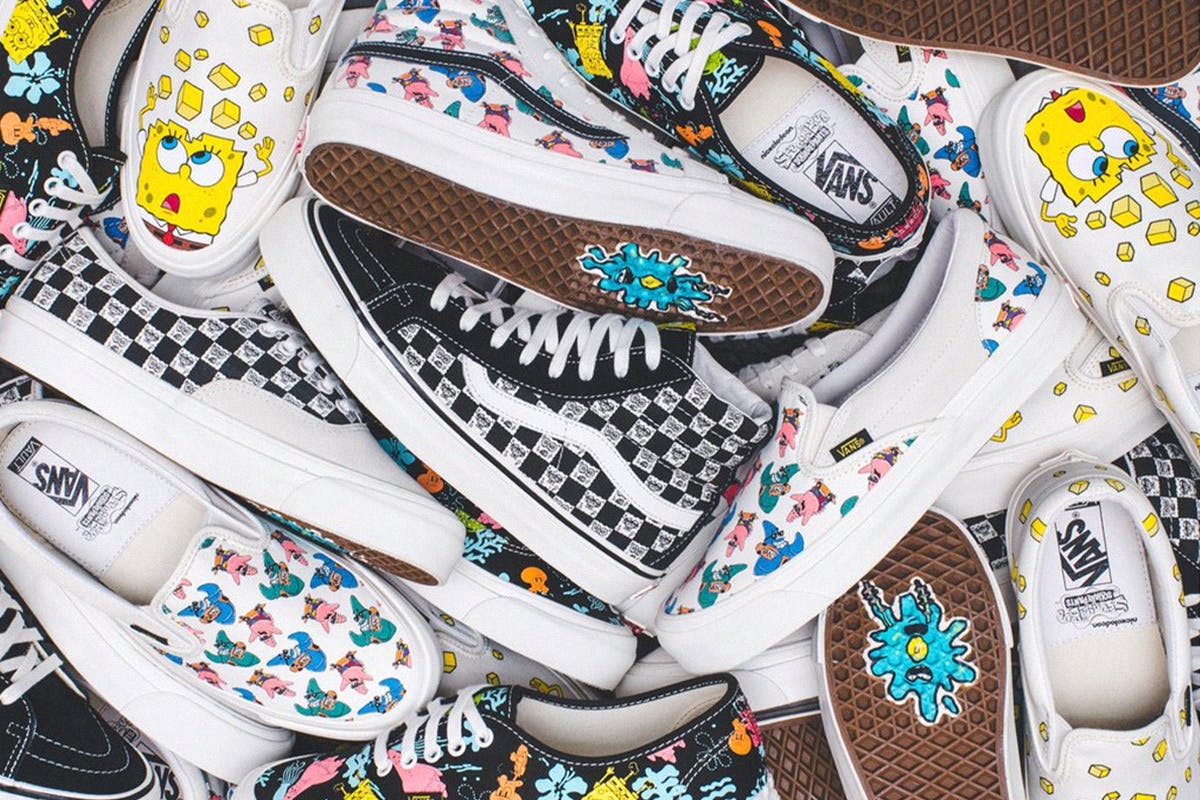 Most sneaker brands have a founding myth — the Nike waffle iron, the adidas Olympic spikes. From these improbable stories come the totems of our time.
And then there's Vans.
In a small California workshop, two brothers with a passion for skating laid the foundation for what has become a pillar of youth culture. Vans shoes aren't just desirable — they're authentic. And more impressively, authentically everywhere. From skate parks to mosh pits to colette Paris, Vans — both the shoes and the brand — simply belongs.
And that belonging puts shoes on feet.
From 2010 to 2014, Vans' business grew by double digits annually. Only a decade earlier, the first name in skate shoes was looking tired and losing millions annually. But by the eve of its 50th anniversary in 2016, a year without rapacious growth was the exception.
In a time of "experiences, not goods," Vans (up 39% last quarter, FYI) is the story of the era. In a sneaker market based on imitation, that sort of success story breeds competition. In a "retro lifestyle" age marked by a resurgent Converse and a burgeoning direct-to-consumer luxury space, an important question emerges:
Can anyone catch Vans?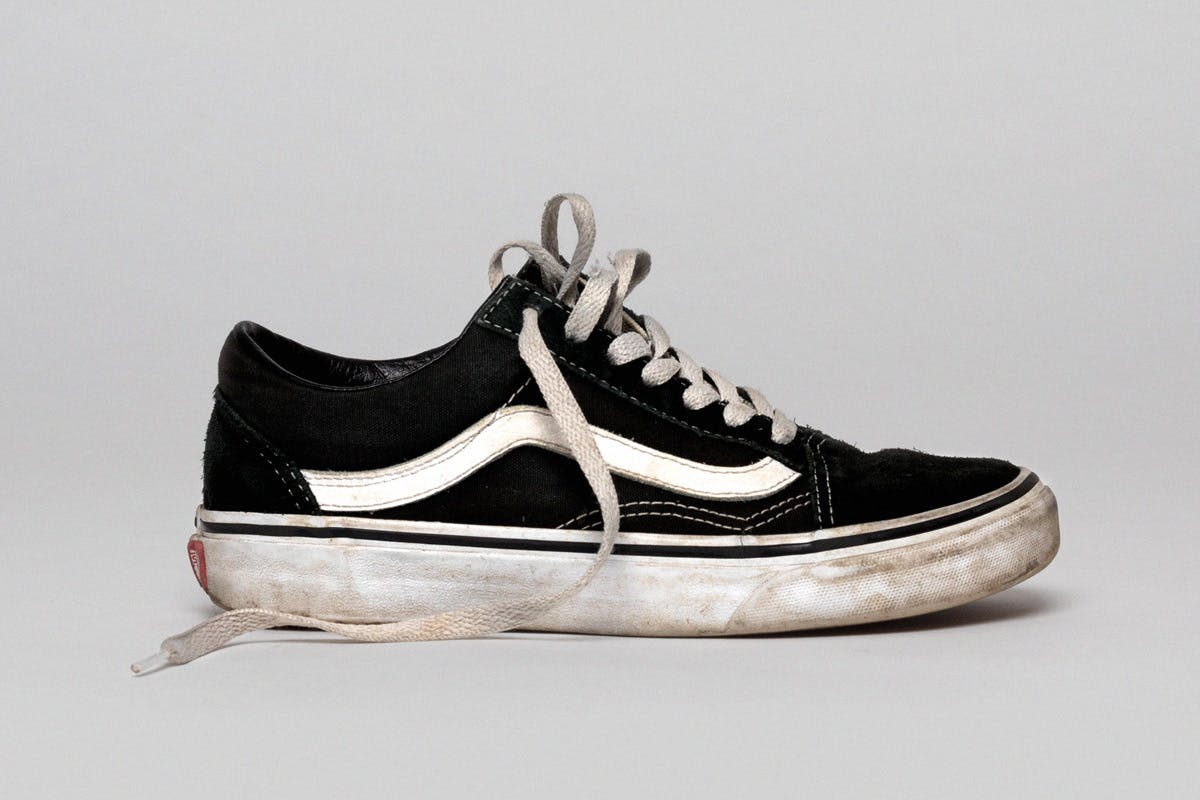 Fast Times
First, some history.
The Van Doren Rubber Company opened its doors March 16, 1966. Fifty years before "direct-to-consumer" became a buzzword, Van Doren brothers Paul and Jim, and business partners Gordon Lee and Serge D'Elia, launched their Anaheim, California shop on the premise that shoppers could order custom shoes in the morning and then pick them up in the afternoon. On Van Doren's first day, 12 customers did exactly that.
Over the next decade, shoes made by the "House of Vans" spread through California. Skaters dug the vulcanized waffle soles. They also dug the design freedom that comes with making custom shoes. Propelled by a booming SoCal skate scene, the company grew. While Van Doren had launched with just one style, the Vans #44 Deck Shoe, now known as the "Authentic", by 1978, the Old Skool, Classic Slip-On, Sk8-Hi, and Era had all joined the party. The core of the line assembled just in time for the brand's first mass-culture moment: A starring role on the feet of lovable stoner Jeff Spicoli (played by Sean Penn) in classic teen movie Fast Times at Ridgemont High.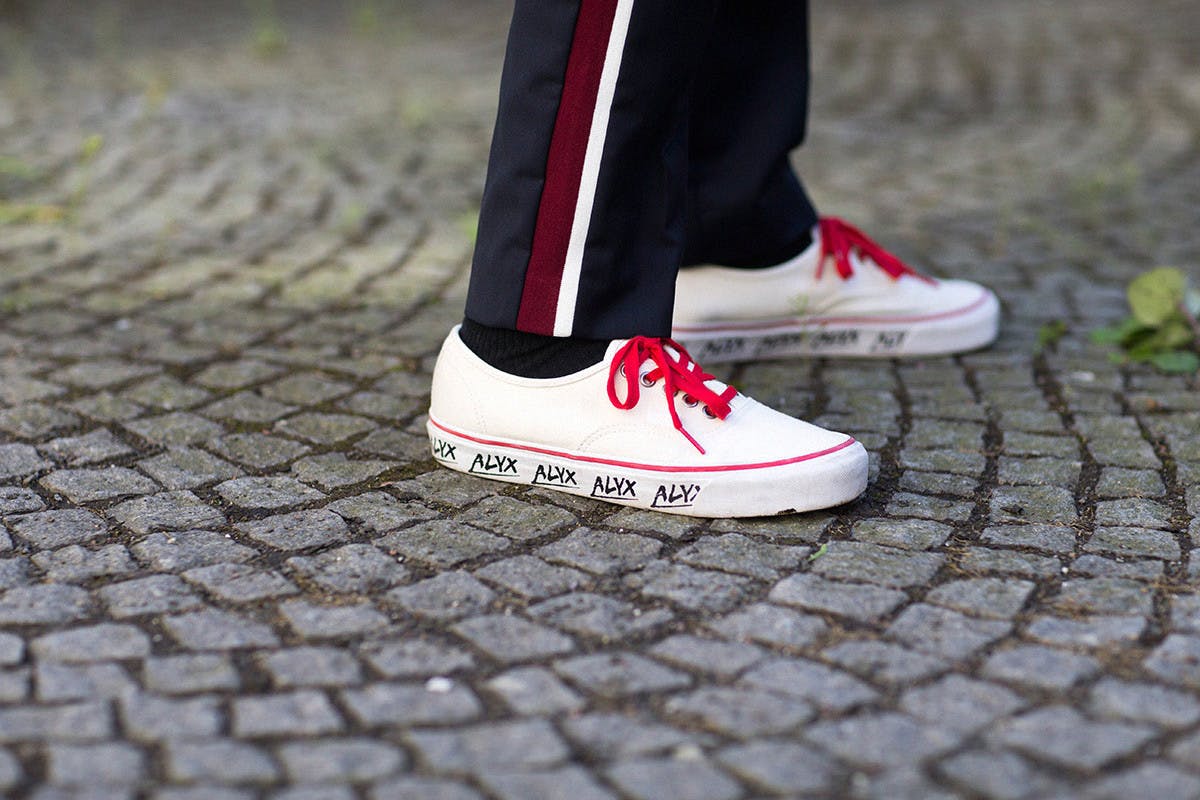 With Hollywood on its side, Vans took off. But it didn't quite stomp the landing.
In 1984, with total debts of $12 million, the Van Doren Rubber Company filed for bankruptcy. The company was forced into reorganization, with Jim Van Doren stepping down as president. Paul Van Doren continued as chairman and CEO, becoming president shortly afterward. Costs were slashed, with employees informed their pay would be frozen for three years. The only thing that wouldn't suffer would be the quality of the shoes. After three years, Vans emerged from bankruptcy, and in 1988, it was bought for $70 million by venture capital firm McCown De Leeuw & Company.
One has to wonder what Jeff Spicoli would think about a leveraged buyout.
Vans went public in 1991, sponsored its first Warped Tour in 1995, and dropped its inaugural collaboration with a little-known New York skate shop just a year later. Olympians even won medals in Vans snow gear. In the background, sales grew at a steady clip. Its combination of business success and cultural footprint led Vans to be named by Forbes as one of "America's Best Small Companies for 2000." As far as omens go, there are worse ways to start a new millennium.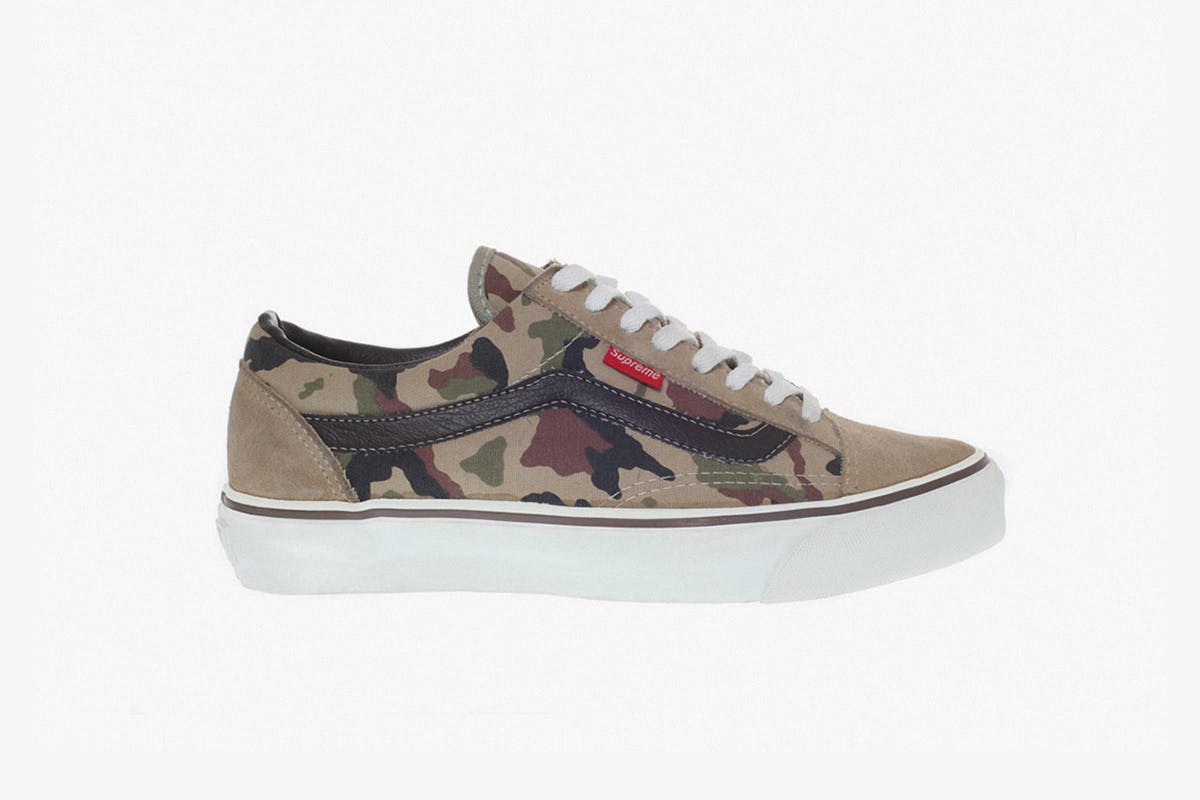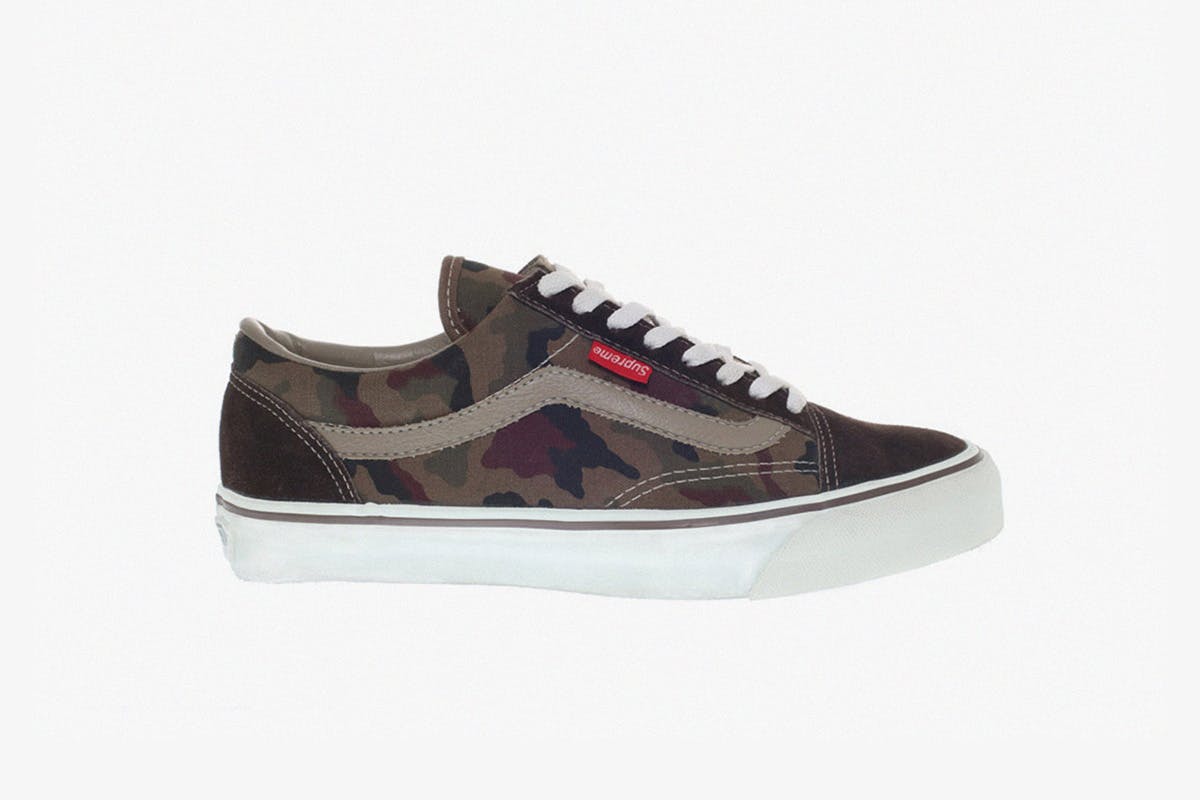 Only four years later, however, Vans was back in hot water. Distractions and success had led to corporate bloat. Instead of focusing on core products, Vans executives had chased design trends, brokered entertainment deals, and even paid $5.2 million for a 70 percent stake in Warped Tour. The result: undifferentiated shoes and costly liabilities. By 2003, Vans was losing $30 million a year with no immediate fix in sight.
And then along came VF Corporation.
Lords of Dogtown
On Tuesday, April 27, 2004, VF Corporation bought Vans for $396 million.
"VF is buying a tired brand that still has a strong niche position," commented Michael Pachter, an LA-based securities analyst speaking to the Los Angeles Times when the deal was announced. Just like in 1988, an outside buyer recognized the potential of the Vans brand. But this time, the turnaround would stick.
Aided by hindsight, it's tempting to ascribe Vans' post-VF success to some grandiose pre-meditated strategy. That narrative would indeed write itself: titan poaches upstart, spreadsheets get involved, the guys in suits knowingly trade authenticity for dollar signs.
Instead, the Vans turnaround strategy was disciplined in its irrationality. The guiding mantra: grow the business — but for the love of Steve, keep it authentic.
First came a focus on product. Rian Pozzebon, now Vans' Head of Footwear Design, joined the company in 2002. The story of his job interview — when Pozzebon, a SoCal native, asked if he and his design partner Jon Warren could "mess with all the classic stuff" — is the stuff of industry legend.
Pozzebon had grown up skating in the San Gabriel Valley, watching legends such as Jeff Grosso and Ben Schroeder surf streets in the Vans of yore. The shoes the company made when he joined, by comparison, were puffy, grotesque, and not really Vans so much as rebranded etnies.
"I certainly wasn't alone," Pozzebon tells Highsnobiety. "It was an easy, digestible thing to refocus the brand." By the time of the VF acquisition, Pozzebon and Warren had planned a retro re-launch under the line name "Skate Originals." Both had come from other skate brands and, in Pozzebon's words, sought to bring a bit of the "history of skateboarding, on the design side, back into Vans."
"We rebuilt these classic shoes to the closest specifications of the original, U.S.A.-made shoes. We brought back the Half Cab in its old shape, with the old woven label on the side. But to be totally honest, that collection I think went over everybody's heads."
While the initial line fizzled, Pozzebon and Warren stayed tenacious. Pozzebon again: "At the time, everyone wanted puffy skate shoes. The first thing we did in our lives as skateboarders was go the other way, so retro shoes made sense to us as L.A. kids. But it ended up taking us a few years."
The upshot of Pozzebon and his team's persistence is the fact that today it's hard to find someone who wouldn't rock a pair.
The Rubber Company
Vans is essentially making the Ford Model T of sneakers. To paraphrase Kevin Bailey, VF Corporation group president for the Asia-Pacific region, the Vans brand has always been about quality, affordable shoes. This is not so different to Henry Ford's vision for his revolutionary, world-shifting car: "It [the Model T] will be constructed of the best materials, by the best men to be hired, after the simplest designs that modern engineering can devise."
Shoes such as the Authentic and the Slip-On are archetypal silhouettes: the deck shoe (aka "plimsoll") has been around since the 1830s, while Chelsea boots — a precursor to today's elasticized sneaks — were patented in 1851. They're standard designs, but in Vans' case, they're made well and branded better.
They're also, like the Model T, priced "for the great multitude."
In 2017, the average price of a sneaker sold in the US was $58.16. Sure, this is skewed by the inclusion of $100+ performance shoes, but considering that 75 percent of athletic shoes sold in the U.S. are not used for their intended athletic purpose, it's a decent proxy for what America, the world's largest sportswear market, spends to lace up. (For the pedants, the National Sporting Goods Association quotes an average price in 2016 of $53.97, with their analysis including "gym shoes/sneakers/fashion sneakers.")
Vans' top-selling models, the Authentic ($50) and the Old Skool ($60), hover around this sweet spot. The other three cores of Vans' Classics range — the Slip-On ($50), Sk8-Hi ($65), and Era ($50) — are right there with them. As a whole, Vans footwear was up a whopping 39 percent last quarter.
"Vans has really taken over downtown in the past couple of years," says John McPheters, CEO and co-founder of New York-based consignment shop Stadium Goods. "Whether they are working with Supreme, or SpongeBob SquarePants, or putting out their own unique designs, Vans always feels incredibly authentic. That definitely resonates with our customers."
Pricing-wise, Vans sits at the top of the bell curve, accessible to all yet still desired. That's no small feat.
That desirability's responsibility falls on folks such as Nicholas Street, Vans' vice president of global integrated marketing. Born to British and German parents, Street grew up skating in Frankfurt at a time when skateboards, let alone skate shoes, were essentially brand new. He once convinced his family to move their annual vacation to the U.S. so he could come home with a pair of Sk8-His.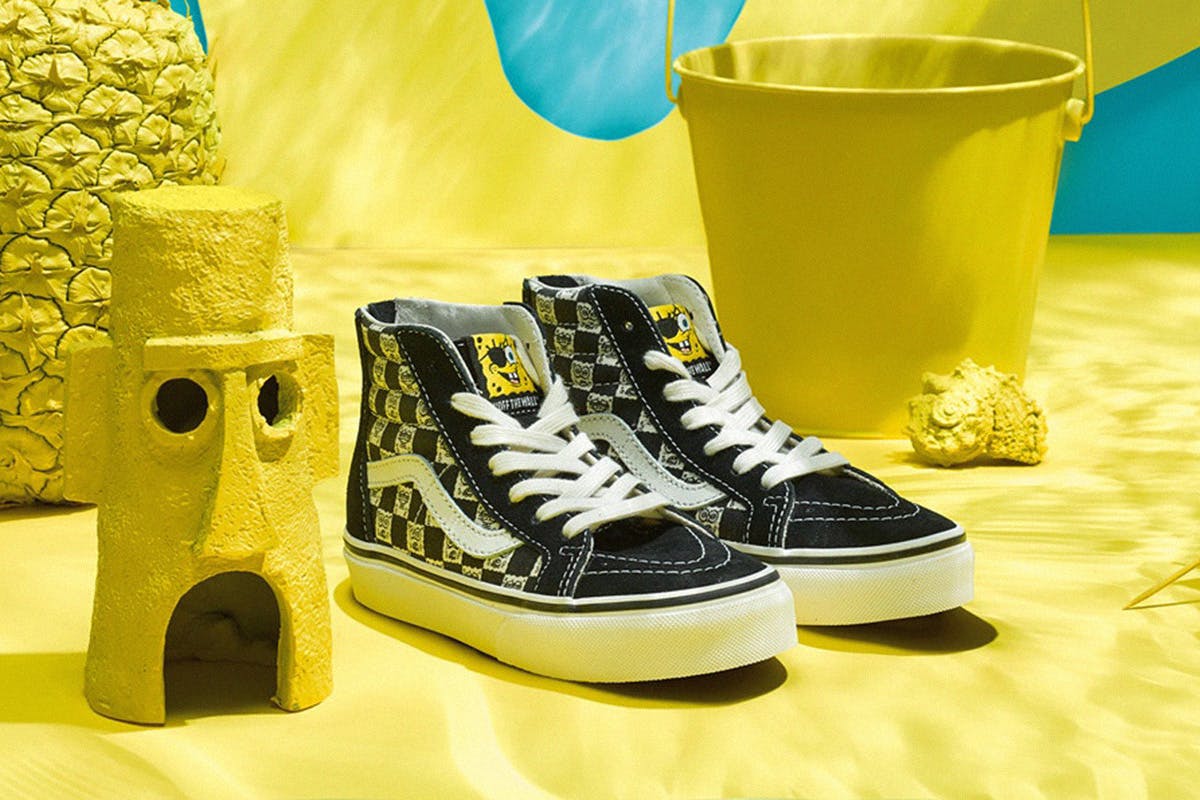 If anyone understands the emotions made possible by a pair of Vans, it's him.
Unlike the Model T, Vans sneakers aren't "any color so long as it is black." They are, to quote Street, "a canvas for expression." And that's not just a talk track.
"It's actually pretty amazing, the variety of colorways, materials, and collaborations that they have done on a few silhouettes," says José Villanueva, co-owner of Chicago boutique Notre, speaking to Highsnobiety. "There are definitely people that have their one silhouette and buy it in new fabrics consistently."
After the 2004 acquisition, Vans defined a new target customer, the "expressive creator," and set out to engage with them. As "expressive creators" voiced their opinions, Vans would evolve alongside them.
"We have a tremendous freedom when working with Vans, not only from a creative approach but more so with the consumer base," says Deon Point, creative director of sneaker boutique Concepts. Vans x Concepts collaborations often tell edgy, hyper-localized stories that other shoemakers might not greenlight. "People that give the brand a chance become loyalists."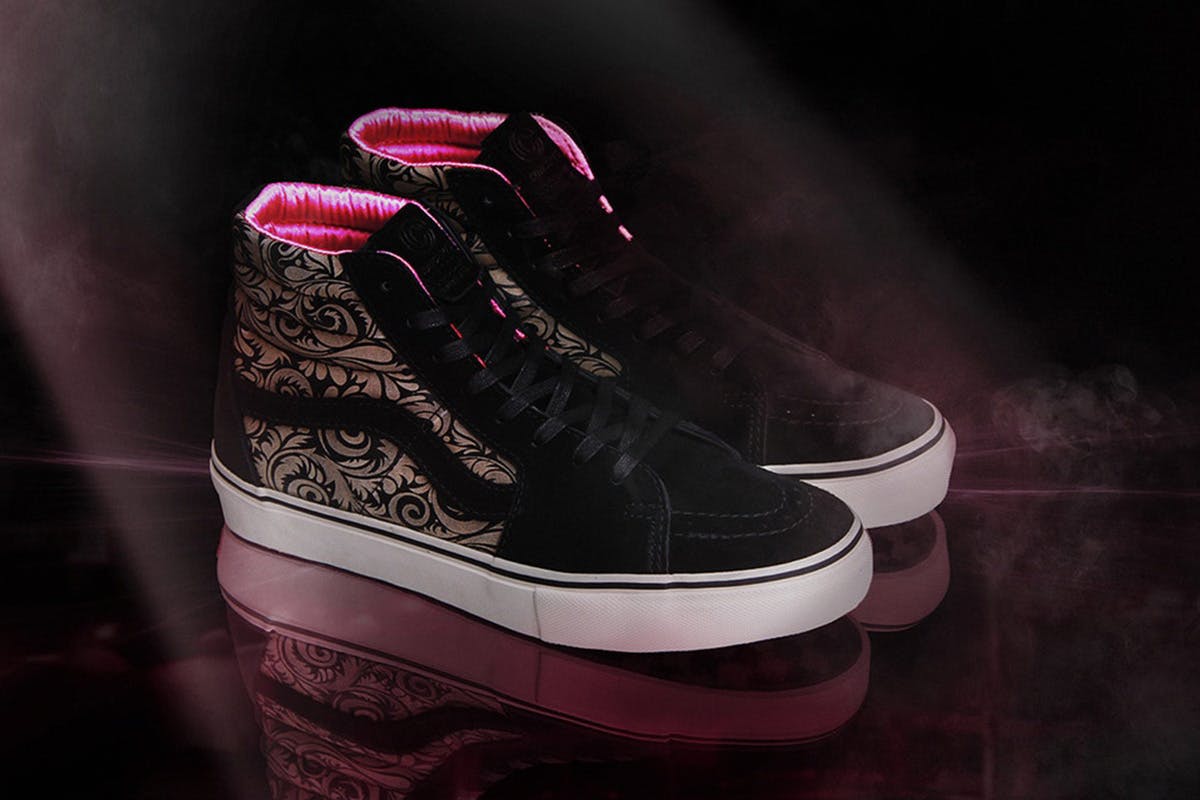 A central part of that evolution was the gradual shift of the brand's core from action sports to street culture. On paper, it's a semantic subtlety; after all, action sports — alongside music, art, and street fashion — are an integral part of street culture. Yet, 14 years later, this shift became the foundation of an empire.
Through this new lens of engaging "expressives," Vans began to segment its product to meet creators where they were. In 2005, Vans launched Syndicate, a line of skate-shop exclusives meant to win back Dunk-crazed skaters. That same year, Vans supercharged the high-end Vault by Vans line, starting with a Marc Jacobs collaboration. Beneath the nameplates, distribution was fine-tuned to ensure creators everywhere from big box stores to indie boutiques could get the product they were looking for. And when they didn't, they went ahead and expressed themselves, and someone in California would continue with the fine-tuning.
"The very first Vans store sold direct-to-consumer," comments Street. "From the beginning, it was a different way of thinking. What you see today is very much a result of us living in the moment."
From the marketing side, the same disciplined irrationality that brought back the Originals rules over how shoes are sold. The net result is a brand that can put out $50 shoes at Zumiez, $60 Old Skools at Urban Outfitters, $95 Slip-On LXs at END., $175 artist collaborations at Notre, and an Era 95 x Fear of God that now resells for close to $1000 and all the while still feel authentic.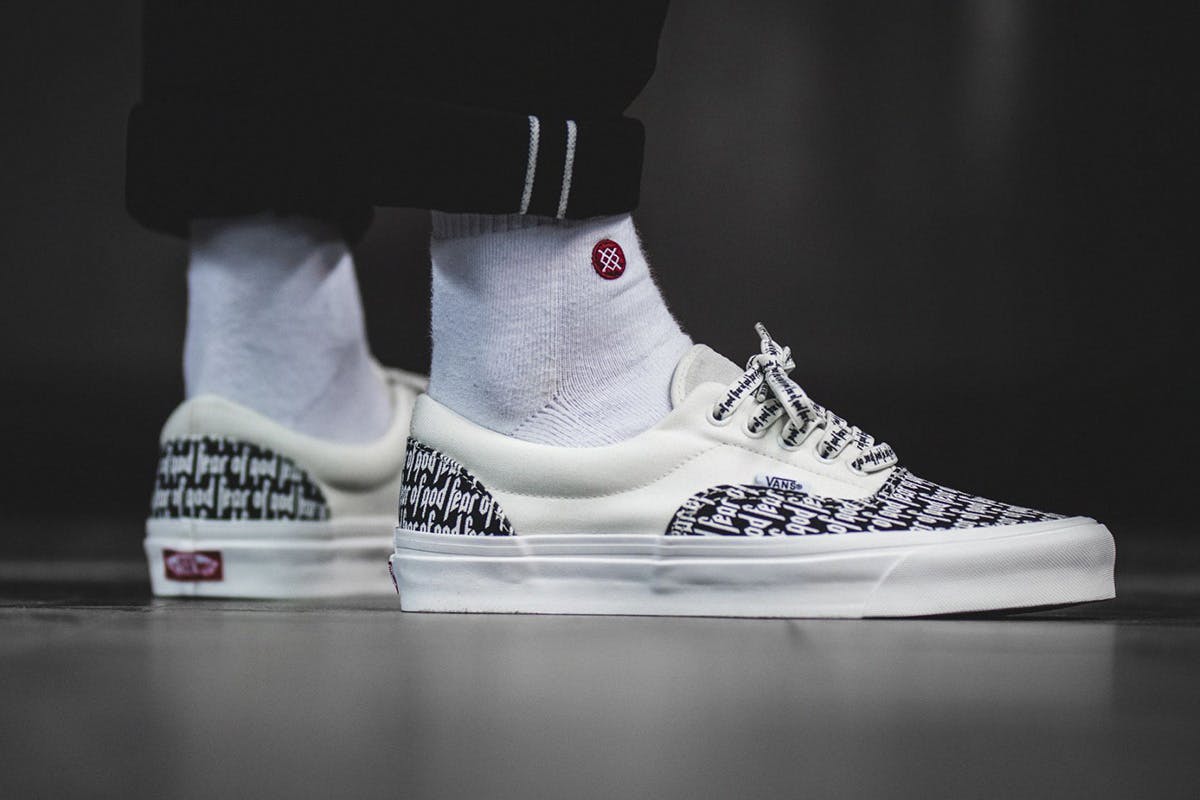 "It was truly an honor to have Today selected as a Vault by Vans dealer," says Eric Hardin, owner of Today Clothing, a Michigan boutique stocking labels such as A.P.C. and Snow Peak. High-end collaborations such as Vans x Our Legacy often overlap with labels Today carries — $400 Diemme sneakers can sit happily alongside $60 Authentics.
That's not just impressive — that's off the wall.
Riding the Waves
That said, it's not as if Vans is the only retro sneaker brand doing well these days.
After years of North American troubles, adidas is surging, due in no small part to the success of the Stan Smith and the Superstar. Converse — the embattled Malden, Massachusetts shoemaker, the Biggie to Vans' Tupac — is even back in the spotlight, with headline-grabbing launches for both hypebeasts (OFF-WHITE) and the mass market (GOLF le FLEUR*). There's also the proliferation of "retro-inspired" shoe start-ups, all recent entrants that sensed a business opportunity in upscaling popular silhouettes into mid-price luxury.
"I think Converse is more up to date on how to 'wow' the next-generation consumers," comments Erik Fagerlind, CEO of Stockholm-based retailer Sneakersnstuff. The retailer, known globally for its creative collaborations, worked with Converse on a special-edition One Star earlier this year.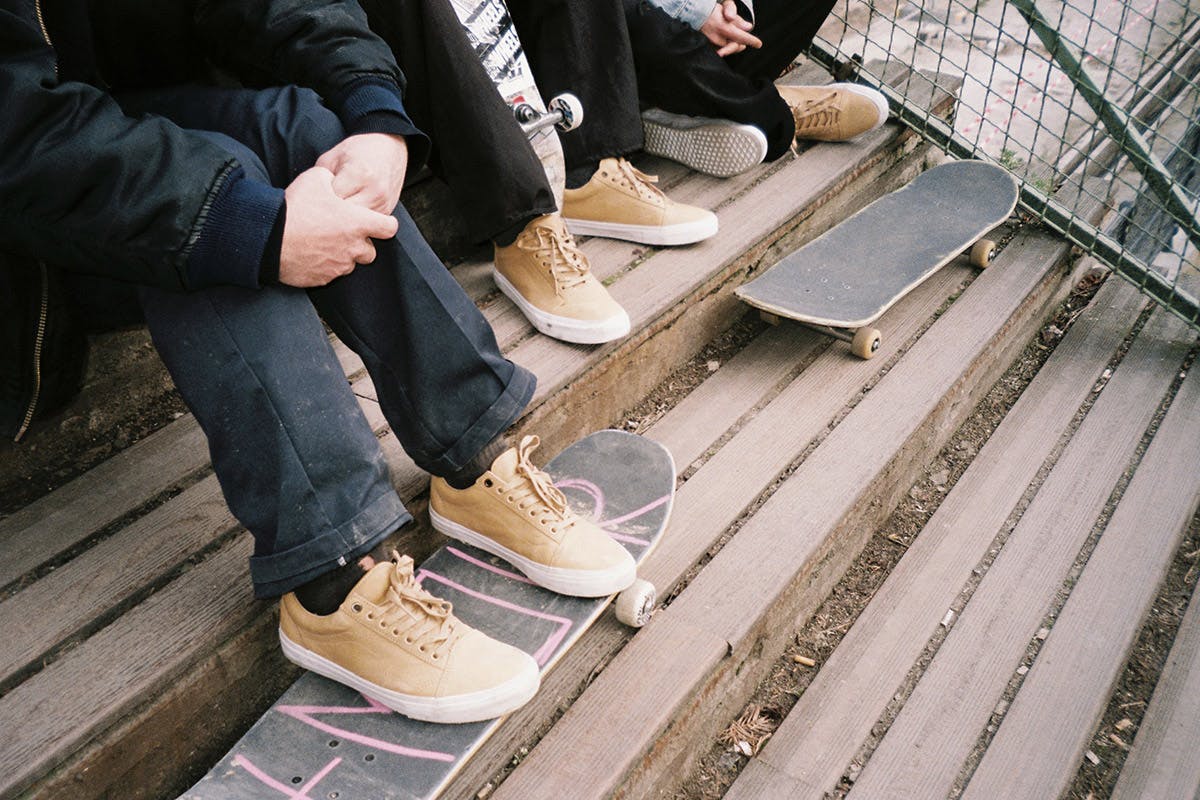 The classics category as a whole grew at "a stifling pace" over the past few years, and still Matt Powell, senior industry analyst for sports at market researcher NPD Group, predicts that "the sport lifestyle sneaker category will be the primary growth vehicle for 2018." Even a novice sailor will tell you a rising tide lifts all boats.
Yet while some are lifted by the tide, Vans surfs it.
On the one hand, there's the price. In the "classics" realm (think: anything the internet might call a "Common Projects alternative"), Vans beats its closest competitors across the entire range. For slimmer shoes, it's the $50 Authentic against a $50 Chuck Taylor or $75 Stan Smith. For more padded silhouettes, it's the $60 Old Skool versus the $70 One Star or $80 Superstar.
"I have not seen much success for One Star," Powell tells Highsnobiety via email. "Retailers do not see the rationale behind the higher price."
If it's a choice between an equivalent shoe or an equivalent shoe and a burrito, it's not hard to see Vans' advantage.
On the other hand, there's the depth of the archive. With five headline silhouettes, Vans is just less exposed to trend-shifts. Converse and adidas, meanwhile, have at most three mass-market retro franchises each. While this seems like petty tallying, it's actually quite important. Fashion is fickle; trends burn out because they're successful, or sometimes, for no reason at all. A deep and consistently communicated archive means a more robust company.
If Stan Smith and/or Superstar sales start to slow, adidas could face problems. Meanwhile, if the Old Skool is declared passé, Vans can shift resources towards the Sk8-Hi, or the Slip-On, or the… you get the point.
Such advantages are baked in. Last year, Converse revenue grew 6 percent to just over $2 billion, but its profits have declined for the last two years. The year prior, profit levels fell by 6%. A favorable environment might have lifted Vans further, but by all accounts, the company was already riding high.
"Off the Wall"
Decades of success didn't come from a rigid plan or an A$AP Rocky co-sign. The story of Vans, of the disciplined irrationality that made it a cultural phenomenon, is one of connection and empathy.
"In the culture, you have the same goals and the same interests," states Pozzebon. "It's not to be the president of the company — it's to do rad shit. That's the mentality of skateboarding. It's individualistic, but you're part of this community that's growing in friendships and knowledge."
Vans doesn't just know what its customers want; it understands what it means to those customers. This appreciation pulses within Vans, and it guides what goes on the shoes.
Pozzebon: "For the Toy Story collab, we wanted to do a 'Sid' shoe. Disney told us it wouldn't sell, and when we asked, they didn't even have Sid stuff in their archives. Well, as Vans, we identified with Sid the most, so we went and made the art for the shoes ourselves."
It guides how those shoes are sold, too.
Street: "We launched Vans x Spongebob with Vault, in our top-tier distribution, instead of going and blowing it out across all channels. For us, it felt right to tell that story in the way that we did."
It even led the company to keep creative teams in-house, rather than go the traditional route of outsourcing work to an ad agency (see: Nike's use of Wieden+Kennedy). In short, it was felt that even blue-chip agencies couldn't grasp what it means to be "Off the Wall."
With a brand that powerful and the internal self-awareness necessary to weigh decisions against it, Vans could probably be selling anything. With simple, beautiful products, "sweet spot" pricing, and a rich archive to call upon, it's small wonder the brand has gone so far in the sneaker game.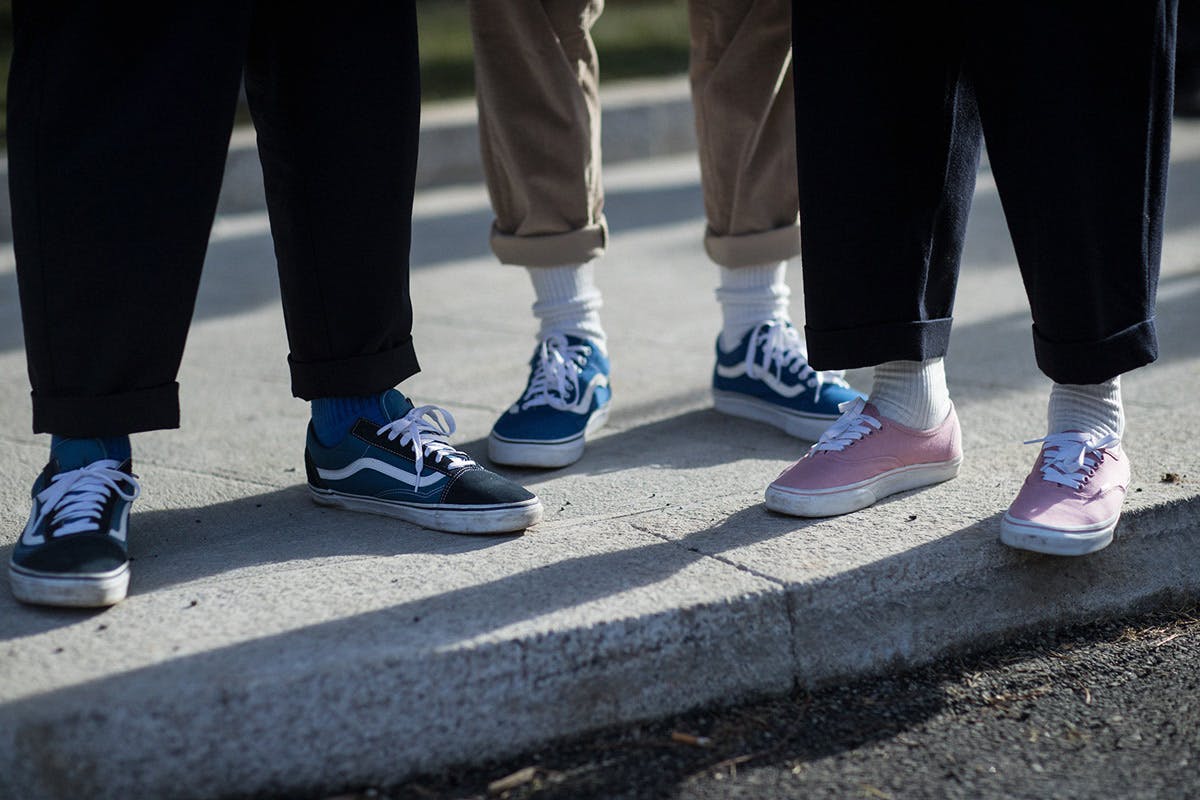 In 2017, one year after Vans turned the big 5-0, the brand held 5% of the $39 billion U.S. footwear market. That same year, its global revenues increased 19%. Most impressive of all: collaborations with both Karl Lagerfeld and Peanuts dropped within a month of each other, and no one — not SoCal skaters, not Fashion Week fanboys, not high-school hipsters — thought it "off-brand."
So, what would it take to catch Vans? Perhaps a time machine would be a good start.
The interviews above have been edited for clarity. Special thanks to Rian Rhoe for making this feature possible.
To stay updated on everything happening in the sneaker world, follow @Highsnobietysneakers on Instagram, check our sneaker release date calendar and subscribe to our sneaker chatbot on Facebook to receive lightning quick updates to your inbox.