The evening dusk has just surpassed the afternoon sunset at Marrakech's Oasis Festival and hundreds of kids are losing their minds. It has nothing to do with the sun going down. Instead, it's because Virgil Abloh — the main stage opening DJ for the evening — has just dropped "Fade" from Kanye West's The Life of Pablo.
Oasis is billed as an electronic music festival, and Abloh's set corresponds accordingly, mixing elements of classic house with UK club staples, contemporary electro, and even stabs of world music. A cursory survey of those in attendance indicates this is a crowd that knows a thing or two about fashion: Supreme, Palace, and, of course, OFF-WHITE are just a few of the more popular brands on display.
If you're a fan of those labels, there's a fair chance you're into hip-hop. The Chicagoan is only too aware of the correlation, and gives the crowd what they want, seasoning his set with cuts by the likes of Travis Scott and Giggs. It's a dangerously fun mix, and even the most hungover-looking folk are on their feet dancing by the end.
To say Abloh has a busy schedule is redundant by this point. Everyone knows that. He flew to Morocco from Paris this morning, and tomorrow he'll take off for Ibiza before hitting the UK.
Multi-hyphenate, polymath, even renaissance man are just some of the descriptions given to the Louis Vuitton artistic director. But, more importantly, he's also a nice guy, one who's happy to pose for photos and chop it up with any of the kids who approach him. He's playing Glasgow's legendary Sub Club next week, and when I mention I'm from the city, he wants to learn more, which leads us to a conversation about Hudson Mohawke and the LuckyMe crew.
People often wonder how Virgil has time for a DJ career, but it's clear he loves it. He loves music and is still discovering and learning new things, despite having been in the game since he was a teenager.
We caught up with the man himself.
Festival season is all but over. How has 2018 been for you?
It's been the most progressive year of my DJ side. This is my 20th year.
Really?
Yeah. Ironically, I started the year out saying that I was gonna quit. I even Instagrammed it.
It was in December 2017, and I saw DJ Harvey play. I was like, "That is the essence of DJing" — living many lives and being in control of people's nights, you know? He played for six hours or something. I was like, "That's what I want to do. I want to stop DJing. I'mma take the year off and just go on the dance floor, go in the DJ booth, and just listen to friends play." So I started out — January, February, March, not DJing — and then all of a sudden, I had the epiphany that I was DJing in the wrong places.
What was that down to?
You know, in large part, in America, the club identity had just worn itself out. But now, spending more time in Europe, I was playing in clubs I appreciated for the music. And now here we are, in Marrakech — in a year I was supposed to take off DJing.
What was your song of summer 2018?
There's so many, but my number one is "Han Jan" by my friend Peggy Gou. I feel like she's a gift to DJing and the song she produced to set the year off is still strong. Obviously, there are rap songs that I love: Drake, Kayne, Travis Scott, Playboi Carti had some of my favorite albums of the year.
I was in London a few weeks back and Octavian is blowing up there. You just designed the artwork for his mixtape.
Octavian, rookie of the year. "Party Here," one of the songs of the year.
I think it's one of the greatest British hip-hop songs of all time.
Skepta and Octavian, Wiley, Double D. The UK scene is alive and well. Grime has never gone away. How could I even take a year off DJing when people are making the best music, in my mind, maybe of all time?
Has the club scene in the US changed much? Have you noticed it becoming more European?
No. It's funny. I'm American. I'm from Chicago. That's probably the most important thing about me DJing.
I was talking with Derrick Carter behind the DJ booth about this. We still live in Chicago. House, techno, that's what I grew up listening to on the radio, but the thing is, there's no house and techno clubs, like prominently, in America. I'll play in Brooklyn or I'll play Miami.
There are great clubs, don't get me wrong, but I made my DJ career where I could fit in, and that was usually in a hip-hop club. Before the Been Trill era, we were the first kids playing Travis Scott songs in a club that was selling bottles. Or playing Hudmo records next to the Kanye records next to Skepta records. The joy that I've learned this year is that club culture is everywhere.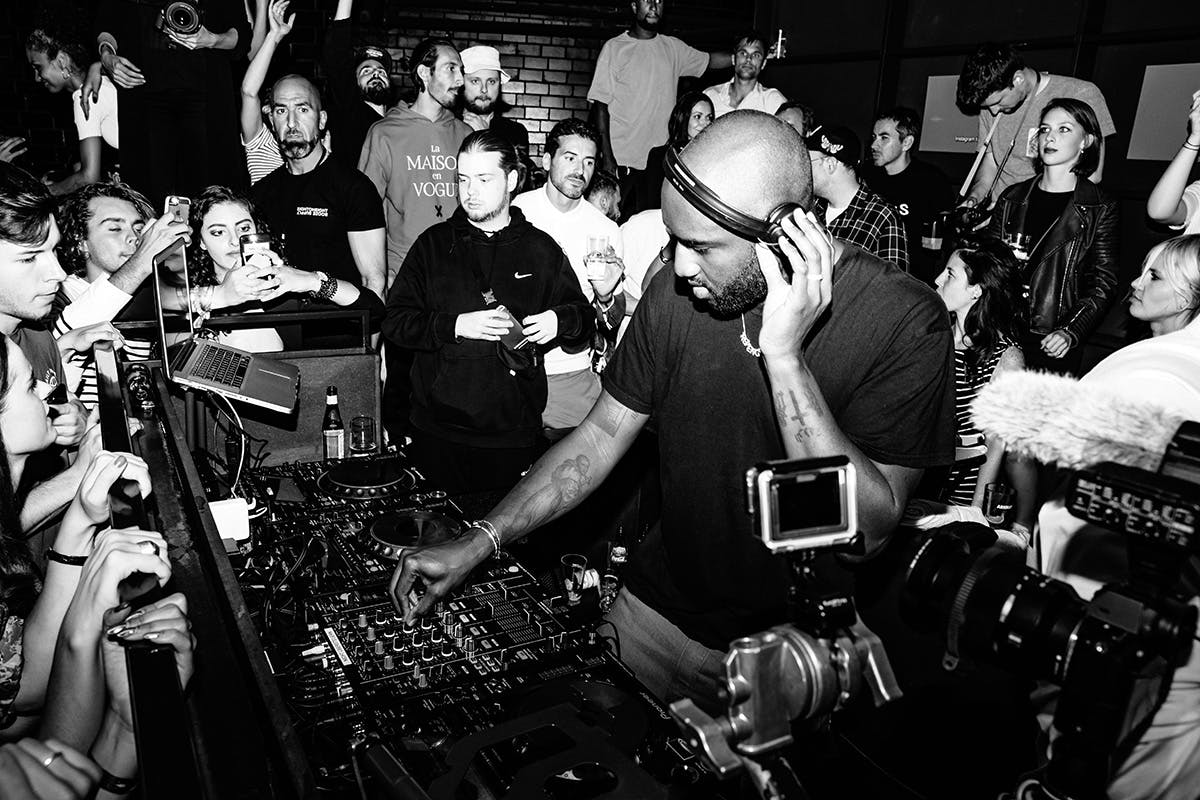 Speaking of Chicago, were you ever into footwork?
For sure. If you catch me playing a set — the thing is, it depends where I play — my USB stick is prepared. I always, wherever I play, try to give a nod to that place or what inspired me, so when I play in Chicago, footwork, but it's still contemporary kids like Hollywood Holt or Million Dollar Mano or DJ Spinz. Rest in peace, DJ Rashad. To me, those are classics. Those records are beyond, you know?
From the times I've seen you in places like London and Paris, you play contemporary stuff but also explore the history of the place you're playing through older genres. Do you take the same approach when you're planning sets for places further afield like here in Marrakech?
Yeah. To me, diversity — being able to play whatever you want — that's the essence of DJing. You know: Gilles Peterson, Francois K, DJ Harvey, Benji B. Benji B is teaching young DJs how to DJ in a modern setting.
So at all times, I'll be myself. But, in a way, the enjoyment of playing in Europe is that I'm not DJing in America. Not to knock it, but American clubs are usually bottle-service clubs. There's a different barometer, so I like to be able to bring what I do from America into a European setting, like a little bit of rap, house, techno. But essentially I'm just playing anything I feel like.
A lot has been made of the death of local radio, but the democratization of the internet allows people to connect like never before. Like you listening to BBC Radio and the Benji Bs and Gilles Petersons of the world, which has clearly been a profound influence.
I've had a couple dreams in music, one being that Kanye West would be known as the greatest artist of all time.
Another was: I was a kid when Boy in da Corner dropped. Dizzee [Rascal] played a show in Chicago at a place called Subterranean and I went 'cause I'd been listening to Benji B and Gilles Peterson for 12 years or so. I was like, "I hope this sound gets big in America," and it never did. And then along came Skepta, Boy Better Know, Practice Hours DVDs. Those were things I was watching, hoping they would translate over.
Another dream in music is that my friends from Nigeria, by way of the London grime scene, can play Coachella and be a household name in the US. I love music just as much as I love fashion, and I think these small successes — Lunice and Hudmo playing for sold-out shows in LA and New York, being from Montreal and Glasgow — shows that niche cultures can still get to the top.
You released your first EP with Boys Noize earlier this year. Is that something you're still working on?
We're working. We did a couple sessions which led to the EP. We have a great chemistry. We both have a passion for music, we both have a passion for DJing. You know, I have a passion for creating in any media. He's been super supportive of me on the production side. That's why we put out music.
It must be super-inspiring working with someone of his standing.
Yeah, a legend. His DJ career will be long. He's a great producer. He can produce anything from an A$AP Rocky record to a record on Solomun's label in the same breath. I have to big up all those that are progressing this genre of DJing. I live in France, and so Bromance Records, Brodinski, Myd, Guillaume Berg, Gesaffelstein, Louisahhh mean a lot to me. Everything from Ed Banger and DJ Meti to Busy P.
The guys at Ed Banger Records, like Justice, I remember they were poppin' off. Maybe they aren't as big now, but you can just tell they love it so much. That's why they keep doing it.
Yeah, exactly. The lineups at Coachella and Lollapalooza still feature a lot of these guys. You know we're all growing together and music genres are all crashing together. That's something to celebrate.
What do you think will be big in 2019?
I'm inspired by the underground producer. All I know is I try to find records that are contemporary but have a historical root. Anything that comes from an authentic place, I'm gonna play it. Obviously, I'm waving the banner for mixed genres. My next music dream would be someone like Playboi Carti, WizKid, or Gunna hopping on an afrobeat song with a kid from Nigeria. Who knows?
It's pretty obvious that you don't view music and DJing as "work."
Just living is, like, the best occupation of all time.
For more like this, read our profile on Abloh's collaborators Onyx Collective from 'Highsnobiety' Magazine right here.