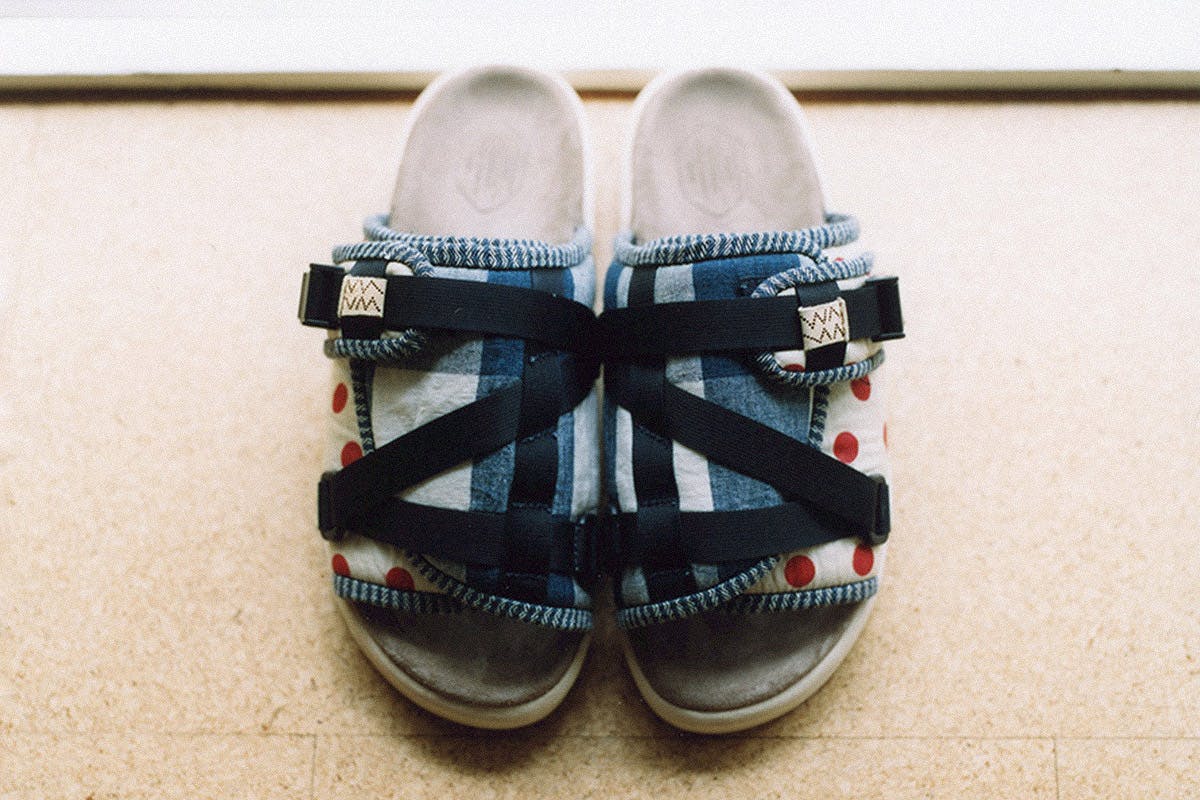 Sandals seem to be taking new precedence in the menswear zeitgeist, feeding a desire for something located somewhere between normcore and a need for comfort and functionality. And if 2014 was the year of the pool slide, including Gucci's Pursuit 72 and Supreme's box logo slides, 2019 is the year of the "dad" sandal.
Hyper-branded flip-flops are out. With the return of chunkier "dad" sneakers in recent years and arguably an oversaturation of streetwear, sandals offer something simple and nostalgic yet fashionable. Labels such as Teva, Suicoke, and Birkenstock have been producing high-quality utilitarian footwear for years, but sandals as something fashionable for men is a relatively new phenomenon.
Sandals have been around for thousands of years, of course, but in modernity they had their first major moment in the '60s, when simple V-strap "Jesus" sandals were picked up by hippies and beatniks in the US. This association would remain in place for decades, putting off many (the sight of tourists pairing their sandals with socks didn't help either). But one company that helped shift the tide is German brand Birkenstock.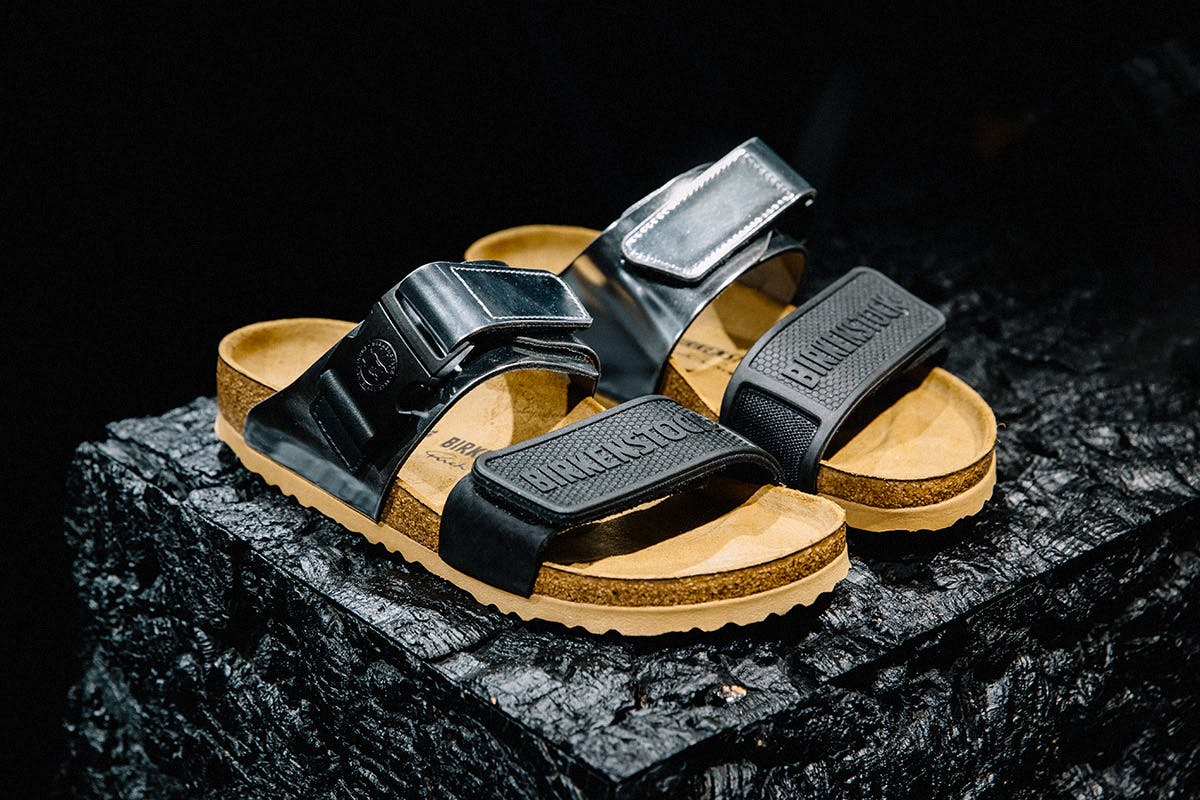 The standard Birkenstock sandal boasts two belt-like straps atop a cork footbed. The comfortable molded footbed and dual-strap enclosure established Birkenstock as a brand that emphasized comfort over aesthetics, an antithesis to fashion. But over time, Birkenstock's influence has spread far beyond anything thought possible, and collaborations with Rick Owens and Valentino have turned it into a brand with genuine fashion clout.
Teva is another traditional sandal brand experiencing a revitalization of sorts. Founded in 1984 by a rafting guide in the American Southwest, Teva has maintained its commitment to durable and functional design. The design is simple — three nylon straps, foam footbed, rugged outsole — yet Teva's use of vibrant colors and bold patterns has made the sandals extremely covetable among outdoor enthusiasts.
But it's in Japan, no stranger to sandals throughout its history, where the open-toed shoe opened a new chapter. Thanks to an obsession with Ivy League-style prep and all things Americana, Japan's youth have found a kinship with US heritage and outdoor apparel. This goes back to the '70s and publications such as the Whole Earth Catalog and Made in U.S.A., through which rustic Americana and "heavy duty" became the new standard for style-conscious young Japanese men.
The looks evolved over time, eventually merging with the street styles of the '90s Ura-Harajuku subculture. Designers such as BAPE's NIGO, WTAPS' Tetsu Nishiyama, and NEIGHBORHOOD's Shinsuke Takizawa were already reimagining classic American silhouettes in street-inspired styles, so it was only a matter of time before the humble sandal received a similar treatment.
visvim, founded in 2001, quickly became known for its reinterpretations of American classics. This included the FBT, a moccasin-sneaker hybrid, and the Christo sandal, which came out in 2003. The Christo is inspired by Bulgarian artist Christo Javacheff, who with wife Jeanne-Claude created environmental artworks (other visvim products such as the Twombly, Kiefer, and Hockney are also named after artists), and features a construction that wraps around the foot.
In 2004, visvim designer and founder Hiroki Nakamura told BEINGHUNTED., "[The Christo] was inspired by one of my favorite artists, Christo. Shoes are, in a way, very similar to Christo's wrappings of bridges, monuments, natural formations, and other varieties of everyday objects. The wrappings offer the viewer a general idea of what is underneath without revealing what is really underneath."
The Christo feels like the culmination of decades of history and design. Reimagined through the Japanese label's blend of military, classic Japanese, and Americana influences, the Christo is the epitome of what a sandal should be in 2019: a perennial style that you can pair with socks (yes, really) so you don't even have to wait until the warmer weather comes around.
Nakamura expanded on this idea in his BEINGHUNTED. interview: "Since sandals are usually worn during the hot summer days, a typical sandal utilizes very little material and reveals most of your foot. But the Christo is the opposite of that. It covers most of your feet, revealing only small parts with a strap that crisscrosses the top of your foot, as if your feet were bound inside this material."
The Christo offers everything that's great about the sandal — dorky aesthetics, comfort, functionality — and combines it with vibrant colors. Other brands such as Suicoke, founded in 2006, have stood on the shoulders of the Christo, making what for many is considered the quintessential Japanese sandal. But while Suicoke makes great footwear that sits at the intersection of streetwear and performance, the visvim Christo remains the definitive OG tastemaker sandal.
To stay updated on everything happening in the sneaker world, follow @Highsnobietysneakers on Instagram, check our sneaker release date calendar and subscribe to our sneaker chatbot on Facebook to receive lightning quick updates to your inbox.