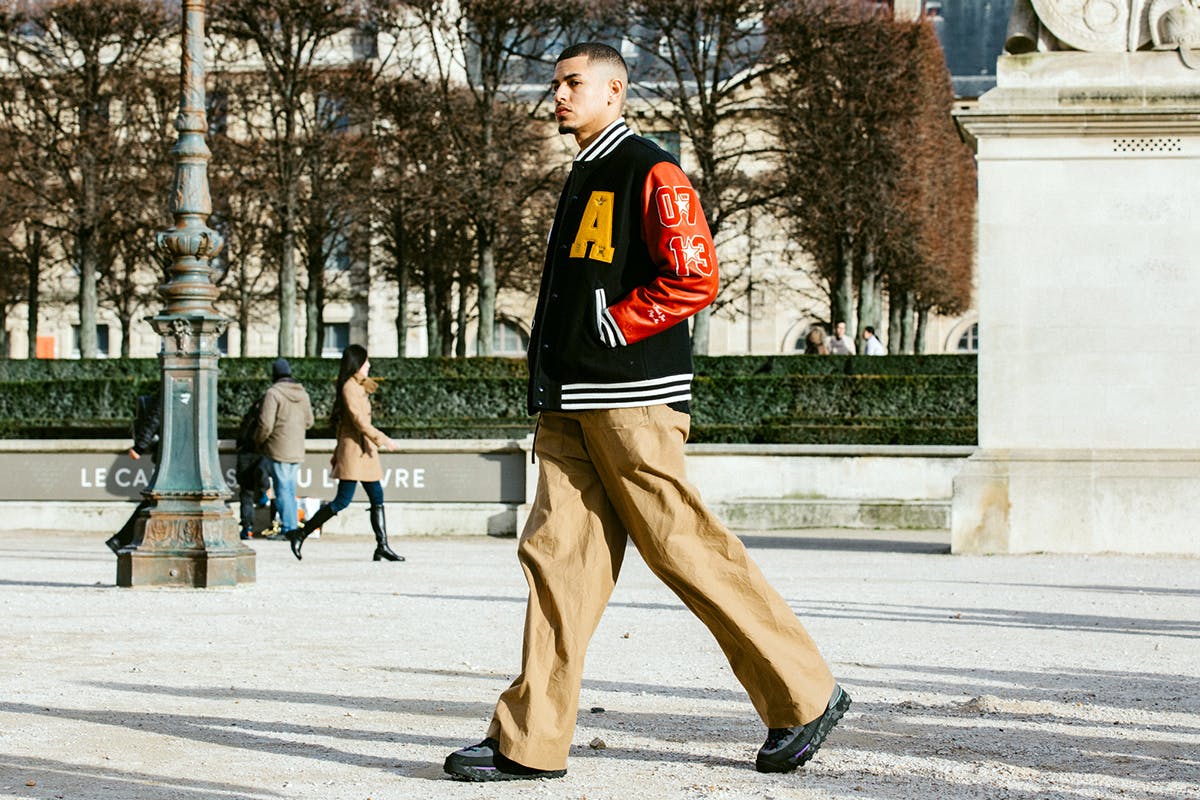 The era of skinny jeans feels like a long, long time ago. A time when even A$AP Rocky was stepping on stage in a pair of fitted Balmain jeans. Pants have been growing more relaxed as fashion moves in its perpetual cycle and the unashamed glory years of the extra-wide-leg pant are upon us in a big way.
The thing we love most about wide-leg pants is their ability to transform the rest of your wardrobe. A more exaggerated cut will give your outfit impact when it comes to silhouette, and the styling possibilities are aplenty. If you think that making the switch to wide-leg pants is a big jump for you, then listen up.
We've rounded up a selection of the best baggy pants online and it proves the length and breadth of the style. From workwear styles by Dries Van Noten all the way to clean masterpieces by Rick Owens, this selection shows the true potential of the wide leg.
Shop the best men's wide-leg pants below.
Engineered Garments Over Pant
Engineered Garments' pants are such a beloved part of the fashion zeitgeist that the brand has basically become a meme. Pieces like these khaki military pants are simple but designed to last season after season. What more can you ask from a pair of pants?
Rick Owens Geth Belas Trousers
If you are on the hunt for a pair of wide-leg black pants, the prince of darkness himself, Rick Owens, is going to pop up on your search results. Today's Geth Belas trousers are subversive but work well with just about any Spring top you throw on. To complete the look, lace up a pair of Rick Owens Chuck 70s.
Eckhaus Latta Smudge Jeans
The enzyme-washed Eckhaus Latta Smudge Jeans just confirm 70s fashion may be making a resurgence, colliding directly with some of the Y2K trends we have seen in recent months. Skinny jeans may officially be dead, which definitely is not a bad thing.
Beams Plus Wide-Leg Cotton Trousers
New to the wide leg? Trousers can make our break your wardrobe. Keep it simple with a pair of these Beam Plus relaxed wide-leg pants. You will have no problem adding it to your rotation.
Dries Van Noten Palmer Tape Pants
A drawcord can work wonders for you, allowing you to secure your pants and also control how they drop on your legs. Dries gives you that function in a light Spring ready package.
Brain Dead Mushroom Utility Pants
(Available at 2 Merchants)
(Available at 2 Merchants)
Brain Dead utility pants straddles the line between functional clothing and goth-core. Regardless of what isle you sit on, the pants can easily fit in into your wardrobe.
Homme Plissé Issey Miyake Technical-Pleated Wide-Leg Trousers
Pleats have been a reoccurring motif at Issey Miyake since 1989. Here, they elongate the wide-leg look and your body, making them look even better.
Marine Serre Wide-Leg Patchwork Printed Upcycled Silk-Satin and Twill Drawstring Trousers
Wide-Leg Patchwork Printed Upcycled Silk-Satin and Twill Drawstring Trousers
Buy at Mr Porter
We love us some Marine Serre. But, we also love the fact that these patchworks are made from upcycled satin. These will serve you well in the late Spring, early Summer.
S.S.Daley Alexander Pleated Wide-Leg Twill Trousers
High-waisted wide-leg pants can look incredible when tailored correctly. Cut beautifully, S.S. Daley pants give you plenty of room to experiment with different tops and footwear for your fit with their Alexander Trousers.
Our designated Selects section features products that we love and want to share with you. Highsnobiety has affiliate marketing partnerships, which means we may receive a commission from your purchase.