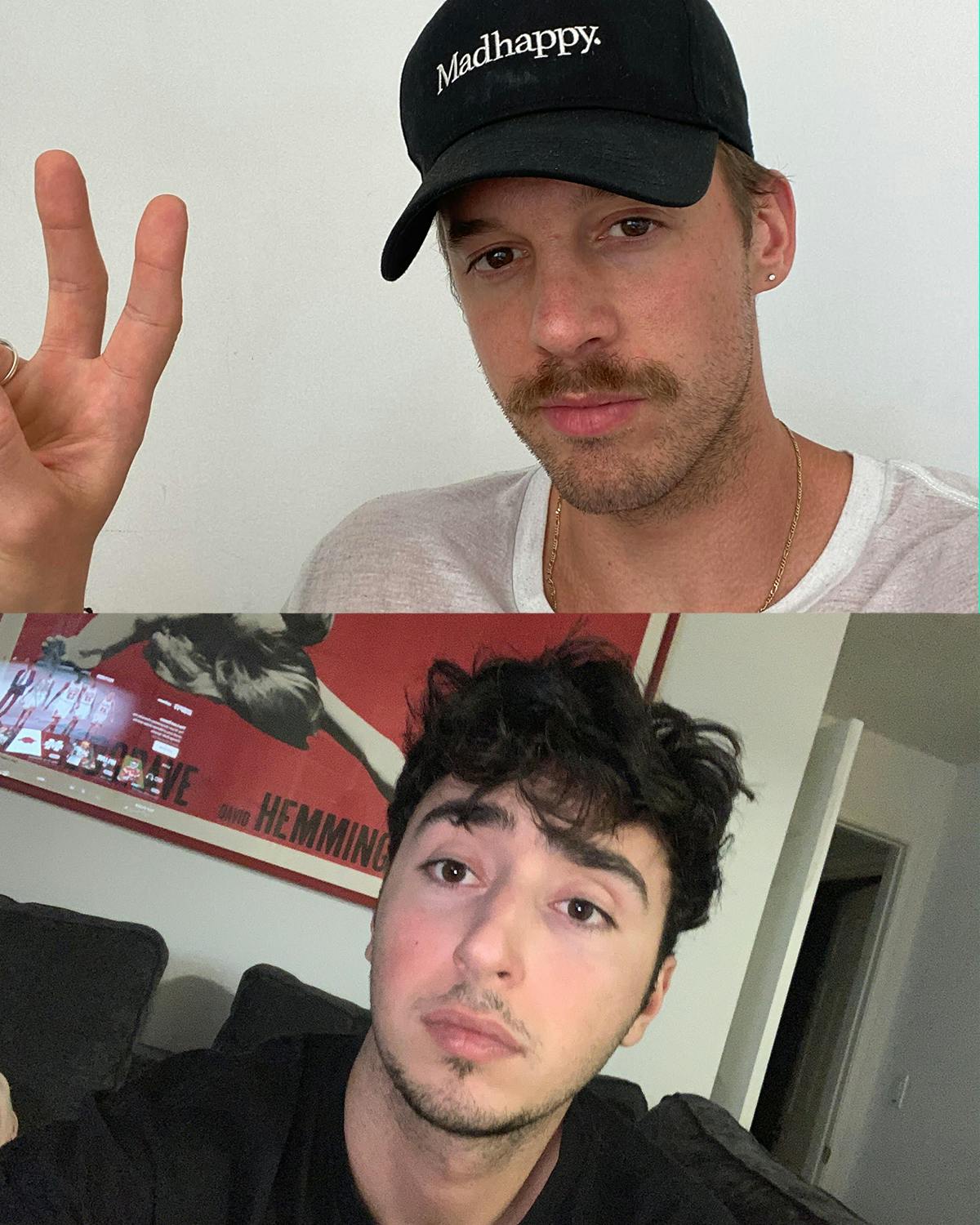 Nate Brown. is the founder of Studio Institute and the creative mind behind a ton of projects that touch the Highsnobiety world. Zack Bia is a young DJ and nightlife figure who's done a little bit of everything behind-the-scenes, and recently got attention for the mind-blowing IG Lives he did with Pedro Cavaliere.
In April, they launched the Work From Home Project ( 1:19), a new initiative mixing cool graphic tees with charitable donations to the CDC Foundation and No Kid Hungry. What started as a Slack group became a group effort to remain #OnlineTogether and create cool, charitable stuff while under quarantine.
We discuss how most young people today already spend a majority of their time online (3:08), and why that will undoubtably lead to some very real paradigm shifts in the workforce.
The following interview has been edited and condensed.
Jian DeLeon: How you guys doing?
Nate Brown: Fantastic.
Zack Bia: Excellent. As good as good as I could be doing.
JD: Ret's talk about the Work From Home Project, how did this come together?
NB: I launched this open-platform Slack channel that anyone could join, and people started to jump onto it. They had free time on their hands, and we started to form a platform where people could create things that made a difference. We had designers, copywriters, producers, and the co-founder of Shopify on there.
It was a platform people could communicate and talk and share ideas and hopefully good kind of give-back concepts would come out of that. So we partnered with No Kid Hungry, which is a charity that creates lunches and meals for kids in need. And then the CDC Foundation, which is obviously leading the research into finding a vaccine for the COVID-19 situation.
JD: The three of us are part of this generation of people who have already lived a good portion of our lives online, whether it's through Instagram or WhatsApp. So in that way, it's not a huge change to be 100% online when it comes. to working and socializing.
NB:  I don't actually know any other form of communication. I feel like my generation — I'm a bit older than Zack — it's like...we work in an office. I think that the generation even after us won't even know what an office is.
ZB: We've all grown up in this hyper-information age, and I think this is going to have a long-lasting effect in a positive way in the sense that we're learning how to work remotely a lot better. Those meetings that could have been emails turn into just emails, and people start to realize the amount of productivity you can get just by communicating remotely. You see people designing stuff in a nontraditional way, making notes on an iPad to a piece of clothing, or — as long as you set up a proper infrastructure — you can sort of have these music communications where you can be equally as productive.
JD:  Zack, what you and Pedro have been doing with IG Live has been described as a digital speakeasy. How do you create that insider vibe in a place as accessible as Instagram?
ZB: When all this first started, as we were all adjusting to being at home and quarantining, we saw so many people were going live. It's great, I want people to interact with each other, and online it was the best we could do at the time. We just wanted to have fun with it and see if we could innovate. I think it's healthy to keep pushing each other, to come up with new ideas and new ways rather than just sticking to the same formula. Everything we did wasn't with a purpose other than let's just make something funny for our friends.
JD: What do you guys both miss the most about hanging out with the homies in real life?
NB: Everything.
ZB: Everything is the answer. Who knows? A handshake deal might not ever happen again.
Stay tuned for new episodes of Vibe Check every Tuesday and Thursday.