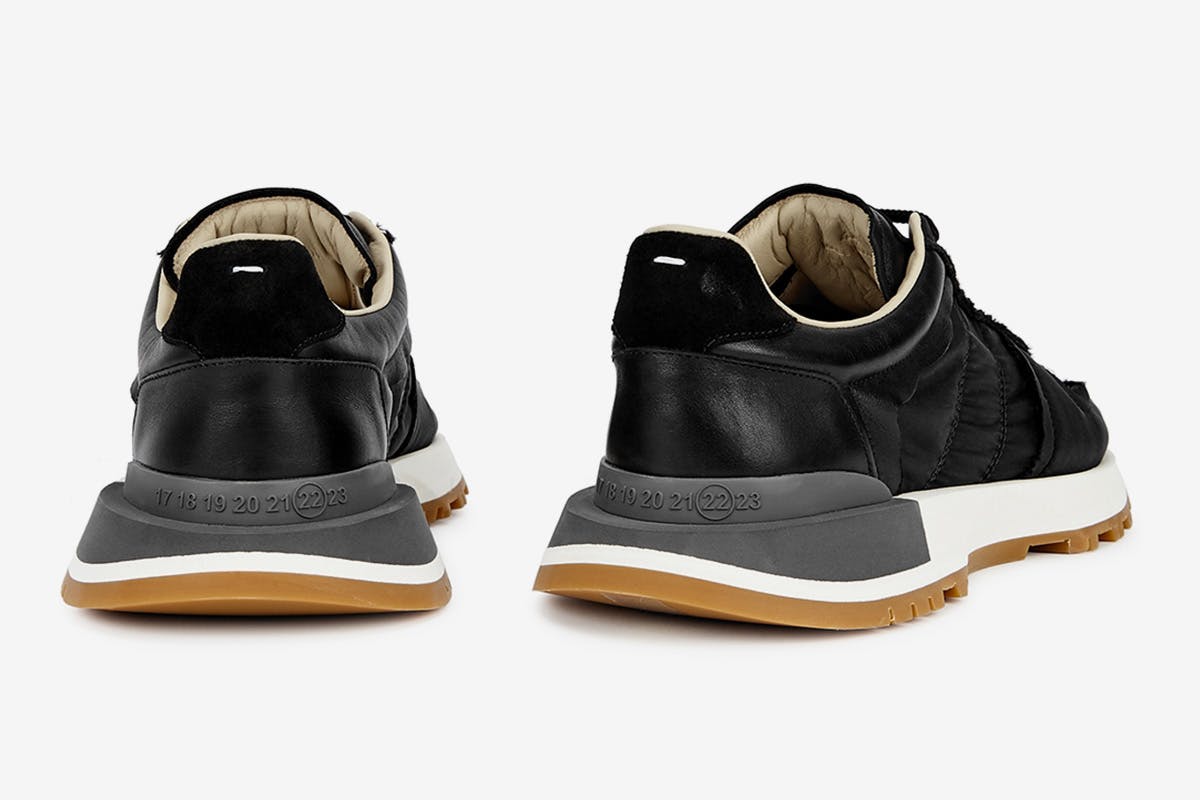 Gum soles — they're the hot sauce of the sneaker world. Sure, normal soles are fine but slap a brown rubber sole on a sneaker, and suddenly you're operating in another stratosphere entirely. If you don't believe us, check out just about any adidas Gazelle, Nike Janoski, or Vans Old Skool for proof.
Not only is the contrast gum soles often provide a welcome design detail, but gum soles are also functional. When it gets slippery outside — due to a summer storm or when winter finally rolls around — you'll be glad for the extra grip gum sole sneakers provide. Skaters have always had the right idea, but what else is new.
Because gum soles are so beloved in the sneaker community, and just about every brand offers various types of gum sole sneakers, we've rounded up the best gum sole sneakers  to buy right now. We've included everyday classics from sportswear giants such as Nike and adidas to high-end options from brands such as Mihara Yasuhiro and Maison Margiela. Scroll through our selection below, where you're sure to find a gum sole sneaker for every style and budget.
Shop the best gum sole sneakers to buy right now below
Maison Margiela Replica Sneakers
First introduced in 1998, the tonal calf-skin sneakers — an homage to the German Army Trainer — have been reinterpreted over the years, offering fans a shoe for every season. This specific colorway gives the shoe enough minimal flare for any fit pic.
adidas Forum Low
The adidas Forum is the latest retro sneaker to be treated to a popularity injection. After a couple of celebrity endorsements and a handful of collaborations, the 1984 design is looking stronger than ever. This two-tone colorway fulfills the retro potential of the model.
Maison Margiela Evolution Sneakers
Maison Margiela has made a habit of resurrecting silhouettes from the past and rebuilding them using high-end materials. Much like the Replica, the Evolution Sneakers take inspiration from lightweight retro runners but, with an exaggerated sole unit and luxury leather lining, they're much more luxury than performance.
New Balance 327
The New Balance 327 hit shelves in April 2020 and has grown to become one of the dominant silhouettes on the market in just over a year. While there's a wealth of fire collaborations available, we love the general release colorways, too, especially this neutral masterpiece which comes atop a classic gum sole.
Reebok x Prince Club C 85
Dating back much further than 2020, the Reebok Club C 85 was released in 1985, as the name suggests. In its 36 years of life, it's lost none of its appeal and that's partly thanks to collaborations on the understated silhouette. Take the recent partnership with Prince, for example, which highlights the shoe's vintage credentials with a retro sportswear colorway and gum outsole to boot.
PUMA x Butter Goods Slipstream Sneakers
One of the reasons that we love a gum sole so much is that it almost always goes hand in hand with a retro color palette. We're seeing the popularity of retro silhouettes gaining momentum week by week right now and this PUMA x Butter Goods collaboration is evidence as to why. The versatile palette looks to leather and suede overlays for personality.
adidas Indoor Comp Sneakers
Some of adidas' earliest designs were built on gum soles so it's no surprise that the Three Stripes catalog has more gum soles in it than most others. It also has a massive range of lesser-known models like the Indoor Comp Sneakers which slot effortlessly into a lifestyle rotation despite their performance-based design.
Maison MIHARA YASUHIRO Blakey Hi Sneakers
Maison Mihara Yasuhiro's recreations of footwear classics are unmistakable. The playful takes on icons are defined by their bulky, clay-look sole units which invariably finish with a gum outsole. This pair boasts a soft suede upper to justify the luxury price tag.
Nike Air Force 1 Luxe Sneakers
The Nike Air Force 1 is easily one of the most beloved sneakers in history. The epitome of versatile, this sneaker has been reworked and remixed in various ways over the years and one such rework comes in the form of the Air Force 1 Luxe. With full-grain leather uppers and a rugged gum outsole, this design brings new life to the iconic silhouette.
Bottega Veneta Climber Sneakers
Bottega Veneta continues its slew of rubber footwear with the Climber Sneaker. After the success of the Puddle Sandals and Puddle Boots, we've no doubt that the Climber Sneakers are next up on the "what's hot" lists. Better still, this pair not only features a treaded gum Vibram sole, but its upper is also made from the same gum material. Is there such thing as gum overload?
To stay updated on everything happening in the sneaker world, follow @highsnobietysneakers on Instagram, check out the best sneakers to add to your rotation this week, and sign up to our newsletter for the latest sneaker news sent straight to your inbox.
Want to keep browsing? Head to the Highsnobiety Shop for more products that we love. Highsnobiety has affiliate marketing partnerships, which means we may receive a commission from your purchase.