I had never heard of a "technoshaman" prior to meeting Angelo Plessas.
Plessas is Acne Studios' latest collaborator, and we're in Los Angeles to celebrate the launch, and take part in one of his ceremonies.
"I was always kind of drawn to things that are a bit mystical," Angelo tells me. His first body of work was on the internet in the '90s, and his growing excitement led him to explore it even further. "I was always exploring the mystical sides of technology and the internet. I wanted to do that in poetic ways, not really the gimmicky, literal sense of technology. So I became an artist."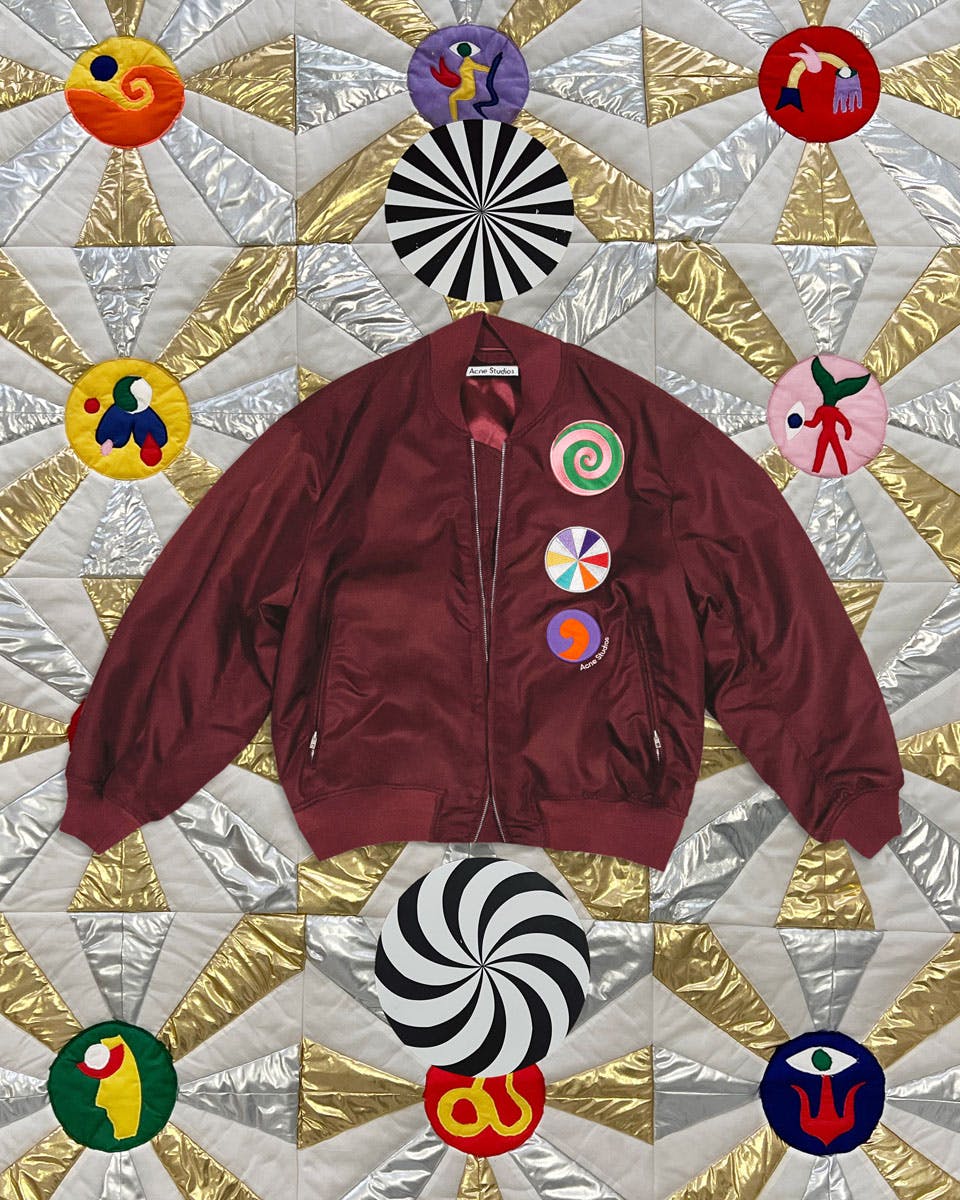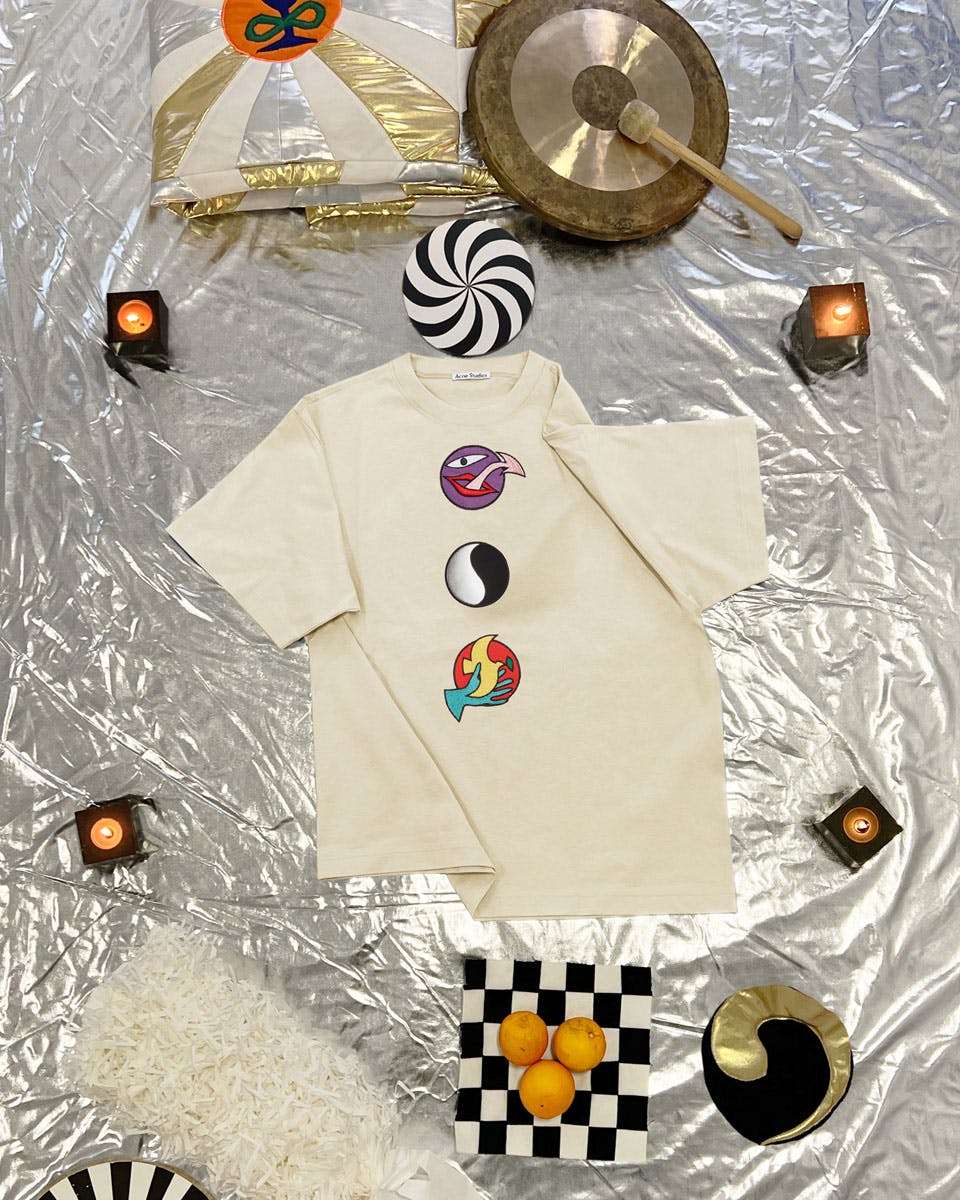 Eventually, the screentime became a problem, and Angelo moved towards something more meditative, that could keep him away from the internet for a while.
"I chose quilting, you know, quilting, right? It's like sewing with this padding thing. I went to this school where old ladies in Greece were learning how to quilt and I was the only guy there. I learned quilting very fast, so I was starting doing this series of quilts, blankets, and so on."
But, Angelo still values technology in a way I've never heard anyone talk about it before. With the reality of the Metaverse quickly approaching, can we really be spiritual in a digital world?
"I believe in machines, machines can be very spiritual," he explains. "It's very important to understand that we have to use technology in very different ways [in the future]. We have to explore more mystical ways of using technology, I think the Metaverse is a good first attempt."
So how does a technoschaman get a collaboration with Acne Studios? Well, it is pretty simple really.
Plessas was initially featured in the Acne Paper relaunch issue, and the limited-edition collaboration was born from there. But prior to the collab, he'd been wearing Acne for a long time.
"As an artist myself, the way the clothes are done, they have this ritualistic way of conceiving them, but also producing them. It fits me as an artist. They bring a sense of well-being."
The pieces from the collection are adorned with talismanic symbols, each of them with a special meaning. There's also a cape, which will be on display at select stores, and the piece is viewed as a ritualistic tool that addresses aspects of "spirituality, cultural heterogeneity, and healing from our hyper-connected world."
Fast forward to the Wright Residence in Malibu, where Acne Studios brought friends and family (we're talking Snoh Aalegra, Kaytranada, Tommy Genesis, and so on) to celebrate the collaboration and experience Angelo's ceremony up close. Together, we all drank Angelo's "elixir," which he told me is a blend of "organic herbs from California, organic honey, and wine."
Before the ceremony, Angelo explained it all. "It's close to the way the ancients were doing it. And then while you will drink that little by little – it's a very strong drink, okay? – I will guide you into becoming one with a cloud, with water, with everything."
And so he did. As we all sat together watching the sunset over Malibu, listening to the technoschaman speak, I experienced a true moment of calm.
Earlier, I had asked Angelo about his best advice for stepping away, and taking a break, because personally I always feel like I just need to put my brain on stand-by sometimes and turn off my phone. Where does one start?
"You can start with breathing exercises," he explains, adding that simple meditation is a good way to start. But he also left me with the real words of wisdom: "It's not a bad thing to live with a phone. So we have to embrace the good sides of both."
I came to celebrate a fashion collaboration and left feeling confident and calm, knowing that despite my hours of screentime, my job that involves a laptop for 10+ hours a day, and being extremely online, I can still experience elements of spirituality.
Oh, and Angelo likes TikTok, too. Well, he did, until he got banned for posting workout videos on the app.
The Angelo Plessas x Acne Studios collaboration is currently available to purchase online at Acne Studios, as well as in select stores.