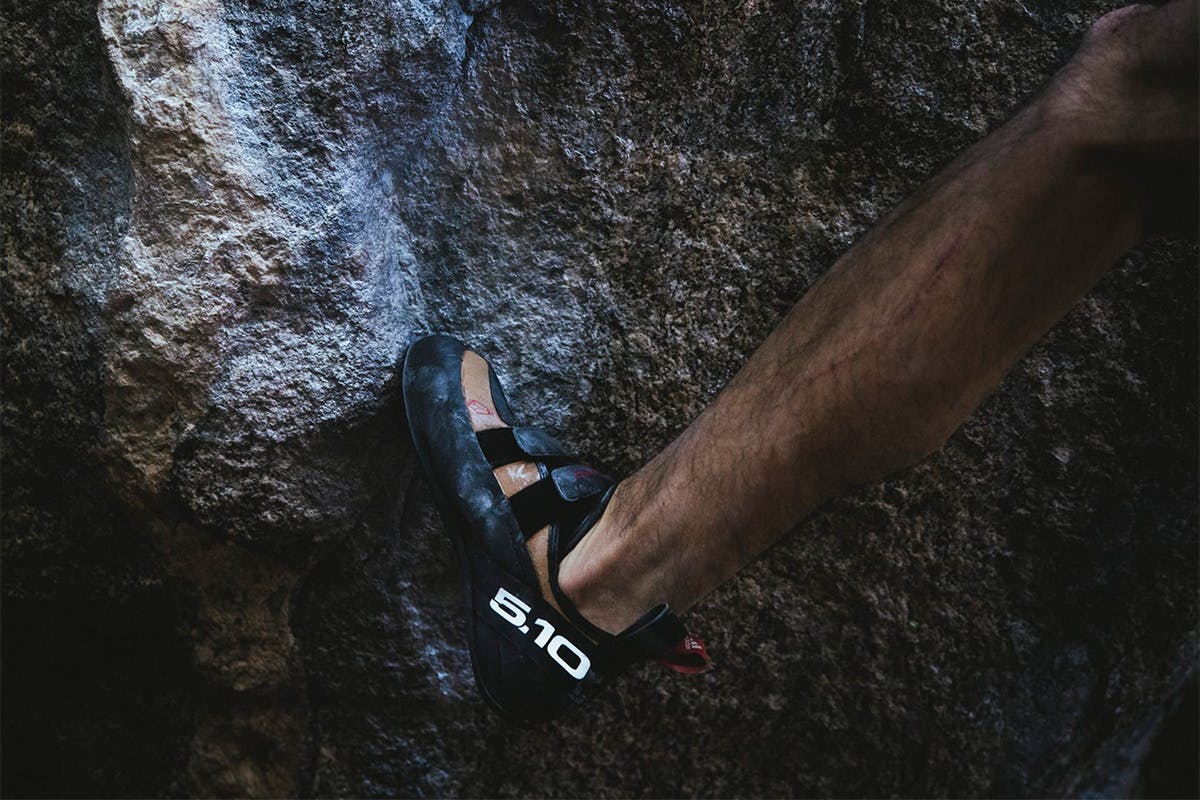 To say that climbing — arguably one of the most ancient human activities alongside, well, walking and running — has become popular lately sounds ridiculous. But it's kind of true. With films like Free Solo and The Dawn Wall opening up the white-knuckle world of extreme climbing, it was only natural that people would want to try (a watered-down form of) it out for themselves. And with the rise in climbing comes the rise in climbing gear. For those on the hunt for affordable climbing gear, look no further than adidas Five Ten.
There's not much that the Three Stripes can't do when it comes to sports equipment and adidas Five Ten is the latest proof of this. Offering up specialist climbing shoes and apparel for a friendly price, it's a golden discovery for those looking to take their hobby to the next level.
Below, we've put together 10 essential pieces of affordable climbing gear from adidas Five Ten. Make sure your kit's all sorted before a summer of sunny climbs.
Shop the best of adidas Five Ten below.
adidas Five Ten Clothing
adidas Five Ten covers climbing and mountain biking, but the overarching utility remains the same. Freedom of movement, breathability, and lightweight builds reign supreme. Below, we cover everything from tees and longsleeves to lightweight shell jackets, hoodies, and a pair of the most forgiving shorts in the game.
adidas Five Ten Climbing Shoes
Climbing shoes are an odd breed. Designed to force your toes to a point for maximum purchase on tiny holds, they initially feel wildly uncomfortable. It's really worth finding your own pair that stretches and moulds to your foot shape if you're planning on doing more than a handful of climbs. adidas Five Ten climbing shoes come in varying shapes with the Kirigami offering more comfort for beginners or those climbing longer routes, for example.
adidas Five Ten Mountain Biking Shoes
As we said, adidas Five Ten also covers the realm of mountain biking. And yes, any mountain biker will tell you that designated biking shoes do make a difference. These extremely hard-wearing kicks feature carbon shanks for stiffness and Stealth C4 rubber outsoles which are basically indestructible.
Want to keep browsing? Head to the Highsnobiety Shop for more products that we love. Highsnobiety has affiliate marketing partnerships, which means we may receive a commission from your purchase.