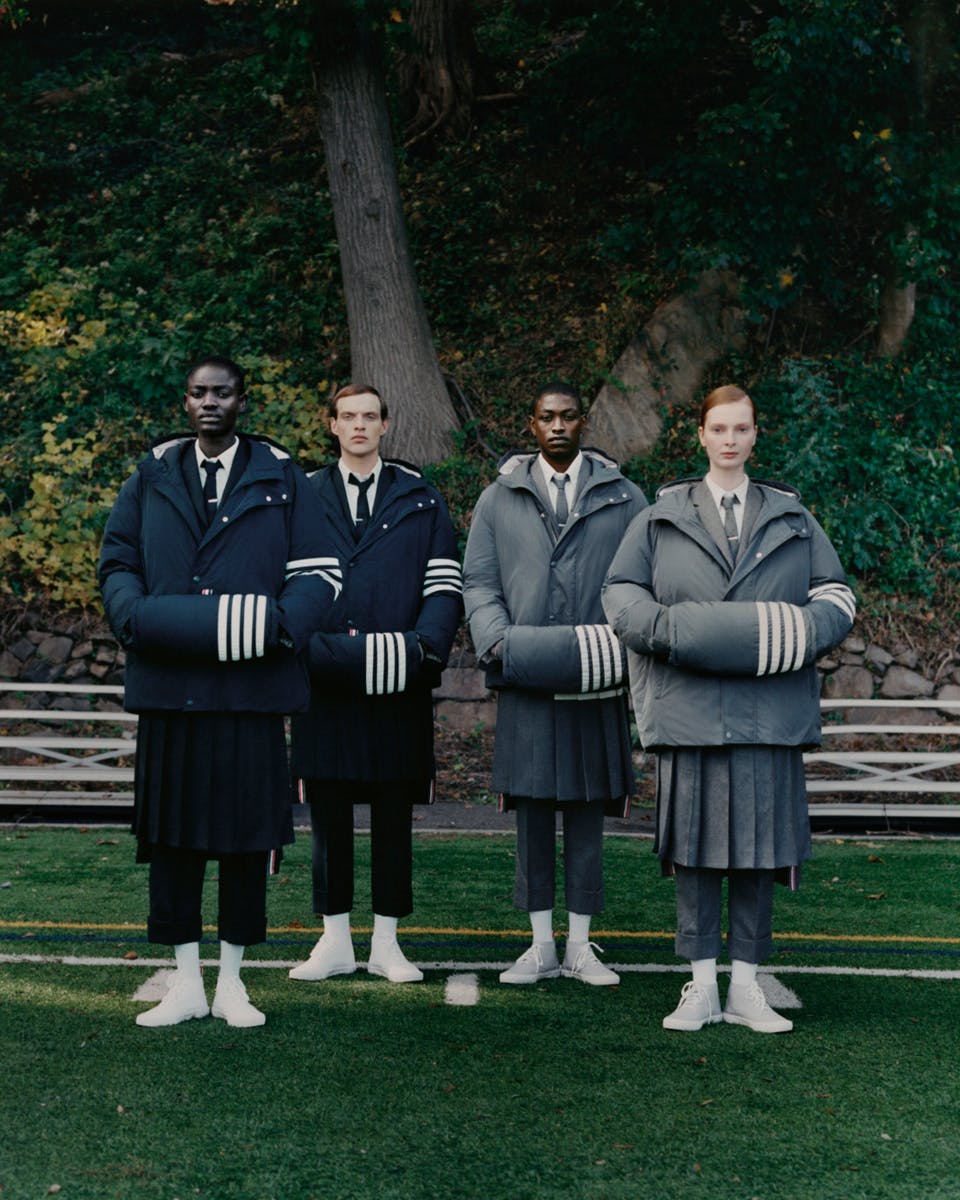 adidas and Thom Browne are still fighting over their striped branding. Shortly after a New York federal court refused to dismiss the sneaker giant's surprise trademark infringement case against the luxury label, originally filed last year, Thom Browne has hit back with a defense.
According to The Fashion Law, Browne's lawyers are arguing that the brand's four-stripe pattern doesn't infringe on adidas' famous Three Stripes because there are zero instances of actual confusion between the two emblems. Additionally, Browne and adidas operate in "entirely separate markets, at vastly different price points, and are not competitors," major points of difference that diminish the likelihood of mistaken identity.
Browne and adidas' beef goes way back. In 2007, the sportswear company complained about Browne's use of stripes, prompting the New York-based brand to introduce a logo comprised of four horizontal, parallel bands.
It wasn't until 2018 that adidas initiated an opposition proceeding over Browne's four-stripe logo in the European Union. In other words: adidas became aware of Browne's logo in 2007 and failed to take action against it until 2018, a significant time gap that, according to Browne's lawyers, shields the brand from liability.
Bulking up Browne's argument, the label asserts that "numerous third parties use stripes, in multiple variations and iterations, on clothing and footwear." adidas has "failed to police the market," thereby allowing other stripe-happy brands to, well, keep on striping.
The cherry on top, Browne has filed a counterclaim aimed at canceling adidas' three-stripe trademark registration. According to Browne, its enemy's "Three-Quadrilaterals Design" is merely ornamental — by itself, the trio of stripes are "not likely to be perceived by the consuming public as an identification of the source of the goods."
Phew! That was a lot. Who knew stripes could be so serious?