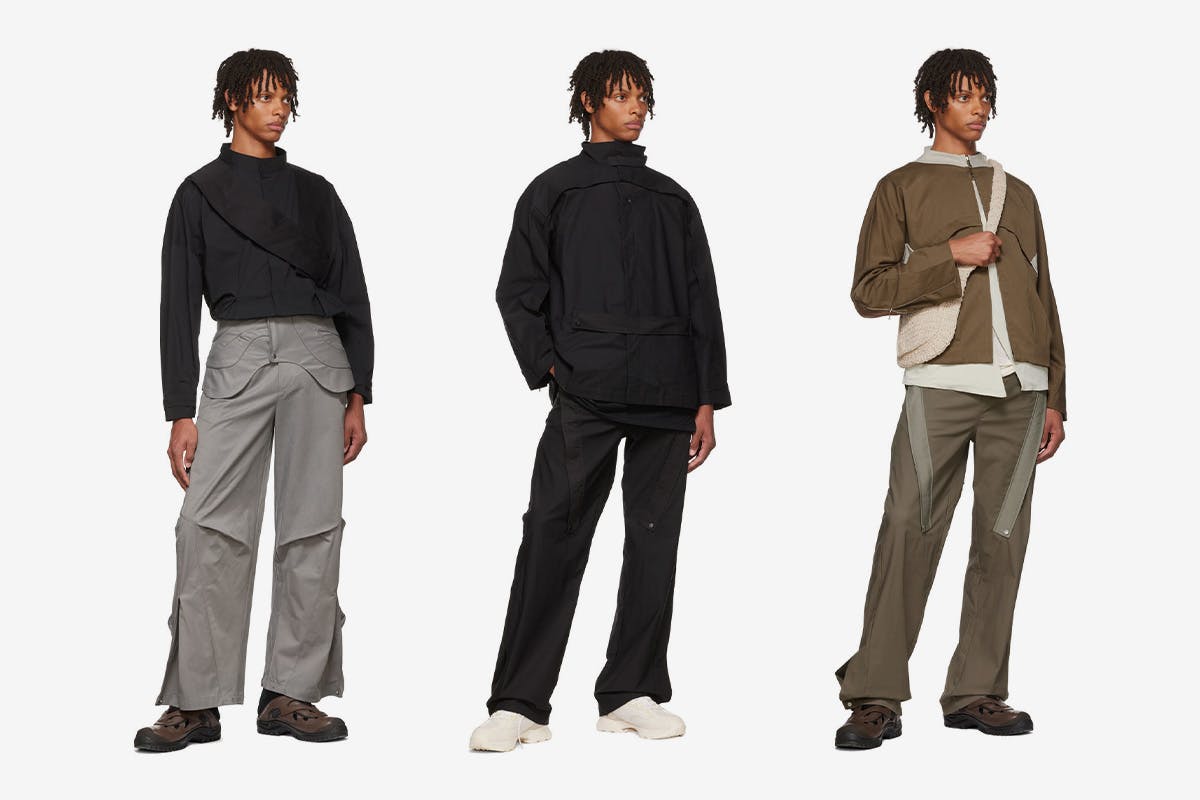 Our Under the Radar series is made in collaboration with SSENSE. Each month, we shine the light on a new, burgeoning talent that you can shop at the retailer. Encompassing all sides of the contemporary style spectrum, this series acts as a measure of where luxury fashion is headed in the coming years.
Founded in 2021, ænrmòus is one of the youngest labels you'll find at SSENSE. Offering up a unique take on techwear that posits experimental, conceptual flourishes as equally important to material and tailoring, it's a brand that understands trends while building something new and exciting at the same time.
Expect to find a host of techy details like detachable, modular elements alongside the structural pleats, layered silhouettes, and asymmetrical drapes you'd expect in an avant-garde high-fashion runway show.
Below, we've rounded up 10 pieces that exemplify the way that the label is pushing the envelope in the techwear scene.
Shop the best of ænrmòus SS22 below.
Origin Cap
Bagging accessories is a great first step when you're inviting new labels into your wardrobe. This logo cap is an accessible entry point for those testing the water.
Uniform Jacket
One of our highlights from the collection is the Uniform Jacket. This military-style piece has a strong character with an almost back-to-front build decorated with covered zips, button plackets, and more.
Echo 3-Way Jacket
The 3-Way Echo Jacket is a fan favorite. No surprises there. Cut to a bomber-style shape, the Echo Jacket features a host of panels and layers for a fully customizable fit. Underneath the wool shell is a vest lining to experiment with, too.
Nylon Trousers
Lightweight and tailored to a relaxed, wide leg, these trousers are characterized by the zips running across the thigh. Unzip for a hidden expansion panel to customize your outfit.
Rayon Shirt
A buttoned sash draped over one shoulder is all that's needed to transform this classic poplin shirt into something unique.
Collared Rayon Shirt
With an exaggerated collar adding rigid structure to the neckline of this shirt, all that's left is for the slanted vents to the bottom half to balance it out.
Want to keep browsing? Head to the Highsnobiety Shop for more products that we love. Highsnobiety has affiliate marketing partnerships, which means we may receive a commission from your purchase.