Vault by Vans is no stranger to celebrating the arts and those who live an "Off The Wall" lifestyle. For the footwear and apparel brand's latest collaboration, Vans linked with UK streetwear label Aries. The female-focused label was founded as a celebration of subcultures and blends streetwear with high-fashion aesthetics.
According to Aries founder Sofia Prantera, the inspiration for the collection actually came from an old Vans poster. "When working at Slam City Skates, we had a vintage 'customize your own Vans' poster which seemed to allow you to mix-and-match prints for every part of the shoe," she explained. "We wanted the collaboration to follow this accidental recipe — [the] same colors don't quite match, like they've been made of [upcycled] material; graphics and logos are incoherent; random apocalyptic stories appear on the soles."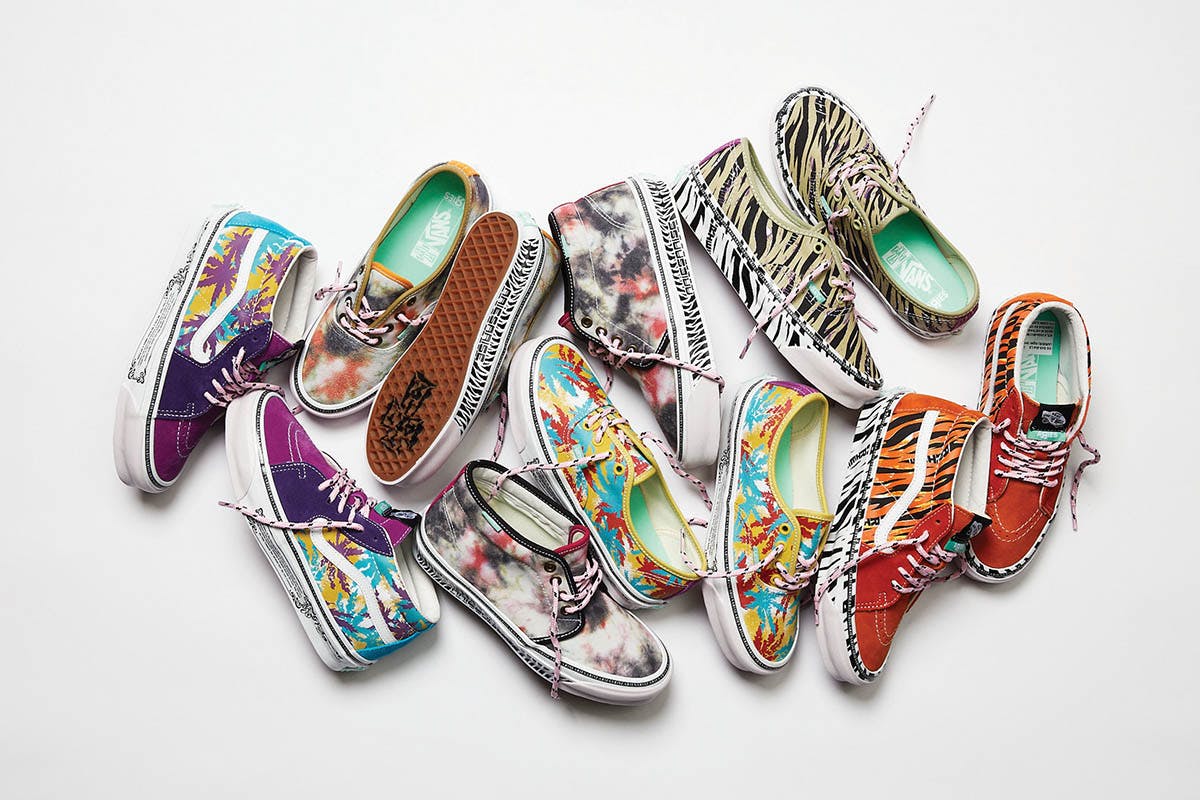 To bring the collection's psychedelic '80s-themed colorways to life, we couldn't think of a more fitting cast than the members of La Mesa Puerca — an up-and-coming artist collective based out of Oaxaca, Mexico. Known for its rich history of folk art and handicrafts, Oaxaca is a mecca for artisanal goods like traditional Mexican textiles and ceramics. The members of La Mesa Puerca are equally diverse when it comes to their skills — the six-person crew dabbles in everything from graphic design, screen printing, tattooing, ceramics, and sculpturing, among others.
We brought the Aries x Vault by Vans capsule down to Oaxaca to meet La Mesa Puerca and got an intimate look inside their studio as they flexed the collection. Get a glimpse of the lookbook we shot and read our conversation below to learn more about the collective.
Look for the Aries x Vault by Vans collection dropping September 11th at select Vault by Vans retailers. For more information and where to purchase, visit The Drop List, a calendar of Vans' most exclusive product drops.
Tell us about how La Mesa Puerca came together and your relationship with each other.
Julio (Painter): La Mesa Puerca (LMP) started with Mario and Daniel, they met in high school. When I got to Oaxaca there were some very cool huge pig head stickers on the streets.
Mario (Graffiti artist, screen printer): It came together by our mutual liking of graffiti/street art. The relation between the collective is pure love and mutual support. We're always aware of what any team member may need, like a family.
Rosita (Sculpture artist, painter): We know each other from the art scene — in Oaxaca it's small. And through expos at YOPES (YOPES is an art collective with space for exhibitions).
How does each member contribute to the collective? What are your specialties?
Julio: We live in the same house, so each one organically cooperates on what's needed. We don't have such a defined structure. We all do a bit of everything, at LMP we create images with traditional and digital methods.
Lumbre (ceramic artist): Ceramics and drawing.
Rosita: I work with clay and paint. I use clay from a potter community, help out with its process, and buy materials.
Mario: Serigraphy as my base technique, both as my source of monthly income and to develop my own ideas over fabric or paper. I also do graffiti with aerosol, although it is physically more tiring.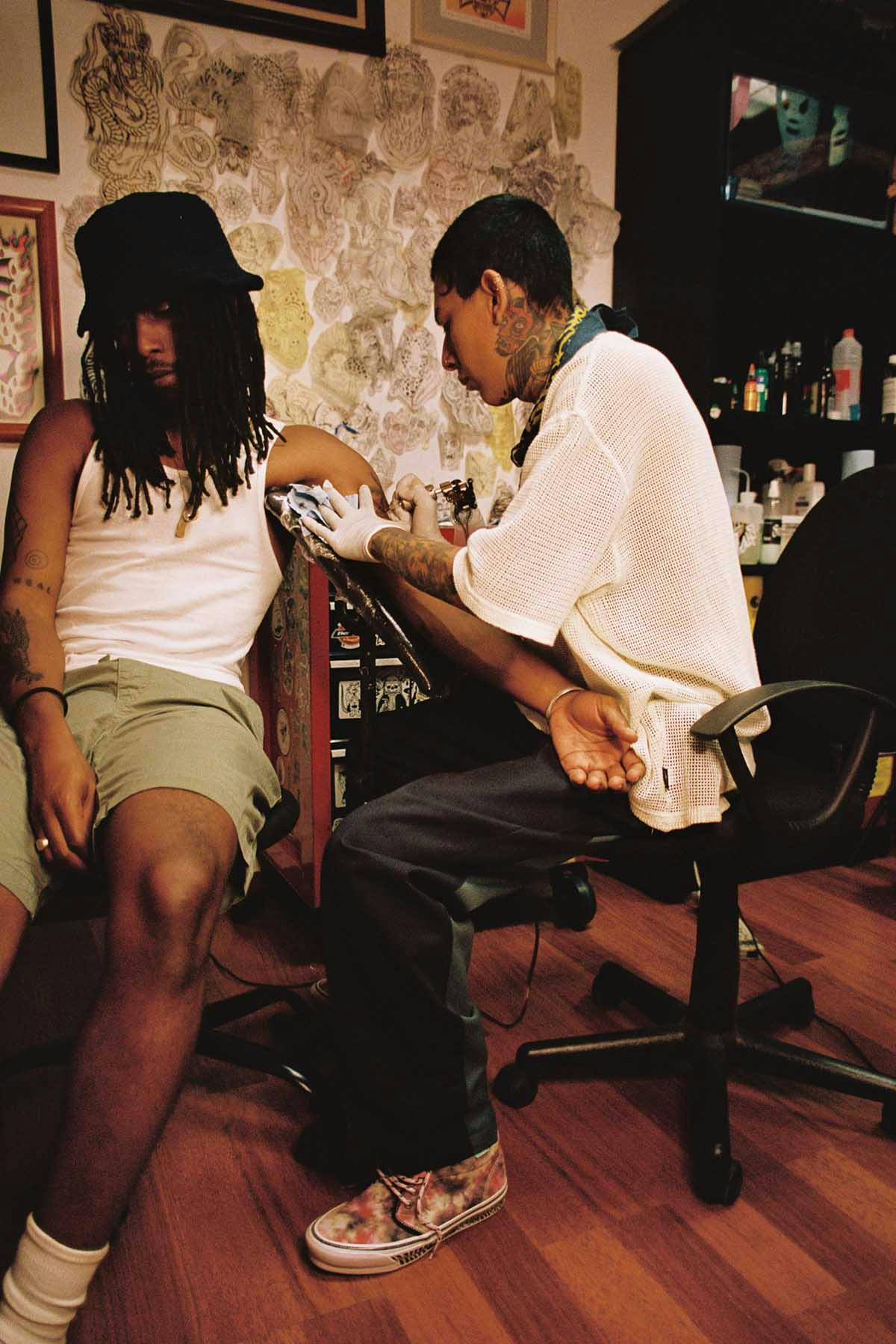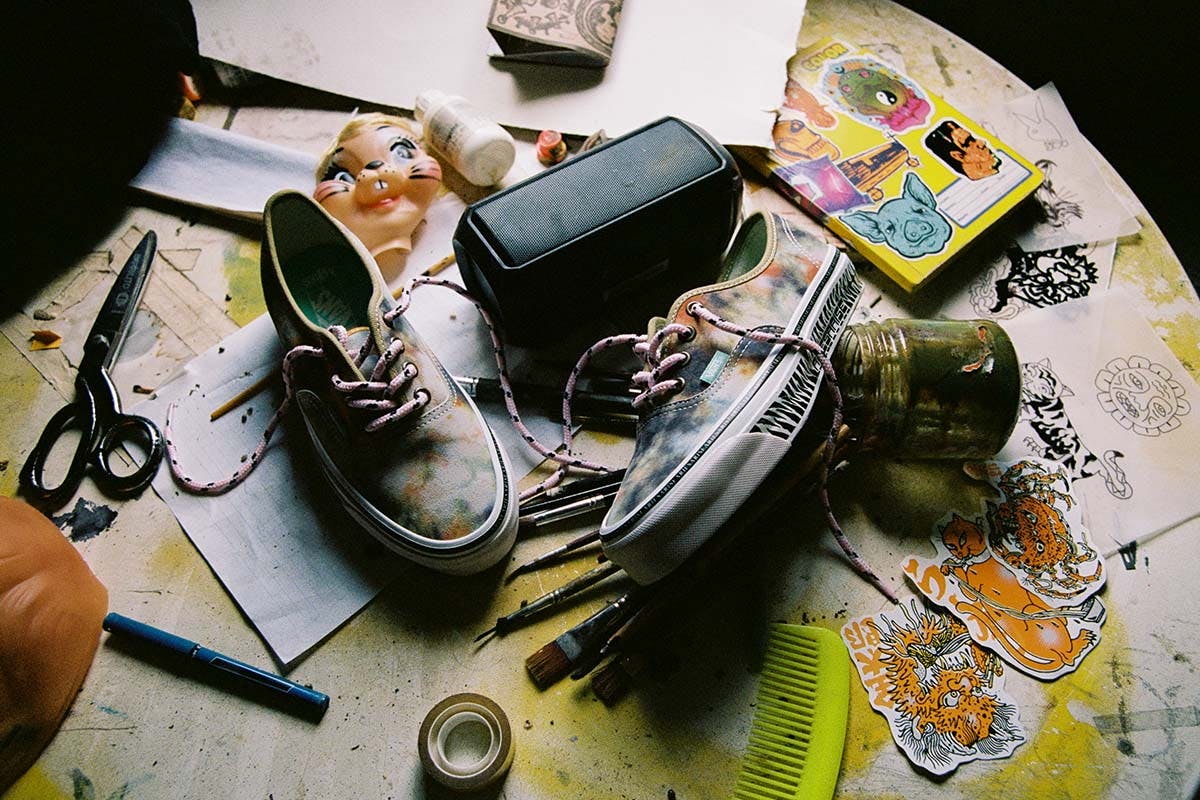 Oaxaca has a rich history of producing unique folk art and handicrafts, how does La Mesa Puerca contribute to this legacy?
Mario: I think the contribution is done by the Oaxacan artistic legacy since we reference colors and compositions that we've seen since childhood. Our contribution is the reinterpretation of the art that's already a legacy, transformed to our time.
What are some of your favorite pieces and why?
Mario: One of Julio's paintings is currently one of my favorite pieces, above all because I've seen the creative process he uses. That makes me have a bigger connection with the finished piece.
Rosita: The last pot I made because it's the biggest I've ever made and it's also more like a sculpture.
Lumbre: I like them all. Each one is part of an experiment and a different moment in my life and work.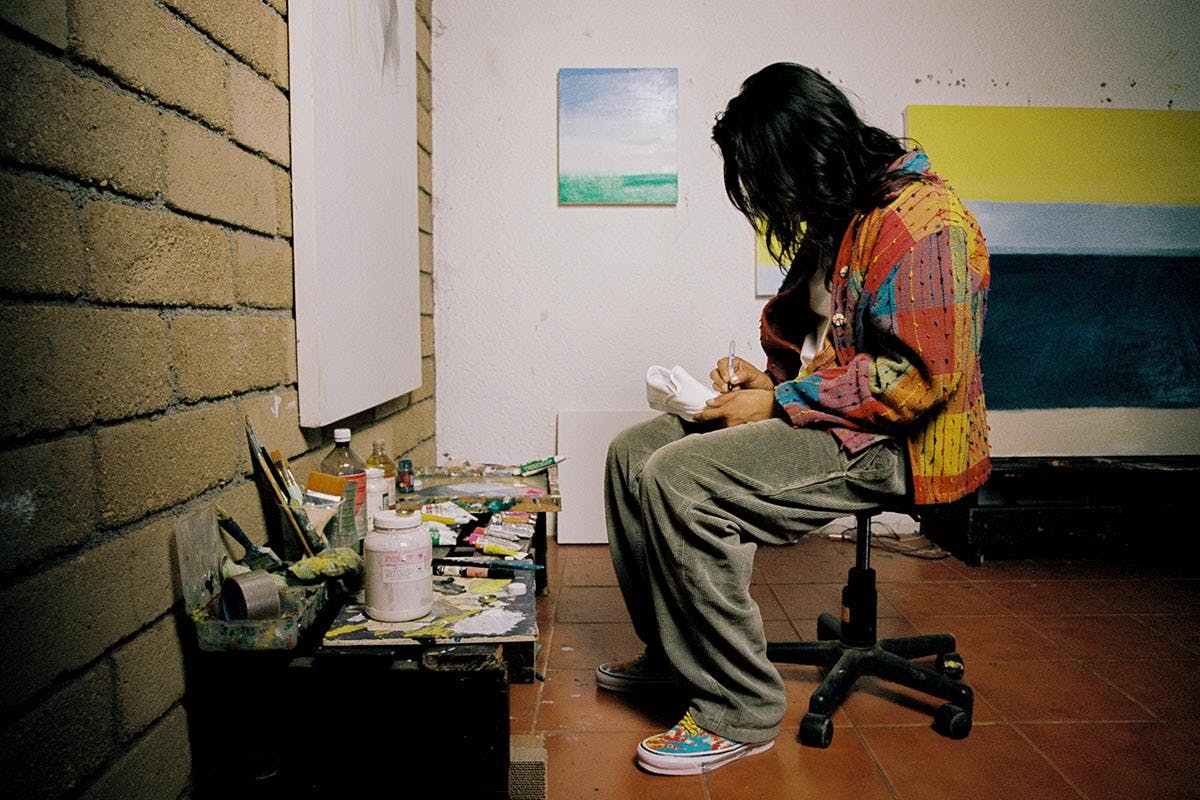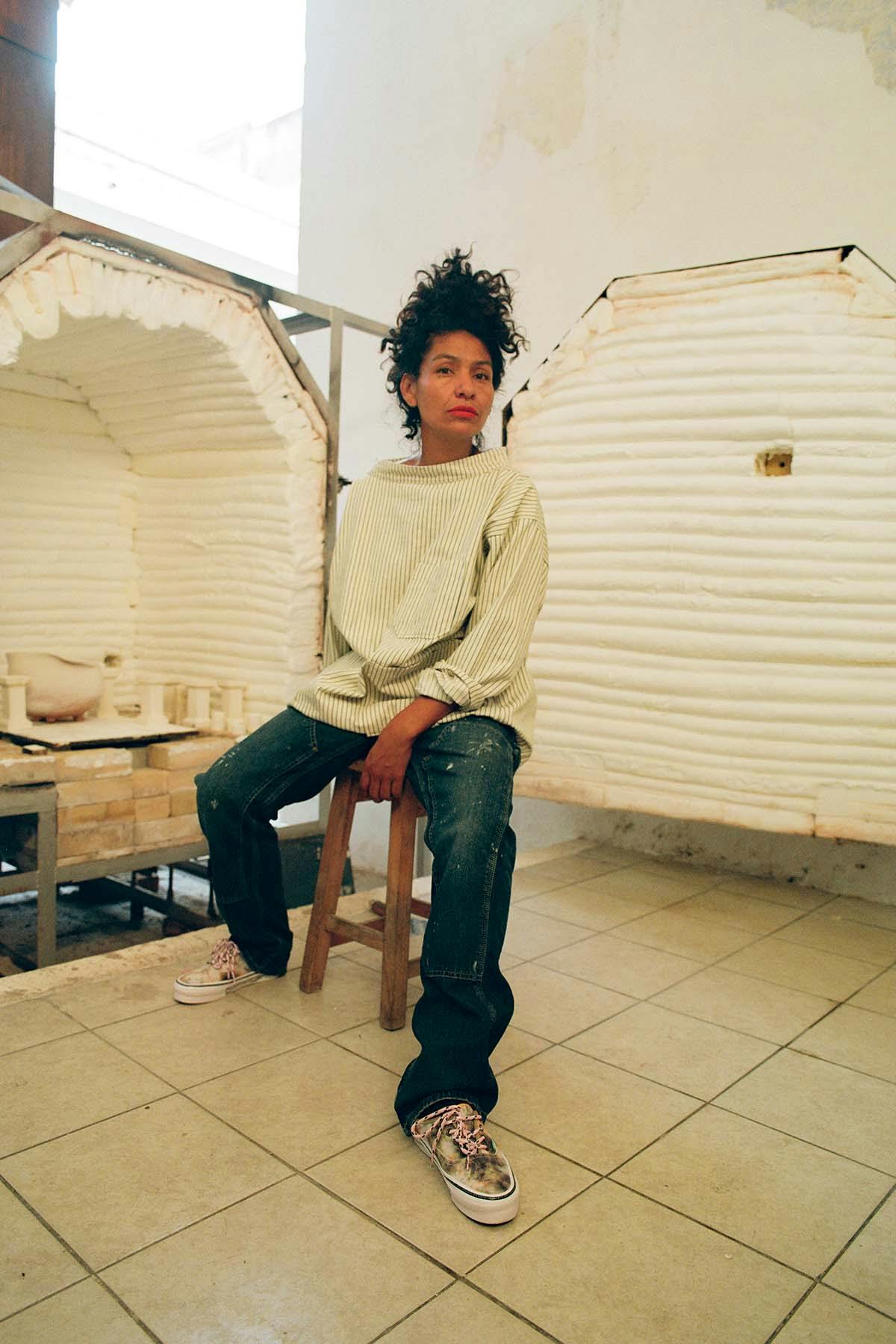 What is La Mesa Puerca trying to accomplish with their work?
Julio: I like to talk about ideas and materialize them. Sometimes they're very absurd, but with the whole crew backing you up you don't doubt as much.
Rosita: I try to explore my own language making larger formats.
Mario: We want to have a space where the LMP family doesn't have any limits to create, continuing adding more [artists] to the family with their superpowers, and so have a multidisciplinary shop where any idea can become concrete.
Talk to us about your creative influences and what inspires your work.
Mario: My first creative influences were locals, artists from our same state. The skate and cholo cultures influence what we do today.
Julio: We like hip hop a lot, it's one of the things that unites us the most. We like to freestyle, play with our ideas, and see what happens.
Rosita: Visionary art, dance, and magic.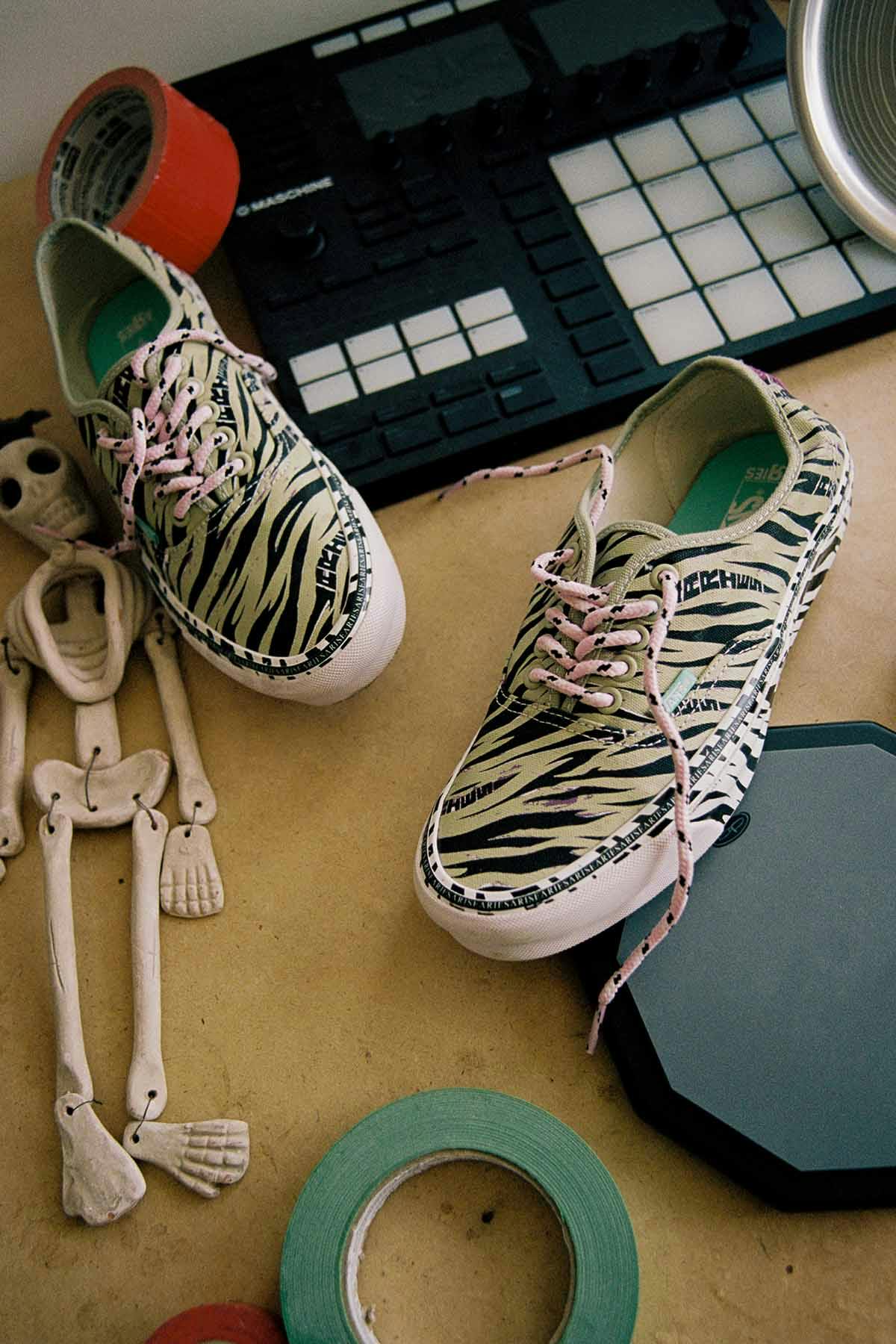 Tell us a little about your personal style and how Vault by Vans fits your aesthetic.
Julio: We've always liked Vans clothing and shoes. We don't skate, but we used to watch skate videos to see how skaters would dress and from there get our inspiration to do our thing.
Mario: Each member is always full of paint. Anywhere we go, we find something we can experiment with —whether it's a marker or a bit of mud. That's why Vans adapts to our street needs. Some paint splatters are never a wrong look for Vans.
Lumbre: A bit punk, a bit grunge, a bit fancy.
Rosita: I like to dress in comfortable and baggy clothes.