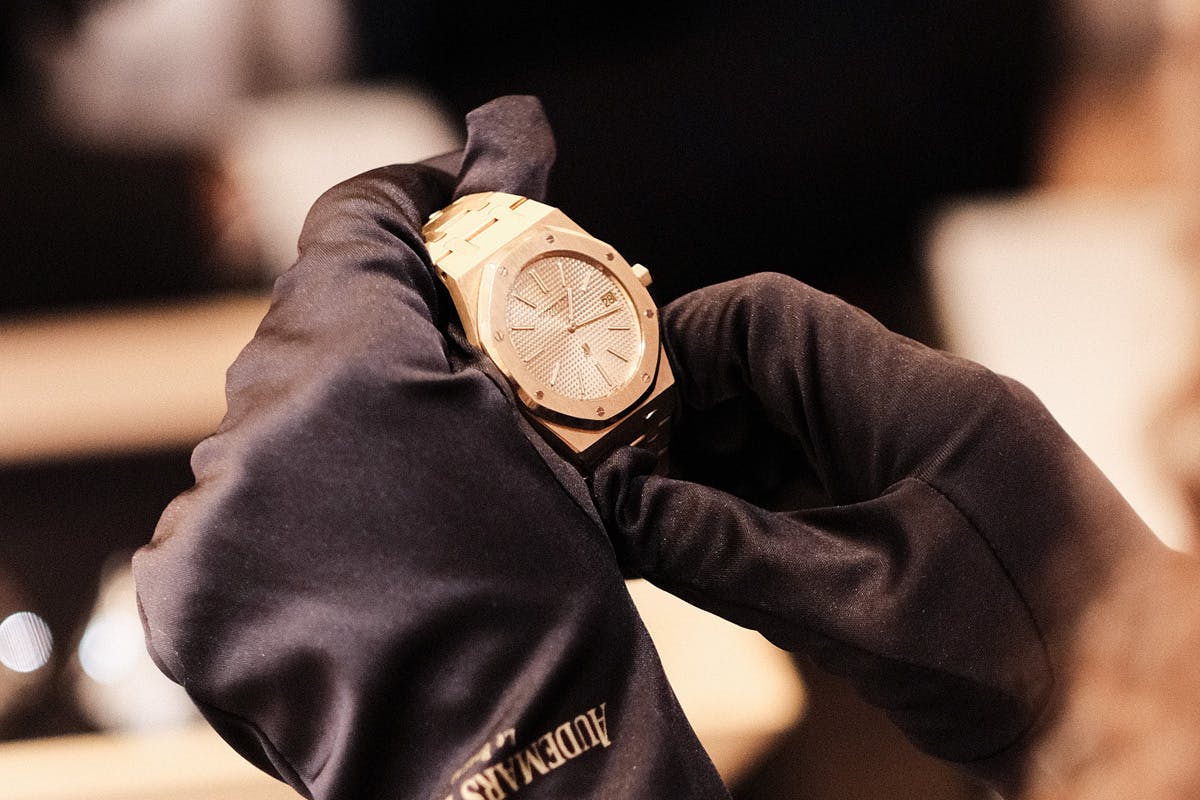 In today's horological landscape, Audemars Piguet is bread-and-butter watch talk, with the Royal Oak standing firmly as the widely talked about "frontman" of the brand. The instantly recognizable, octagonally-shaped watch (notably the 39mm 15202 "Jumbo" reference) sits alongside the Patek Phillipe Nautilus and the Rolex Daytona as one of the most coveted stainless steel sports watches on the market.
Unless you fancy yourself as a bit of a watch nerd, that's just how you understand Audemars Piguet within a 2023 context.
But back in 1993, AP launched the Royal Oak Offshore, a watch that would go on to change the trajectory of the watch space and, furthermore, impact how the luxury world interacted with contemporary culture. The Offshore became the hottest watch of the early 2000s and went on to shape modern watch culture as we know it.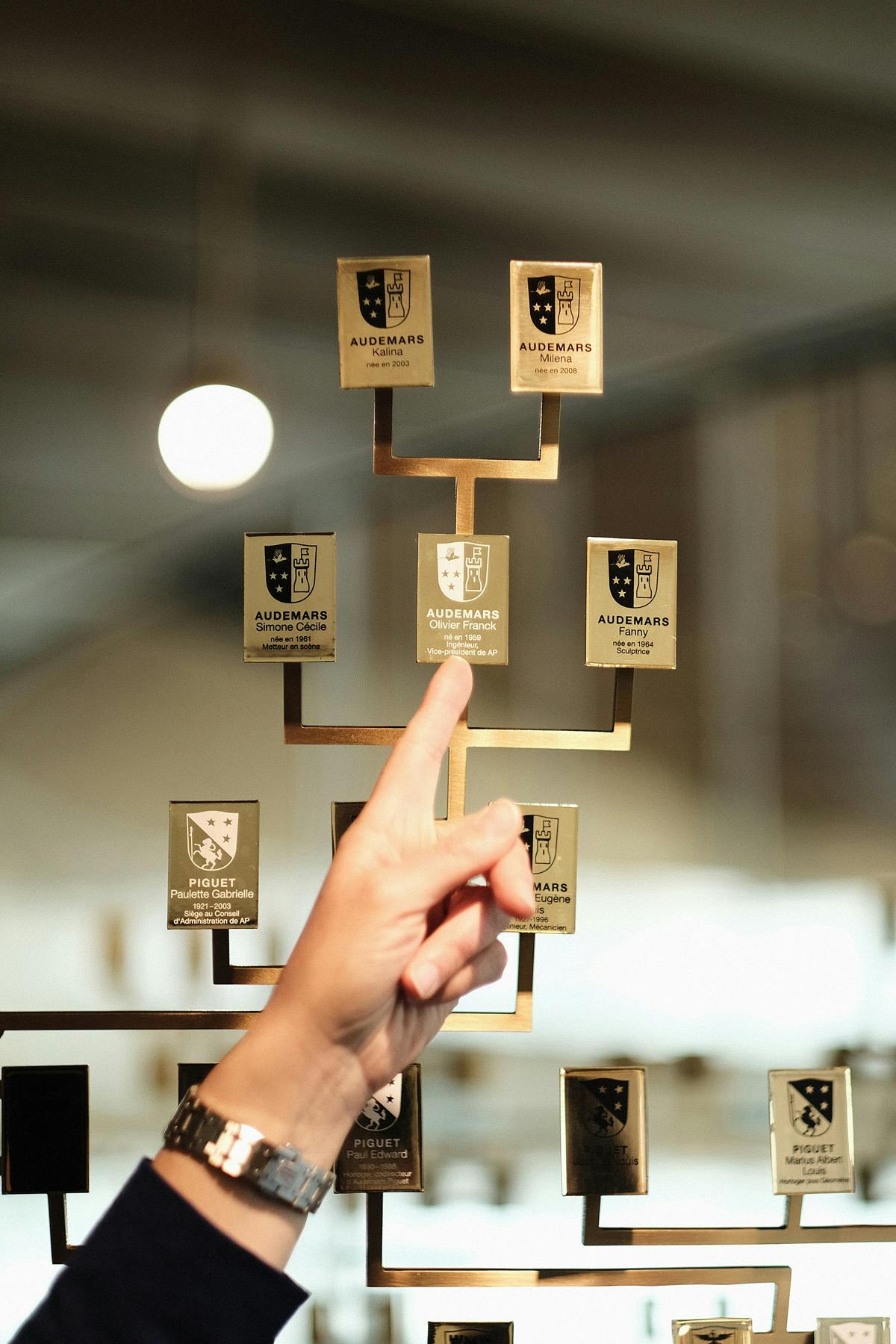 AP's origin story began back in 1875 in the Swiss Vallée de Joux region. The historical headquarters, along with the brand's newly designed and architecturally progressive manufacture sites, remain nestled away in the perfectly serene mountainous village of the brand's birthplace, Le Brassus. It's a calm and quiet slice of Swiss heaven that claims a special place in high-end watch-making history.
The pervasive feeling of AP HQ is so still, so quiet, that when you enter the atrium of the Audemars Piguet museum, a sense of calm washes over you and sends you back to a time where everything was (and pretty much still is) made by hand, examined through a loupe and crafted with care.
This perfectly serene mood of the Swiss Jura mountains sits in contrast to the bold and brazenly modern Offshore model designed by Emmanuel Guiet for the 20th anniversary of the Royal Oak. The Royal Oak Offshore arrived with a bang at Basel World in 1993, it was unlike anything else on the market. A gargantuan 42mm in diameter, the chronograph was made of stainless steel, complete with an exposed rubber gasket and rubber coating on the pushers and bezel. It was a bold new rugged look.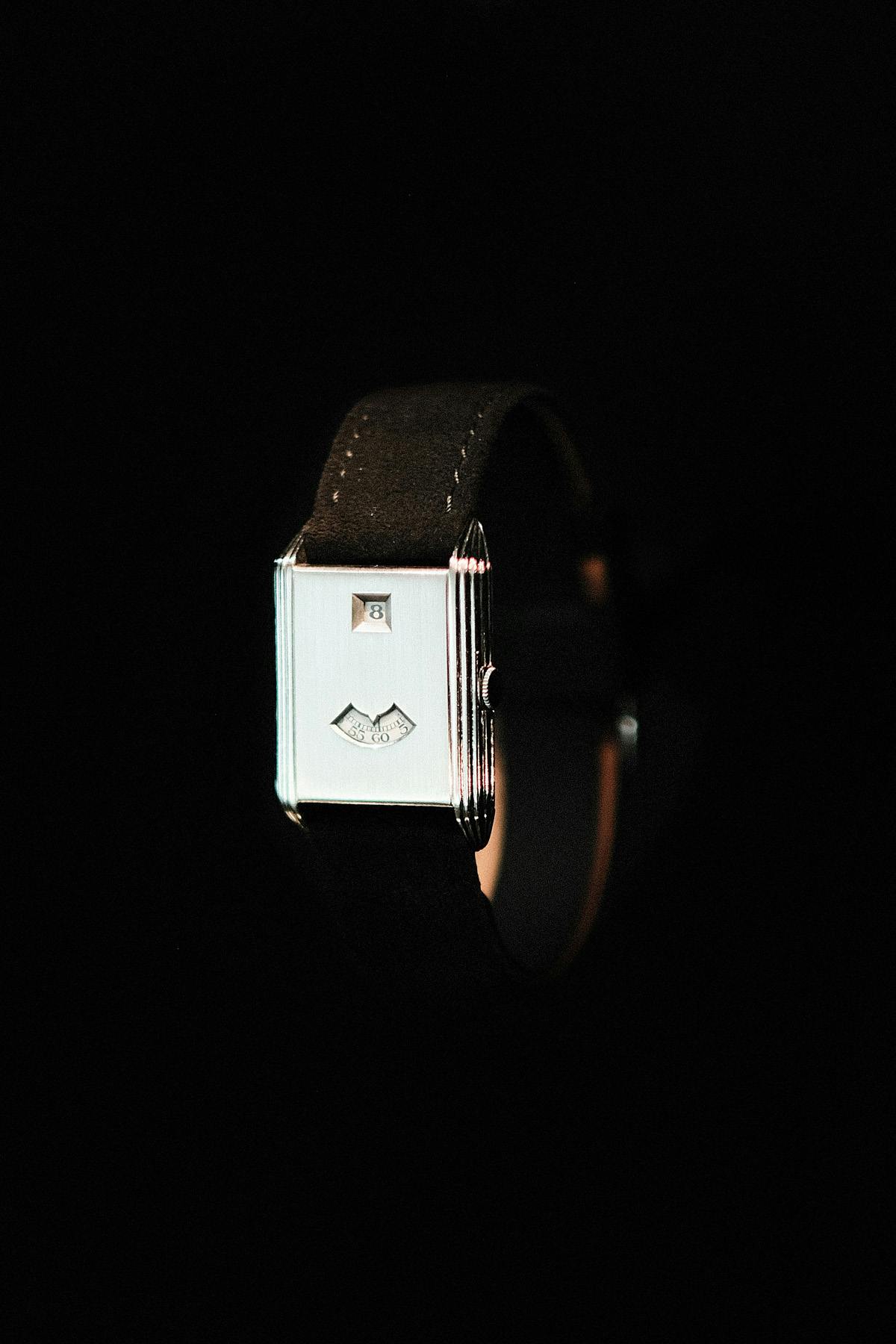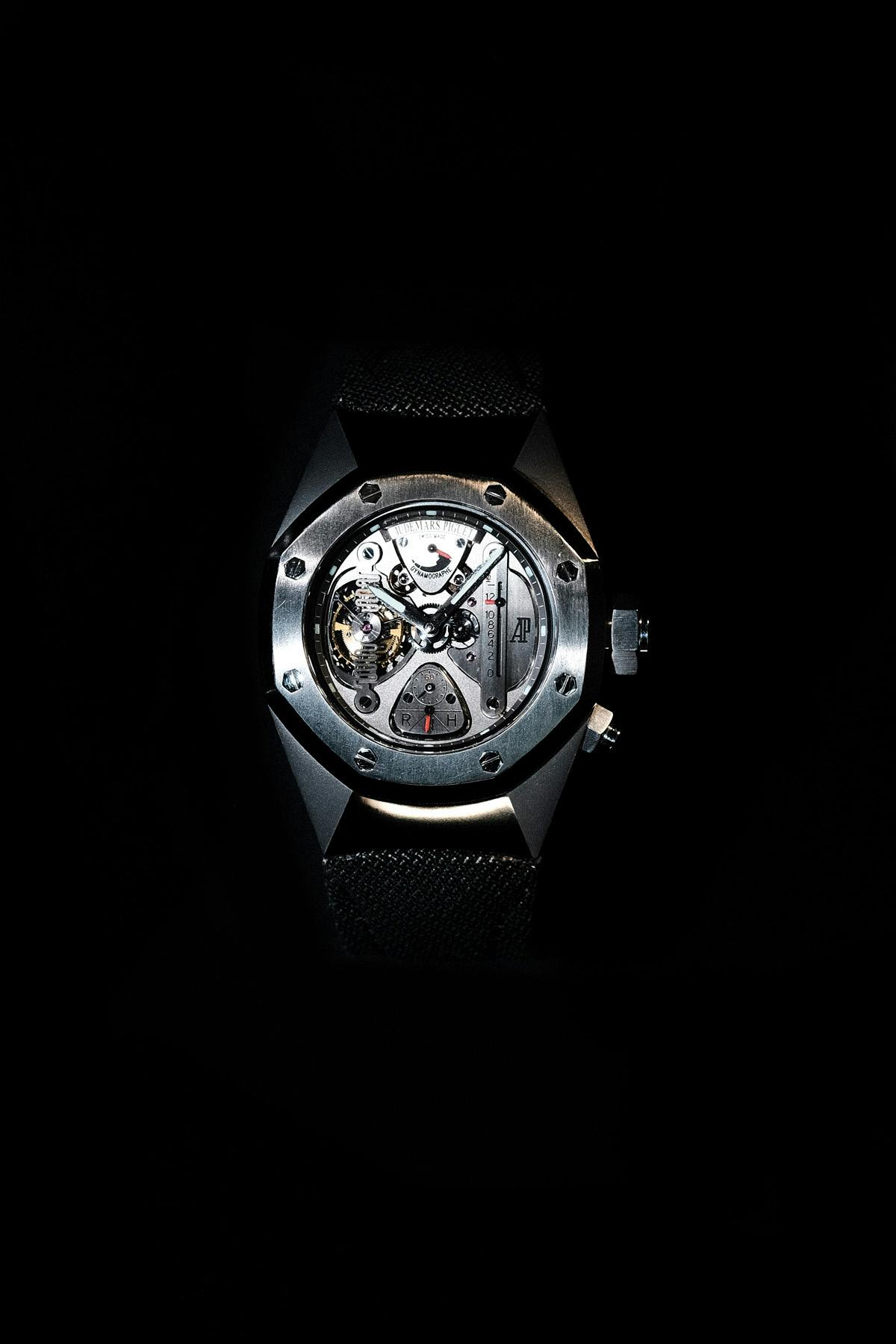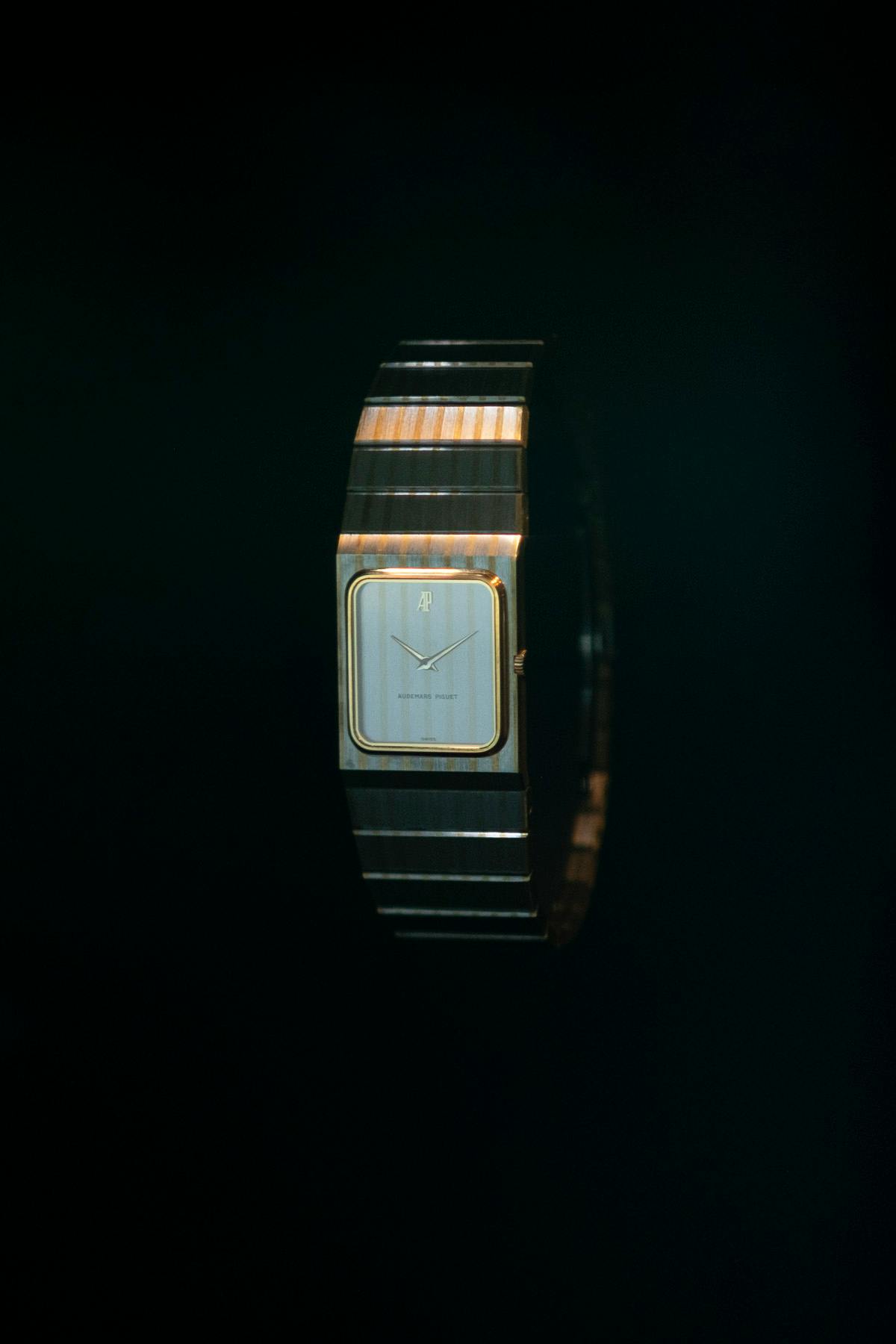 I spoke to the former AP Head of Complications, Michael Friedman, about the genesis of the Offshore and how this "Royal Oak on steroids" was a true reflection of what was happening in the wider zeitgeist. "If we think back to the early 1990s, the entire fashion dialogue was a theme of oversized, it cut across cultures and ages," he explains. "Large gold chains on the runway at Chanel, huge chokers by Vivienne Westwood, large hooped earrings and then of course enormous jeans and flannels."
The Offshore was, in a sense, evoking a similar attitude to your typical '90s caricature of a guy in a large oversized flannel shirt listening to Nirvana. It was born in the era of peak skate culture and hugely oversized clothes and sneakers, from teenage girls in insanely baggy jeans and chunky shoes, all the way through to body modification by way of ear gauges. These trends were all overt, oversized expressions of identity.
The '90s was a decade earmarked by people pushing things to the absolute limits in all respects. From the rise of extreme sports and the inception of the X Games down to mountain climbing in the Himalayas becoming "mainstream," everything in culture became big and watches were no exception.
The Offshore and its rise in popularity toward the end of the decade initiated a radical transformation of the watch industry: "It pushed the idea of size and measurements to a landscape that hadn't existed ever before in high-end watchmaking. It was clearly part of a broader cultural dialogue taking place."
Despite the initial shock and disapproval of Gerald Genta (designer of the original 1972 Royal Oak), with time (and some opportune celebrity cross pollination), the watch gained an enormous following and became a centerpiece for Audemars Piguet. It all began with the relationship between AP and Hollywood actor Arnold Schwarzenegger, who wore an Offshore in his 1999 movie End of Days.
"What that did was situate, high-end watchmaking unapologetically next to, not only next to, literally on the wrist of the biggest movie star of the moment who was already a legend in such a place of high visibility" explained Friedman. The End of Days limited Edition watch became a highly coveted piece of pop culture history. AP would go on to make a colossal 48mm Offshore especially designed for Schwarzenegger's role in Terminator 3, which was also released as a limited edition watch series in 2003.
Largely thanks to the Offshore, Audemars Piguet was also coming into its own as a brand with serious cultural clout. In 2000 they hosted the star studded celebrity "Time To Give" Auction alongside Schwarzenegger and Muhammad Ali in benefit of the Inner City Games Foundation. There were multiple celebrity engraved AP watches with lots from the likes of Mariah Carey, Cher, Robin Williams and even Whoopi Goldberg.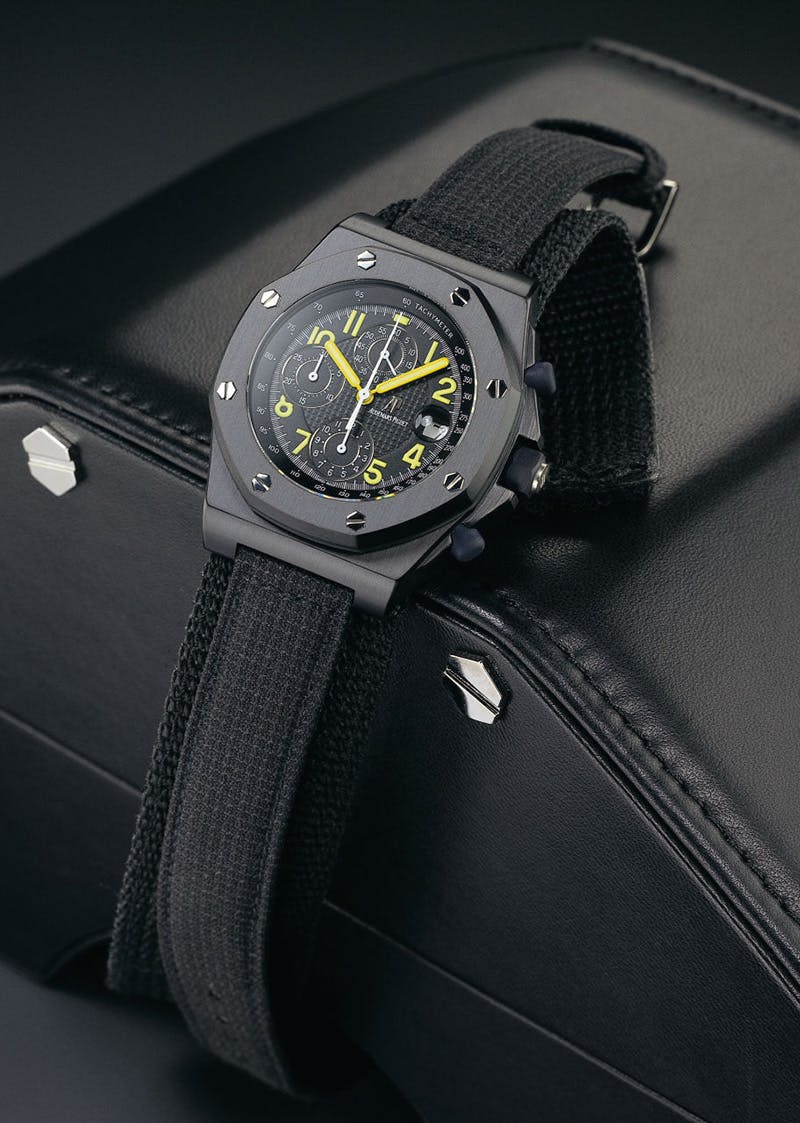 "In that moment there was a modern alignment with pop culture," Friedman told me, "This paved the way for what came a few years later with the Jay-Z anniversary edition. Perhaps the most important offshore ever created. At least one of the most important watches of 21st century watchmaking."
Indeed ,the Jay-Z 10 year anniversary watch marked an important milestone for AP and for luxury culture as a whole. At the time of its launch (2005) it was undoubtedly a popular release but there were other limited edition Offshores that created just as much, if not more buzz.
When looking back now, through a historical lens, we understand just how important that watch was. It was a product of a legacy brand in high-end-watchmaking created with one of the greatest rappers of all time, already, 10 years into his career who was yet to become one of the most important cultural figures of our time.
This limited edition marked a genuine partnership between the traditional luxury world and hip hop at a time when partnerships like these simply did not exist.
Available as an edition of 50 in stainless steel, 30 in rose gold and 20 in platinum, each watch featured a diamond set "10" (to symbolize Jay-Z's 10 years in music) and came in a special presentation box, along with a pre loaded iPod engraved with lyrics from "Hovi Baby:" "I'm so ahead of my time I'm about to start another life look behind you I'm about to pass you twice."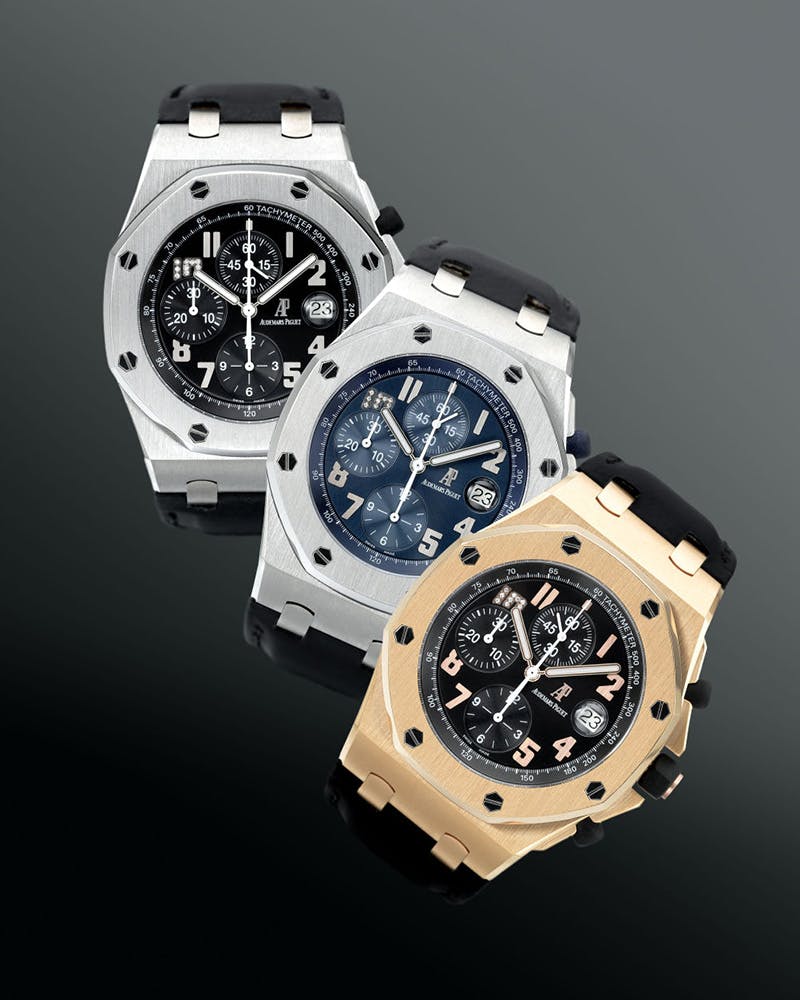 "Part of the reason why the Jay-Z watch was so powerful was that there was no aftermarket. This was Jay and the brand direct. Not 47th St." Freidman went on to explain, "He was moving past wearing a status symbol into creating a product. He created a message. He created a moment."
Jay-Z pushed high-end horology into mainstream view, needless to say AP getting on the map of popular culture is also inextricably linked to Jay-Z's referencing of the brand in countless lyrics over the years.
In the early 2000s AP started producing fully diamond-set offshores, the popularity of these models marked another shift in watch consumerism.
"There was a ping pong effect - with the impact of hip hop culture." Friedman told me, "AP beginning to do gem-setting on these types of watches in that era was a reflection of what was being seen out there- it was a cultural dialogue."
But timepieces had been diamond set since the beginning of pocket watches. The difference here was taking what, in 1993, was a stainless steel rugged sports watch designed for jumping off cliffs, albeit with high end finishings, and just over a decade later creating a full gold version covered in stones. AP was mirroring exactly what was happening with aftermarket watches on 47th street.
Friedman clarified, "This was their way of saying 'here's how the factory does it, here's how the gem setters in Le Brassus do it.'"
The dichotomy of a traditional Swiss watch-maker tucked away in the quiet mountains of Switzerland impacting mainstream culture and changing the landscape of an entire industry kind of sums up the AP attitude to most things: quiet elegance and traditional heritage in the background, forward thinking moves in its alignment with outside spaces (be it sports, music or Hollywood) in the foreground. And the Offshore is the ultimate example of the AP dichotomy.
The model has been produced in countless iterations over the years, in fact, there are so many limited editions that it would be a laborious task to attempt a total tally count of them all. The brand aligned with a variety of sportsmen and teams too; notably Rubens Barrichello, Michael Schumacher, Shaquille O'Neal and LeBron James.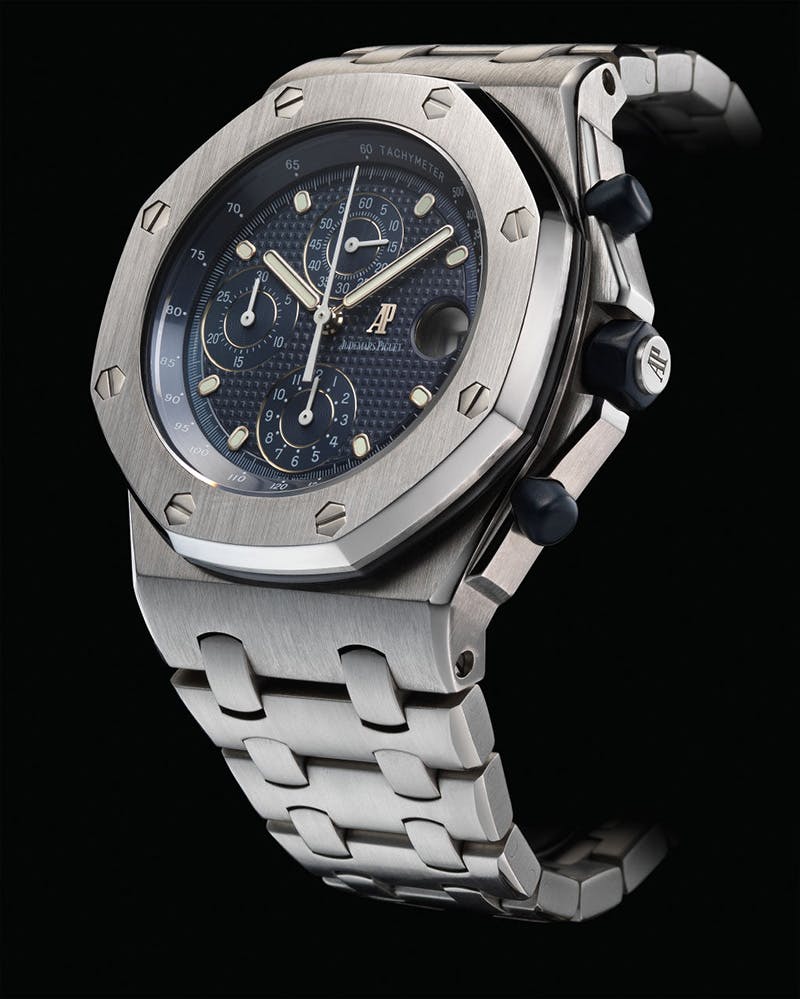 For many watch collectors and lovers alike, the Offshore is celebrated for pushing the boundaries of material and technical innovation in high-end watchmaking. But the momentum of Offshore culture during its peak years of popularity was so radical that it managed to change the whole landscape of modern watch culture.
If we put on our futurist hats, the historical echo that the Offshore will have made surely lies in the culture it created too. Trends are cyclical, and perhaps oversized watches will find their time in the spotlight once again, but the Offshore certainly deserves a huge place in AP's historical canon on the merit of cultural impact alone, regardless of trends in design, form and shape.
Trend or no trend, we call for an Offshore revival.