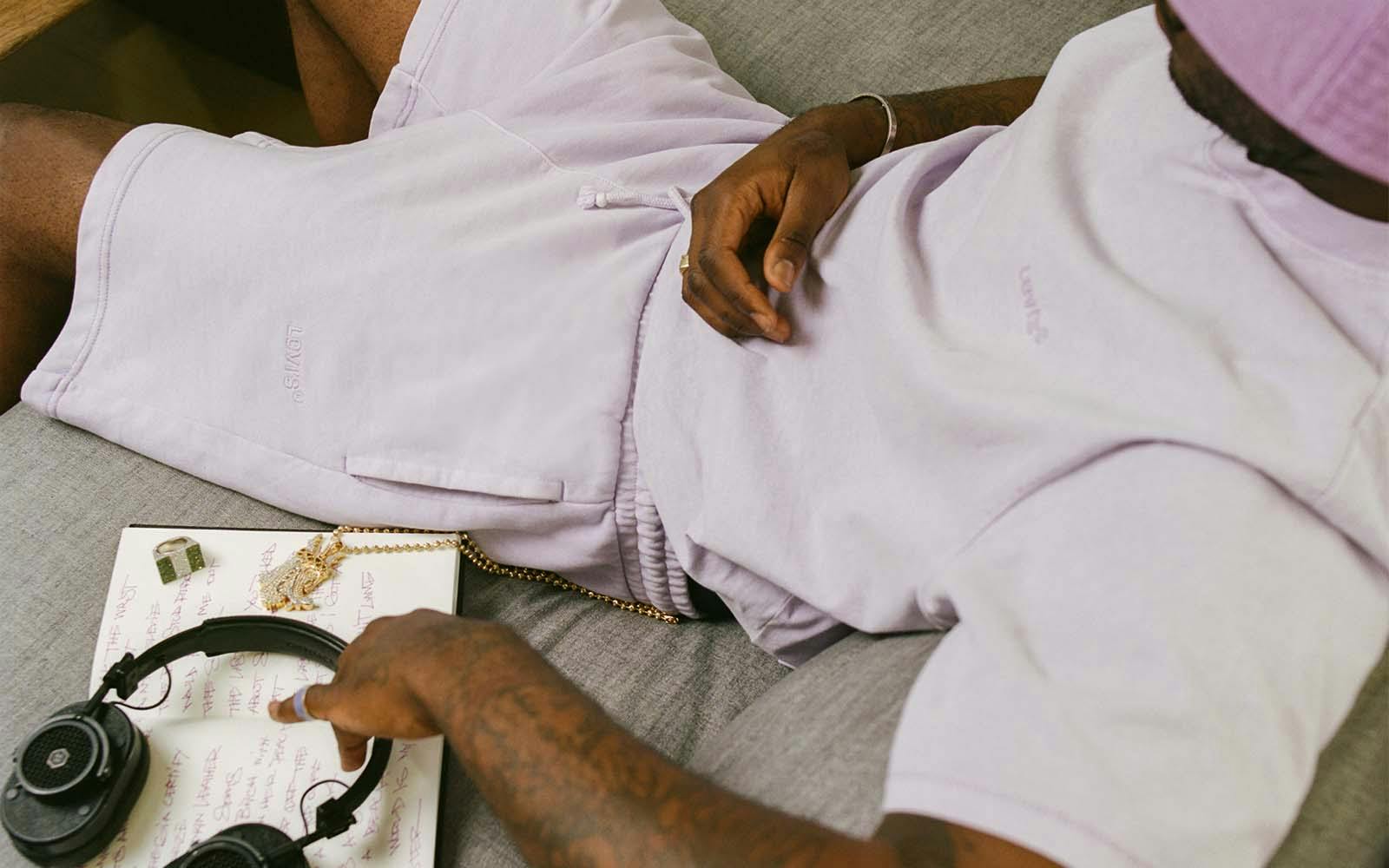 This piece is a part of the Levi's® Fresh series where we celebrate the brand's latest sustainable, color-first initiative. Stepping into the world of three different creators, we see how they style pieces from Levi's® Fresh and use colors from the collection to express their own unique stories. Learn more about Levi's® Fresh here.
NYC-based musical artist Aurora Anthony believes that colors can convey one's energy just as strongly as song lyrics. "Kind of like how watching is a conduit for how to listen," he explains. Linking up with Levi's® Fresh, we spent the afternoon with Anthony (and his dog) to chat about all things creative. Authentically expressing himself through the collection, Anthony opts for an entirely purple fit, flexing a sense of greatness which he attributes to the color's rich history of, "being associated with royalty."
Check out more below on how Anthony styles Levi's® Fresh below and how he believes color and music work in a similar way to convey powerful messages.
How does color inform your personal style?
I go through periods of color fixations that influence my wardrobe. Sky blue and purple are my two signatures. Lately, I've been experimenting with a lot of greens too though.
What's your favorite way to wear Levi's® Fresh?
With core elements of my day-to-day style. I like to dress it up with a bucket hat, gold chains, grills, a watch, a basic for layering, and sneakers.
What made you choose your specific color?
Purple is the color I've had a relationship with the longest, it has always resonated with me. My longtime fans have definitely picked up on my love for purple. I even try to bring the color purple into almost every collab I do, whether that be through music or my personal brand, 100 Wolves – I actually recently used purple to highlight all of my heritage items for the brand. I just identify with its rich history, specifically as being the color associated with royalty.
In your opinion, how can color inform music or vice versa?
When real thought is applied, color and music can work together to enhance, elevate, and even explain one another. I used black and white visuals for my album, Tunde, because, to me, the music had to be seen as stark and raw. What I hopefully achieved by presenting it this way was to have you hear the music differently after having seen the visuals. Kind of like watching was a conduit for how to listen. Color, or lack of color, made that storytelling process possible.
What characteristics do your personal style and music have in common?
Both are genre-less, not trendy, and authentic. I wear what I look best in, not what's popular. Likewise, I record how I sound best, and not what's working for other people. Levi's® Fresh works for me in that way. The collection is stylish without saying or doing too much. It's honestly the perfect mix between being comfortable and being stylish.
What elements within your day-to-day routine inspire your style most?
It all stems from my daily life in New York City. You're never anonymous here. Wherever you go, you run into people you know or people who know you, so there are no days off when it comes to style. You always have to represent yourself. Someone may not even stop to talk to you, but they see you, so you gotta let your clothes speak.
Check out Levi's® Fresh rich mix of vibrant head-to-toe looks, all made sustainably with plant-based dyes at levi.com.