Say what you want about Demna Gvasalia, but the guy knows how to turn heads. As the Creative Director of both Balenciaga and his own label Vetements, the Georgian designer has made an artform of the fashion presentation, creating show after show that gets people talking both inside and outside the usual commentariat circles.
In previous seasons, that spectacle has been, for the most part, the clothes themselves. Though presentations might have taken place in unorthodox settings – such as Balenciaga's SS18 menswear, which took place in the Bois de Boulogne park in Paris – the shows themselves were fairly straightforward. The spectacles he created weren't in the vein of the theatrics of McQueen or the avant-garde extravagance of Kawakubo, but of the tailors from The Emperor's New Clothes. They gave us the creeping suspicion that, maybe, we're all being taken for a ride.
Balenciaga FW18, however, appeared to take a different turn. Though the show was, at its heart, the familiar blend of tongue-in-cheek pop culture iconography and confrontational styling that has characterized Gvasalia's output, there was arguably a new thread to this collection; an anxious look at the modern world that shows Demna Gvasalia actually gets us better than we do.
As the show's centerpiece, a giant, white mountain covered in graffiti towered over the models. Messily covered in slogans like "Power of Dreams", "Think Big", "No Borders" and "You are the World," spray-painted in the style of the guerrilla messages you see plastered on walls and shop shutters all over the world, the set was, quite literally, a mountain of ideology.
This preoccupation with ideology carried onto the clothes themselves, through a new collaboration between Balenciaga and the United Nations' World Food Program, that will see 10% of proceeds from all WFP-branded product donated to the cause of ending world hunger.
This follows from numerous other brands who have announced their own socially-conscious initiatives. Gucci decided to ban fur from its collections last year, and Christopher Bailey's final collection for Burberry included heavy use of the LGBTQ rainbow flag (a move which was coupled with donations to multiple LGBTQ+ charities).
Beyond this, we saw flashes of familiar territory for Gvasalia. He explored the intersections of fashion, commerce and corporate culture once more, opening in new avenues in the light of the aforementioned charitable venture.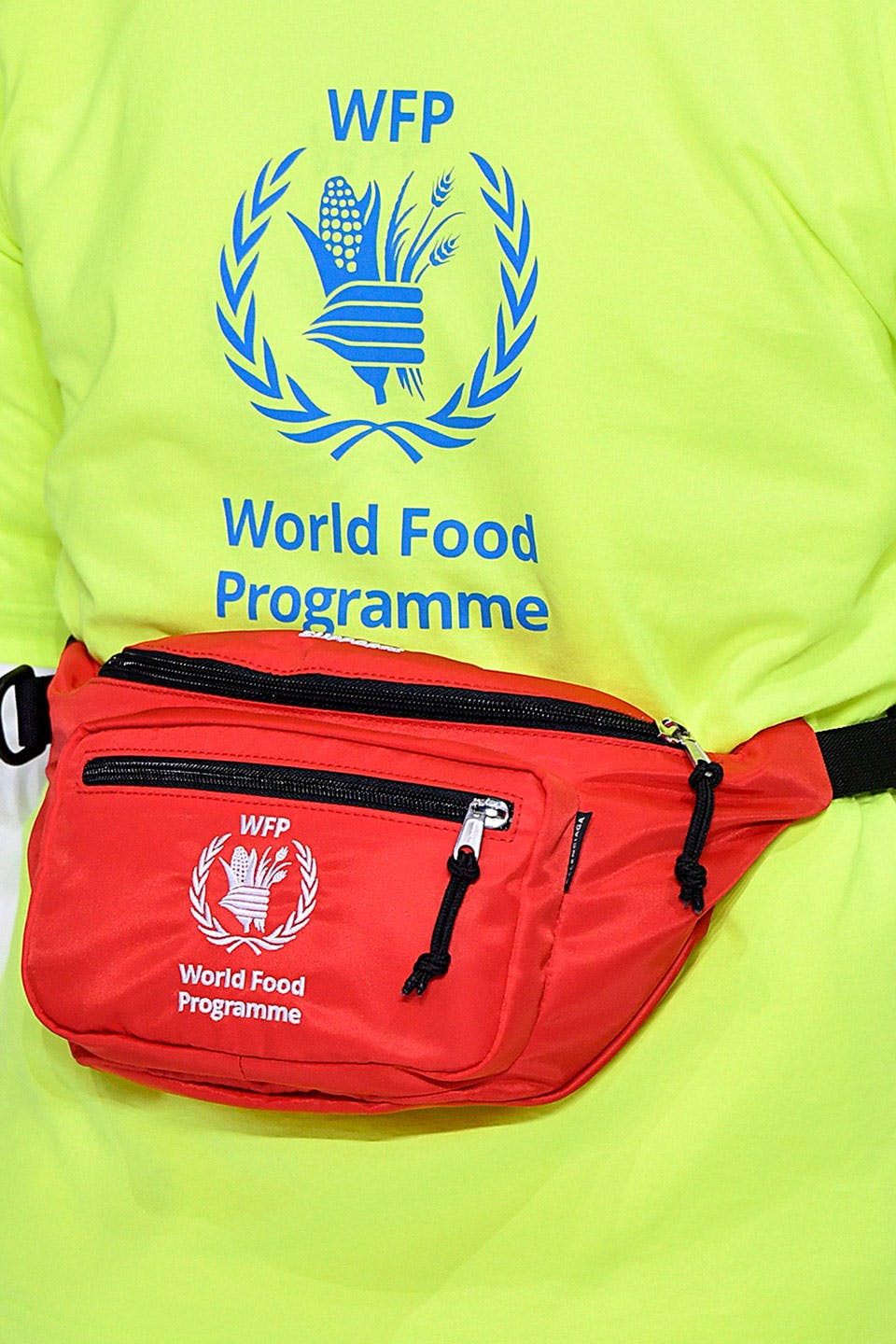 Once again, models walked down the runway with Balenciaga-branded shopping bags and leather totes. The sharply-tailored, but distinctively stiff tailored suits and jackets, puffed out at the waist — a prominent feature of Gvasalia's debut collection at the house — made a welcome return, eventually giving way to heavily-layered looks, gradually reaching the point where the models had practically vanished beneath their clothes.
No surprise. One need only think of Vetements' in-store installations at Harrods and Maxfield LA, featuring piles of discarded clothing, to see that Gvasalia is clearly preoccupied with the fashion world's excesses; the drudgery of the six-show fashion calendar; the mountains of product that pile up year on year; the oceans of cash flowing in and out of multi-billion dollar conglomerates; the ever-increasing need for fashion houses to justify their existence by being a force for positive change in the world – as is rightly the case in many other corners of the world right now.
Not only that, ten years on from a global financial crisis that we never really resolved, with weekly headlines reminding us of the rapidly-increasing inequality in the world, consumers are increasingly feeling the need to justify their spending habits – it's an anxiety that has fueled many modern business practices, such as fair trade accreditations which allow consumers to "do good" by consuming as normal, or business models practiced by brands like Toms, incorporating philanthropy into their business without disrupting the supply and demand curve.
This sense of being overwhelmed played out in a new context, as well – the overwhelming need for information; to be informed. Attendees to the show quickly noted the appearance of a french telephone number on both the set and some of the models' torsos. Upon ringing the number, callers were greeted by a telemarketing questionnaire, asking questions that ranged from the social ("Question 1 – What is your gender?") to the personal ("Question 9 – What is your favorite taste?") to questions you'd expect to find on a market research survey ("Question 3 – What is your shoe size?").
It spoke to a scattershot desire to know the customer, to understand them, to gather as much information as possible. And then, at the end of the call, the caller discovers it was all for nothing. "Thank you for taking the time to answer our questions. All data will be erased now. The new Balenciaga hotline wishes you a great day." All that learning, inquiry and gathering of information, only to end up right back where we started.
It's a sentiment that's been explored by other designers recently. Take, for example, Gucci's collaboration with Spanish artist Coco Capitán which asked the question, "What are we going to do with all this future?" In this modern age of automation, information and social change, it's natural to ask questions about what our increased understanding of the world around us will actually lead to. The vast majority of us are deeply concerned about the wealth of information companies like Google, Facebook and Apple hold about us, and what they might do with it, but we still give it up willingly (an issue Gvasalia touched on himself with the aforementioned hotline).
Considering his track record, it's natural to interpret Gvasalia's foray into social-consciousness as tongue-in-cheek. After all, there's a particularly caustic gag about a brand in fashion, one of the most wasteful industries in the world, working with a UN organization to tackle world hunger – a problem caused almost entirely by unequal distribution and the west's woefully wasteful attitude toward food.
But it's equally possible that Gvasalia is being entirely sincere with this latest move. Throughout the designer's work, there have been moments which could be interpreted as an exploration of the oft-problematic mechanisms that fuel the fashion industry and consumer culture at large.
For example, Vetements' infamous DHL collaboration arguably makes a wink and a nod to the sprawling infrastructure that brings fashion to our doors, piling on the air miles as it goes. Both Vetements and Balenciaga's use of kitsch graphics — the sort you'd buy from tourist vendors in city centers — could be highlighting the amount of time, energy and resources that go into creating stuff which, at the end of the day, is little more than tacky trash that will end up buried at the bottom of a wardrobe. And as many have pointed out, the corporate undertones of Balenciaga FW17 reminded us all that there are a lot of stiffs in suits and conglomerate dollars involved in telling people what's "cool".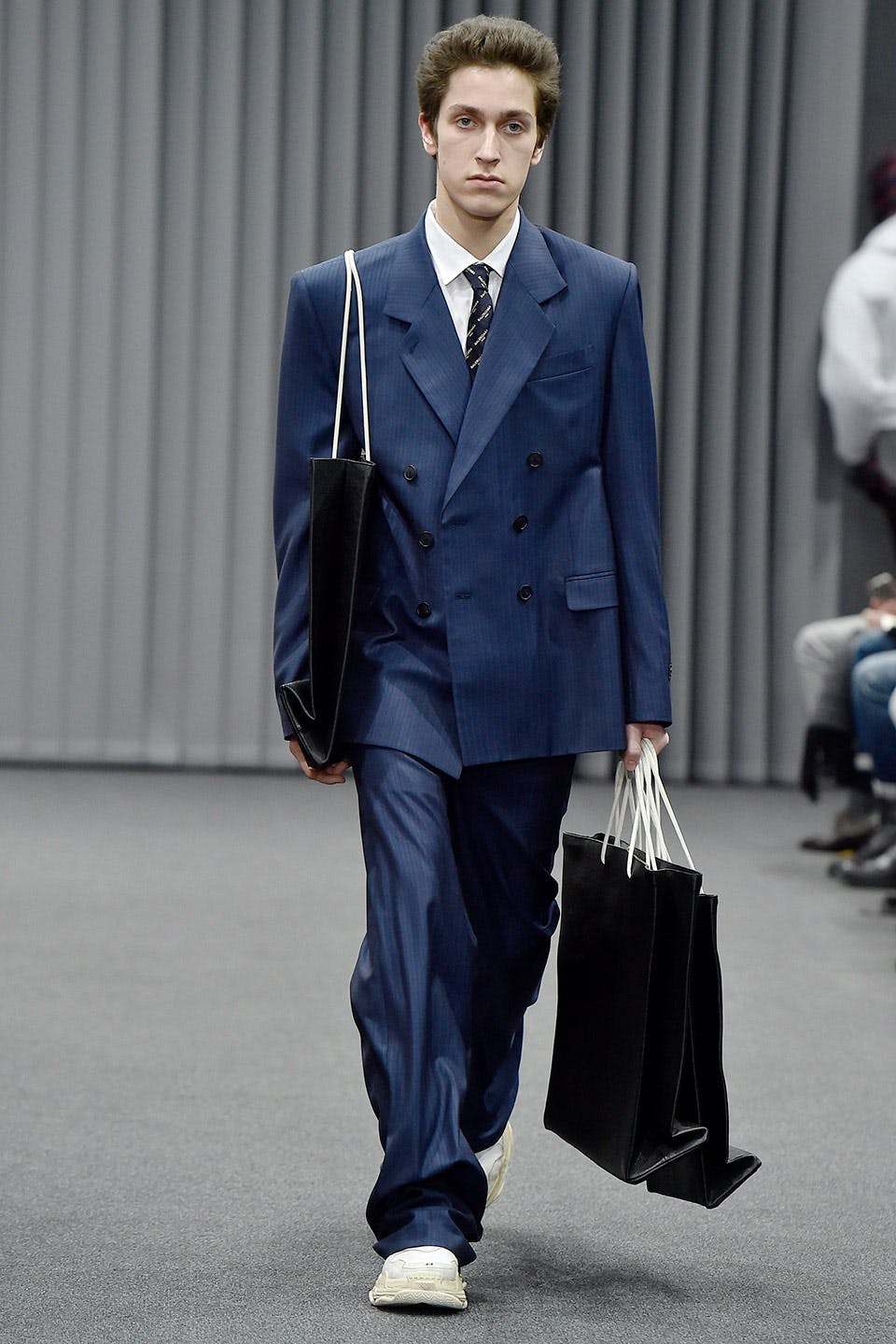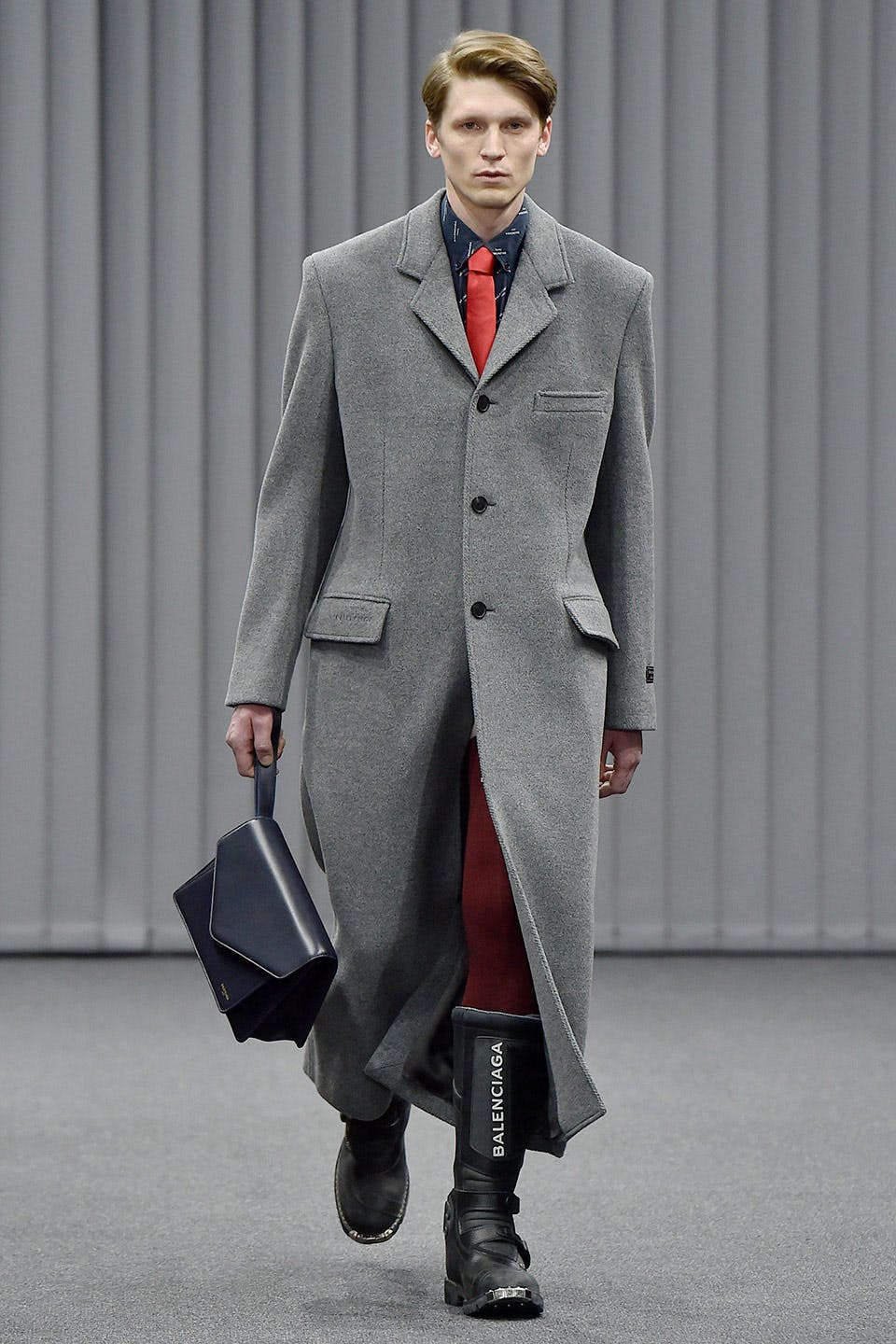 As a child of the former Soviet bloc, born and raised in Georgia, it's not unlikely that Demna Gvasalia may have grown up with at least some suspicion of capitalism and western consumer culture. His ascent to fame has unquestionably been on the back of selling the absurdity of the fashion world back to itself at a vastly-inflated price.
But this latest presentation suggests that maybe the designer is beginning to clock onto the fact that you won't make your way into the history books with memes alone. Provocateurs that came before him – such as McQueen, Yamamoto, Galliano, and of course Cristóbal Balenciaga himself – might have inflamed and outraged their audiences at times throughout their careers (and not always for the right reasons – here's looking at you Rei and John), but behind the headlines there was always an admission, however begrudging, that they were altering the course of fashion in monumental ways.
Gvasalia, thus far in his career, just might have grown tired of being seen by the majority of his audience as a (very talented) jester, exposing the fashion world's flaws and hypocrisies while staying incredibly on trend. With Balenciaga FW18, the designer just might have admitted that he shares the same concerns as many of us.
How do we do the "right" thing? How do we fix so many of the world's problems? How do we adjust to this rapidly-modernizing society? Is it possible that all this information and insight has left us more immobilized than ever? How have so many of these seemingly-simple problems persisted for so long? How do we turn starry-eyed ideology into meaningful action?
As the models walked around in the shadow of a mountain of good intentions and wishful thinking, it's possible Demna Gvasalia is feeling just as overwhelmed as the rest of us. Don't lose hope.