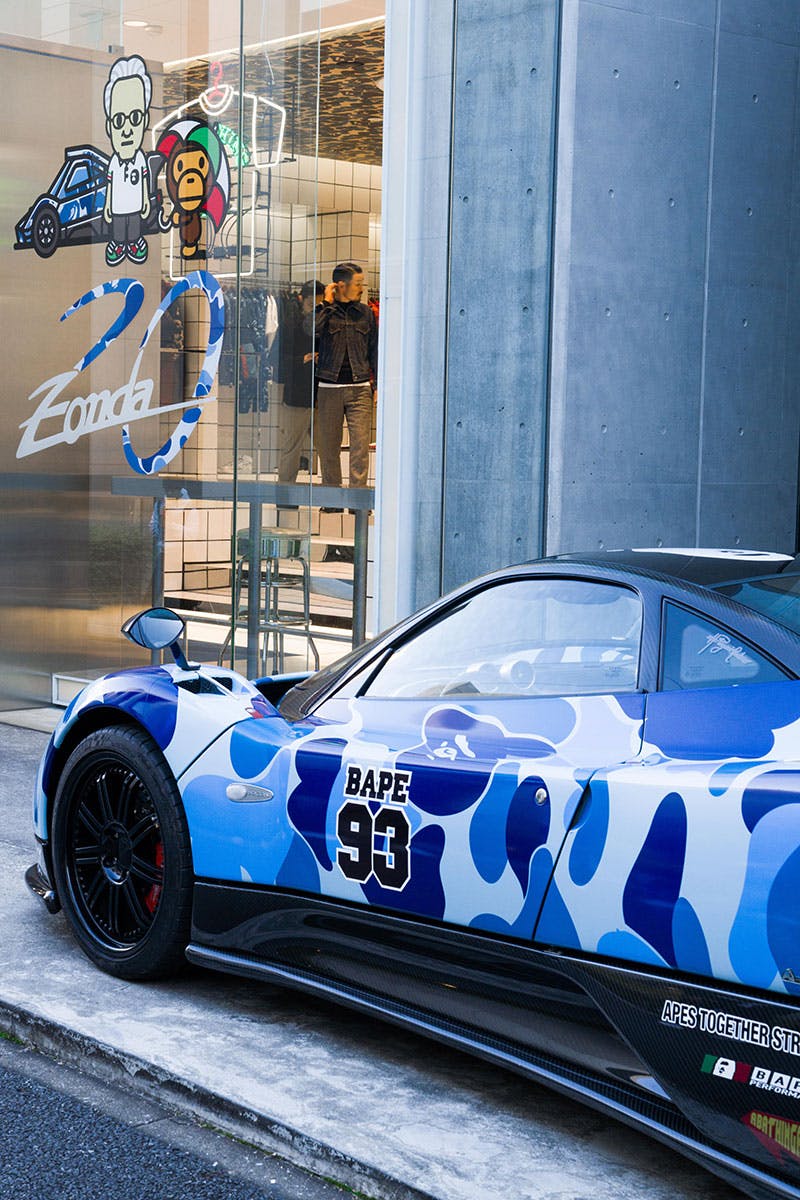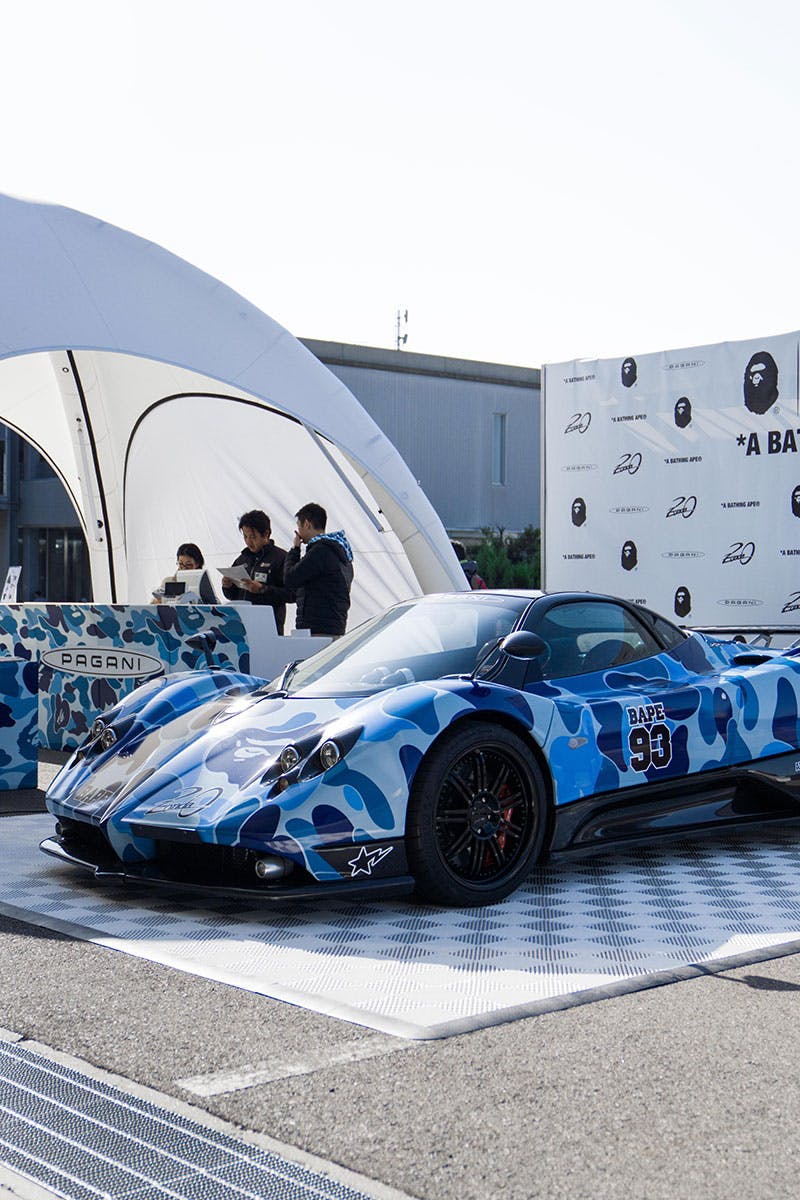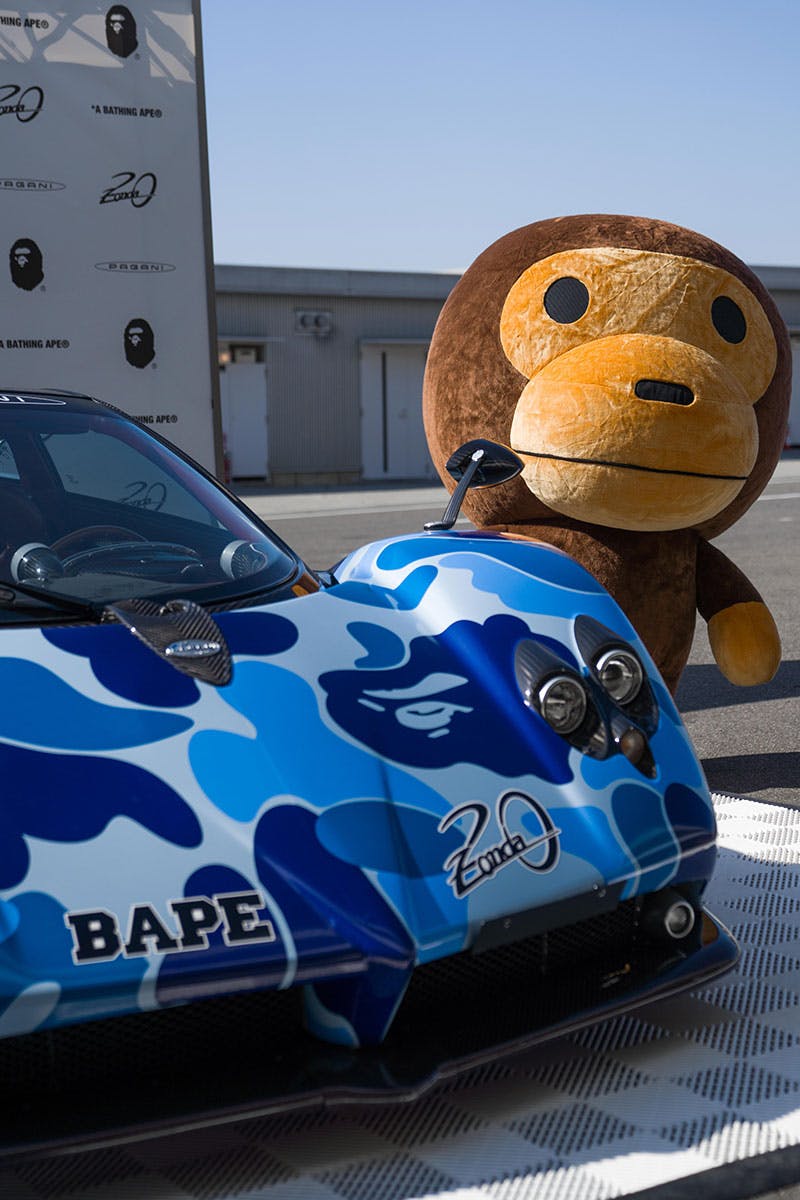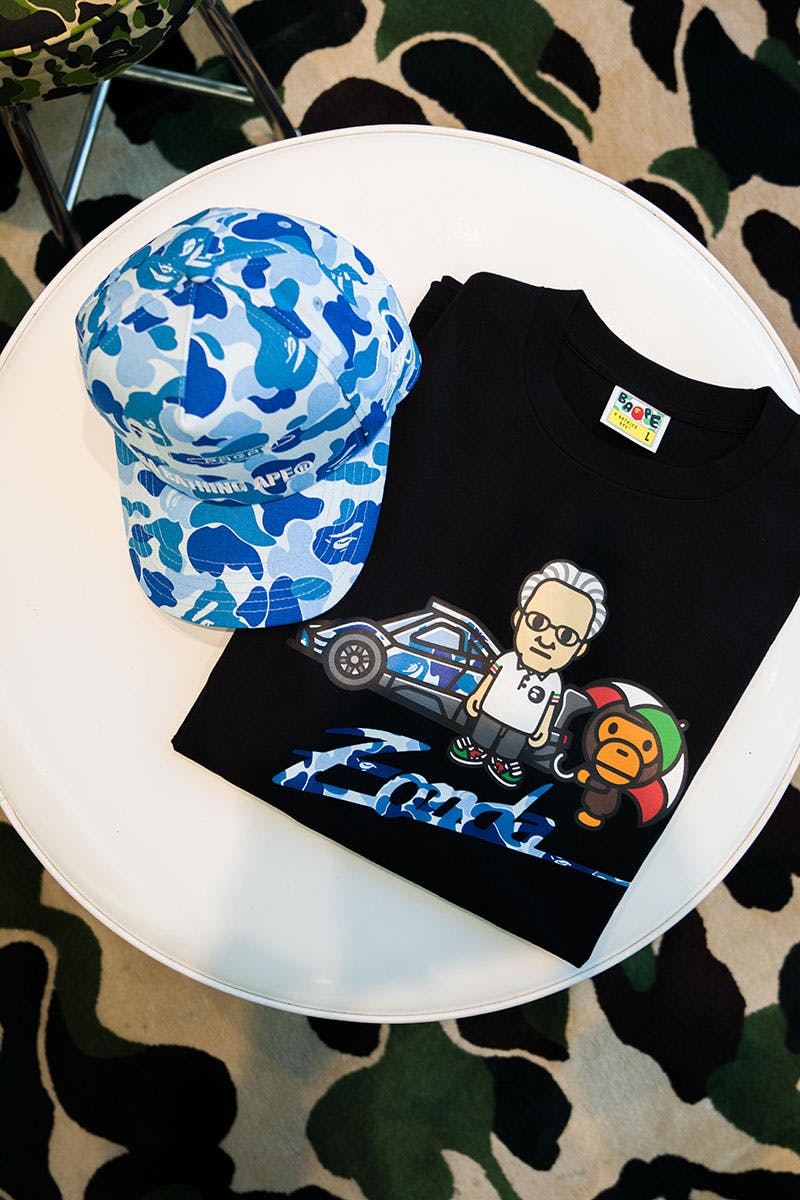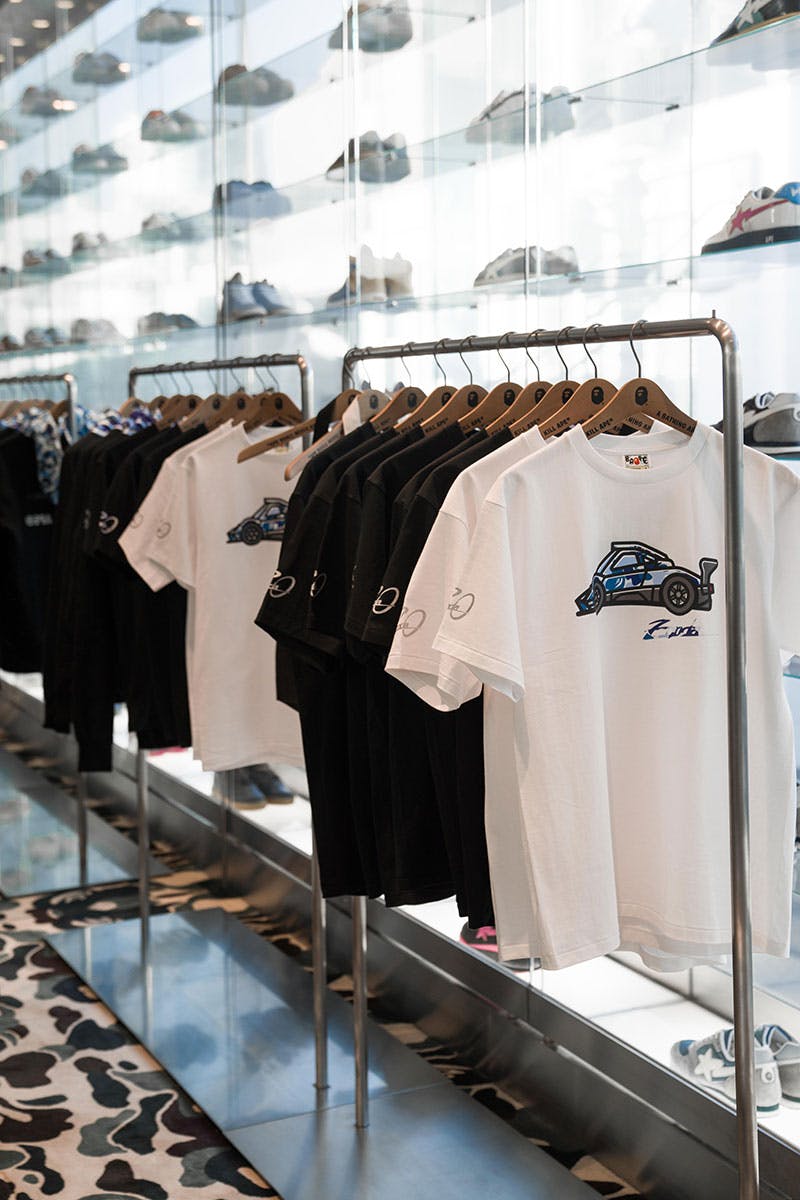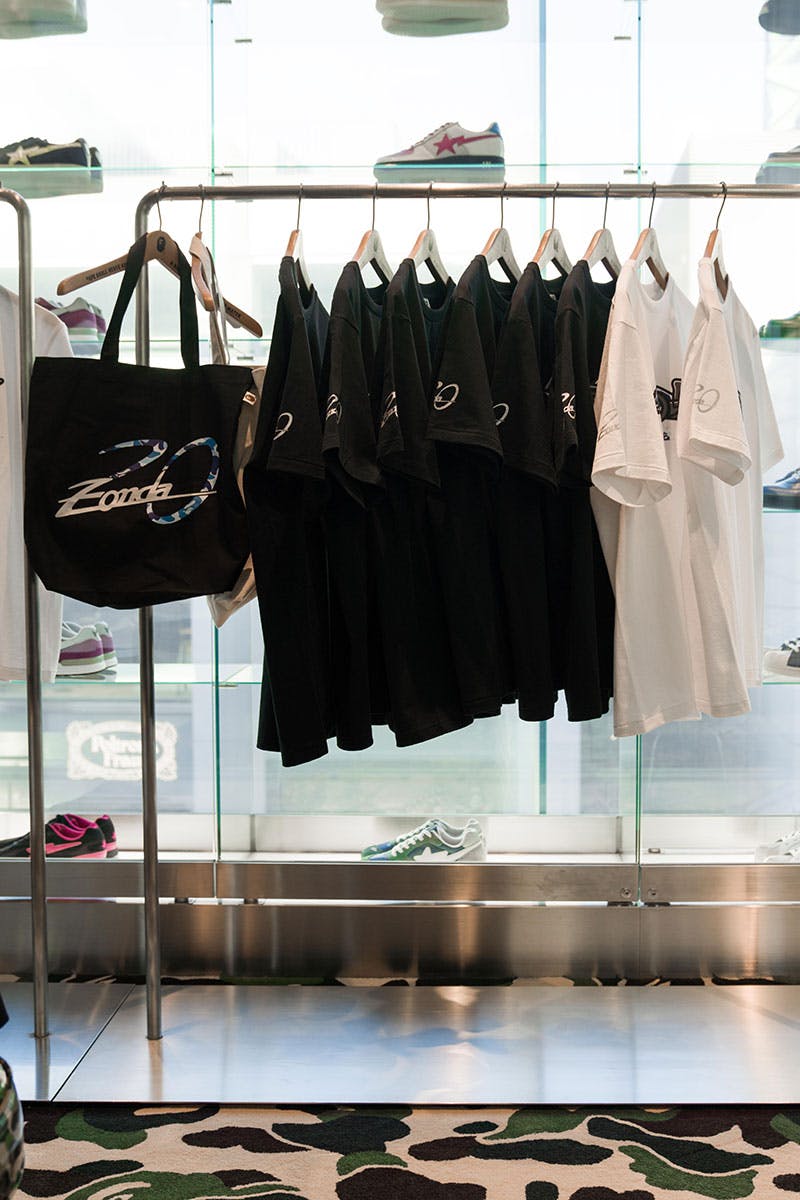 Last week, Highsnobiety linked up with Horacio Pagani to discuss his Italian sports car brand's recent collaboration with BAPE — a seemingly unlikely pairing that has resulted in the sickest, camo-print whip we've seen in a while.
Taking over BAPE's Aoyama, Tokyo store last Friday, Pagani and BAPE showed off their collaborative collection that, aside from the BAPE x Pagani ZONDA F4 VISTA car you see above, also comprises tees, hoodies, and accessories.
In conversation with Highsnobiety's creative director Edward Chiu, Pagani tells all about how the team-up came about, what their collab process was like, and what's coming next for the Italian sports car brand.
Can you tell us about the relationship between BAPE and Pagani? How did the two brands start working together?
I went around the world and I saw that some of our clients who would wear suits on a normal day would wear BAPE once they're off work, so I was very curious about the brand and started looking into it. I later found out that we have the same passion and dedication for work, as well as creating emotions through products.
When people see a Pagani on the street, they'll smile and pay attention to it, similar to how BAPE is perceived as well — the attention is from respect to the designs that the two brands share.
The collaboration was not born from the pursuit of money. There was not a business plan; we didn't ask for a licensing fee. This was purely created for the passion and [what] the two brands can create when we come together for a capsule.
How long did the whole process take?
Around six months. Normally, it takes around two years for Pagani to decide if we're going to work on a project. It could be a private jet, Airbus, hotel etc., but it took me just one hour to confirm the collaboration as it's something that we've never done before.
Will there be a continuation of this collaboration? I would love to see a model car with the BAPE camo featured, for example. 
We haven't planned for anything yet but I'm definitely open for ideas, just let the river flow as one would put it. This collaboration is a good energy for both brands, coming from two totally different cultures so I won't be surprised if we continue this relationship in the future.
Why did you guys choose BAPE's blue camo as the leading visual for the collaboration? Is it because it was based on Pagani's logo?
Yes, you're right. It was an easy decision as it is Pagani's color. I also like to wear blue, so we didn't even think about other options for this project.
Why was the F chosen as the car for the wrap?
We've decided for the Zonda F because it means a lot in the 20 years of the history of Zonda. It is really in the middle of our history, a good representation of the old and a vision of the future. When we started to create cars, we didn't know if the cars would be popular or if they would actually sell, but when we released the Zonda F, there was an explosion of people who wanted this car. This Zonda F was the car that made Pagani a stable company and stabilized our brand and so that's why we've decided to use Zonda F with BAPE.
When we were creating the Zonda F in 2008/2009, the whole world was in an economic crisis. Luckily, we didn't feel any of it because of the Zonda F. We were still able to build and sell these cars without any issues while other companies were having problems, so that was another thing. A rare unicorn of the automotive industry.
At the time, we were selling it at half a million euro, but now it is worth around five to seven million. The value increased over 10 times throughout the years.
So what's next 20 years for Pagani?
We're a family company and we reinvest most of our profits back into our research and development team. We're aware of what's happening around us and try to be as creative as possible with our passion for our work. The world of automotive is changing. There are now electric cars, hybrid cars and I'm glad that everyone is more sensible about the environment. We always strive to be more innovative, more modern and to be on time with the trends.
We've actually been thinking about electric cars for the past two years and it's something that we want to released by 2024. None of our clients have actually asked for a hybrid or a full electric car but it is something that we're investing heavily on as we really believe in the project and how it'll impact the notion of design and the environment.
What is the one thing that you love about cars?
That's a very hard question, but in general, it is the design of the car. I was born in Argentina and we grew up with very little money, but it was my passion for creating and designing cars that really pushed me hard, so I went to Italy to do that. I started there with nothing but creating a brand of my own has always been the goal. I'm very blessed that it happened and enabled me to  have a collection of cars that I like – Ferrari, Lamborghini, Mercedes. What I really like is not about driving the cars as I actually go to work by a bicycle, as the office is only a few kilometers away from my home. What I love and most passionate about is the design and the emotion it gives you.
For example, everyday, I would pick out one car from my collection and park it near the window, so I can look at it when I'm having breakfast or lunch. It's simple things like that that gives me joy through my passion for the automotive world.