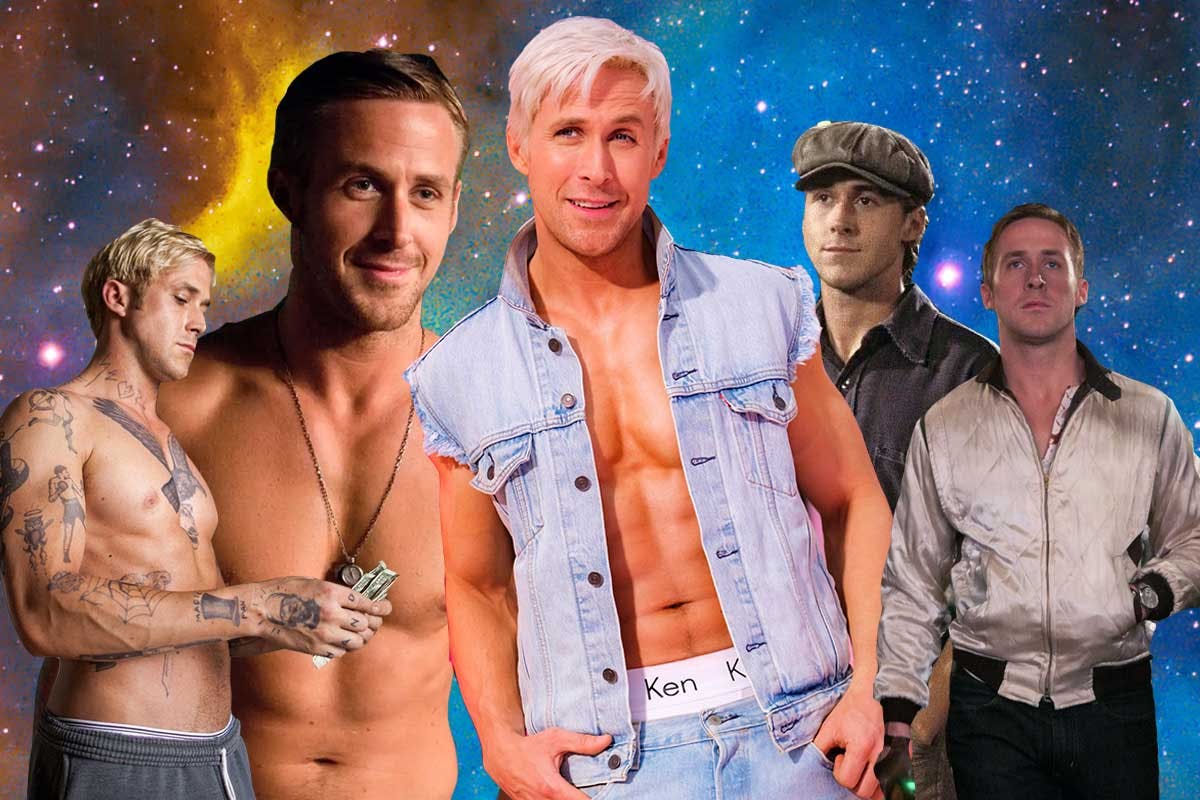 Bad news for macho dudes who base their personalities on Ryan Gosling films: the leading lad's portrayal of Barbie's boyfriend, Ken, is himboficaton defined.
On June 15, Warner Bros. released the first official photo of Gosling as Ken to tease Greta Gerwig's forthcoming Barbie rom-com, currently scheduled for a July 21, 2023 premiere, because yes the Barbie movie is a thing.
But this is no Malibu Ken. Try Love Island, as Highsnobiety's Alex Pauly put it.
Gosling's bare-chested, denim-vested, tan-as-hell Ken looks like the bully character from every '80s teen movie grew up, mellowed out, and, er, filled out.
Yes, those are Ken-brand boxers he's wearing — soak it in.
In no time at all, Gosling's Ken has been adopted as a Pride Month icon and provided fodder for memes riffing on the disparity between Barbie's hulking hunk and Gosling's moodier leading roles.
Welcome to Gosling's himboverse of madness, wherein Driver and Officer K coexist alongside Sebastian and Noah Calhoun. Jacob Palmer is strolling around there somewhere, too.
All good-looking guys, to be sure, but none quite as outwardly hunky as this Ken (Palmer gets close).
Gosling has experience as a studly leading man in romantic flicks, a serious fella in dramas (Half Nelson is sorely underrated), and is obviously a go-to action star but Barbie is really the first time he's entering the spotlight as, apparently, an out-and-out beefcake.
Sure, it's a bit exaggerated for Ken, who (in doll form) is no sexier than the guy co-created that one cryptocurrency, but it's 2022! Make Ken hot!
In fact, at first blush, Gosling looks more like he's starring in Street Fighter than Barbie, which is cool. It's not like he's a sexless Chris Pratt type, for god's sake.
Plus, would it make any more sense for Ken to rock a dad bod? Given the unrealistic physicality of Barbie herself, I say nay.
Gosling's Ken is such a stallion that the photo has inspired some truly lukewarm takes about his hotness.
Look, himbo Ken may not be for everyone but to claim that Ryan fucking Gosling is anything other than a true speci-man of gorgeousity is insane.
There's a reason Barbie's stuck with this guy for decades, after all, and it ain't just the underwear with his name on it.