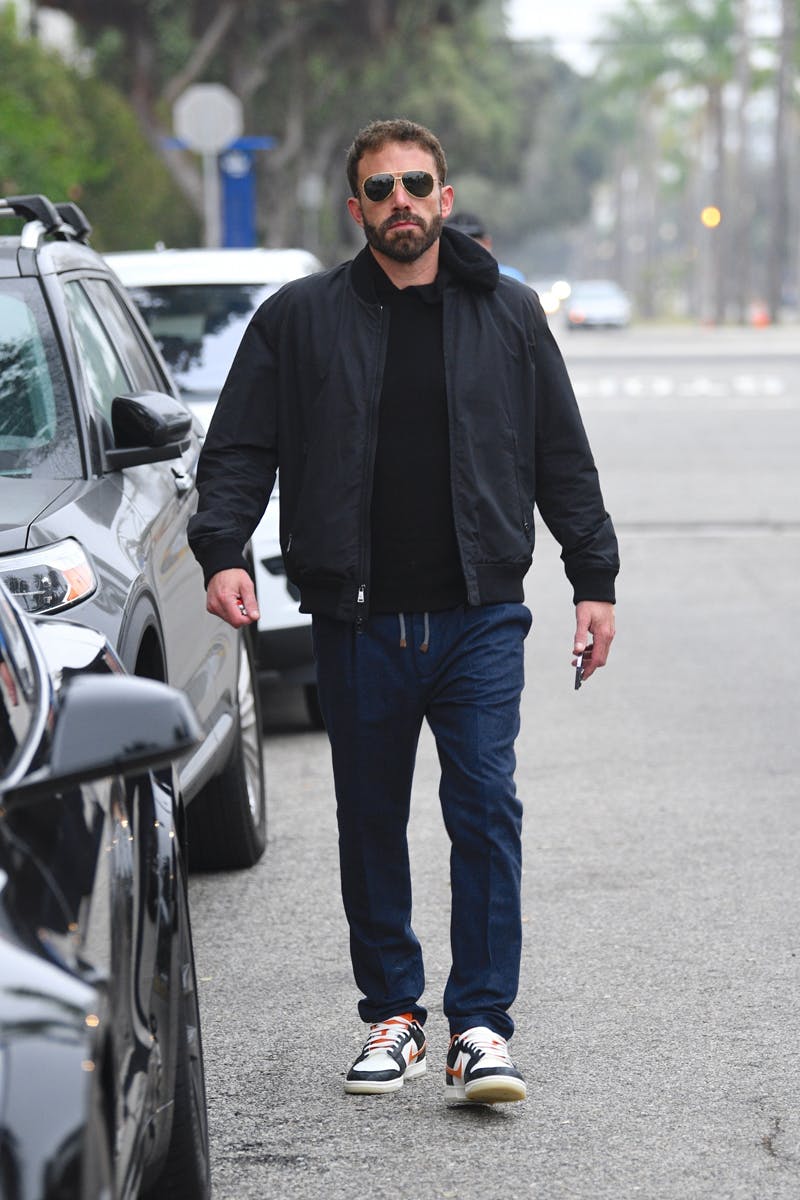 This article was published on October 18 and updated on December 5
Is there anything Ben Affleck can't do? Let's reflect on his resume for a moment: DC's masked vigilante? Done that. Vegas groom? That's a yes. Unofficial Dunkin' Donuts influencer? Check. Meme goldmine? You know it.
What's next for the man behind the internet's favorite RBF? Apparently, becoming a sneakerhead.
In June, sources confirmed Affleck and Matt Damon would star in the upcoming Nike film as Sonny Vaccaro and Phil Knight, respectively, alongside a stacked cast including Viola Davis, Jason Bateman, and Chris Tucker.
As temperatures heated up over the summer, so did Affleck's shoe game. In between set days, the actor stepped out in quite a few head-turning sneakers, Swooshes included (of course).
Whether it's some method acting or he's just looking to step his rotation up, Ben Affleck's accidental sneakerhead era is here and we're tracking his shoe moments below as he channels his inner Knight for the film.
August 21
Ah, August 21, the day that started it all. On this day, Ben Affleck had us doing double-takes as he wore Travis Scott's Cactus Jack x Dior B713 sneakers.
Little did we know this would kick off Affleck's unexpected sneaker journey.
September 22
While on dad duties, Affleck kept it clean and simple in some crisp white Air Force 1s, accessorized with his go-to accessory: his winning grimace.
September 24
Affleck took the kids out to the once-a-year wonder, Spirit Halloween, sporting arguably one of 2021's most hyped drops: Travis Scott x fragment x Air Jordan 1 Lows.
Somewhere in the world, a sneaker lover who took an L on these is punching the air right now.
October 3
It may be a new day, but Affleck isn't done flexing his Travis Scott x fragment AJ1 Lows.
Equipped with a cigarette in-mouth and wrapped up in a cozy sweater, Affleck wore a solid dad 'fit, to say the least (if dads bumped Rodeo, that is).
October 7
Sorry haters, but the Air Jordan 1 Mid train is chugging right along with Affleck on board wearing his Blue Mint Mids.

(Available at 2 Merchants)
(Available at 2 Merchants)
October 9
As the former Dark Knight flaunts yet another pair of Scott's AJ1 Lows — this time, the Reverse Mocha's — I just have one question: you like raging, don't you, Affleck?
Jordan 1 Retro Low OG SP Travis Scott Reverse Mocha
(Available at 2 Merchants)
(Available at 2 Merchants)
October 13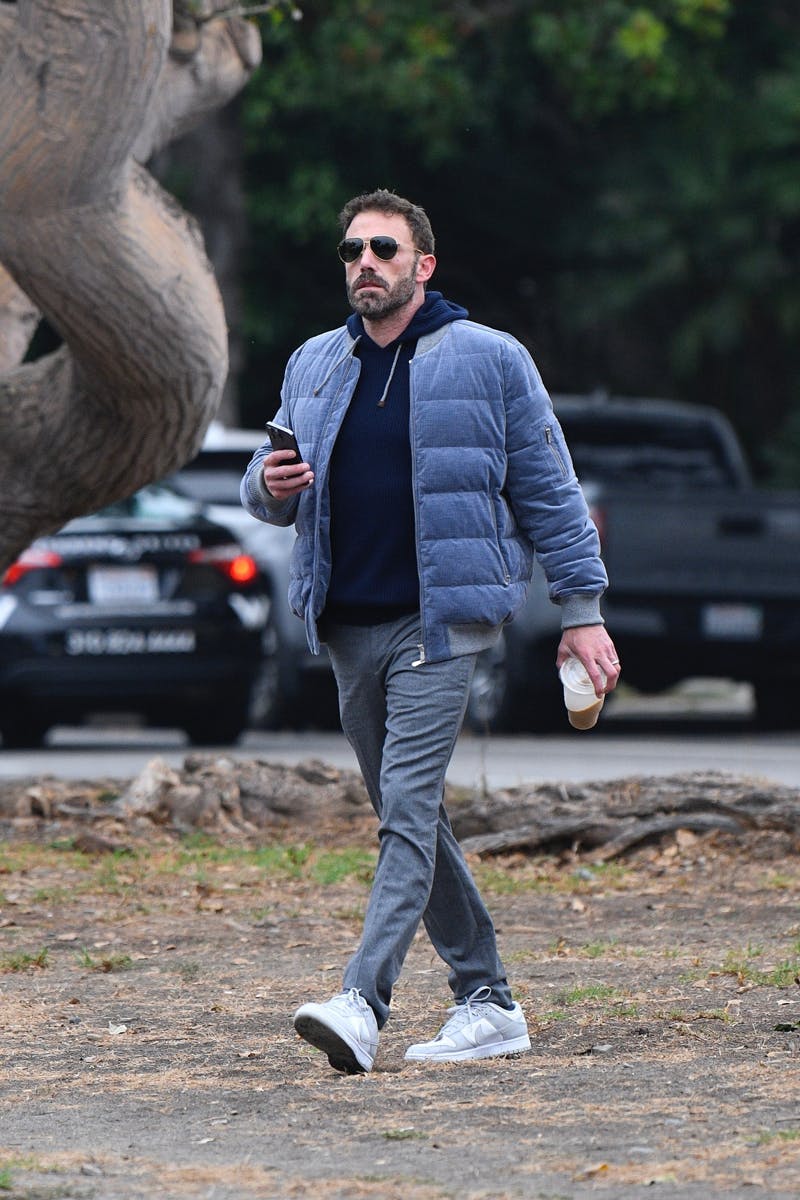 Same puffer coat, different kicks. Affleck starts off the day with his signature large iced coffee and grey Nike Dunk Low sneakers.

(Available at 2 Merchants)
(Available at 2 Merchants)
October 14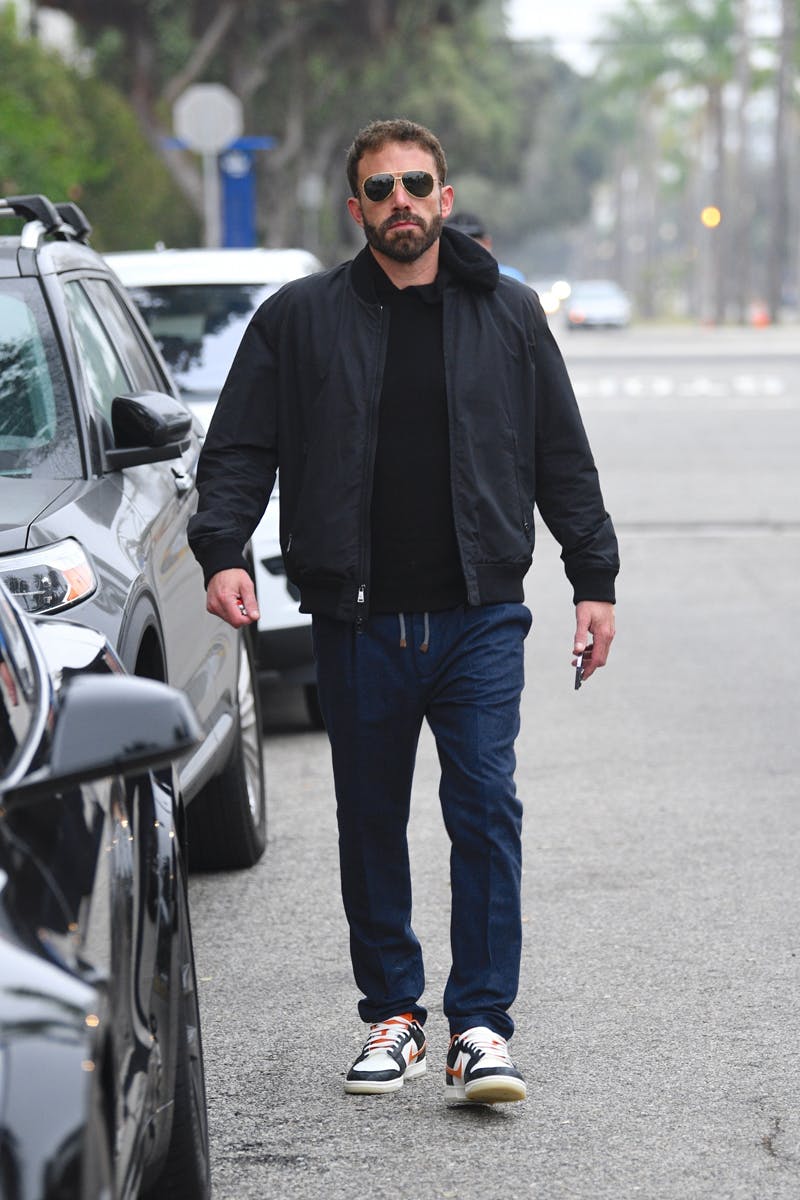 How does one celebrate spooky season the Ben Affleck way? Wear black and Nike's 2021 Dunk Low "Halloween" sneakers.
October 21
A cozy Affleck bundles up in a knit jacket, jeans, and Air Jordan 1 Low "Green Toe" sneakers on-foot (swipe for kick action).
October 22
For Affleck, family time with the wifey Jennifer Lopez and the kids calls for Midnight Navy 1s.
October 26
Ah, the return of the blue quilted bomber jacket. This time, Affleck paired his go-to jacket with Nike Dunk Low SB "ACG Celadon" sneakers.
October 28
Affleck and his son deliver a father-son flex in size? Dunk Lows and University Blue 1s, respectively.
On a side note, Affleck's beige tones deserve a few hand claps. It takes a special fashion eye to perfectly pair brown sneakers, a sand-colored jacket, and ice coffee together.
October 29
Affleck takes a brief intermission from the Dunk wave, opting for patchwork Air Force 1 sneakers for school drop-off.
October 29
Dunkin', Travis Scott SB Dunks, and family time? Sounds like paradise for Affleck.
October 30
Is Ben Affleck wearing...the $25k What the Dunk SBs? Yes, yes he is.
October 31
For Halloween, Ben Affleck went as himself,  sporting some neutral layers, an iced coffee, aviator sunglasses, and Sean Cliver SB Dunks.
Certainly, no one's nailing Ben Affleck like Ben Affleck.
November 12
Affleck got in a hoop session with his son, Samuel, wearing Skate Like a Girl x Nike SB Dunk Low sneakers.
November 25
Affleck made a McDonalds run – Dunkin' must've been closed — with Jennifer Lopez, wearing the Nike Dunk Low SB Premium Strummer sneakers.
November 27
Affleck channeled cozy dad energy in a shawl cardigan and Nike Dunk Low SB "Obsidian Crystal Mint" kicks while visiting the farmer's market with his children.
December 2
It's the man behind the Sad-ffleck memes in the Why So Sad Dunk Low SBs. The jokes write themselves.
December 3
Affleck ends his Dunk streak, opting for Zion Williamson's Air Jordan 1 Low "Voodoo" sneakers while Christmas tree hunting with the kids and wife J-Lo.
Shop our favorite sneakers on sale