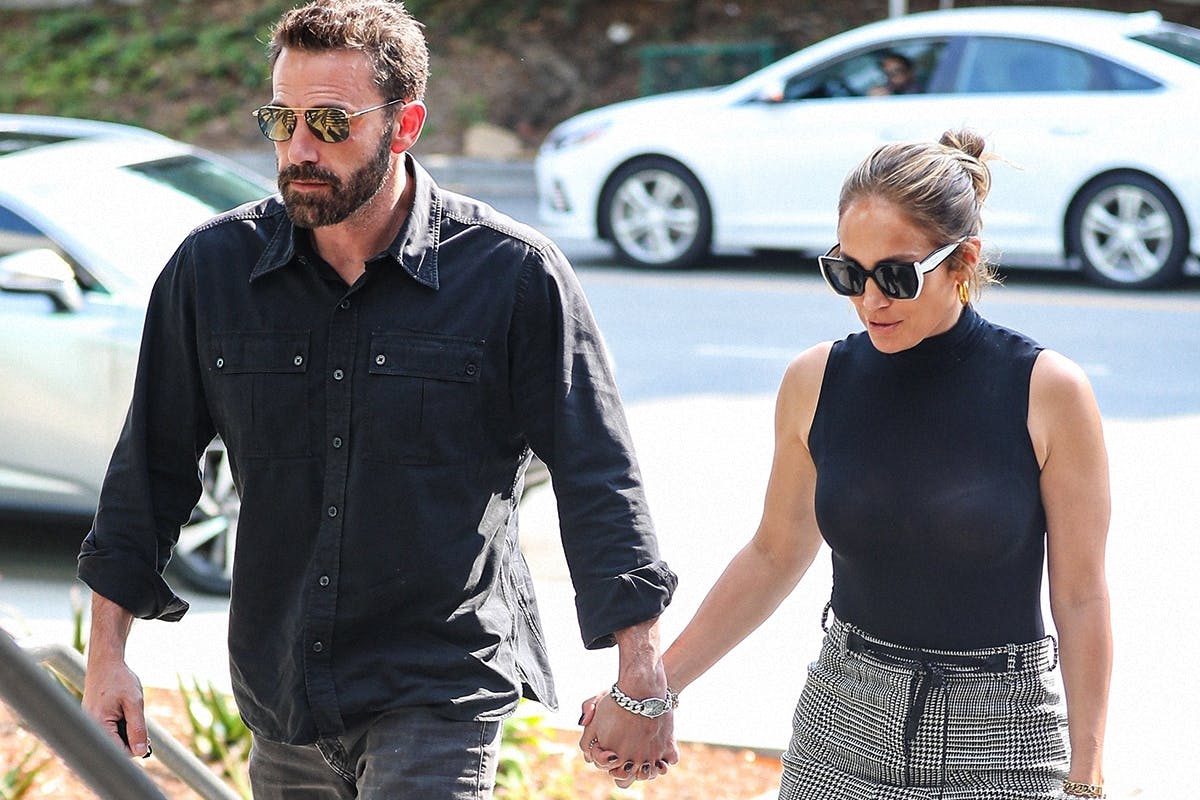 Bennifer is the gift that keeps on giving. From recreating old steamy pictures on a yacht to coordinating looks in the Hamptons, the couple's reignited flame has also set a new bar for couples street style. Naturally, no one is happier than the paparazzi.
I, too, am happy that coordinating outfitting remains a thing. Imagine a world where we didn't get to see Zoë Kravitz and Channing Tatum riding a bike? Or Rihanna and A$AP Rocky pulling out their best fits for a bowling date? They all look great individually, sure, but you hit that full astral-thought-projection level when the garb is working in tandem.
Affleck and Lopez are the masters.
When J.Lo split from A-Rod earlier this year, she reunited with Ben, and since, the two have blessed us with looks that are impossibly even steezier than their early '00s reign. The aforementioned Hamptons look was cool, but on a recent trip to Zara (yes, seemingly millionaires shop there, too), the pair traded in their beige for something a little darker. We are very much here for it.
Ben opted for a black shirt and some washed-out denim, while J.Lo went for a black crop top with a grey pencil skirt, finishing off with black shoes and sunglasses to avoid preying paparazzi lens. But we should caveat this by, regrettably, asking whether or not this never-ending shutter frenzy surrounding the couple is the product of a carefully crafted media strategy? Some on Twitter are not convinced.
Affleck has become a bonafide enigma when it comes to the paps. Who could forget the images of him chaotically trying to balance multiple packages with his Dunkin' Donuts iced coffee stood on top? Or the images of him having a cigarette with his face mask covering his nose? Anyone who has seen the images would never be able to forget. That's the point.
In the rapid Hollywood industry, one can only stay relevant for so long, until there's another movie, TV series, or album that replaces you. Celebrity street style is a heavyweight currency when it comes to staying in the spotlight.
Affleck, no doubt, knows this better than anyone. His "window shopping" outside Tiffany & Co. immediately sparked engagement rumors, and the Dunkin' Donuts images became a meme faster than you could blink. He's everywhere, which doesn't hurt when you're an A-lister vying for big-time roles.
Regardless of the mission behind the images —intentional or not — Bennifer's couple style is unmatched. Jen will always be a style icon, and with Ben on her side, she is bordering on unstoppable. The Bennifer train keeps on running, and we are most definitely on board.